class="post-9020 post type-post status-publish format-standard has-post-thumbnail hentry category-news-opportunities category-opportunities"TOAST Poets development programme
open for applications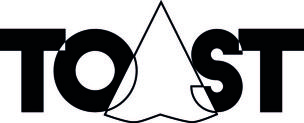 Spread the Word is pleased to again be supporting TOAST Poetry with the second round of their development scheme for mid-career poets.
What is TOAST Poets? 
TOAST Poets is a professional development project for mid-career poets. It takes the form of eleven workshops over the course of a year. Each TOAST Poet is offered two, hour long mentoring sessions with an established poet or editor to discuss their work and what steps they might take to progress.
After the completion of the course TOAST Poets will be eligible for any performance events, discussion panels or other opportunities TOAST has on offer.
Who is TOAST Poets for?
We are looking for poets who work hard at their craft, poets who are past the emerging stage. You do not need to have written a first collection or pamphlet but should be looking at developing a comprehensive body of work. We are looking for poets who should be beginning to do one or all of the following:
Reading and writing poetry regularly
Be interested in developing a cohesive and professional body of work
Have taken steps already to develop their poetry to a professional standard
Begun to have their work published in magazines
Written their first pamphlet or one-person show
What do you commit to?
Poets will commit to attending all eleven workshops in London starting in October 2017 and ending in July 2018. If offered a place on the course all participants are expected to attend every session. If participants miss more than 2 sessions without explanation their place on the course will be reallocated. Exceptions will be made for illness and unexpected circumstances.
Poets also commit to two, hour long mentoring session in London at the end of the course in November 2017 & in July 2018.
Full dates and times of the workshops and mentoring can be found at the bottom of the application pack.
How do you apply? 
All applicants must send:
3 A4 pages of poems
A completed application form
A writer's CV (1-2 pages) detailing their publication, work and performance so far
Please also include email and phone contact details. All applications should reach contact@toastpoetry.com by midnight on the 25 August 2017
Applicants will be contacted by Monday 11 September 2017 to let them know if they have been successful.
My question hasn't been answered here
Take a look at the FAQs: toastpoetry.com/projects/faqs/
Spread the Word are pleased to be supporting TOAST Poetry with the application process.
class="post-9003 post type-post status-publish format-standard has-post-thumbnail hentry category-blogs category-network-knowledge"London Writers Network:
When we met the editors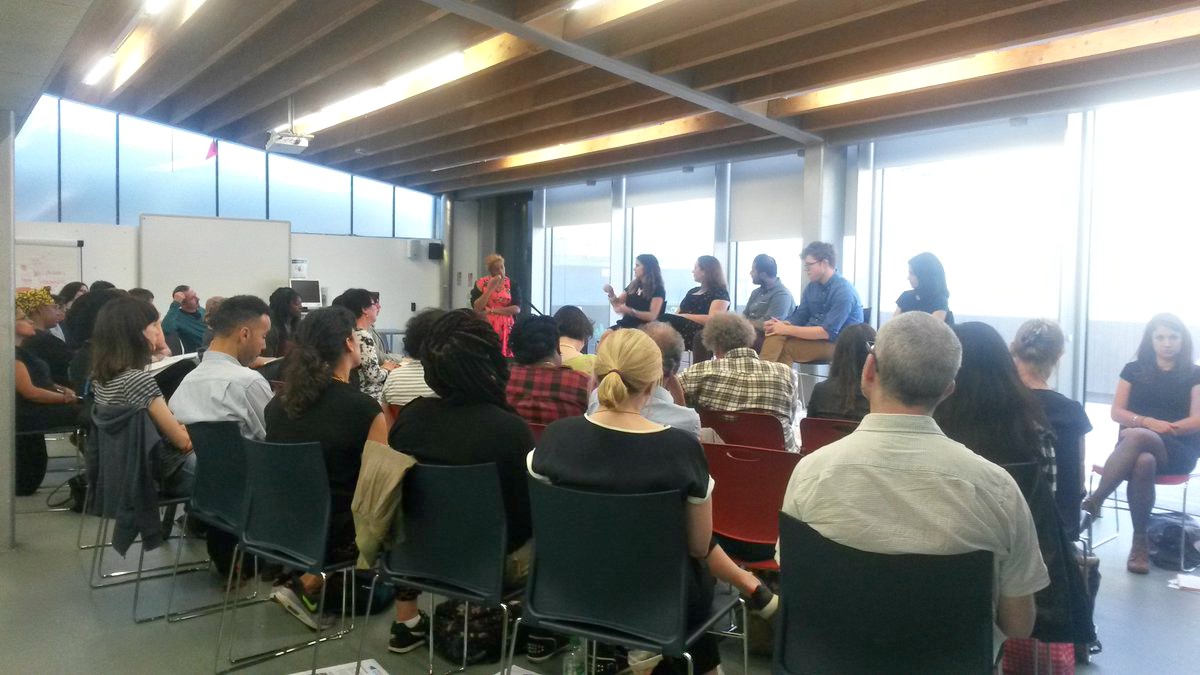 On 19 July 2017, a fine array of editors took part in our London Writers Network event at IdeaStore Whitechapel, to answer questions about their careers, the publishing companies they work for and the writing that excites them.
The panellists were:
Emad Akhtar, Publishing Director, Orion. Find out more about Emad here.
Tom Bonnick, Business Development Manager and Commissioning Editor, Nosy Crow. Find out more about Tom here.
Emma Goldhawk, Commissioning Editor, Hodder Children's.
Francesca Main, Publishing Director, Picador. Find out more about Francesca here.
Shreeta Shah, copy editor, Penguin Random House, children's division.
The panellists described their routes into publishing. Both Shreeta and Emma started in TV – Emma as an unpaid researcher. Shreeta entered publishing through Spread the Word's Flight 1000 Associates scheme that supports writers who also want to work in publishing. Emad came to the joy of reading late. He learnt English after arriving in England as a child and after a number of jobs, including unpaid ones, found his first editorial job. He gained his initial experience from asking a panellist at a Dipnet (now Equip) event. Francesca talked about her role as an editorial assistant at Hamish Hamilton – most jobs in publishing start at entry level. She described the pleasure of working with generous, supportive people.
The editors described their pleasure at finding books they wish to acquire. Francesca often knew that she wanted a book from the opening line – She stressed that this is different from knowing whether a book is going to be a bestseller! Little Deaths by Emma Flint was one such book. Francesca praised the concept, the details of the world-building and being pulled into 1950s New York. She found the protagonist compelling and Francesca's emotions and allegiances changed.
Emad discovered crime via Agatha Christie. He reminded us that good crime fiction is a blend of tropes and fresh perspectives. He talked about the TV series True Detective. On paper, it is cliché – world weary, troubled detective, limited roles for women, ritualistic, sexualised murder – but on the screen it was transformed into quality, compelling TV.
Tom Bonnick talked about Sue Durrant's Little Bits of Sky, a book acquired by a colleague. The voice was so authentic everyone thought it was a memoir, but it is entirely fiction, the story of siblings growing up in care against the backdrop of the 1990 poll tax riots.
Emma Goldhawk acquired Patrice Lawrence's debut, Orangeboy. It was Emma's first acquisition. Emma described the process. She is a born and bred Londoner and she also feels strongly that all young people should see themselves represented. The characters in Orangeboy were young people she recognised. She then had to make a case for the book at an acquisition meeting. In spite of it not being an obvious commercial prospect, it was acquired and was subsequently shortlisted for the Costa Children's Book Award and won the Waterstones Children's Older Fiction Award and the Booksellers YA Prize. It is also being sold in Tesco outlets.
For an overview of acquisition meetings see here.
The Commissioning Editors work with writers on the structural edit to make sure that the book works as a whole in terms of plot, pace, characterisation, etc. For instance, in Orangeboy, Emma recalls recommending that an action scene be moved later in the book to build suspense. Both Tom and Emma read books all the way through once without making notes. After that they set to work with queries and comments for the writer.
Shreeta's role as a copy editor is to make the book as professional as it can be – spelling, grammar, clarity and internal consistency. Different editors have specialities – for instance, some may be more experienced and passionate about historic fiction.
All the editors agreed that the one element that could not be edited is narrative voice. That is distinct to the writer.
The editors were asked about diversity in publishing and how their organisations are trying to improve this. It was agreed that this is essential to increase the diversity of writers as new acquisitions rely on editors championing them. The more diverse the editors, the more diverse the tastes. Publishers are trying to make sure that internships are paid – some like Hachette Fresh Chapters Traineeships are targeted. Income is definitely an issue, particularly as much of the publishing industry is centred in London. The Spare Room Project was set up to help address this. Nosy Crow is a smaller, independent children's publisher. Tom put a call out for manuscripts from BAME writers. He received around 1500 submissions and connected some writers with agents. Penguin Random House runs WriteNow, in partnership with Spread the Word, New Writing North and Literature Works,  for under-represented writers.
However, there are some provisos. Avoid primarily allocating the BAME writers to the BAME editors. (It has happened.) Also be aware of BAME writers being restricted to certain subjects. Emad mentioned the African acacia tree cliché. (The article also nails the veils/Arabic women covers and something called Asian sleaze.)
There were a number of questions from the audience, for instance about the relationship between editors and agents and between editors and writers with and without agent representation. Ideally, editors and agents build good relationships as they are mutually dependent. The relationship between editor and writer is one of trust as it relies on listening to and acting on criticism. Editors often want to develop a long term relationship with writers. Writers also rely on editors for more than the words. Editors brief the cover designer and production team and have a say over the look and feel of the book. They are also involved in entering books for prizes and pitching to festivals.
One writer queried whether a manuscript should be professionally edited prior to submission. The editors suggested that this could be a good idea if the writer feels that their spelling and punctuation may distract from reading. However, a writer may wish to consider asking a trusted, well-read friend to give an objective and obstructive view. Emad described reading a manuscript and shaving 65,000 words off… Tom also mentioned that length could be an issue. Long books are costly to translate. Another writer, who described herself as 'inexperienced', asked about how she finds her voice. Shreeta offered tips including reading the work out aloud. The writer was reassured that it may take a while – and some confidence. Many writers have written several books before one is published. There was also a question about opportunities for translators. The market is quite small though the taste for Scandi-noir and books such as Elena Ferrante's Naples trilogy has increased its profile. Pushkin Press publishes books in translation, including children's and YA.
The formal panel ended and the networking began …
---
Spread the Word's London Writers Network offers members free access to two free events a year, 10% discount to Spread the Word's programme of events and activities, quarterly Lowdown newsletters full of opportunities for your writing and discounts and offers from our friends and partners. Membership costs £25 a year and is open to all writers aged 18 and over. Join Now
class="post-8969 post type-post status-publish format-standard has-post-thumbnail hentry category-blogs category-network-knowledge"100 Letters Changed My Life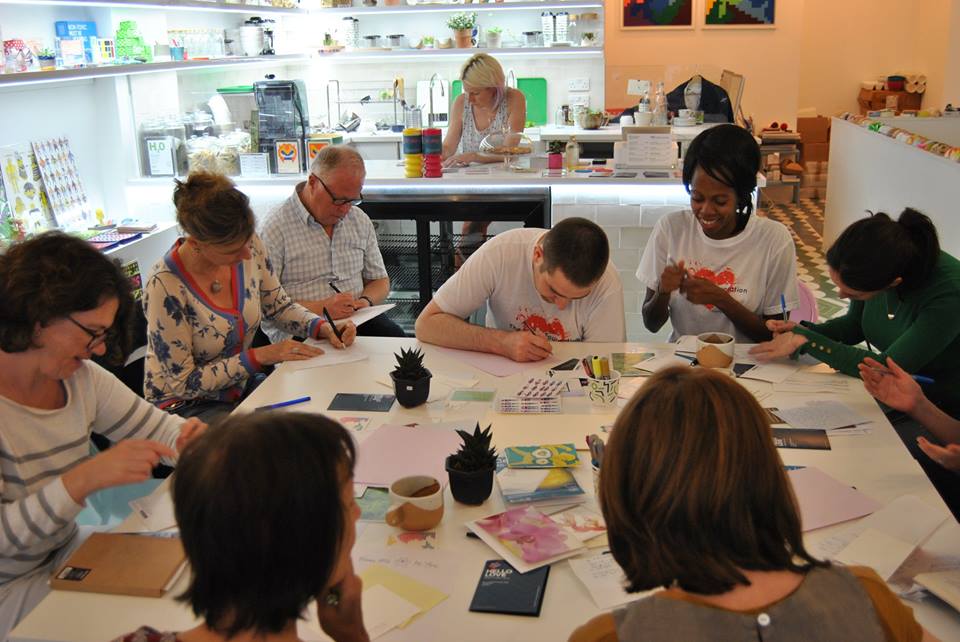 In 2016, Alison Hitchcock co-founded the letter writing campaign From Me To You with her friend Brian Greenley. From Me To You encourages people to write letters to friends, family members or strangers living with cancer, as a way of showing support, love and humour in difficult times. Spread the Word celebrates and encourages all forms of writing, and were moved by Brian and Alison's story and campaign. Alison blogs about starting From Me To You, and shares how you can get involved:
Back in 2010, I would never have predicted that when my friend Brian Greenley was diagnosed with bowel cancer, the letters that I offered to write to him would change both our lives.
In 2009 Brian and I had met on a yoga holiday in India. We got on well, both equally inflexible and neither of us able to do a headstand, but we had little else in common. I was a City career-girl, and Brian had recently taken voluntary redundancy and was thinking of setting up his own gardening business. We met up a couple of times back in the UK, but neither of us would have described ourselves as anything other than acquaintances. In 2010 Brian shared that he had been diagnosed with cancer. Perhaps because I didn't know what to say, I offered to write letters to cheer him up. Looking back, I'm not sure what possessed me – I was no writer, unless you count that 2nd place prize in a school competition when I was 8. But a promise was a promise!
The letters began and over the next 2 years, as Brian's cancer developed to stage 4, I kept on writing.
I surprised myself, finding that I cherished the time I sat alone and wrote. It felt good to be doing something for someone else and it removed the feeling of helplessness that friends so often feel when a loved one becomes ill.
My enthusiasm for writing was bolstered by Brian's response to receiving the letters. He once said: 'Knowing that someone is caring enough to write, buy a stamp and put the letter in the postbox means so much. Your letters help me to feel reconnected with the real world.'
Brian had plenty of friends and family but still felt isolated during his cancer treatment. I have come to learn that this is common when someone receives a cancer diagnosis; even the most well-meaning friends distance themselves, fearful of what to say and how to say it.
Enthused by my newly discovered passion for writing, I attended an Arvon Starting To Write course and began to understand what it means to want to write. From then on, as for so many who attend Arvon, everything changed. I wanted to write more and learn more. Five years later I had completed a Creative Writing MA, had short stories published, written a novel and become involved with wonderful literary organisations such as Word Factory. Brian's cancer and the letters had given me not just the gift of writing, but a whole new life.
At the end of 2016 Brian and I were recorded for Radio 4's The Listening Project. Such was the response to our story, we set up From Me to You, a charity which inspires people to write letters to friends with cancer; keeping them connected at a time when they feel most disconnected. We run letter writing workshops, speak at events and our website www.frommetoyouletters.co.uk hosts writing tips on what to say and how to say it, and shares many inspirational stories from those who have received and sent letters. Recently we have expanded the initiative so that people can also write letters to cancer patients they have never met. The communications range from postcards and notes that say something as simple as 'keep strong' to longer letters recounting tales of everyday life; someone wrote recently about the colour yellow at Easter, another about swimming in her local lido as the sun came up and another a poem about the joys of having a back-seat-driver for a wife!
These letters are acts of pure kindness. There is no obligation on the recipient to write back. Brian never responded to any one of my 100 letters and I never expected him to. One of our writers, Melissa Fu, said of her experience, 'One of the things that appeals to me about writing to someone I don't know is that I feel like the letter and message goes to the receiver unconditionally. They don't have to write back, they don't have to say nice things if they don't feel like it, they don't have to worry about my feelings at all. There is something wonderful about an exchange of good will with no strings attached.'
While cancer continues to be an illness which scares not only the person suffering but also those around them, it is wonderful to know that something as simple as a letter can have such a profound effect, both on writer and recipient.
– Alison Hitchcock
---
You can find out more about From Me to You on their website: frommetoyouletters.co.uk , on Twitter: @frommetoyou01, on Facebook: FromMeToYouLetters and on Instagram: FromMeToYouLetters
class="post-8855 post type-post status-publish format-standard has-post-thumbnail hentry category-news"Farewell to Saturn:
Poet Ella Frears to document
the Cassini Mission's Grand Finale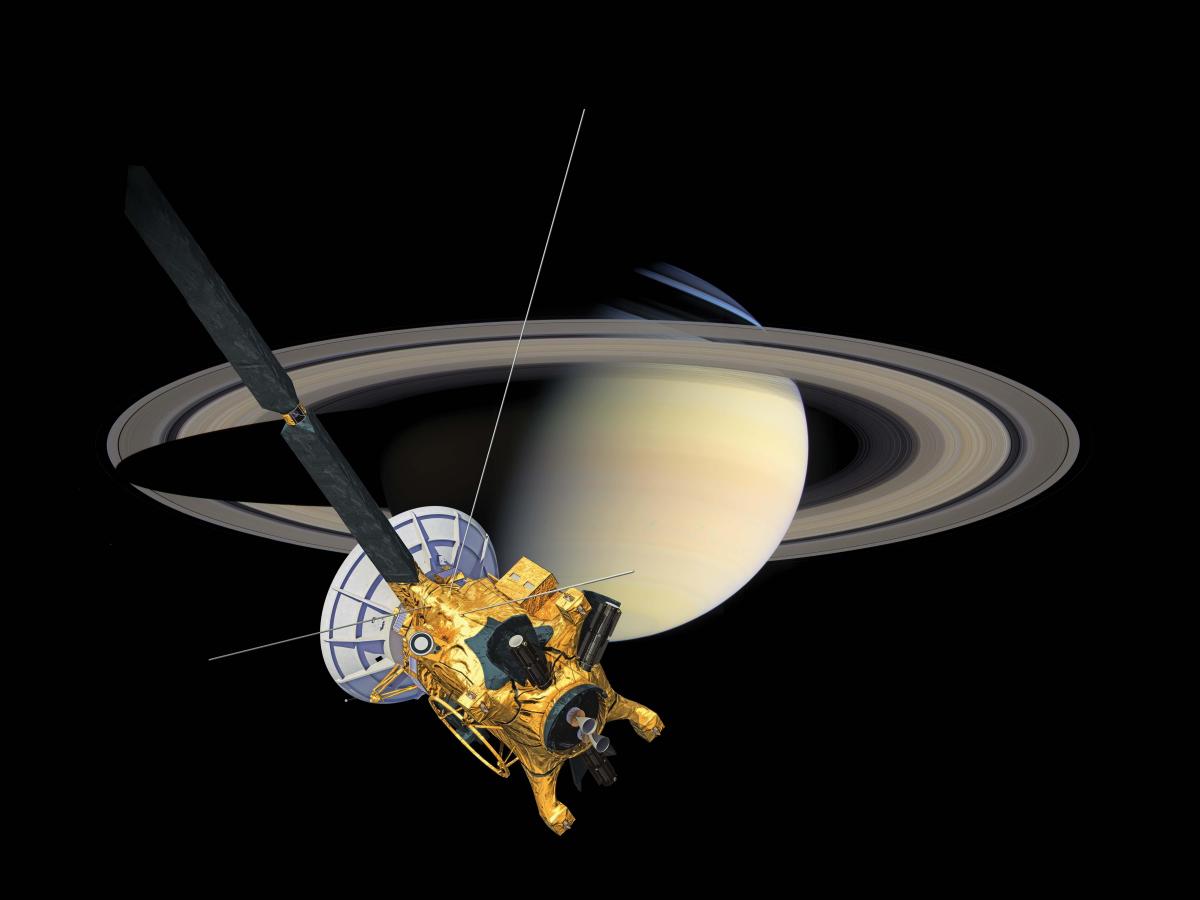 Farewell to Saturn: The Cassini Mission's Grand Finale
Spread the Word is pleased to be a supporting partner with poet Ella Frears's unique writing residency.  Over the course of the year-long residency at Royal Holloway University, Ella will create an ambitious series of poems and visual works documenting and responding to the Cassini Mission.
Cassini is the first and only spacecraft to orbit Saturn and has been in space for nearly twenty years. The mission ends September 2017 when Cassini is scheduled to crash into the atmosphere of the planet. The planned destruction of the spacecraft will form a climactic point in the project.
There will be a 'funeral' event on the 15 September which will showcase poetic works in progress as well as new collaborations with composers, architects, filmmakers and designers. The funeral will be a farewell to our source of information on Saturn, to Cassini and will form a celebration of exploration both scientific and artistic.
The project is funded by Arts Council England and is partnered with Spread the Word.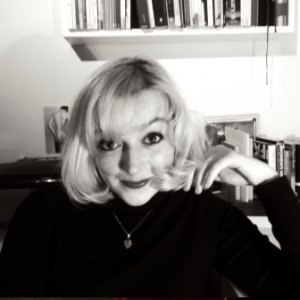 Ella Frears has had work published or forthcoming in Poetry London, The Rialto, Poem, The Moth, The Emma Press, Brittle Star, Poems in Which and The Stockholm Review of Literature among others. She was a Jerwood/Arvon Mentee 2016/17 (mentored by Mona Arshi) and was shortlisted for Young Poet Laureate for London 2014. She is a trustee and editor of Magma Poetry and has completed residencies and commissions for Tate Britain, Tate St.Ives, The National Trust, St. Michaels Mount and The Olympic Park. Most recently she was Poet in Residence in Buckler's Hard, New Forest with SPUD. Her debut pamphlet Passivity, Electricity, Acclivity is forthcoming with Goldsmiths Press (November 2017).
---
Keep up to date with Ella's residency on Twitter @Poet_as_Cassini and on the project website: cassiniresidency.co.uk
class="post-8809 post type-post status-publish format-standard has-post-thumbnail hentry category-interview category-network-knowledge"Remi-Lyn Browne
in conversation with
JJ Bola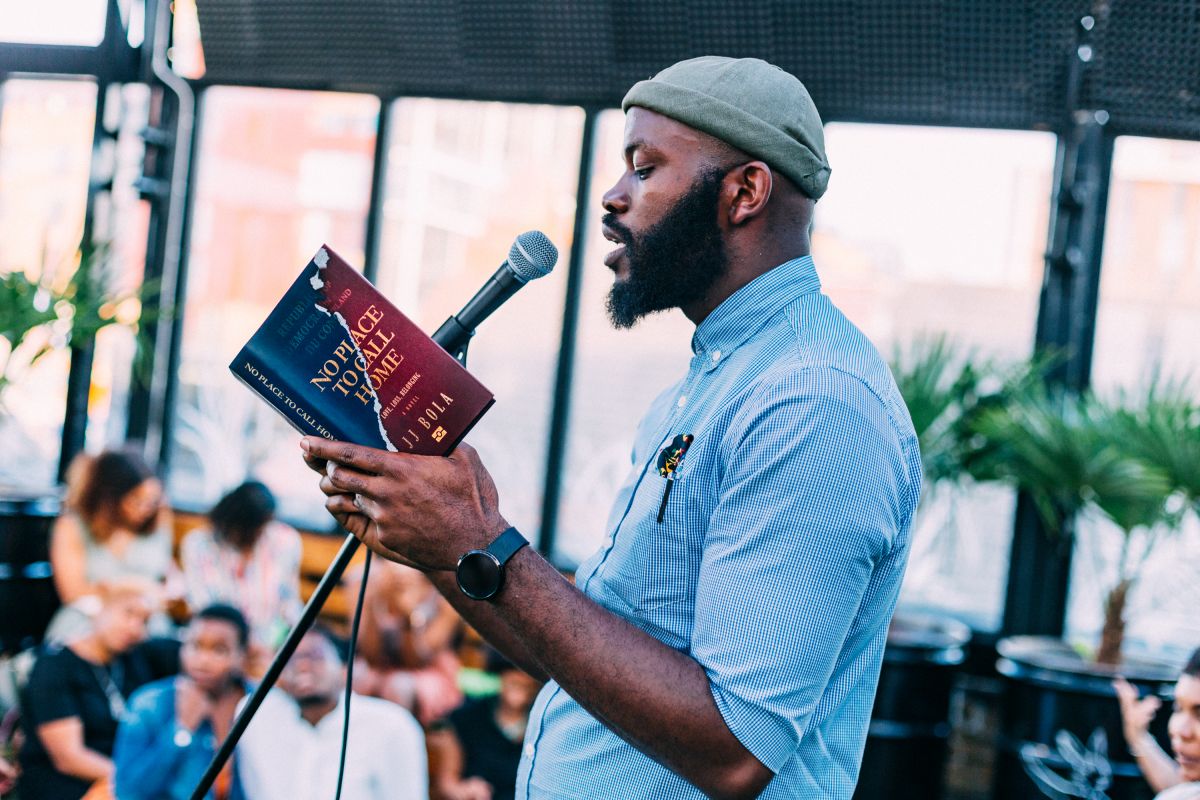 As JJ Bola's debut novel No Place to Call Home (published by OWN IT! 2017) hits good bookshops near you, JJ shares a carrot cake and discusses said carrot cake, humility, getting into writing, writing in Lingala and how No Place to Call Home came to be, with his fellow Flight 1000 Associate Remi-Lyn Browne. Spread the Word was pleased to support OWN IT! with JJ's book launch in late June 2017.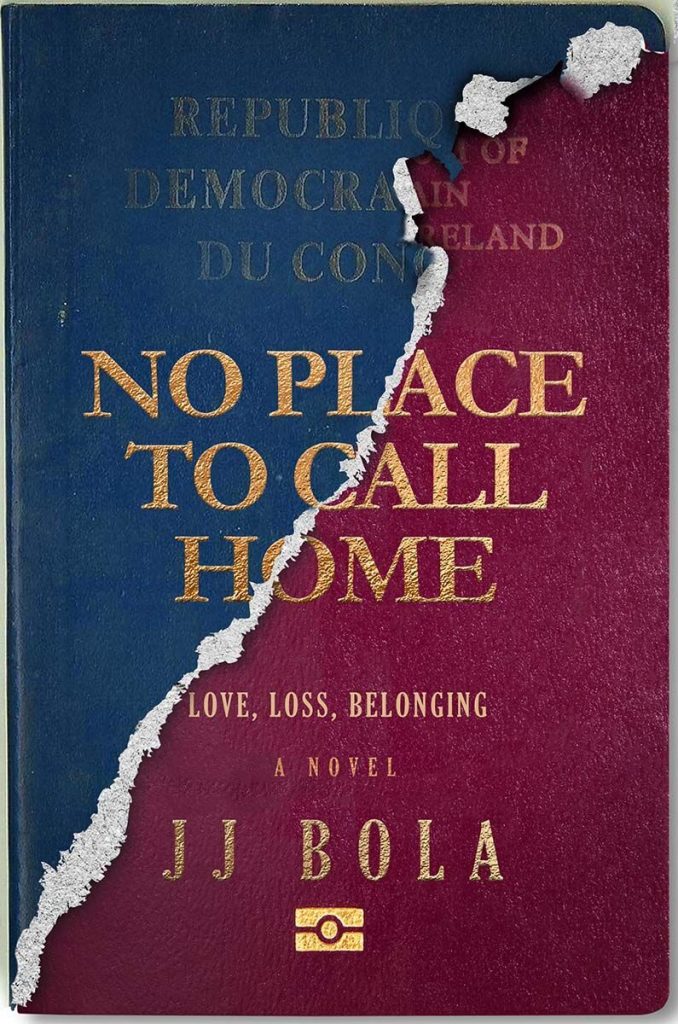 Our interview started with JJ's favourite, carrot cake. He told me about his "3 tier assessment criteria" which he uses to assess all the cakes he eats. There's more to every writer than books, right? Quite.
So the first criteria was aesthetic, he said. "Because we eat with our eyes?" I agreed. He wasn't asking me, but I agreed. He was a man that was serious about cake and I, as a woman that is serious about food generally, respect that. He gave my cake an 8 for aesthetics, not bad. The second assessment criterion was texture, "some carrot cakes can be quite dry," he said, picking up the fork. I wanted the one that I bought to do well by his standards because I buy from this particular shop all the time. I didn't make it, but I am competitive in an irrational kind of way. He tasted it and said "Remi you might have done something here, where is this from?" I told him Sponges and Cream in Brixton Village. He jokes about moving into the area and gentrifying it some more – which I appreciated in an odd way.
At this point, a woman came into the room to give us a flyer. She said to JJ, "you look like an artist" and she was right, he always does, in the best possible way. Then she said, "I've seen your face on Twitter I think." It's not hard to miss JJ on Twitter; he galvanises and provokes great conversations and with around 19,000 followers, I'm sure many of us know a couple of people that follow @JJ_Bola. The lady helped me out with my interview, asking him why he's so humble. JJ replied, as most African children would, "Because my mum would slap me if I behaved in any other way." Makes sense.
Shouts to the lady for the great conversation. When she left we got back to cake. The last assessment criterion was aftertaste, as in: the taste that said cake leaves in your mouth after you have long swallowed it. He said he had had better than my cake and so gave it a 7; the lack of nuts brought it down. So we got 23 out of 30 and he said he'd pay the shop a visit when he was next in Brixton. Not bad coming from such a seasoned cake man.
When the cake was done, we returned to writing. "Writers aren't the same as sports stars and don't get the same validation from society," he said, "so how can we have the same ego?" JJ thinks it's better like this, as writers need to be observers; "how can we observe if everyone is always watching and clapping?"
I asked him how he got into writing and he said what I hoped he would, "completely by accident." He wanted to be a basketball player when he was a kid, so he could be what most working class children hope to be, a millionaire. Though he was an avid reader in primary school, the amount he read dipped in secondary school due to a mixture of reading "no longer being cool", and there simply not being enough engaging material around him. Then, he found writers like Chinua Achebe and George Orwell and things changed. He loved Animal Farm so much that he put it in his novel.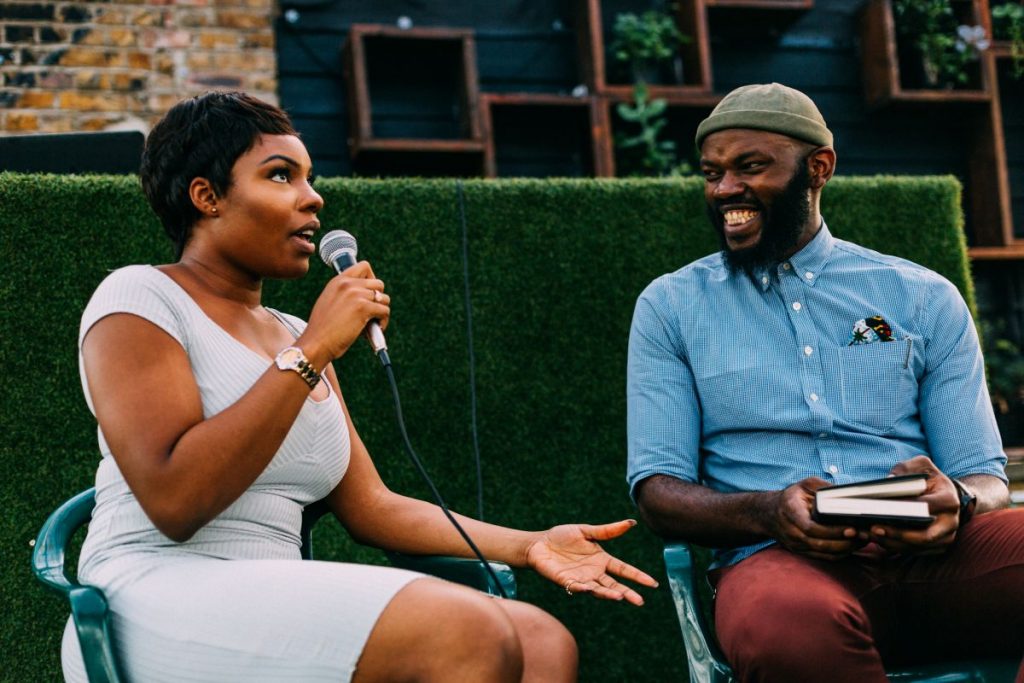 So, we talk about his newly published novel, No Place To Call Home (NPTCH), published by OWN IT! in June 2017. My burning question was whether the protagonist Jean and his parents were characters that were heavily influenced by JJ's own family life. That wasn't the case, he laughs as he tells me that that the only similarity was that his parents are both Congolese and still together. As for Jean, he makes much better decisions than a young JJ did.
For those that haven't yet started on their copy of NPTCH, JJ writes some of it completely in Lingala without translation. It's written cleverly so you don't feel like you're missing out on anything if, like me, you are aren't a Lingala speaker. I wondered why JJ had made that choice, "Each writer to their own but I think that you have to give your readers some credit and trust them a little bit to get it. If Jean is walking down the stairs into a room, followed by some Lingala speech, he is probably saying hello."
The love story between Jean's parents struck me in the book. Why did you focus in on them much, I asked, "Congolese are romantic people, love is important in Congo for men and women," he said.
JJ started to write NPTCH in 2015 and he didn't know whether he would finish it, having written would-be novels before. Literary and film agency Pontas approached him, asking whether he had considered a novel as a project. They asked him whether he could finish by June that year; the rest is history, and the outcome now lives on my bookshelf. "Editing is hard," he said, and I smiled and nodded because I'm editing my own novel at the moment and learning just how hard it is.
This book is exactly the right thing at exactly the right time. I, like so many people in the Diaspora, needed to read it. I don't think we have had a story like it for a long time; there's something so warming about hearing a story that you needed to hear.
It was getting late, so I squeezed one more question in as we packed up: "Does it make you feel sad that your book has to be more than a book? That it has to represent so much more than just being a story, it has to fly the flag for a whole community?" He says, "I wish it could be just a book. For there to be a need for a book that's classed as representative, there needs to be an underrepresentation in the community that it talks about, and I don't want that. So it's a mixed feeling. I'm split. I'm so split."
---
JJ Bola is a Flight 1000 Associate at Spread the Word. No Place To Call Home is out now. 
Remi-Lyn Browne is a Flight 1000 Associate at Spread the Word. Remi-Lyn is part of the London based creative collective SXWKS and her first poetic work these are the most terrifying thoughts is published under SXWKS publishing. In 2015 she co-founded AZ-MAG, an online publication centring around the experiences of British LGBT BMEs. 
class="post-8648 post type-post status-publish format-standard has-post-thumbnail hentry category-blogs category-network-knowledge"How I created short story collection
'Sugar, Sugar' by Lainy Malkani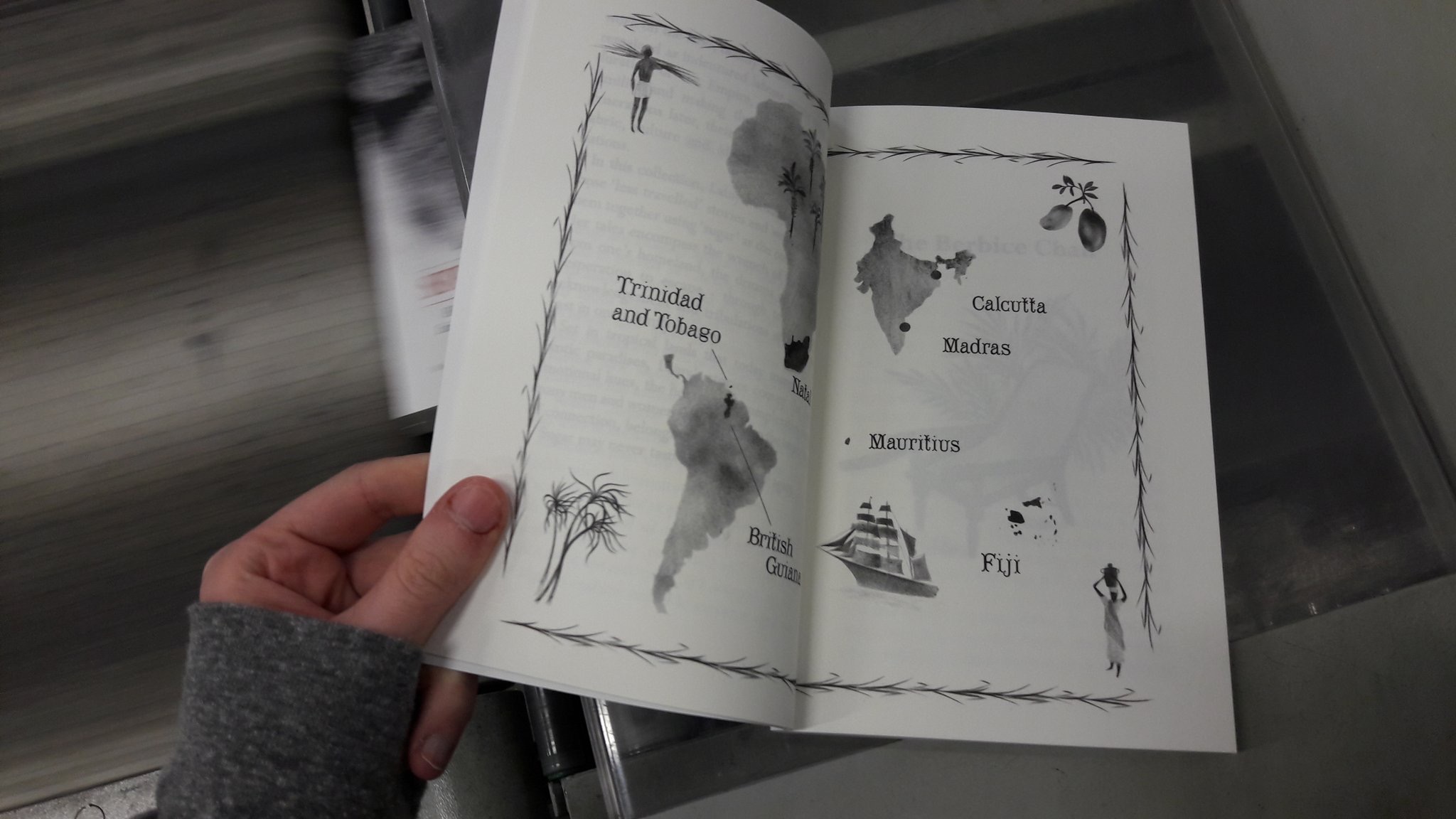 Spanning across five continents and based on historical facts, this contemporary short story collection is an uncovering of inspiring tales of courage and resilience. Lainy shares with Spread the Word how 'Sugar Sugar: Bitter-sweet Tales of Indian Migrant Workers' became a reality. 
'Sugar, Sugar – Bitter-sweet Tales of Indian Migrant Workers' is a composition of ten short stories about the lives of indentured Indians spanning five continents. The stories were based on historical documents from the British Library and the memories of the descendants of Indian sugar workers living in London. They were recruited to work on sugar plantation in a number of British colonies after the emancipation of African slaves led to a shortage of labour.
As a descendent of indentured Indians who went to work in British Guiana, sometime between 1838 and the turn of the century I was already aware of the history of my ancestors. In fact, I had already told my story in a two-part Radio 4 documentary series called 'Sugar, Saris and Green Bananas'. Its success inspired me to write this collection and extend it to Fiji, Trinidad, South Africa and Mauritius where the Indian diaspora also share this incredible history. As a broadcast journalist I was used to telling stories on the radio. But there is nothing quite like having your words in print.
As I had never written fiction before I decided to apply for funding from Arts Council England to help me build a team of people who could help me with the writing process. I first contacted Eva Lewin, Writer Development Manager at Spread the Word who was the first to support my application. I also enlisted the help of author Jamie Rhodes, who became my writing mentor. Mireille Fauchon, an illustrator came on board and I budgeted for actors who would perform readings at book signings and community events. Meeting publisher, Rosemarie Hudson, of HopeRoad Publishing was the final piece of the jigsaw puzzle.
I submitted my application in July last year and by the end of August received news that I had been successful. My project plan was thorough. Over a six month period I scheduled my writing plan: two weeks to research and write the first draft and a further week to review and rewrite each story followed by a week with the copy-editor and proof-reader. I converted the spare room into an office and stuck photographs, posters, postcards and quotes from key research articles and records on the wall. I was in regular contact with Jamie who helped me with the creative process. He read through my drafts and offered critical advice on how to improve my writing. His input and encouragement helped me through many moments of insecurity about my ability to write creatively. It is true to say that I had several moments where my confidence as a writer was shaken. Jamie helped to restore my faith in myself with practical tips on how to work through those darker moments and push on to the finishing line.
The plan was to release the book to coincide with two major events in 2017: the 70th anniversary of Partition which saw India's independence and the birth of two new nations, Pakistan and Bangladesh and the 100th anniversary of the end of the indenture programme which saw more than 1.5 million Indians migrate to British colonies around the world. The book was launched on 25 May 2017. Seeing my book in print for the first time, holding it in my hand and flicking through the pages was the moment that it really dawned on me that I had become a writer.
To my delight 'Sugar, Sugar Bitter-sweet Tales of Indian Migrant Workers', is proving to be a success. The London Book Fair, the Royal College of Art and the University of London are just some of the events where I have shared my story. On 10 August I will be hosting an event at the British Library which will bring together over two hundred people to share their own stories of indenture. In the coming months I will be holding workshops with other communities hoping to write creative fiction around their own ancestral history. Looking ahead to next year, I have already begun planning my next book. I think it will be another collection of short stories but who knows?'
---
Lainy will be sharing her writing experience with a series of weekly podcasts beginning on 5 July. You can listen to her story here.
She will be reading at the British Library on 10 August, 7 -8:30pm and Waterstones Piccadilly on 23 August, 7-8:30pm.
Her workshop dates are:
12 August, 2-4pm at A Tribe Called Doris, Stanford Hall (Lutterworth), Leicestershire, LE17 6DH
16 August, 6:30-9pm at The Chocolate Factory on at 5 Clarendon Rd, Wood Green, London N22 6XJ
22 August, 6:30-9:30pm at The Chocolate Factory on at 5 Clarendon Rd, Wood Green, London N22 6XJ
Further workshop dates will be announced in due course – check out the Sugar, Sugar Facebook page for more details and how to book.