In September 2017 applications were opened for PLATFORM – our new support and development opportunity for emerging writers. We're delighted to announce that we have offered seven London-based writers a place on the scheme – Ed Cottrell, Vanessa Stephen, Belinda Zhawi, Anna James, Ollie Charles, Han Smith and Jessica Oghenegweke – congratulations writers!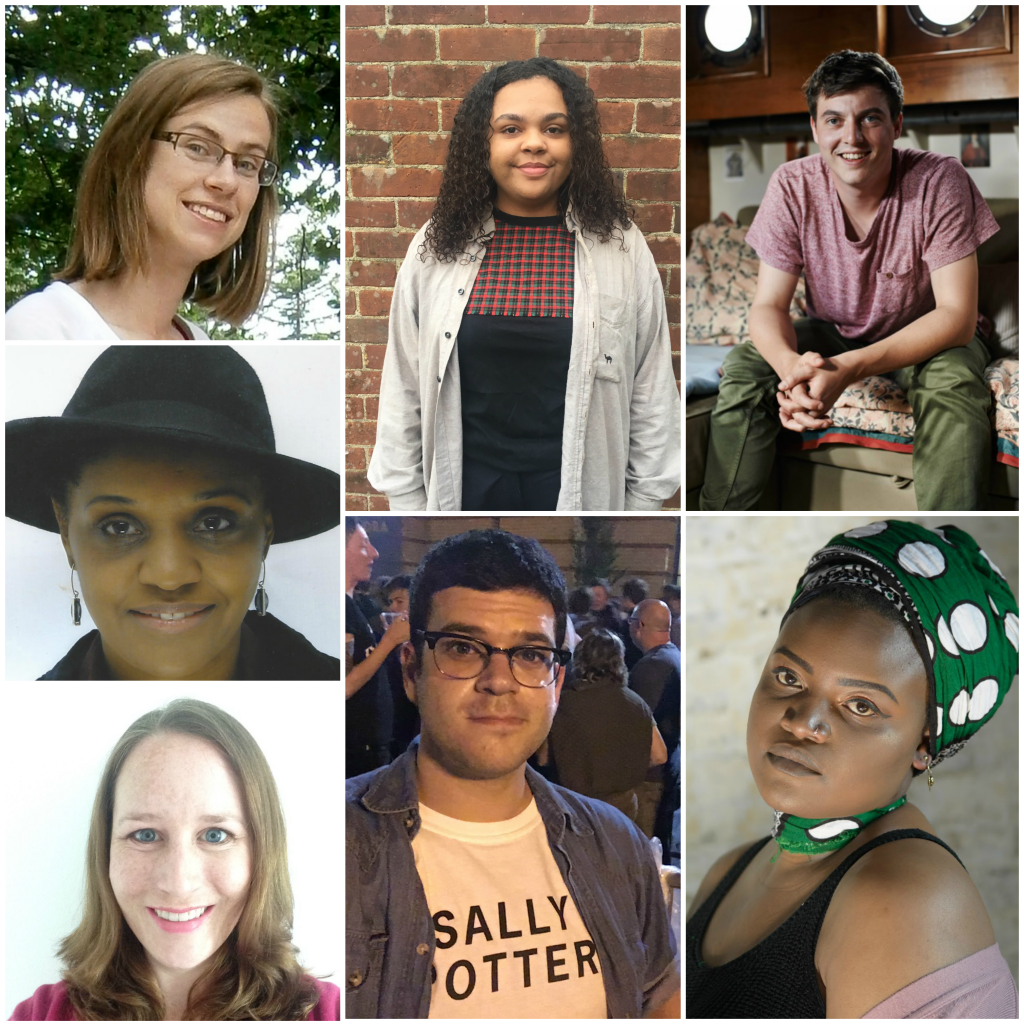 Read all about our final seven below:
Belinda Zhawi is a Zimbabwean born writer, educator. She's co-founder and host of the bi-monthly poetry social, BORN::FREE. Belinda was the 2016/17 Institute of Contemporary Arts Associate Poet. She's currently based in London, working on her debut pamphlet.
Belinda says, "I am glad to have the opportunity to work on a collaborative project. It feels good to have a vision and receive support in realising it. I look forward to seeing how the program will shape and benefit my project."
Jessica Oghenegweke is  20 years old and lives in East London. She has always enjoyed reading, writing and being immersed in Literature and likes writing about her own identity, the journey of others through her writing and hopes to have her writing published one day.
Jessica says "I really am so excited and grateful to be a part of PLATFORM. As an emerging writer this opportunity is much more than I could have wished for. Not only do I get to pick the brains of a great writer and develop my work through professional help, but I also get the chance to share it with an audience I wouldn't have had without PLATFORM – I'm very thankful!"
Ed Cottrell's work has appeared in Neon Magazine, Brittle Star and Mechanics' Institute Review Online. He was a winner of Writers' Centre Norwich's Escalator/Inspires programme in 2014, and in 2015 spent two months writing at Toji Cultural Foundation in South Korea. He studied English Literature at the University of Warwick, and currently lives in London and works for Modern Poetry in Translation.
Ed says "Being selected for PLATFORM is a huge encouragement – I'm honoured to have been picked. Over the course of the project I'll be working on a set of stories that are linked via unusual ways (for example: image and repetition, sound and echo).  I'm very excited by the opportunity to work on this in a focused way with the mentoring support of Jarred McGinnis."
Anna James is a London-based writer and educator working with children and young people in the charity and heritage sectors. She has recently completed a PhD in Creative and Critical Writing at UEA, where she researched and wrote historical fiction. She is now experimenting with a more poetic mode of storytelling to develop this work into a verse novel.
Anna says "I am absolutely thrilled to be part of the PLATFORM scheme, since it will help me to change direction as a writer and to take greater risks with form. I am very much looking forward to working with my mentor, Laila Sumpton and I am excited about developing a poetic narrative to bring to life the history of London during and after the Great Fire."
In Ollie Charles's day-to-day life he works as a publicity manager in the independent film distribution sector and has been able to work on some amazing film campaigns, which has led him to exciting places and funny situations. He is inspired by the work of Jack Thorne, Bret Easton Ellis, Tennessee Williams, Alan Bennett, David Hare, Patrick Marber, Alan Hollinghurst and Michael Cunningham. There are a variety of writing interests that he has including stories that explore gender, sexuality, identity and the cult of celebrity.
He says '"I am so excited to be part of the PLATFORM scheme, working closely with my mentor and Spread The Word across my project. This is going to be an invaluable opportunity to work closely with other writers and a first step on a journey that really could take me anywhere. Thank you!"
Han Smith writes because reading is what gives her hope, comfort, understanding, challenges and motivation – and she would like to be able to have a similar effect on other people.  Islands, water, bodies and distance are some of the things she tries to write about, and ungendered language, second-person perspective and memory-based structures are some of the writing techniques that she enjoys experimenting with.
Han says, "I'm really excited to be taking part in PLATFORM. This is an excellent opportunity to work with a more experienced writer and receive feedback on the project I want to develop. I am particularly looking forward to discussing how explicit to be when writing and what to hold back and leave implicit."
Vanessa Stephen has been writing poetry and short stories since the age of 7.  Recently she has started to write a novel, but only within the last few years made a decisive commitment to get her work published.
She says that being part of PLATFORM "tickles my heart and has given me a real confidence boost having an accomplished mentor to develop my writing project. Also knowing that I will be able to showcase my creative offering in March 2018- I can't wait!"
Each writer will be offered three mentoring sessions over three months and receive a micro-bursary of £500 to help develop their idea. They will also be given a free place at the Writer Development Lab and the opportunity to present their developed piece of work at the PLATFORM Showcase at the end of the scheme. The mentoring sessions will be led by Spread the Word's Associate Writers – Simon Mole, Ruby Cowling, Sabo Kpade, Nick Field, Jarred McGinnis, Laila Sumpton and Jasmine Ann Cooray.
This project has been made possible thanks to the generous support of Cockayne – Grants for the Arts and The London Community Foundation.
Image of Belinda Zhawi © Theo Ndlovu
Published 9 November 2017
---
---