The City of Stories anthology celebrates London's writers, readers and libraries.
"City of Stories has revealed a capital that is bursting with compelling new voices, thrilling characters and enthralling stories. It has enabled me to discover new talent and for that I'm enormously grateful and inspired. The stories cover numerous times and a panopoly of places, but each have something in common: the writer is a great new voice."
– Bidisha, author of Asylum and Exile: Hidden Voices of London and Too Fast To Live, City of Stories writer-in-residence 2017
The anthology features over 60 London-based writers who took part in creative writing workshops in June 2017 in libraries across the city, who entered the City of Stories competition. Their work has been selected by judges Irenosen Okojie, Bidisha and Courttia Newland as winners and highly commended. Stories by the judges themselves, the City of Stories writers in residence with Alex Wheatle, also feature in this anthology.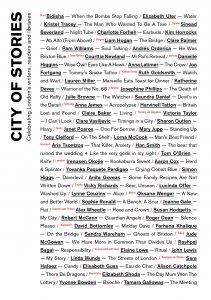 Limited copies are available for free for attendees at City of Stories events taking place in London libraries throughout November 2017, and twenty library services taking part in City of Stories will have the anthologies in stock for you to borrow in their permanent collection from late November 2017.
Buy Now
Anthologies are available to buy for £3.00 and a shipping fee of £2.00 per book for UK orders. Funds raised through book sales support Spread the Word's work with writers in London.
Buy City of Stories Anthology now

£

3.00
City of Stories is a project run by the Association of London Chief Librarians in partnership with Spread the Word, funded by Arts Council England Grants for the Arts. 
---
---