Join mayamada for a fun and interactive comic story workshop!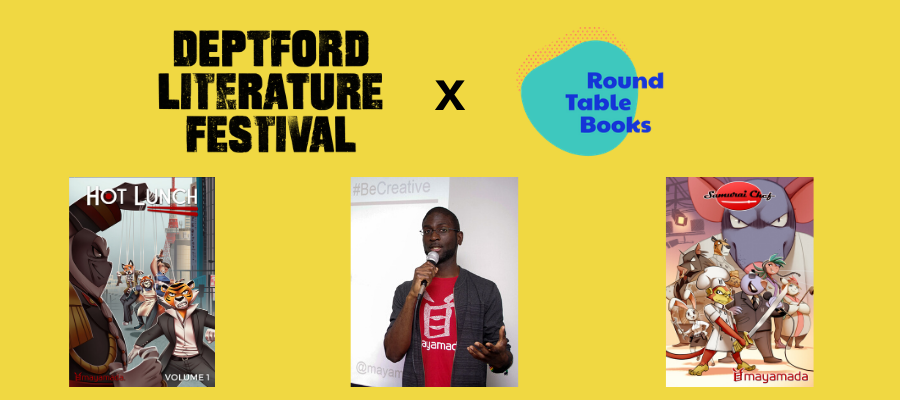 Attendees will learn how to create their own characters and stories, and will also be able to draw the first pages of their comic book! This is the perfect event for any budding artist or storyteller!
Age guidance: 8 – 12
Please note that parents, guardians or carers must stay with their children during this event. When booking a ticket, you only need to book one ticket per child (i.e. you don't need to book a ticket for yourself and your child).
This event is part of Round Table Books' day of family activities at Deptford Literature Festival, curated for our younger festival goers and their parents, carers and guardians. Round Table Books will be selling books by featured authors and more at the festival in Deptford Lounge Library throughout the day.
About Round Table Books 
Round Table Books is the only children's bookshop in Brixton. It officially opened its doors in June 2018 after successfully running two pop up shops and crowdfunding £50,000 to do so. It stocks inclusive titles from underrepresented authors and illustrators for the ages of 0-18 and regularly holds events both in the store and wider community.
About Deptford Literature Festival 
Deptford Literature Festival celebrates the creativity and diversity of South East London through stories, words and performance. Most events are free. It is funded by Arts Council England and run as a collaboration between independent producer Tom MacAndrew and Spread the Word. You can read more about the festival and see the full programme at spreadtheword.org.uk/deptford-literature-festival
Free but ticketed, what we'd like you to know
This event works on a first come, first served basis. Any ticket uncollected 5 mins prior to the start time may be subject to reallocation. If you've booked a ticket and know in advance of the event day that you can no longer attend, please let us know so we can offer your ticket to someone else.
WORKSHOP LEADER
Nigel Twumasi
---
See More
Nigel Twumasi is the co-founder of mayamada, the UK manga brand featured in NEO
Magazine, Mashable, Bleeding Cool and the BBC among others. They have exhibited at
comic conventions across the UK, Europe, and the United States. Alongside US-based
illustrator Pinali, Nigel has produced seven print titles from the mayamada universe: a fantasy
television network with an all animal cast of characters. Each manga title tells the story of a
different show! They will be bringing their brand new manga, Hot Lunch Vol.1, to the Deptford
Literature Festival after being successfully funded on Kickstarter in 2019.
---
Deptford Lounge (children's library)
---