Join author and illustrator Nathan Bryon and Dapo Adeola for an out-of-this-world event about their debut picture book 'Look Up'!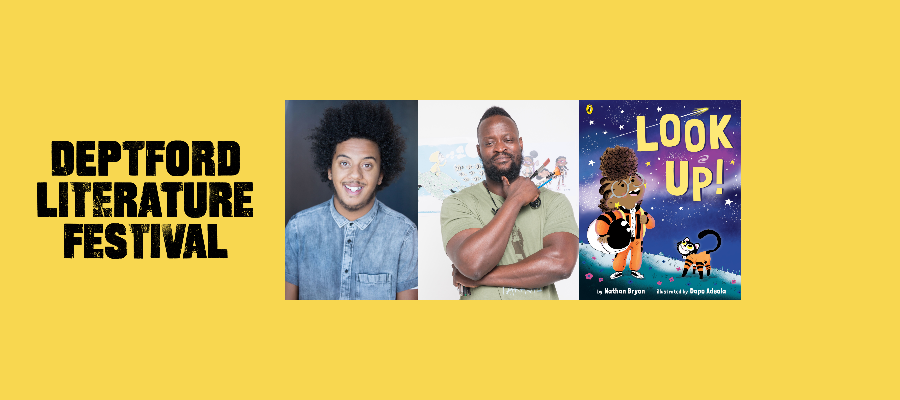 Find out all about Rocket, a science-mad chatterbox who is going to be the greatest astronaut, star-catcher, space-traveller that has ever lived…she just needs to get everyone around her to look up from their phones and up at the stars! So, get ready to look up from your screens and enjoy a lively event full of storytelling, fun facts and top drawing tips from this exciting debut duo.
Age guidance: 3+
Please note that parents, guardians or carers must stay with their children during this event. When booking a ticket, you only need to book one ticket per child (i.e. you don't need to book a ticket for yourself and your child).
This event is part of Round Table Books' day of family activities at Deptford Literature Festival, curated for our younger festival goers and their parents, carers and guardians. Round Table Books will be selling books by featured authors and more at the festival in Deptford Lounge Library throughout the day.
Free but ticketed, what we'd like you to know
This event works on a first come, first served basis. Any ticket uncollected 5 mins prior to the start time may be subject to reallocation. If you've booked a ticket and know in advance of the event day that you can no longer attend, please let us know so we can offer your ticket to someone else.
About Round Table Books 
Round Table Books is the only children's bookshop in Brixton. It officially opened its doors in June 2018 after successfully running two pop up shops and crowdfunding £50,000 to do so. It stocks inclusive titles from underrepresented authors and illustrators for the ages of 0-18 and regularly holds events both in the store and wider community.
About Deptford Literature Festival 
Deptford Literature Festival celebrates the creativity and diversity of South East London through stories, words and performance. Most events are free. It is funded by Arts Council England and run as a collaboration between independent producer Tom MacAndrew and Spread the Word. You can read more about the festival and see the full programme at spreadtheword.org.uk/deptford-literature-festival
WORKSHOP LEADERS
Nathan Bryon
---
See More
Nathan Bryon is an award-winning writer and actor who has written for BAFTA award-winning children's TV shows, such as Swashbuckle and Apple Tree House and critically-acclaimed Rastamouse. A rising star in the world of screenwriting, his animated series, Afro Kid, is currently under option. 'Look Up!' is his debut picture book for children.
Dapo Adeola
---
See More
Dapo Adeola is an illustrator and character designer who creates characters and images that challenge gender norms in a fun and upbeat way. He runs illustration and character design workshops in and out of schools, to help highlight the possibilities of a career in illustration to inner-city children.
---
Deptford Lounge (children's library)
---