A fun, heart-warming comedy set on the N89 bus, featuring classic South East London night bus passengers everyone will recognise.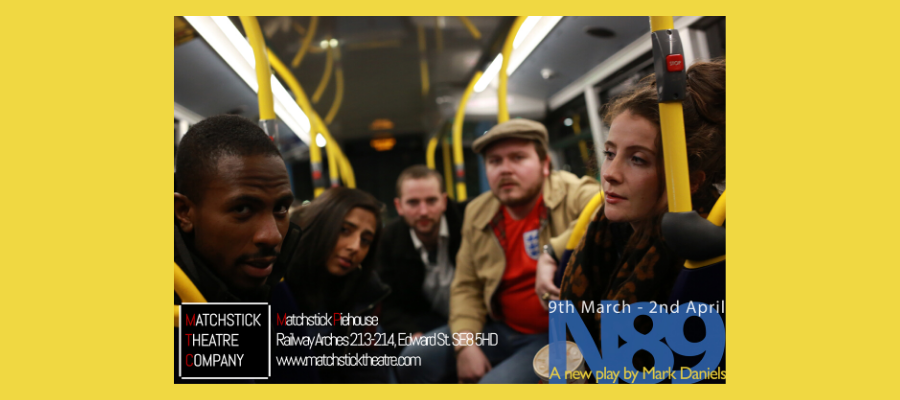 Saturday morning. 1am. Trafalgar Square. Kim stumbles onto the N89 and falls asleep on a stranger's shoulder. That shoulder belongs to Daniel. This chance meeting is the start of something special. 
As the bus hurtles through Southwark, Elephant, Deptford and Lewisham, a series of crazy interactions with the other drunken passengers help Kim and Daniel learn a lot about each other, and, as they both come out of their shells way more than they usually would with a stranger, they even learn some new things about themselves. They're on the same bus journey. But their life journeys are heading in very different directions. 
N89 is a play that deals with issues affecting modern Londoners: gentrification, race, loneliness, economic adversity, and what it means to be a Londoner. It is also a fun, heart-warming comedy, featuring classic South East London night bus passengers everyone will recognise: the smooching couple clutching fried chicken; the post-club partygoers looking for a fight; and the guy who REALLY overshares whilst yelling into his phone.
Join Kim and Daniel on the N89 for laughs, gasps and romance in this local tale of a South East London journey.
Photo by Ben Wainwright.
Presented by Matchstick Theatre Company 
The performance will be followed by a playwriting workshop with N89 writer Mark Daniels and playwright Annette Brook at Deptford Lounge 3.30 – 4.30pm. Book your free space here: spreadtheword.org.uk/events/deptford-literature-festival-matchstick-theatre-company-playwriting-workshop/
About Deptford Literature Festival
Deptford Literature Festival celebrates the creativity and diversity of South East London through stories, words and performance. Most events are free.  It is funded by Arts Council England and run as a collaboration between independent producer Tom MacAndrew and Spread the Word. This event is for people aged 16+. You can read more about the festival at spreadtheword.org.uk/deptford-literature-festival
Free but ticketed, what we'd like you to know
This event works on a first come, first served basis. Any ticket uncollected 5 mins prior to the start time may be subject to reallocation. If you've booked a ticket and know in advance of the event day that you can no longer attend, please let us know so we can offer your ticket to someone else.
CREATIVES
---
Location
Matchstick Piehouse, Railway Arches, 213-214 Edward St, Deptford, London SE8 5HD
---