Write tiny stories inspired by Deptford Market in this fun, supportive flash fiction workshop.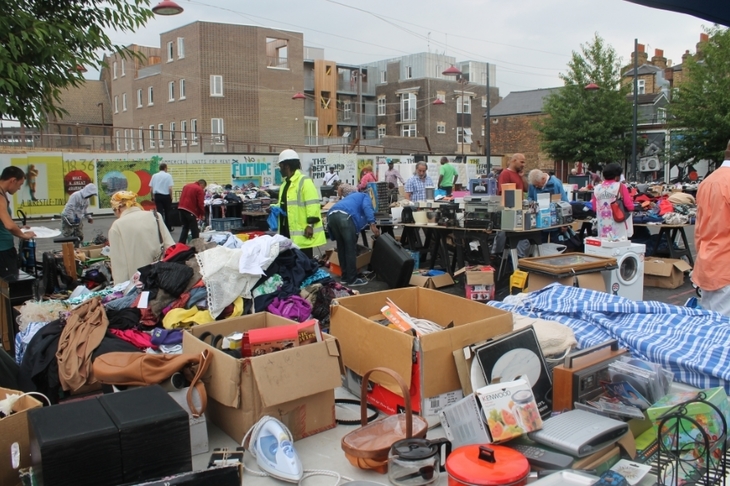 Deptford Market has been a thriving hub at the heart of the community for over a hundred years. Selling everything from fruit and veg to funky fabrics and all the bric-a-brac essentials you could want, the Market continues to provide vendors and visitors alike with a reason to be proud of Deptford. 
In this fun, supportive workshop, we'll use Deptford Market as inspiration for writing tiny, powerful stories. We'll start off by reading and discussing some published flash fiction and sharing our ideas on what makes a very short story successful. Then, we'll take a short walk to Deptford Market to observe and make notes, and we'll use our experiences to craft miniature stories that explore the sights and sounds of SE8.
If we're feeling brave we'll also share our flash fictions!

This workshop is suitable for writers of all levels (aged 16+) Please note that you will be required to travel a short distance to and around the Market. Please dress warmly and bring an umbrella, just in case.
About Deptford Literature Festival
Deptford Literature Festival celebrates the creativity and diversity of South East London through stories, words and performance. Most events are free. It is funded by Arts Council England and run as a collaboration between independent producer Tom MacAndrew and Spread the Word. You can read more about the festival at spreadtheword.org.uk/deptford-literature-festival
Free but ticketed, what we'd like you to know
This event works on a first come, first served basis. Any ticket uncollected 5 mins prior to the start time may be subject to reallocation. If you've booked a ticket and know in advance of the event day that you can no longer attend, please let us know so we can offer your ticket to someone else.
WORKSHOP LEADER
Maria Thomas
---
See More
Maria Thomas is a short story writer and teacher resident in New Cross, Lewisham. In 2017, her story
'Dead Yard' won the London Short Story Prize. Her fiction has been published in journals such as Wasafiri, New England Review, and the Masters Review Anthology, and she has won numerous prizes and residencies. She has an MA in English Lit from University of Virginia, an MFA from University of Oregon in Fiction, and a PG Cert in Learning and Teaching from Goldsmiths. She has taught undergrads and postgrads creative writing at all three institutions. She is currently a PhD candidate in Creative Writing at Goldsmiths, where she is working on a novel. She also teaches fiction workshops for Spread the Word, and coordinates the creative writing programme at City Lit.
---
Deptford Lounge Room 2
---