Hanna Ali was short-listed for the London Short Story Prize in 2016 for 'The Story of Us' – a beautifully woven story, exploring the transitions in a young women's life and her relationships with her mother and grandmother. Fast forward two years later, and Hanna has launched her debut collection of short stories with Market Fifty-Four. Our Communications Manager, Francesca Baker spoke to Hanna to find out more…
TRANSCRIPT
Francesca Baker: I'm here with Hanna Ali, who has recently published her first book. Very exciting. The Story of Us is a collection of five short stories about womanhood from a Somali perspective. Can you tell us a little bit more about you and your writing?
Hanna Ali: This is my debut collection. It's called The Story of Us, and it grew out of the competition that I did with Spread the Word a couple years ago where I was shortlisted. One of the stories in the story, which is also the name of the book, is "The Story of Us," which was a featured story in Spread the Word.
It's a collection, like you said, about womanhood. It's about overcoming different obstacles. It's not necessarily just about being Somali; it's about what it means to be a woman, what it means to be black, Muslim, etc., navigating all the different levels of being a woman, I suppose.
Francesca Baker: Why did you choose short stories as the format for telling these tales?
Hanna Ali: I think because I have a lot of stories in me, I find it hard to limit myself to one story, essentially, which is a novel. I find it more interesting to take a glimpse into somebody's life and then walk away from it not really having a conclusion, because I think that life doesn't really have a "the end."
Francesca Baker: It's not always neat and tidy, as novels might have us believe.
Hanna Ali: Exactly. They never really end in a satisfactory way, perhaps, as well.
Francesca Baker: You're obviously writing about black women, Somali women, Muslim women – how much do you bring your own self into the stories?
Hanna Ali: I think as a writer, you bring some element of yourself, because essentially you are the artist, as it were. But this is very much a fiction-based collection. I look at certain themes that obviously I have gone through myself, such as being a child refugee, being Somali, being a woman – but beyond that, it's really a fiction collection looking at different ways in which your life can fall apart or not fall apart as a result of a tumultuous childhood.
Francesca Baker: You use the metaphor of the troubles of war in Somali and that women live with that, and then it reflects the idea of being slightly troubled yourself or at war with yourself. Can you explain a little bit more about that?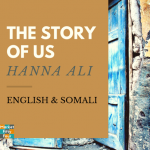 Hanna Ali: Oh gosh. Yes. From the many conversations that I've had with Somali girls and women throughout my life, there's a difference between first generation refugees or those who were born here or born in Europe whose parents were refugees.
They all have the same notion of trauma. Even those that were born here relive their parents' trauma. It's this idea that we know that we're not quite at home, but yet I've grown up here and this feels like home, and sometimes I'm made to feel like this is not my home. So all that comes into play when you look at your identity and yourself.
Really, there is no right answer. It's more about unpacking all these different questions of, why do I feel unsettled?
Francesca Baker: Is writing a tool for you for unpacking ideas?
Hanna Ali: Absolutely, definitely. I come from a poetry background, so I naturally gravitate towards writing in first person and gravitate towards writing in a style that feels very much like this is about me and my past and my experiences. But doing the short story collection has allowed me to play around that and actually say, no, I can do a work of fiction and I can bring imagination into play.
Francesca Baker: You were shortlisted for the Short Story Prize in 2016, which is very exciting. What impact did the recognition and celebration of that prize have on your writing?
Hanna Ali: That made a massive difference to my life. First of all, it was the first competition I'd ever entered. I'd spent all of my adult life, I think, just thinking to myself, "I'd like to write but I don't want to show anybody."
Francesca Baker: Put myself out there.
Hanna Ali: Yeah, because they're going to just think "you're not that good." It was this idea that you get critiqued a lot in academia and school life, so you're graded your whole life. I thought, "If I get graded on this and somebody tells me 'you're really bad,' then I won't have anything to myself." It was really scary.
Being shortlisted and being part of the anthology was amazing, because I thought to myself, "Okay, right, so I'm not horrible. I'm not terrible. I'm actually a good writer." This idea that "I can do this," and the recognition that I got doing the event as well – JJ Bola, for example, he was there, and he came up to me afterwards and he was like, "That was amazing. That was my favourite. You need to write a book."
Then I ended up doing that, and he ended up buying my book and tweeted about it. It just felt like a full circle of people who really champion you.
Francesca Baker: That community and that support there.
Hanna Ali: Yeah. It was life-changing.
Francesca Baker: What's next for you?
Hanna Ali: What's next for me? I'm writing new stories. I'm still committed to the idea of writing a larger short story collection. What I'm hoping to do is add more stories into that and hopefully publish, by 2020, something a bit more experimental.
Francesca Baker: Ooh, exciting.
Hanna Ali: Not quite short stories, not quite poetry, not quite a novel.
Francesca Baker: And if they want to keep up to date, they can find you online?
Hanna Ali: You can find me on Twitter, follow me @HannaAli. You can go to my website, hannaali.com. And I've just joined Instagram, but I've got two posts. It's not a very cool place.
Francesca Baker: Brilliant. Thank you so much.
Hanna Ali: Thank you.
Find out more about Hanna's debut collection of short stories and how you can get a copy here.
---
---