Looking for life writing suggestions? The Life Writing Prize 2017 winner and highly commended writers, and judging panel share their top life writing titles that have inspired them.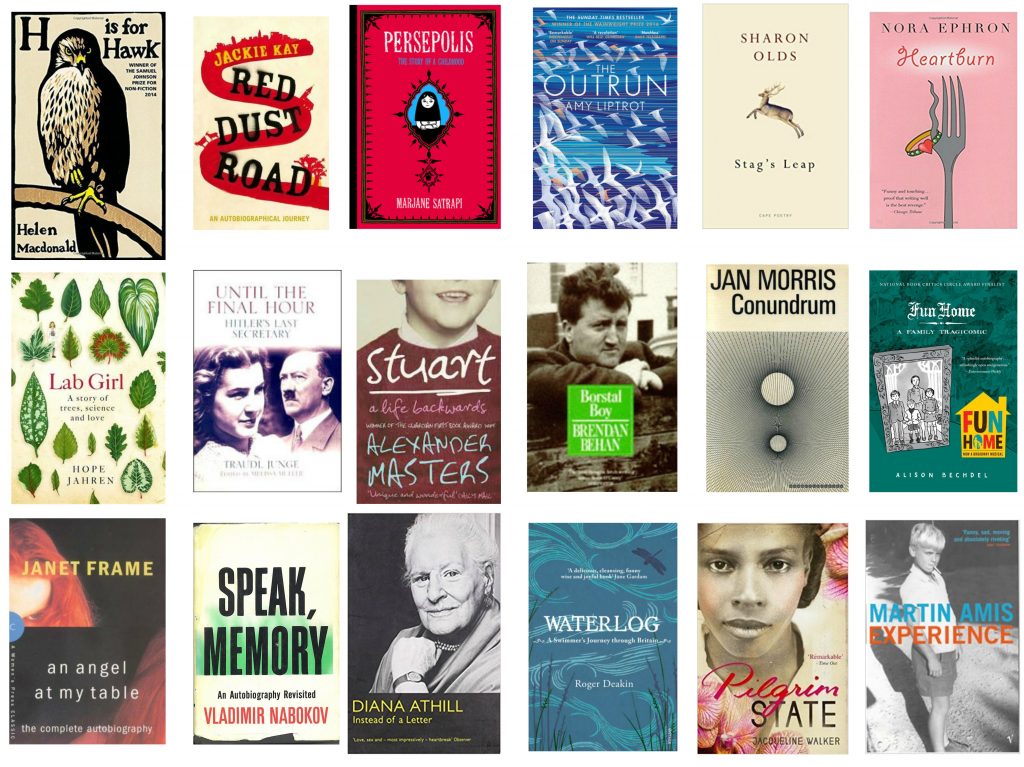 Jon Paul Roberts, Life Writing Prize winner 2017 recommends: 
Heartburn by Nora Ephron – Though it's technically classed as a novel, Ephron's account of how her husband left her for another woman when she was seven months pregnant is hilarious, wise, and touching. It focuses on adultery, marriage, and moving on. It taught me how to be funny and not to let that hinder the importance of what I wanted to say.
Fun Home by Alison Bechdel – This memoir in the form of a graphic novel is astounding. It's a family memoir, about sexuality, loss, death, and parents (no wonder I really enjoyed it). It's written with wit and style. The illustrations are beautiful and the words will break your heart. It's a remarkable work of genius.
Stag's Leap by Sharon Olds – This book kills me. Olds tells the story of her divorce over this collection of poems and she captures the hurt and pain like no one else can. She can create an image like no other, and leaves no stone unturned. It's a lesson in honesty and confession.
How To Grow Up by Michelle Tea – In this 'memoir-in-essays' Tea discusses her former addictions, her money issues, her housing problems, her love life, her trip to Paris fashion week; nothing is off the cards. It's honest, funny, and profound. This book pulled me out of the hole I'd been in after my dad died, and it showed me the way to find the silver linings amongst the negativity.
How Did You Get This Number by Sloane Crosley – In her second collection of essays Crosley explores a trip to Portugal, her relationship with taxi drivers, a trip to Alaska for a friends wedding that ends gruesomely, and more. The collection taught me so much about essay writing. It showed me how to hone in on the specifics, to add wit and humour, and to understand, overall, what you're trying to say. Crosley is, to put it simply, an excellent essayist and if you're interested in writing them I'd read this book!
---
Claire Lynch, Highly Commended Life Writing Prize writer 2017 recommends: 
H is for Hawk by Helen MacDonald (2014) – My sense of this book is tied up with how I read it, all in one sitting on a cold Sunday in January. I was completely transported by it and made shamefully aware of how little attention I paid to the wildlife around me. It's transformative.
Stuart: A Life Backwards by Alexander Masters (2005) – Masters' portrayal of the the biographer-subject relationship is like nothing else I've read. Very few biographies manage to balance real humour and unbearable tragedy in the way it's done here.
Persepolis by Marjane Satrapi (2008) – A classic of graphic memoir. This book deserves to be on the list for its portrayal of childhood and adolescence alone but the weaving of the personal narrative into that of Iran's ancient and recent history is what makes it remarkable.
Borstal Boy by Brendan Behan (1958) – An unusual choice perhaps but something I've read over and over. Ostensibly a prison memoir, the book is really is a portrait of outer bravado and inner vulnerability.
Conundrum by Jan Morris (1974) – This is an eloquent and moving account of being 'in the wrong body'. I love the author's hypersensitivity to what it means to be and have a body, something many of us are likely to take for granted. It's a real insight into another person's experience of living.
---
Kerri ní Dochartaigh, Highly Commended Life Writing Prize writer 2017 recommends: 
Amy Liptrot- Amy's book The Outrun is the book that has changed my life in the deepest way without a shadow of a doubt.  Her writing is beautiful, honest and so good it leaves an imprint on your insides.
Vladimir Nabokov – Nabokov's Speak Memory blew my mind as a young Undergrad. After my first reading of the book I dreamed of the most beautiful and colourful butterflies crossing borders for many weeks. His blending of fact with startling and magical fiction has influenced me for well over a decade now.
Jeanette Winterson – Winterson has stated that there is no such thing as autobiography and continuously leaves me dangling as a reader off the golden threads of the webs of life(s) she weaves. For that, and for every single word she has ever written, I will be ever grateful.
Roger Deakin -Deakin's work, although mostly termed 'Nature writing' shines a bright and honest light on what it means to live a life true to who you are.
Helen MacDonald- The way in which H is for Hawk deals with grief completely changed the way I looked at memoir and its relationship with the outside world. Her honesty and writing style are deeply moving.
---
Blake Morrison, Life Writing Prize 2017 Judge recommends:
Five fine relatively recent examples of life writing, to my mind, are:
My Struggle by Karl Ove Knausgaard (any of the 6 volumes, but my favourite is the second)
Lorna Sage's Bad Blood
Dave Eggers's A heartbreaking work of staggering genius
Tobias Wolff's This Boy's Life
Linda Grant's Remind Me Who I Am, Again
---
Katy Massey, Life Writing Prize 2017 Judge recommends:
The Three of Us by Julia Blackburn
Red Dust Road by Jackie Kay
Pilgrim State by Jacqueline Walker
Bad Blood by Lorna Sage
Smile Please by Jean Rhys
---
Margaret Stead, Life Writing Prize 2017 Judge recommends:
I find this very difficult to do as there as so many wonderful books to choose from – and I am excluding any published by Atlantic! However, these are a few that have had a profound effect on me over the years:
Until the Final Hour by Traudl Junge –the searing memoir written as confession by Hitler's secretary, which was the basis for the film Downfall.
Pond Life by Al Alvarez –a beautiful, poignant meditation on aging, and on the Hampstead Ponds, one of my favourite places.
An Angel at My Table – the second of Janet Frame's marvellous three volumes of autobiography.
Experience by Martin Amis –clever, funny, glittering.
Instead of a Letter ­- the most powerful of Diana Athill's wonderful books. As she has said, it taught her that 'Difficult things happen; I recover.'
Lab Girl by Hope Jahren – I desperately wanted to publish this brilliant book about being a woman scientist, being bi-polar, and about the trees the author has studied through her life's work.
---
---