The Asia House Poetry Slam Competition has closed for entries and we have seven finalists in contention for title of the Asia House Poetry Slam 2019 Champion. On 29 October, the poets will be sharing their work with a live audience. It will be judged by Imtiaz Dharker and Theresa Lola, the third Young People's Laureate for London, who will also be performing on the night. You can find out more about each artist and how to book your tickets below…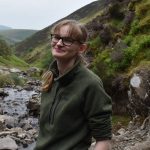 Kate Dickins is 23 and grew up in the multicultural community of Gravesend in Kent. She is currently living in Staffordshire, studying Chemistry at Keele University. She has always been fascinated by words and foreign languages, though she believes she lacks an aptitude for the latter. She is a Girlguiding leader, Christian, tea enthusiast, and suicide survivor. She's narrated her life with Taylor Swift lyrics and ad lib poetry since she was fourteen and has no intention of stopping.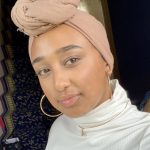 Amina Ali studies English Literature and Arabic. She has chosen to focus her dissertation on diaspora writers as she has found that writing helps her most through belonging and identity crises. She also loves to write about issues that diaspora individuals deal with, for this reason writing is her form of therapy and coping.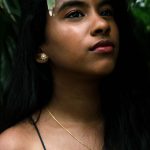 Mayura U is a London-based writer, spoken word performer and presenter. Her poetry mainly explores themes surrounding mental health and identity. Although she has been writing since her childhood, Mayura only began performing in her first year of university, where she gained her BA in English Literature with Creative Writing. Since then, she has performed at the V&A Museum for the V&A Lates, featured on BBC Asian Network, headlined Yoniverse's 'Golden Tongue' event and has performed throughout London and Norwich. Most recently, she wrote episodes for and presented her own spoken word series which aired as part of 'The Social' on BBC Radio Norfolk.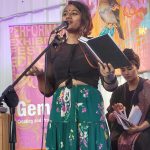 Prerana Kumar is an Indian spoken word artist who likes chasing dragons, chugging coffee and spends a lot of her time giving out free hugs.  She is the winner of the Say Owt Slam 2018 and  won the Verve Poet of the Slam prize for best individual performance at UniSlam 2019. She was also a BBC WordsFirst Finalist (2019). She has performed at spoken-word events across the UK. She has been published in The Writer's Cafe, The Verve Community Anthology, and Use Words First.Her poetry revolves around identity, love, loss and occasionally, a healthy dose of nyctophilia.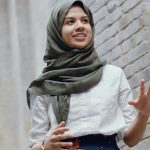 Zahra is an Indian poet based in Essex. She is a Barbican Young poet and Roundhouse Poetry Collective Alumna. She recently won the Bridport Prize for Poetry and was runner up at the Roundhouse Poetry Slam 2018. Her work has been featured across BBC World News, The New Indian Express and Poetry News. In her work, she explores the lives of the diaspora and what belonging means to her. She is currently working on her debut pamphlet, Datepalm Ghazals. Photo credit: Suzi Corker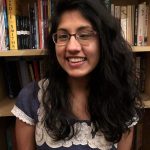 Michelle Nathan is a spoken word poet of Mauritian / Sri-Lankan descent, whose work often explores her relationship with her identity, family and culture as a second generation daughter of Asian immigrants. She believes that, even in the absence of shared language, history or experience, connections can be forged and bridges can be built, and she tries to reflect this in her work. She currently works in children's publishing, where she hopes to help introduce the next generation to her first and greatest love; stories, in all their many, magical forms.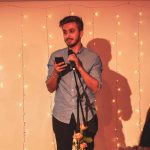 Aman Grover is a public speaker and spoken word artist based in Hounslow. His poetry often reflects on the rich mixing pot of culture, identity and faith that represents being a British Asian. He's driven by creating an impact in his local communities, whether that is through facilitating workshops for students across London or studying his Master's degree in Climate Change. His poetry paints a vibrant portrait of the contrast in the capital city which his family call home, with its towering metallic metropolis against modest clay homes, and all the wandering souls bustling in-between.
The Asia House Poetry Slam 2019 is open for booking here: https://www.eventbrite.co.uk/e/asia-house-poetry-slam-2019-tickets-64959710242
Published 21 October 2019
---
---