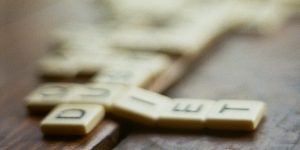 Let Us Play Scrabble Again
by Theresa Lola
---
Let Us Play Scrabble Again
The scrabble board is a neatly cut cape, we touch
the hem of its board and feel a strength return
to us like a prodigal child. My mother smiles
for the first time this week, my father brings
home the sun in his palm, my sister cleaves
from the sticky skin of her phone. I find
tranquillity thick as a towel cover me.
The scrabble board transforms into whatever
is required by the bodies around it. Sometimes
the scrabble board is a plate we eat words from,
our mouths swallowing conversation peacefully
since the breaking news starved us of an appetite.
Sometimes the scrabble board is a classroom board,
we learn life is a continuous anagram, we learn to form
meaning out of nothing. We learn it is a conscious effort
to be linked by words, by language, by love.