Spread the Word is pleased to announce the first group of writers to become Associate Writers with the organisation.
Seven London-based writers were selected for this scheme in recognition of their creative talent and commitment to their craft. They are: Jasmine Ann Cooray, Ruby Cowling, Nick Field, Jarred McGinnis, Simon Mole, Laila Sumpton and Sabo Kpade.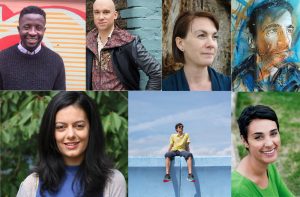 Spread the Word will offer these talented writers networking opportunities, support and a small bursary to support them with their creative development. As Associate Writers, they will feature in Spread the Word's programme and across our communication channels; boosting their profile and celebrating their practice across different literary and performance spaces.
---
'Spread the Word is an amazing advocate for writers, a hub for ideas and offers development and support opportunities that make such a huge difference to writers in London and beyond. Being an Associate Writer with Spread the Word is such a great opportunity to get more involved with all those things and a huge boost to my work as a writer. I'm really excited for this new adventure with Spread the Word.' – Nick Field
'Spread the Word are great at taking a chance on writers when they see potential and supporting them as they grow. Being an Associate Writer for Spread the Word, means a great deal, it's a wonderful endorsement of the work I do as a poet. I really respect their commitment to widening access to and enjoyment of literature, I look forward to continuing to campaign alongside them!' – Laila Sumpton
---
Spread the Word is delighted to be able to offer this opportunity to Jasmine, Ruby, Nick, Jarred, Simon, Laila and Sabo and the team are looking forward to working closely with them in the year ahead.
---
---