We're very excited to be supporting Olumide Popoola with the return of her creative writing development scheme for LGBTQ+ prose writers: The Future is Back. Ollie Charlies, Elizabeth Lovatt and T Fairclough from last year's cohort – Futures in the Making, spoke to us about their experiences, shared their creative work and spoke about why LGBTQ+ writers should apply for this scheme. The playlist – with transcripts can be viewed here. Check it out!
Applications are open until 1 May. Get applying: bit.ly/thefutureisback2019
---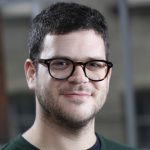 Ollie Charles is currently working on his first novel, a satire about the fashion industry. He is also the co-founder of Untitled, a new platform for underrepresented writers to share their work with a live audience (their first event is on 25th April in London) and will hopefully be expanding to include workshops later in the year. Currently is a Writer in Residence at the City Academy, following his time on the Futures in the Making scheme and Spread The Word's PLATFORM scheme. He is interested in writing that explores gender, identity, sexuality, the cult of celebrity and fame.
---
---