Update 18 March 2020:
We are sorry to announce that Spread the Word and London Wildlife Trust have decided to postpone our This Is Our Place nature writing project for a year. We are truly sorry to do this, but this decision has been made to ensure the health and wellbeing of all potential project participants and writers. We considered alternative approaches – postponing to alternative as yet unknown dates in the Autumn or moving the project online, and we didn't feel either approach is right.
The project is about connecting with nature, each other and words. We are hopeful that by postponing for a year, we will be offering something out for people who will enjoy and need it more than ever. The project funders have been informed and are supportive of this decision. We're sorry to everyone who was looking forward to the project, and we're grateful for your understanding. Project updates will take place on Spread the Word and London Wildlife Trust website and social media channels. Any writers who have applied for the role of writer in residence will be eligible for the role next year.
Original post – February 2020:
Spread the Word, in partnership with the London Wildlife Trust, is delighted to announce This Is Our Place. This Is Our Place is a nature writing project celebrating London's wildlife, nature and the diverse communities of the city through words.
"Not everything in the forest is lovely and not all nature writing is to the taste of every reader. But more voices need to be heard from ethnic-minority writers and from a wider range of identities and backgrounds."
– Robert Macfarlane, the New Statesman
This Is Our Place exists to reimagine how we live in London and reflect on our individual and collective relationship to nature and place.   We want to see nature writing being created and read by a multiplicity of people, reflective of the backgrounds of the citizens of our great city.
Nature writing (poetry, nonfiction or fiction) is a powerful way of connecting people to the natural environment via creative self-reflection, mindfulness, and imagination. It opens up the conversation and supports the exploration of key themes such as climate emergency, healing and spirituality.  However, there is currently a bias towards publishing white, middle-class nature writers. London, as one of the world's most vibrant and green capital cities (47% green), is the perfect setting to address this imbalance of voices, engage local communities with nature writing and connect people to their local green spaces.
Ruth Harrison, Director, Spread the Word, says: "Spread the Word is delighted to be announcing our partnership with the London Wildlife Trust. We want nature writing to be representative of the communities in which we live – This is Our Place provides a space for London's writers and communities to engage with our green spaces and create new nature writing that reimagines how we live in London."
Leah McNally, Director of Strategic Projects & Engagement, London Wildlife Trust, says: "London Wildlife Trust is excited to be working in partnership with Spread the Word on This is Our Place. We look forward to hosting the project on our nature reserves across London and being inspired by writers that are currently under-represented in nature writing."
This Is Our Place is funded by the Emergence Foundation.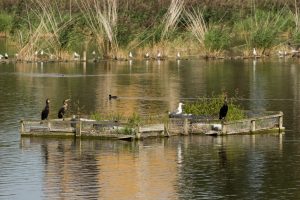 This Is Our Place – the offer for Londoners
This Is Our Place is a project that will open up space for Londoners to write about nature. People can get involved by:
Attending one of 8 free nature writing workshops in June 2020;

Attending one of 2 free nature writing walks in June 2020;

Those who have attended a workshop are encouraged to enter the This Is Our Place nature writing competition – where a selection of winning entries will be published in the This Is Our Place anthology;

Come along to the launch of the anthology in October 2020;

Read and enjoy the anthology in October 2020 (which will be available to buy and to read in many nature / community / library locations across London).
All of the workshops, walks and celebrations will be held in wheelchair-accessible London Wildlife Trust locations. BSL interpretation will be available for two of the workshops, and the anthology launch.
Spread the Word and the London Wildlife Trust is currently recruiting for four lead writers to lead the project. The opportunity is open for applications until Wednesday 18 March, 10am. More information about this opportunity is here.
Workshops are for adults and bookings will open in April. Spread the Word and London Wildlife Trust will announce that bookings are open on their websites and on their social media.
Photo of Walthamstow Wetlands by Penny Dixie.

Published 27 February 2020
Updated 18 March 2020
---
---