BY WINNIE M LI
Three years ago, I read about the The Literary Consultancy Free Reads Scheme through Spread the Word's newsletter, and I remember thinking — hm, that might be helpful. I was two-thirds of the way through writing the first draft of my debut novel (which from its earliest stages, I'd always titled Dark Chapter). I was also, needless to say, financially strapped at this point. Unlike other (possibly wiser) writers who kept their day jobs, I'd felt full-time employment wasn't going to give me the headspace I needed to write the novel I envisioned: a fictional exploration of a crime very similar to my own real-life rape, but told equally from the perspectives of victim and perpetrator. So I was low on funds. There was no way I could have afforded a consultation from The Literary Consultancy at the time.
So when I heard about the TLC Free Reads scheme, I thought: why not? What was there to lose from applying? The worst that could happen is I would get rejected, and as a writer, I was getting accustomed to rejections anyway! I had already written many thousands of words; polishing up 1,000 of those words and writing a synopsis did not seem like an impossible task. So I submitted an application, and a few months later, I was thrilled to hear I'd been selected for a TLC Free Read.
The opportunity did wonders for me as a writer. Karen Godfrey, a former HarperCollins editor, wrote an excellent assessment of my manuscript, which suggested that Dark Chapter could work as a crime novel. Until then, I had not considered this, but I began to see things in a different light as I continued with the manuscript.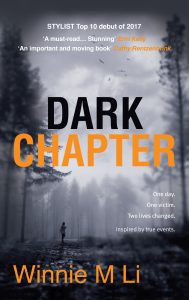 Later in 2015, I entered the Crime Writers' Association Debut Dagger competition, where I was shortlisted and later Highly Commended. This led to offers from agents, and now in 2017, Dark Chapter has recently been published in hardcover by Legend Press! Already listed by Stylist as one of '10 Smashing Debut Novels to Look Out for in 2017′, it's now shortlisted for The Guardian's Not The Booker Prize. The audiobook's just come out, and currently, nine foreign editions are due to come out, starting with the US and Dutch publications this month.  So many thanks to the TLC Free Read scheme for giving me that initial confidence to believe in my book.
If you're considering applying to the scheme, I'd say the same thing I thought two years ago: what is there to lose? Here are three top tips to keep in mind as you prepare your application.
1.Let your writing shine in those 1000 words. You may have written reams of poetry or 60,000 words of your novel, but the applications are being assessed on merely 1000 words of your writing. So make it the best 1000 words of writing you can present. Part of becoming a good writer is knowing when your writing is at its best (and its worst), and when it can be improved. As you look at your writing sample, ask yourself critical questions, ranging from the broader to the more specific (Can my word choice be better? Am I being repetitive here?) If it's a poetry or short story collection, what are its key themes? How are the other parts of the collection different, and what do they enable you to explore as a writer?
2. Emphasise your journey as a writer — but be yourself and be humble. The TLC Free Reads scheme is meant to nurture talented writers who are dedicated to pursuing their craft. The last section of the application form gives you an opportunity to provide your biography as a writer: what courses you've attended so far, where you've been published, etc. They will be looking for applicants who have demonstrated some form of a commitment to writing — to not just producing the work, but to improving and learning and honing your craft. If you haven't had access to courses for whatever reason (time, money, family/ work commitments, etc), this is perfectly understandable. This particular scheme recognises that not everyone has the same opportunity in life to pursue writing to their heart's content. So in your biography, be honest about the limitations that have prevented you from pursuing your love of writing. Ask cogent, critical questions about your project in the final section. And convince your readers that writing is important to you and that you will be grateful for the chance to improve your writing.
3. Be hopeful, but don't take rejection too hard. Actually, this is a good attitude to have throughout your whole writing career. When you're querying agents or submitting for publication, rejection is inevitable. When your published book is being reviewed, some negative criticism is inevitable. Your writing is never going to be perfect for everyone. The important thing is knowing that you've written your best at the time. Also, there are all sorts of external reasons why your work may not be selected, even though it might be excellent. Some selectors have quotas to ensure diverse representation of voices (which is  very important). Or your writing may simply not have chimed with the personal taste of the assessors. None of these necessarily mean that your writing career is doomed. It just means you have to keep on plugging (Believe me, even when you're published, you still have to keep on plugging). So pat yourself on the back for applying, keep an eye out for other schemes, keep improving your writing, and apply again next year!
---
Winnie M Li's Dark Chapter is shortlisted for the Guardian's Not the Booker Prize and is available to buy now in all good bookshops.
Inspired? Find out more about this year's Free Reads scheme and how to enter here. 
---
---