Crime author Claire McGowan is running an intensive crime fiction weekend course with us this spring, for anyone looking to break into the crime fiction market. To get you in the mood, here she tells us her top five crime novels.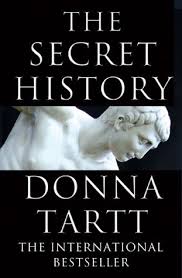 The Secret History, by Donna Tartt
I must have read this ten times at least. A group of students, drunk on Greek mythology and the lure of the ancient world, do something terrible. The narrator is drawn into their glamorous world and risks losing himself. There's no better depiction of a group of people slowly falling apart under pressure, and it contains the most brilliant scene where the guilty parties attend their victim's funeral. The prose is also gorgeous, full of sentences you want to read aloud to yourself over and over. It's a campus novel, a crime novel, and a literary novel all in one.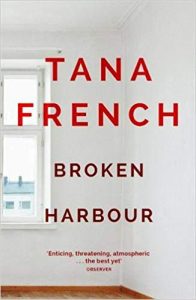 Broken Harbour, by Tana French
One of the best crime novels I've ever read. I'm in awe of how she writes the same scenes we've seen hundreds of times– autopsy, interview, crime scene – but makes them utterly fresh and visceral. The voice of the investigating detective is compelling and the plot twisty and dark as the bottom of the sea. It's also a brilliant dissection of the effects of the recession on Ireland, something which permeates the literature of the last few years, and the way it destroyed communities, lives, and minds. I love all her books but this is my favourite.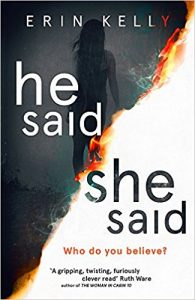 He Said/She Said, by Erin Kelly
You know a crime novel is really good when you've found out what happens at the end, but you still re-read it several times. A breath-taking twist, characters that feel like people you know, a brilliant structure, stunning sentences – this has it all.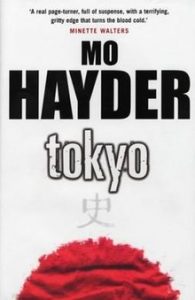 Tokyo, by Mo Hayder
Reading Mo Hayder's books often feels like a brutal ordeal rather than enjoyment, and this dark-as-pitch tale is no exception – it's an absolutely gut-wrenching read, full of suspense and pain, with the tiniest glimmer of hope at the end.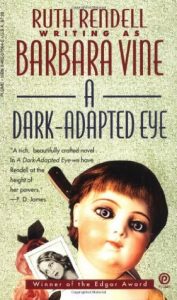 A Dark-Adapted Eye, by Barbara Vine
This manages to pull off the trick of not telling you exactly what happens (because the only people who know are dead) but still feels totally satisfying. It's so beautifully written, plausible, and compelling, and has one of the best opening lines you'll ever read.
---
---