class="post-12148 post type-post status-publish format-standard has-post-thumbnail hentry category-interview"INTERVIEW WITH KIT DE WAAL
ON 'COMMON PEOPLE'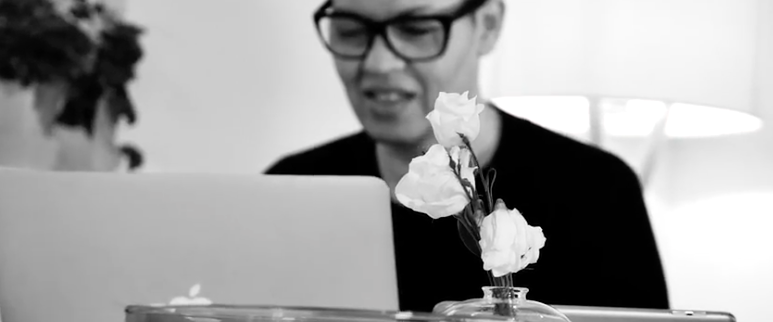 It started with a question – as the most bold and significant ideas do. In a recent documentary, novelist Kit de Waal asked '

Where are the working class writers?

' This inspired a conversation between herself, Unbound and regional writing development organisations across the country to do something about it.
Common People: An Anthology of Working Class Writers (currently being crowdfunded – donate here), will be a collection of essays, poems and memoirs from both well-known and new working class writers across the UK. As London's leading writer development charity, Spread the Word will be managing entries from London-based writers, from which, three new writers will be selected to be featured in the anthology.
We spoke to Kit to find out more about this brilliant initiative…
Your essay 'What Happened to Working Class Writers?' was recently published in 'Know Your Place' – a brilliant collection of essays on the working class, by the working class, on Dead Ink Books. How much of this experience inspired Common People?
There was definitely a feeling that 'Know Your Place' was part of something bigger and I wanted to continue the conversation in any way I could. I'd had various conversations with other published working class writers and there was something in the air about it being the right time. There is a tremendous amount of good will, enthusiasm and energy for change in publishing and tackling class is one of the ways we can drive that change forward.
Publishing is certainly going through an interesting time at the moment – Nathan Connolly, Sabrina Mahfouz, Nikesh Shukla have been behind some really successful books that have emphasised the importance of diversity in publishing. What other writers or books have inspired you? 
Strangely enough I was inspired by two books I read recently which were very different. The first was Cathy Rentzenbrink's book, 'A Manual for Heartache'. I mention this because at its heart this book recognises that we are all pretty insecure and frightened and struggling with something or other and Cathy prescribes compassion and kindness as the antidote along with hope and resilience. I think when we think about improving people's attitudes to diversity we should bear in mind that it's not always hate, racism, snobbery and misogyny that denies us change although certainly those things exist. Very often it's ignorance, fear and not knowing what to do, not appreciating the problem, not being able to walk in someone else's shoes. It's important when we are eager for change not to alienate others but bring them along with you, to appeal rather than repel and to invite people over and over to get on board. Not everyone will take it but always try to hold your hand out.
The other book that inspired me is something that's not published yet although I hope it will be. It's called '25 Jobs' and it's written by Chris Walsh who has indeed had 25 Jobs and who writes about being a working class boy, then man trying to stay in employment, trying to make his way in the world. It details the hardship of his life with wit and humour and it's just a joy to read.
Since it's very recent launch, Common People is having a tremendous response, why do you think this is?
It's because there are so many people who want to see change. Not just working class people either. I've had emails, letters and tweets of support from people all over the UK (and America) who just see the expansion of who gets published as a great thing for publishing, new voices, new experiences, new writers in the arena. It's great for everyone. We are over two thirds there and really looking forward to getting to goal. There's still lots of time to pledge!!
How important was it for you that the anthology contains voices from writers across the country as opposed to focusing on a particular geographical area?
Massively important. I'm from Birmingham. 75% of the country live beyond the M25 yet publishing is decidedly London-centric. It's important that we dispel the idea that everything published beyond Bloomsbury is a 'grim up north' novel about a single parent on benefits. I wanted to include stuff from the rural areas, small towns, east and west of England as well as Northern Ireland, Scotland and Ireland. I hope there is someone from Wales in there as well! This is about the collective working class experience although there is obviously not just one. There are things we have in common though and certain attitudinal similarities and by including people from the whole of the UK I hope we will be able to celebrate that.
The book will be a collection of essays, poems and personal memoir – why did you decide on this cross-genre approach?
Defining what or who is working class is almost impossible. In the past it meant someone in manual labour or someone who worked in a factory or mill or mine. So many of those jobs have disappeared and the title 'working class' means something different to different people.   By asking for memoir we have decided to let the writer decide. You can't write about being working class if you've never been there. There are two academic essays that contextualise working class writing and writers and the issues that they face in publishing and there is I think only one poem by Tony Walsh. I'm writing flash fiction and I think Malorie Blackman is also writing a short piece.
We've put a call out to London writers to apply for this great opportunity. What words of encouragement do you have for anybody thinking of applying?
Your voice matters. Every writer deserves to have the opportunity of being taken seriously, deserves to have the same chance as anyone else of being published. In the end it should be the quality of the work that matters not the background of the writer. So do your best work, edit your stuff until it shines and send it in.
More than an opportunity for writers, this collection will also definitely inspire readers from working-class backgrounds – what is the ultimate aim that you wish to achieve from this book going out into world?
That one day we won't need to have books like this. That one day, the issue of class (or any other issue of equality) won't matter because we will all have our work judged on its merits, on whether it is good writing and only on that because all the other things that get in our way like geography, gatekeepers, industry contacts, money for courses, prejudice and stereotyping will have been done away with. Of course, that's massively ambitious and a long way off. For now, I'll settle for it being the first in a long line of books that celebrate working class writers and their unstoppable talent.
London writers – the deadline for you to apply for 'Common People' is 12 noon on Friday 2 March 2018. More details here. 
class="post-12066 post type-post status-publish format-standard has-post-thumbnail hentry category-life-writing-prize category-network-knowledge"An interview with Blake Morrison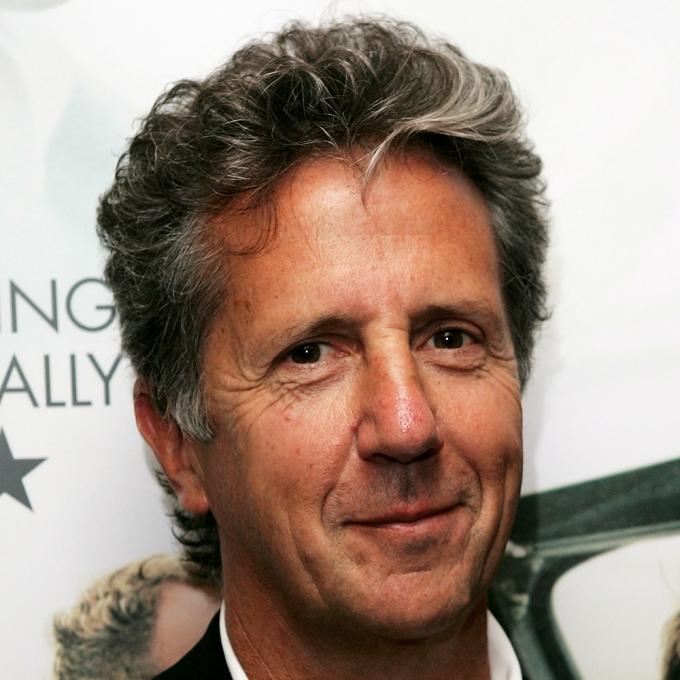 Blake Morrison is Patron of the Spread The Word Life Writing Prize. Blake is a poet and author and professor of Creative and Life Writing at Goldsmiths University,
and brings passion and experience to the role of patron.
We asked him just why he is so interested in life writing and the prize – and what tips he has to offer budding entrants.
What do you think the value is for people to write about their life?
To make sense of it, especially where there has been trauma – understanding is a way of gaining control and banishing demons.
Although life writing is based on truth, there's always an element of fiction in it, as memory and perspective play a role. Does this blurring of lines interest you at all?
Some blurring is unavoidable, My own rule is 'Never knowingly make things up'. But that doesn't mean everything I write is true. Memory is unreliable. When you're recalling conversations, for instance, the dialogue will always be an approximation, not the literal truth. Emotional truth is the most important thing.
Why are you interested in life writing?
There's a special interest in reading a book where what the author describes is their own experience, not something they've invented. There's a buzz in reading work where you think 'Wow, this really happened' – an extra frisson.
What makes a good piece for you?
A combination of candour and control – a voice that's honest but which (paradoxically) the author has worked hard to create.
What advice would you have for budding writers?
Write your first draft as if no one is peering over your shoulder and reading it. Then try it out on someone, or in a workshop. And afterwards be willing to revise, revise, revise.
Want to know more?
More information including the rules, the judges' top life writing picks, what the judges are looking for, FAQs and how to enter can be found at www.spreadtheword.org.uk/life-writing-prize
class="post-11900 post type-post status-publish format-standard has-post-thumbnail hentry category-life-writing-prize category-news tag-life-writing-prize tag-mentoring tag-writer-development"Announcing the 2018 Life Writing Prize Mentors

Spread The Word are delighted to announce that Cathy Rentzenbrink and Miranda Doyle will be mentoring two highly commended writers as part of this year's Life Writing Prize.
As well as the main winner, two highly commended writers will receive £500, development meetings with agent Robert Caskie and an Unbound editor, and writing mentoring sessions.
This year's mentors bring with them expertise, experience, and passion for the craft.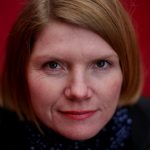 Cathy Rentzenbrink is the author of The Last Act of Love and A Manual for Heartache. Cathy regularly chairs literary events, judges prizes, reviews books and speaks and writes about literacy, literature and everything in between. She has previously worked at Waterstones, Quick Reads and The Bookseller and has seen the book industry from multiple angles. Happiest when talking to strangers about books, Cathy thinks that most lives would be enriched by more reading and writing.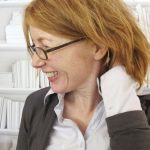 Miranda Doyle's family come from the tiny island of Coney in Sligo Bay. She grew up in Edinburgh alongside three brothers and a suspicious number of ill-fated pets. With an MA from Goldsmiths in Creative and Life Writing she teaches Memoir and Life Writing at the Faber Academy, has lectured on Autobiography for the Philosophy and European Literature degree at Anglia Ruskin University and continues to teach creative writing. Her debut book, a memoir titled A Book of Untruths, written with the support of an award from Arts Council England, explores the lies we tell ourselves.
Want to know more?
More information including the rules, the judges' top life writing picks, what the judges are looking for, FAQs and how to enter can be found here. 
The deadline to enter the Life Writing Prize is 5pm on 9 February 2018. 
class="post-11940 post type-post status-publish format-standard has-post-thumbnail hentry category-interview category-network-knowledge"London's Bookshops
Big Green Bookshop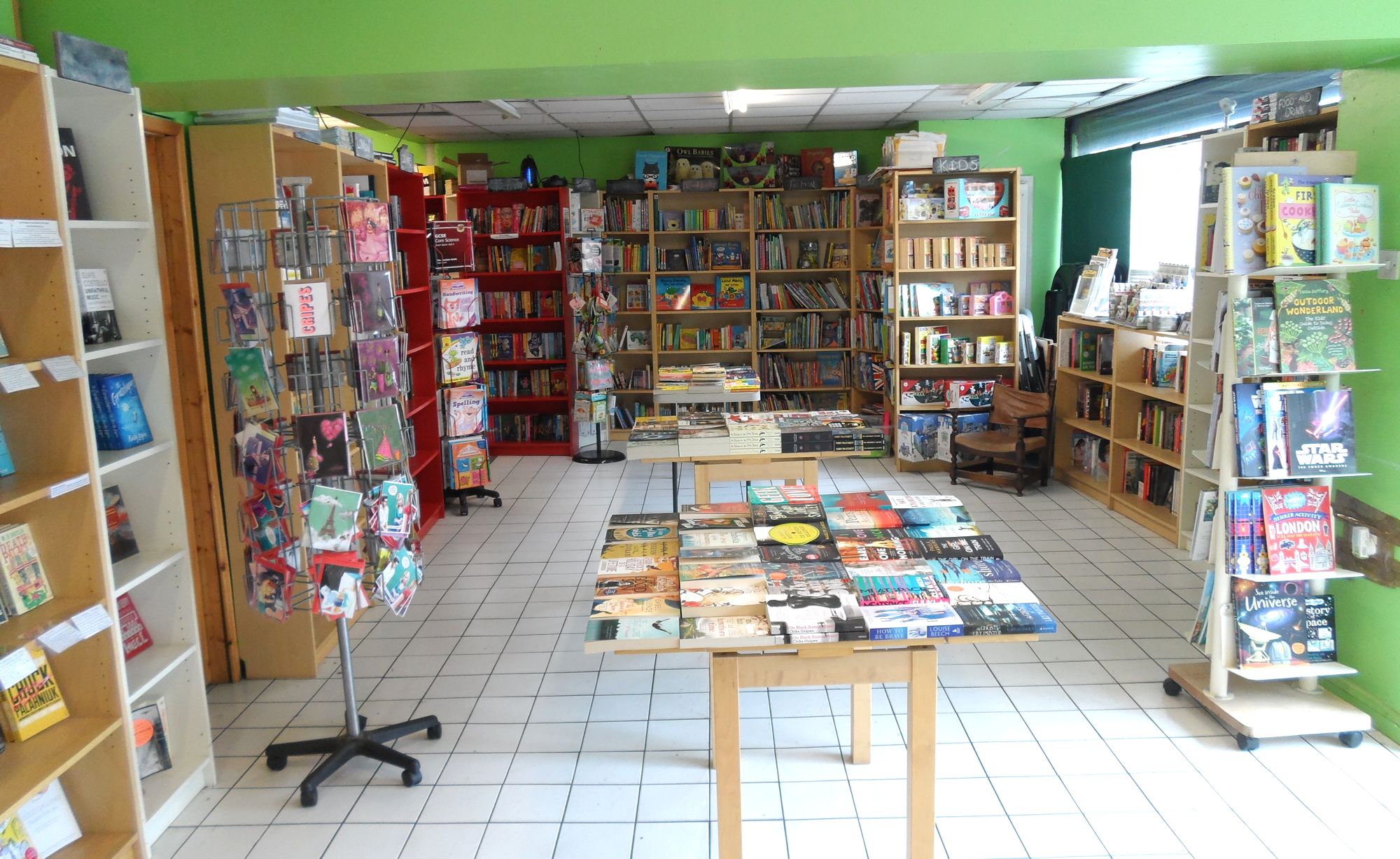 Happy National Storytelling Week writers! For our third feature celebrating independent bookshops in London, we've travelled north of the river to the Big Green Bookshop in Wood Green. This shop was set up by Tim West and Simon Key in 2008 after launching a campaign to set up a new bookshop in the area. Over the years, as well as the joyful business of selling books, the Big Green Bookshop has organised local walks, stand-up comedy, live music, songs for toddlers as well as author visits, book signings. More recently they hit the headlines with their proposal to set up an alliance of independent bookshops.
We spoke to Simon to find out more…
Let's start with the name of the bookshop – how did you come up with the 'Big Green Bookshop?'
Well, when we decided to open a bookshop, we thought it'd be good to let as many people know as possible, so we contacted all the local schools and told them that a new bookshop was going to open in Wood Green and that we wanted them to come up with a name. We got over 360 different suggestions. The we invited a reporter from the local newspaper to help us decide. After a long and heated debate in the local pub, we finally decided on The Big Green Bookshop. Here's a link to our blogpost describing the judging process.
I still like it.
Your bookshop has so much to offer to its customers with such a wide range of events running throughout the year. What have been your favourites so far and what would you love to host in the near future?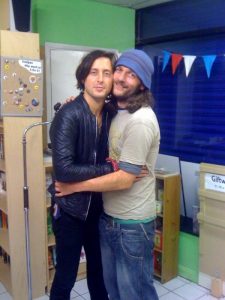 We try to offer the area stuff that perhaps wouldn't happen if we weren't here, so yes, we have managed to pull off some rather spectacular events.
I think the banquet we held to celebrate the publication of Hilary Mantel's "Bring Up The Bodies" was one of the more memorable ones. It was also pretty special to have Caitlin Moran at the shop. Our comedy nights are always brilliant and we've been very lucky to have some amazing comedians perform here. Shappi Khorsandi has been a couple of times and absolutely brought the house down.
However, personally, the most memorable night I can remember was the live performance by Carl Barat from The Libertines.
I'd loved the band from the moment I first heard them and it was probably the most surreal experience to see Carl in my shop, performing some of their songs. I'll never forget it.
You do a lot of engagement with local schools, where did this interest come from and can you tell me a little bit more detail about what it is that you do?
Getting (and keeping) kids reading is so important, and with the schools having their budgets cut and their targets made more and more inflexible, not to mention library closures, anything we can do to nurture a love of reading at a young age, we will do.
We contacted and visited all the schools in the area (about 70 at the time) when we first opened and asked them what they wanted from a local bookshop. Since those early meetings we've developed close relationships with many of these schools and regularly work with them to promote the love of reading. One of our proudest achievements has been to facilitate the introduction of over a dozen Patrons of Reading in local schools. These patrons, who are mainly authors, have got to know the kids at the schools and work tirelessly to show how magical books can be.
Last year, the Big Green Bookshop made the papers – an opportunist thief stole £600 from behind the counter. However, an online campaign saw that amount and more donated to the bookshop – that must have been incredible to witness?
Wow. Yes, that was pretty special. It was a horrible feeling having had the money stolen, and it would have made life very difficult that month. But Sam Jordison, a friend of the shop and a Guardian journalist started this crowdfunder to help get the money back for us. It took off rather spectacularly and at the end of it Sam was able to give us over £5,500!
The most touching thing was all the messages of support from people all over the world, who just wanted to help us out. I cried a lot that month!
Speaking of online campaigns – the Big Green Bookshop twitter account is absolutely hilarious! How important is it as a bookshop to engage with the online community and why are you so frequently on trains?!
Yeah, I love social media and Twitter specifically. It allows us to get stuff out there to a much wider audience. We're very lucky that, because of this, we now have customers all over the world, who seem to like our Twitter feed and consider us their "local" bookshop. We take orders on Twitter and this has been a real boost to our revenue.
It's also great to be able to advertise our events there, as it reaches so many people.
I don't talk about the bookshop all the time (actually, I rarely talk about the bookshop on Twitter!), but just tweet what I like. I think people can see through corporate social media accounts and hopefully they can see the human side of the bookshop when I tweet.
Also, I have never been ON a train.
I am always IN a train. I live a few miles away from the shop now, so have to do a 20 minute commute to get to the shop. That's why you will often find me in a train.
In fact, your own tweets led to you getting a parenting book deal, congratulations! Can you tell me a bit more about this?
That was amazing!
I started doing these tweets each evening about trying to get my kids to sleep (and failing miserably). People seemed to like them and one morning I got a message from the publisher Head Of Zeus, saying they thought these tweets would make a great gift book. So I had a meeting and sure enough, they weren't joking! I was very lucky that I was able to join forces with the amazing illustrator Moose Allain, who brought these tweets to life. The book was published in November. It's called "We're Asleep Dad". You should buy a copy.
Aside from its brilliant collection of books, can you tell us an interesting feature or lesser-known fact about the shop?
We've said it before, but this year it's really going to happen. Look out for the Big Green Bookshop Youtube Channel. COMING SOON!
class="post-11892 post type-post status-publish format-standard has-post-thumbnail hentry category-interview category-network-knowledge tag-history tag-on-the-record tag-oral-history tag-workshop"An interview with Laura Mitchison
on Oral HIstory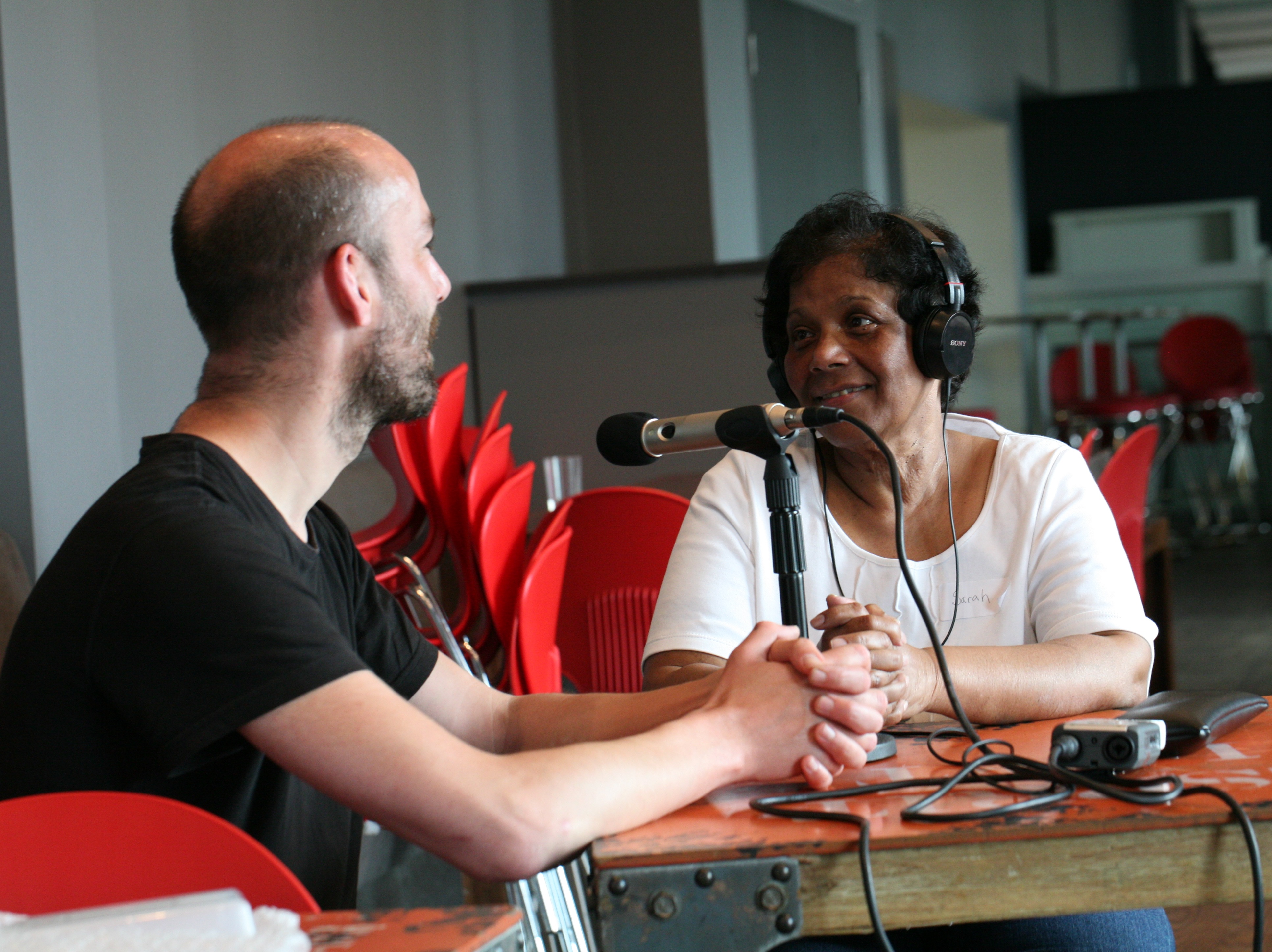 Many of the best stories come from life. People's experiences, memories and thoughts have long been used as the seeds of great writing. But sometimes these stories are hidden away, forgotten, or ignored.
Oral history offers a way for writers to engage with individuals and craft a narrative out of an event or occurrence, adding colour, warmth and personality.
On The Record is a small, not for profit cooperative who work to uncover untold stories. Through their projects they amplify and preserve the voices of those who are 'hidden from history.' Like Spread The Word, they seek to give under-represented voices the opportunity to be heard. They work on a broad range of histories and areas, and are currently running verbatim theatre pieces, art and oral history projects and workshops with young people.
In their upcoming workshop co-director Laura Mitchison will be helping writers to use oral history in their own work, whether as research, information or inspiration.
We spoke with Laura ahead of the workshop. In this interview she tells us more about what oral history is, why telling stories matter, and the importance of dialogue between writer and interviewer and storyteller and interviewee.
We discussed the special way that oral history provides a structured space with a listener to 'tease out the tale.'  As Laura says, 'it's about the particular quality of attention that you get from a really good interviewer, that allows people to chisel and hone the way they share their stories.' A shared performance, oral history as story is 'different and special, dangerous and exciting…'
Writing Oral History takes place from 10am to 4pm on Saturday 24 February at the Ideas Store in Whitechapel. For more information and how to book your place – go here. Members of the London Writers Network receive 10% discount on Spread the Word's paid programme of activities.
class="post-11828 post type-post status-publish format-standard has-post-thumbnail hentry category-archive category-opportunities"Callout for agent 1-2-1s for writers
from underrepresented backgrounds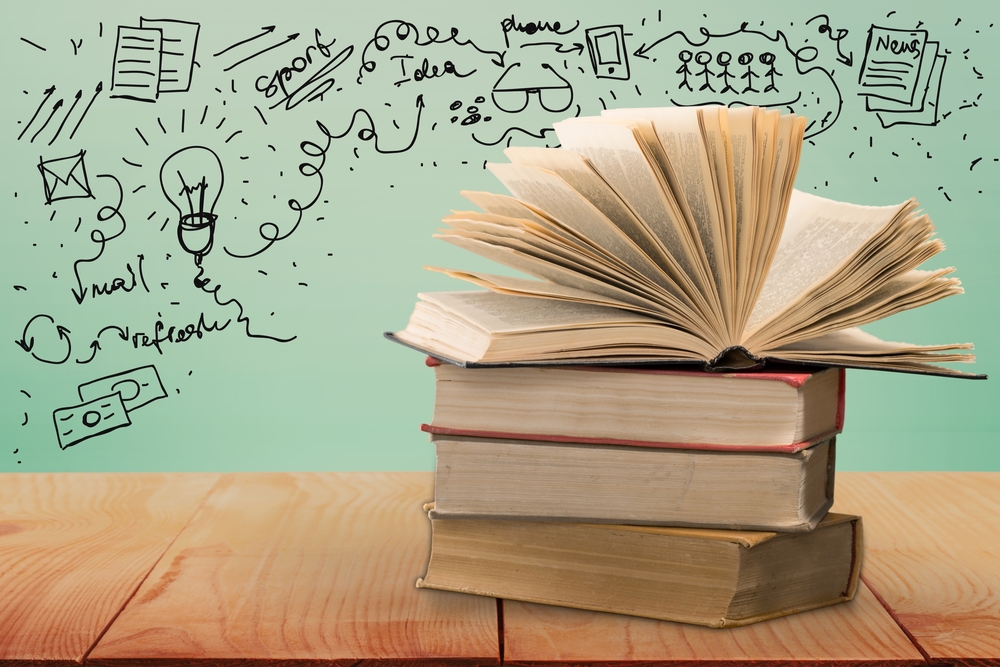 Spread the Word is accepting submissions for a limited number of written feedback reports from Catherine Clarke, Caroline Wood and Carrie Plitt from Felicity Bryan Associates Literary Agency. 
They are each offering to provide written feedback on up to 4 manuscripts by writers from under-represented backgrounds based in the UK. Catherine is looking for non-fiction with an element of memoir; Caroline is looking for a great love story, set in the 20th century; and Carrie is looking for engrossing literary fiction.
Please read through all the information on this page before you submit. 
We define writers from backgrounds under-represented in publishing as:

Have low household income
Have experienced a lack of academic and/or vocational training opportunities – i.e. have not been able to study/train to your full potential due to low income, ill health, being a carer etc.
Are or have been a carer
Have experienced homelessness
Are a single parent
Have a disability
Are from a black or other ethnic minority background
What do we need from you?
A sample of your writing; up to 2000 words from the beginning of your book
A synopsis of the book (no more than 2 sides of A4)
A covering letter that includes:
– What stage you are at with your book ie.: have you just started /  nearly finished / completed?
– How you meet the criteria for this opportunity
– A summary of your writing endeavours to date (e.g. Have you taken part in writing development opportunities?  Have you mainly been writing on your own at home?)
How to Apply
Please note this opportunity is open to writers based in the UK. Apply via Submittable
Timetable
Deadline for submissions is 5pm on 19 February 2018. Successful applicants will receive feedback by 31 March.
About the Agents
Catherine Clarke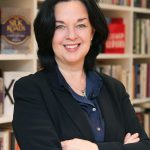 I was Publishing Director of the Trade Books Department at Oxford University Press for several years before I joined Felicity Bryan as an agent in 2001. I represent a broad range of writers of serious non-fiction, including history, nature writing, biography, and philosophy. I also represents a number of bestselling and prizewinning writers for children and young adults. I became Managing Director of Felicity Bryan Associates in 2010. In 2017 I was named Literary Agent of the Year at the British Book Awards.
I am looking for non-fiction that might include memoir of an unfamiliar or significant experience; nature writing, including about the wildness in urban settings; writing about work or expertise that opens up a closed world for the reader.
Caroline Wood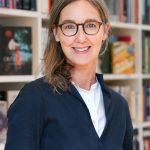 I was a film producer before joining Felicity Bryan Associates in 2006. I represent writers of literary fiction, well-written commercial and crime fiction, including a number of top ten bestsellers. I became a director of FBA in 2010.
In this call out, I am looking for a great love story, set in 20th century with the sweeping multi-layered storytelling of The English Patient.
Carrie Plitt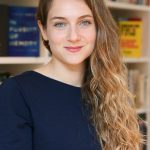 I joined Felicity Bryan Associates as an agent in 2016. The award-winning authors I represent include writers of literary fiction, crime, narrative non-fiction, pop-science, history, big ideas, travel, memoir and nature writing. I am particularly looking for debut authors and writers from underrepresented backgrounds.  Prior to joining FBA, I worked at the literary agency Conville & Walsh Ltd and in the rights department at Penguin Books. I also host a monthly books talk show and podcast on NTS Radio called Literary Friction.
In this call out, I am looking for a beautifully-written and engrossing literary novel. To give you a sense of my taste, besides excellent writing, I always seem to be drawn to unique and diverse voices, atmospheric settings, coming-of-age stories and novels that capture the zeitgeist.