class="post-63204 post type-post status-publish format-standard has-post-thumbnail hentry category-opportunities"The Young Writers Collective is Open for Signups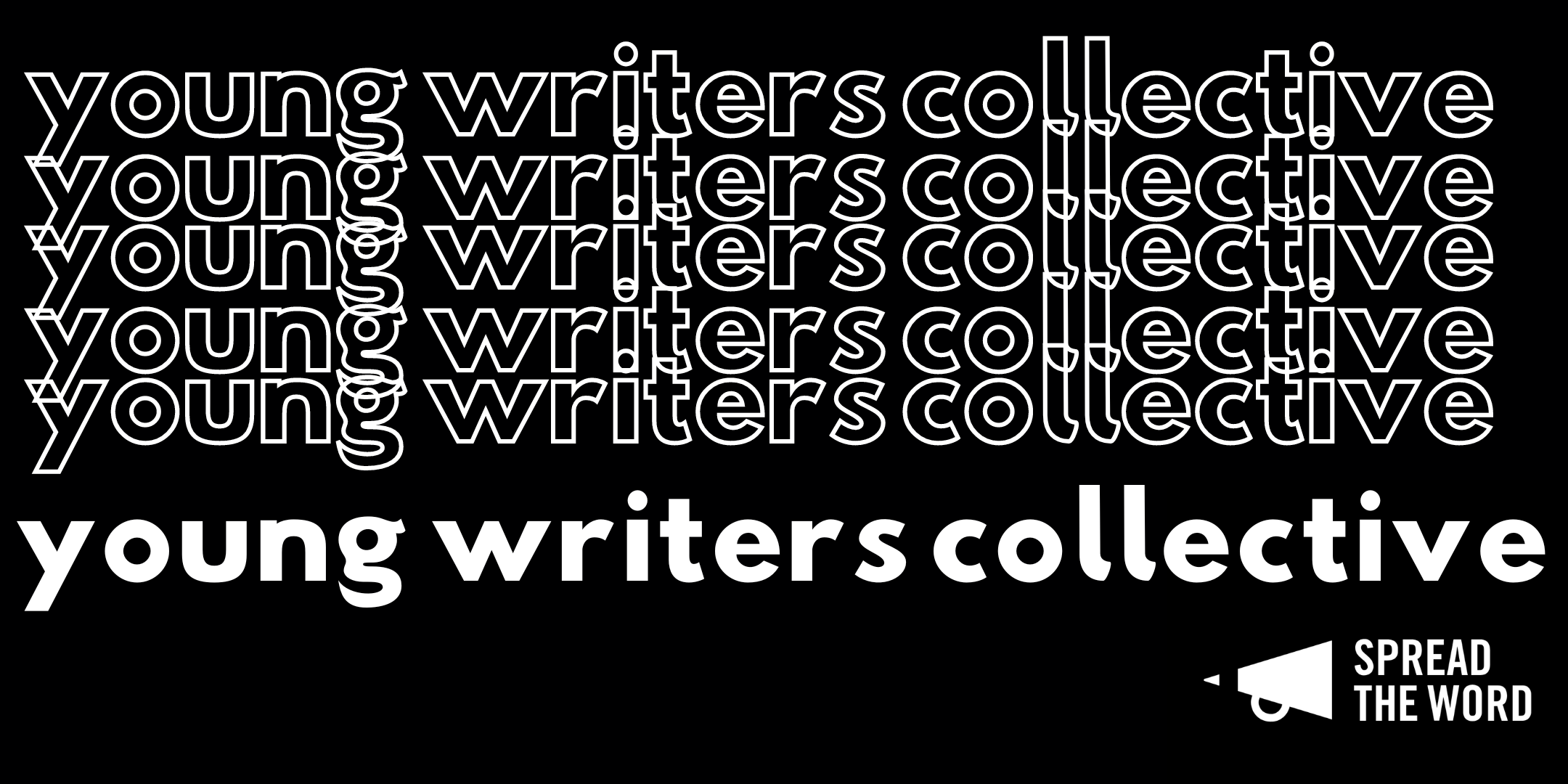 Are you a poet, spoken word artist or writer aged 16-25 and living in London? Are you interested in connecting with other young creatives and being part of a new South East London writers' collective who'll be creating work for the 2024 Deptford Literature Festival? We want to hear from you! Spread the Word is looking for young people to become part of a new Young Writers Collective. 
If you're new to writing / poetry or spoken word, or if you already have a bit of experience under your belt, Young Writers Collective is for you! Sign up to take part by Sunday 14 January 2024.  
What you'll get by taking part
Meet other young people interested in writing

Learn new techniques to improve your poetry, writing and performance skills 

Become more confident in your voice as a poet, writer or spoken word artist

Become part of a supportive creative community 

Work with professional writers and get an insight into having a creative career

Have your voice heard

Have fun and make new connections 

Have the opportunity to get your voice heard and take part in the 2024 Deptford Literature Festival
Who is it for?
The Young Writers Collective is for young people who: 
Are interested in creating poetry, spoken word or stories

Want to get their voices heard about issues that matter to them

Are just starting out, or are already being creative with words and performance
You'll need to be aged 16-25 and live in London. As we're based in Deptford in Lewisham, we're especially interested in young creatives living in Lewisham, Bromley, Greenwich or Southwark becoming involved in the Collective.
Who's involved and what will you be doing? 
You'll be working with amazing writers Remi Graves and Kareem Parkins-Brown to develop your creative work, as well as connecting with other young creatives to decide how you would like to present your work at the Young Writers Collective event at the 2024 Deptford Literature Festival.
When does it take place?
The Young Writers Collective sessions will run on Thursdays from 25 January to 21 March 2024, 6pm-7.30pm. The first 4 events are online, and the remaining sessions will be in-person at The Albany (pizzas and refreshments will be provided!). The Festival event will take place on Saturday 16 March 2024 in the afternoon at Deptford Lounge.
Online session dates: Thursday 25 January, Thursday 1 February, Thursday 8 February and Thursday 22 February 6pm – 7.30pm
In-person session dates: Thursday 29 February, Thursday 7 March and 14 March 6pm – 7.30pm 
In-person event: Saturday 16 March 2023 – Deptford Literature Festival
Post-Festival in person session: Thursday 21 March 6pm-7.30pm
How do I get involved?
If you'd like to become part of the Young Writers Collective, please sign up using this Google Form link by Sunday 14 January 2024:
https://forms.gle/qdx79FWky4btkHGd7
If you're under 18, we'll need to have permission from your parents/ carers for you to take part. Please do let them know you're interested in taking part before you fill out the form.
We'll be back in touch with you by Tuesday 16 January 2024 to let you know about your place. 
Access and finances
If you need financial support to take part, for example you need your travel costs covering, need funds to buy data to help you make the online sessions, or if you need access support if you have an illness or disability, we'll be able to support you with what you need to take part.
After Deptford Literature Festival 
After the Festival, we'll work with the Young Writers Collective on what the group would like to do next.
If you have any questions about the Young Writers Collective, please get in touch on: [email protected]
Published Wednesday 29 November 2023
class="post-63161 post type-post status-publish format-standard has-post-thumbnail hentry category-news"Disabled Poets Prize 2023 Winner Katherine Moss 'The Still Point' Pamphlet is Published by Verve Poetry Press
The inaugural Disabled Poets Prize winner of the Best Unpublished Pamphlet, Katharine Moss, has launched her first pamphlet The Still Point. Part of Katherine's prize included seeing her pamphlet published by Verve Poetry Press. The team behind the Disabled Poets Prize, including us at Spread the Word, and Jamie Hale of CRIPtic Arts, are thrilled that Katherine's pamphlet is now available to buy.
The Still Point explores the intersection of truth and mythology within family history with a particular interest in the Irish Diaspora, examining Katherine's own life as a disabled woman and mother, drawing on nature to weave the personal and political.
'Eliot refers to 'the still point' in his poem, Burnt Norton. I recognise this as an effect upon the poet's audience, how words can devastate the intentional reader and how I strive towards achieving this 'stillness' in in my own writing.'  – Katherine Moss
'In The Still Point, Katherine brings the reader into the centre of her craft, holding them in the flood of images and narratives swirling through the work. Historically illuminating and poetically luminous, this is a pamphlet that is both settled and restless, weaving political and personal references into a coherent whole. Stylistically bold and experimental, lyrically gentle, and softly searching, these poems cross a breadth of experience and life which welcomes, haunts, and questions the reader. From the first read, these poems were striking, and the pamphlet was a clear and exceptional winner of the first Disabled Poets Prize.' – Jamie Hale
'In today's tumultuous world, The Still Point by Katherine Moss is a calming evocative set of poems that take the reader on journeys through time and place. Polyvocal in sound, contained within are poignant poems about familial Irish heritage, parenthood, and global history. Dazzling with imagery and metaphor of the natural world, there is an assuredness to the variety of poetic forms, all employed with vivid imagination. A wonderful winning pamphlet of the Disabled Poets Prize, 2023.' –  Peter Raynard
ABOUT THE AUTHOR
Katherine Moss is a recent graduate of The Manchester Writing School. Her poetry explores the intersection of truth and mythology within family history with a particular interest in the Irish Diaspora. Katherine's work also examines her own life as a disabled woman and mother. Her poem 'St Francis' Satyr' was published in the journal Consilience in October 2022. In October 2020 her monologue, Linda's Shield was produced by The Garrick Theatre in an online performance. In 2022 she was awarded the Dr Lee Kai Hung Postgraduate Bursary for her poetry and spoken word project on the life experiences of UK residents of Chinese and British descent.
You can find Katherine's pamphlet on the Verve Poetry Press website: vervepoetrypress.com/product/katherine-moss-the-still-point-preorder-out-nov-23/?v=79cba1185463
You can listen to an interview with Katherine, or read the transcript, here: spreadtheword.org.uk/interview-with-katherine-moss-winner-of-the-disabled-poets-prize-2023/
---
The Disabled Poets Prize 2024 was open for entries in Autumn 2023. The results will be announced at a special online event as part of Deptford Literature Festival on Saturday 16 March 2024. More information, including how to book tickets, will be available on Spread the Word's website and via our social media channels in late January 2024.
Published 27 November 2023
class="post-63106 post type-post status-publish format-standard has-post-thumbnail hentry category-news"Remembering Shereen Akhtar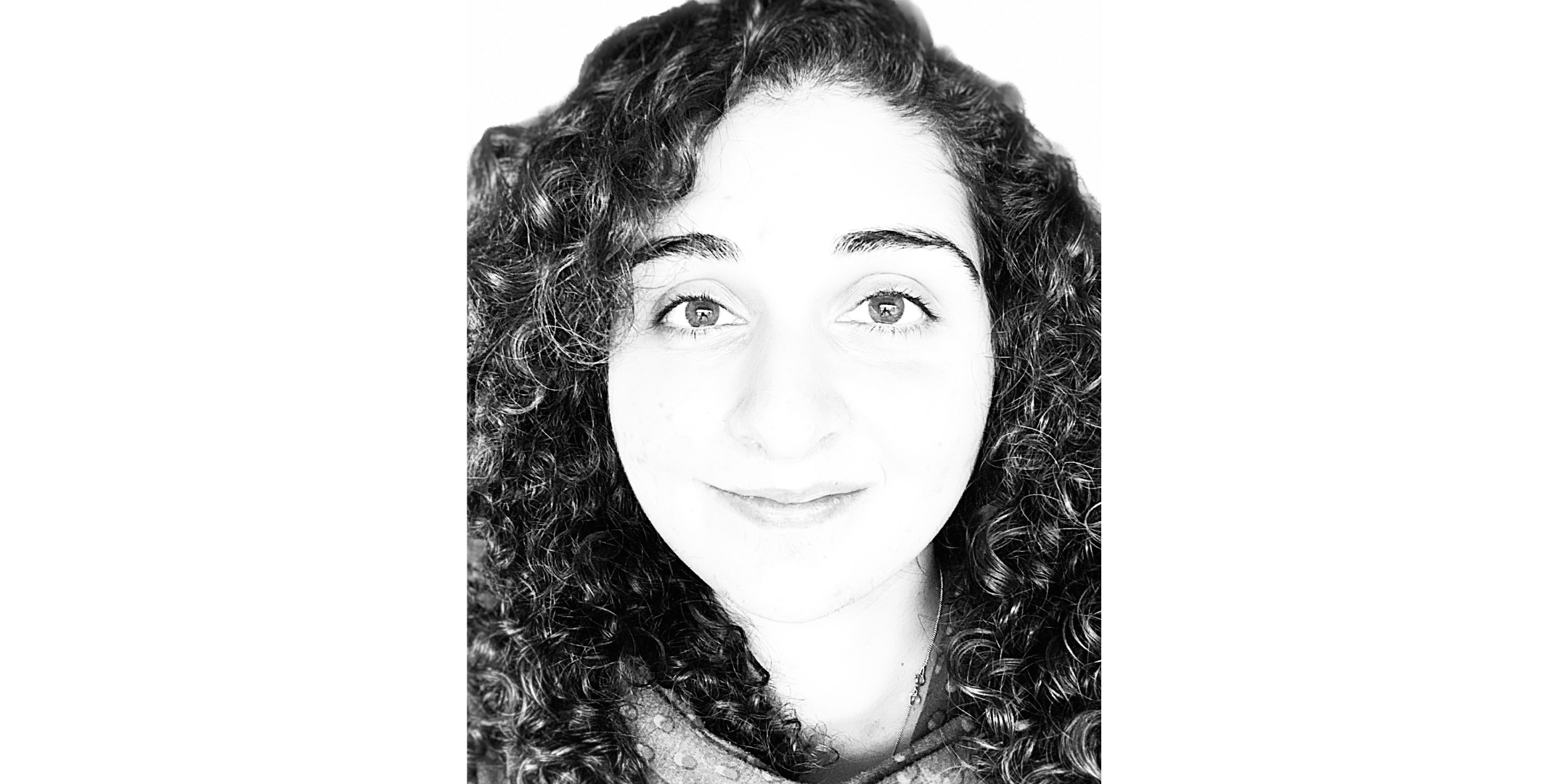 We were very saddened to hear of the passing of Shereen Akhtar last month and extend our condolences to Shereen's family, friends and fellow writers.
Shereen was a winner of a London Writers Award, having completed the development programme in 2022. She was in one of the literary fiction feedback groups, working closely with five other writers while writing her novel Something in the Wind. She was a popular member of the cohort, dedicated to her craft and supportive of her peers.
We asked two members of her feedback group – the writers Sukh Brar and Victoria Cano – to share their memories of Shereen:
Sukh Brar
Shereen's death is a devastating loss. She was brave and brilliant and had so much more to give to the world. I am so very, very sorry for all those who loved and cared for her.
I met Shereen in 2021 through the London Writers Awards and was immediately taken aback by her fierce intelligence. She was knowledgeable about politics, art, nature; you name it, she knew it. She was an epic storyteller. And she read voraciously! The classics, for sure. But creative writing manuals too, the size of shoe boxes. Translated fiction. Memoirs. Political biographies. Anthology after anthology. She had this hunger to consume absolutely everything. You could just see it: learning, language, literature brought her tremendous joy.
I remember being struck by her remarks during our first feedback session. She was an incisive critic; thoughtful and thorough. I wanted to impress her in our next session. She made me a better writer.
Shereen cared about the environment and social justice. In her novel, she wrote of those fighting for a better world. Brave people out on the streets during the Arab Spring. I am so sorry that we won't get to read more of her work. She was a rare talent with a unique voice who deserved to be read widely.
But what was most special about Shereen was her kindness. She was good, caring, gracious. She's going to be missed by so many.
Victoria Cano
Shereen was about the loveliest person I have ever known.
She was funny and she was quiet and she had an imagination abundant with delight.
She was awesome, a word she always liked to use herself and made everyone smile with how much she meant it when she used it.
She wrote epics and she was so kind.
I used to tell her, the way she wrote reminded me of Hemingway but that wasn't fair because she had far more heart and hope in her work than Hemingway ever did.
She was a person I looked forward to trading calls and drafts and drinks with for the rest of our lives.
And I find myself mourning twice over: for my friend and for her writing. I wish the world had known them both more. She deserved it.
It was a privilege to spend time in her world and to be in the world with her.
We are all better writers, and better people for having known her.
My god I wish she knew how loved and wanted and missed she is.
Thank you for being such a treasure my dear dear friend.
"There were cornflowers growing amidst the grass, their bold powder blue just about visible in the terminal light – and behind a low brick wall, rows of rose bushes and wooden stalks decorated with climbing jasmine plants protruded into the night." From a draft of "The Bird" by Shereen Akhtar
---
Shereen was a supporter of these two charities, please click on each of them to find out more and make a donation:
Published 22 November 2023
class="post-63028 post type-post status-publish format-standard has-post-thumbnail hentry category-opportunities tag-121-feedback tag-writerfeedback tag-ymu-literary"Call-out: Applications are open for 1-2-1 feedback for fiction writers from YMU Literary Agency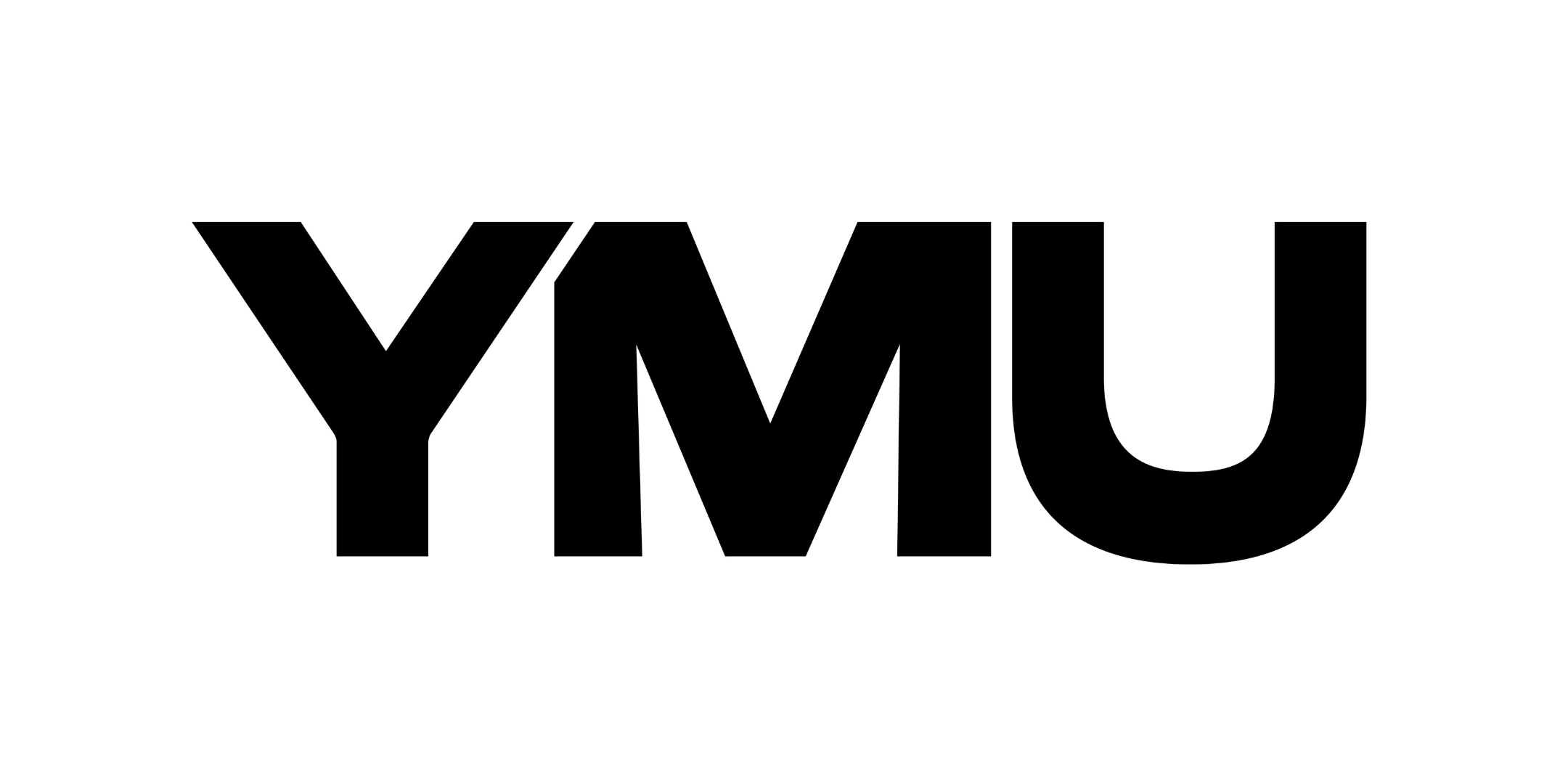 This autumn, Spread the Word is thrilled to partner with YMU Literary Agency for our latest 1-2-1 feedback opportunity for fiction writers – offering the chance to have an extract from your novel read and given feedback by a literary agent.
From Tuesday 21 November, we'll be accepting submissions of fiction for a maximum of 10 short feedback sessions from agents at YMU Literary Agency. Global MD Amanda Harris and agents Millie Lean and Anna Dixon are available for 2 sessions each, and Elise Middleton is available for 4 sessions.
The YMU Literary team are offering to provide short feedback sessions by phone or video call on up to 10 submissions from writers from underrepresented backgrounds based in the UK.
Elise is looking for: upmarket and literary fiction. She'd love to see inventive, character-led novels with a vivid sense of place, beautifully crafted with confidence and purpose, and books that are contemporary in their concerns. Under the umbrella of literary fiction, Elise is also interested in genre fiction with a literary bent, particularly speculative or a literary thriller.
Amanda is looking for: book club and commercial fiction. Amanda is interested in compelling storytelling, strong characterisation, and books that help readers feel less alone in their emotions and experience. She likes to laugh too and admires books that capture the levity of everyday life.
Anna is looking for: SFF, horror and suspense. She loves fiction that is dark and twisty with emotive and surprising character building, realistic yet complex relationships, and narratives that are re-telling stories we think we know from new angles.
Millie is looking for: YA (no high fantasy and sci-fi), and historical, mystery and contemporary for adult's fiction. She is looking for projects which feel like they could shape culture and are to-the-moment. Across adult and children's fiction, she loves a new take on a well-trodden genre, equally strong plotting and character development, clever humour, and anything with a twist.
We define writers from backgrounds under-represented in publishing as those who:
From a lower socio-economic background as defined by the Civil Service Diversity and Inclusion guidance

Have experienced a lack of academic and/or vocational training opportunities – i.e. have not been able to study/train to their full potential due to low income, ill health, being a carer etc.

Are or have been a carer

Have experienced homelessness

Are a refugee

Are a single parent

Have a disability

Are a writer of colour*

Are a member of the LGBTQIA+ community.
The purpose of the feedback session is to receive advice and support on the documents you have submitted. At the discretion of the agents participating, it may lead to further discussion of your work or requests as per standard agenting processes.
How to apply  
Please note this opportunity is only open to unpublished and un-agented writers based in the UK. Apply via Submittable. Only one entry per applicant will be accepted.
The link to apply is here.
To apply, you will need to upload 3 documents:
A covering letter of 1-2 pages that includes: A little information about yourself and your motivations for your project, how you meet the criteria for this opportunity and a summary of your writing endeavours to date (e.g. Have you taken part in writing development opportunities? Have you mainly been writing on your own at home?)

A one-page synopsis

An extract from your project (3,000 words maximum)
If you are a disabled writer, there is the option to submit visual or audio submissions. Please get in touch (email address below) if you need any support with this.
The YMU Literary team will be giving feedback on the documents that you submit.
Timeline 
Submissions will open at midday on Tuesday 21 November 2023

The deadline for submissions is 10am on Monday 8 January 2024

Applicants will know the outcome of their submission by 4 March 2024 and successful applicants will receive their feedback before the end of April 2024.
If you have any queries about your application or this opportunity, please get in touch with [email protected]
About Elise Middleton
Elise joined YMU in 2020, having previously completed work experience at Dorling Kindersley, HarperCollins and Bloomsbury, and worked at Waterstones. She co-founded The Indie Insider, a newsletter dedicated to highlighting the work of independent publishers and bookstores. She is actively building a list of upmarket and literary fiction, and creative and narrative non-fiction.
About Millie Lean
Millie started her career at Bloomsbury, and then moved to Penguin Random House where she worked as an editor in the Puffin team. At Puffin, she acquired titles for middle grade and YA readers, and worked across projects with authors such as Jacqueline Wilson, Roald Dahl and Greg James and Chris Smith.
Millie joined YMU in 2021 and works across fiction and non-fiction for children and adults. She also offers 360 career management for a number of elite clients, including Francis Bourgeois, Jane Dunn and Jemma Solomon. She manages overall career strategy, across fields such as television, brand, events and IP.
About Anna Dixon
After some internships around the industry, Anna realised agenting was the job for her and started my publishing career at Abner Stein, selling UK & Commonwealth rights for their busy client list of US agencies. A couple of years later she moved over to WME, where she represented US clients for their UK business, helped edit fiction behind the scenes (Ann Leary, Kim Edwards, Aimee Phan, Evan Winter and Lev Grossman to name a few), learned the ropes of working with her own clients and building a list, and created talent led projects with roster clients from other areas of the business.
All of that experience paved the way for joining YMU in 2021, where she creates book projects with talent from all areas. Anna is also building a list of both clients looking to enter the publishing space from all areas of the entertainment industry, and brilliant authors who may not have a platform but have killer writing skills.
About Amanda Harris
Amanda joined YMU in 2019. Having worked in-house at Macmillan, Simon & Schuster and Hachette, she became a publisher launched two non-fiction imprints and published an eclectic list of high-profile, award-winning and #1 bestselling authors. As an editor and publisher, Amanda worked with stellar talent including Jackie Collins, His Majesty, King Charles, Sir Paul McCartney and Bryan Cranston.
Since joining YMU, Amanda has been shortlisted for Literary Agent of the Year twice (2021 and 2023) and was named an industry Top 150 Influencer. She has agented over 25 Sunday Times bestsellers by Claudia Winkleman, Ant and Dec, Fearne Cotton, Noel Fitzpatrick, Stacey Solomon, Tom Daley, Gary Barlow, Jake Humphrey, Joe Swash, Jemma Solomon, and more. She also worked with Davina McCall on the Nibbies Overall Book of the Year, Menopausing.
---
*Writers of colour: Black, Asian and Global Majority ethnicities.
Published: 21 November 2023
class="post-63014 post type-post status-publish format-standard has-post-thumbnail hentry category-news"Spread the Word Survey – share your thoughts with us and you could win one of three £50 book tokens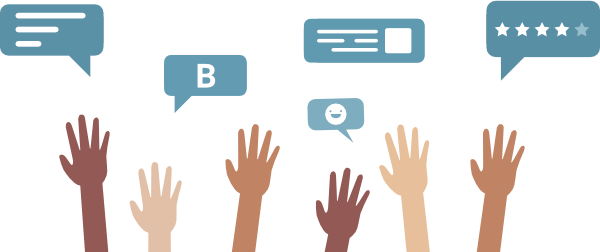 As London's literature development agency, Spread the Word's work is about opening up creative writing and reading opportunities for people, particularly those from underrepresented communities, to develop their craft and career as writers, poets and creatives working with words and stories.
If you're starting to think about becoming part of a writing community or are already writing, we'd love to hear your thoughts on how we could develop our work going forward.
Our new survey asks you questions about your ambitions, any barriers you may face as a writer, what support you may like to see and how you may want to engage with our work.
The survey will run until 10am, Monday 8 January 2024. We estimate that it will take about 10 – 15 minutes to complete.
At the end of the Survey, you can enter a draw to win a prize draw for one of three £50 book tokens or Audible voucher equivalent. We'll randomly draw three names from respondees who enter the draw and let the lucky winners know sometime during the week beginning 8 January.
Your personal data will not be shared and any findings used will be anonymous.
Share your thoughts in our survey
Complete the survey here:
https://www.surveymonkey.co.uk/r/STWAutumn2023
Published 15 November 2023
class="post-62900 post type-post status-publish format-standard has-post-thumbnail hentry category-blogs category-network-knowledge"Citizen UK: Croydon's Caribbean Influencers by Croydon Poet Laureate Shaniqua Benjamin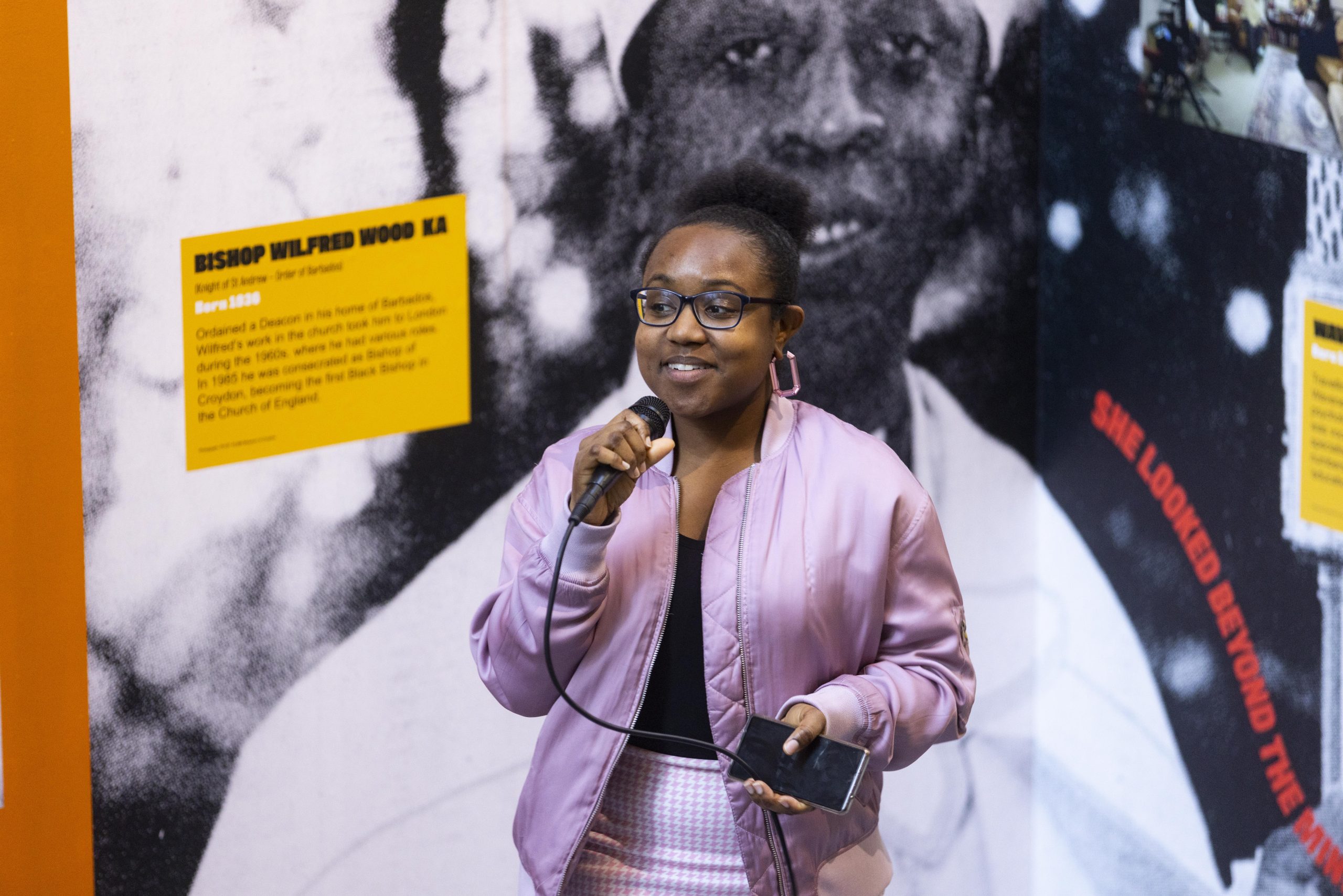 As a Grenadian-Jamaican-Croydonian, it was an honour to be asked to collaborate with the Museum of Croydon (MoC) and National Portrait Gallery (NPG) on Citizen UK: Croydon's Caribbean Influencers in my role as Croydon Poet Laureate.
Citizen UK is an NPG project that visualises migration stories from the mid-twentieth century by partnering with community organisations. NPG partnered with the MoC to explore the Caribbean wave of migration to the UK, highlighting some of the stories and influencers who have made an impact on Croydon and beyond.
I was brought into the project to write poetry alongside graphic illustrator Kyam, who would be creating the visual portraits. We were later joined by designer Abi Wright whose talents would bring the whole exhibition to life. Volunteer Citizen Researchers from Croydon were essential to the process too, as they delved into the archives and conducted oral history interviews that would be the backbone of the exhibition.
Creating the poetry for the exhibition was a whole process, as I wrote poems responding to every oral history, written interview, and archive material used. Over 30 people were included, so it was a lot of poems, and although they were short, it meant listening to oral histories, reading through interviews and archival notes to get an essence of the person and their story. As well as telling a snapshot of their stories through poetry, I wrote a number of additional poems that pulled out recurring themes in the Caribbean community.
It was important to capture key moments and words to create written portraits of each person, without you hearing their oral history or reading their interview in full – this was probably the toughest part, as there was so much richness and inspiration to take in. I was shocked by how different life was for Sheila Campbell and intrigued by how Nicholas Daley became the artist BAREFACE. I also had the privilege of interviewing Olympian Donna Fraser, and collecting an oral history from the composer (and my uncle) Ken Burton.
You read right, I had the joy of collecting oral histories too as a Citizen Researcher, which is another story in itself. I also contributed my curation skills and community knowledge to the exhibition, as well as my additional literary skills by writing the exhibition's interpretation text, which was new territory but allowed me to develop a new skill.
The exhibition was first displayed at the MoC from Apr-Jul 2023, with three sections across two spaces inspired by Kyam's concept, the record shop. The record shop influence fed through the initial exhibition and is a prominent part of the edited display at the NPG.
Transferring the display to the NPG allowed us to take the record store concept further by creating a soundscape, which was the brain child of NPG Producer, Alex. I was able to exercise my curatorial skills again by curating the soundscape, which I LOVED doing. I recorded some of my poems to accompany oral history clips, with music interspersed throughout. Hearing the final edited soundscape made me incredibly happy and emotional, because it flowed even better than I envisioned. I wanted the soundscape to take listeners on a journey through time while being immersed in the Caribbean-British experience, and I think it did that. I hope listeners feel it like I did.
Croydon's Caribbean Influencers is a special exhibition that delves into history, community and people often overlooked. I learnt a huge amount about where I come from in every sense of the word. However, it also made me regret not spending enough time really speaking to and learning from my maternal grandparents while they were alive, but having the chance to interview two of their sons is a gift I will always treasure.
It's important that we focus more on our local histories and voices of those around us, because there is a lot to be gained and so many stories to be told. NPG has set a great precedent and I hope to see more projects like this in the future – maybe I'll have the chance to write poetry for them too.
Citizen UK: Croydon's Caribbean Influencers is on display at the National Portrait Gallery until the 12 February.
Photo by David Parry.
About Shaniqua Benjamin 
Shaniqua is a poet, writer, creative workshop facilitator, and Croydon's first Poet Laureate. She wrote a poem especially for the 2022 One Young World Summit, read by Leigh-Anne Pinnock, Ebinehita Iyere and herself. She has been published by Ink, Sweat & Tears and Magma, as well as RRB Photobooks with her poetic text in Ameena Rojee's photography book Crocus Valley. Shaniqua has performed at Trinity College Cambridge Black History Month Formal Dinner and as part of Apples & Snakes' immersive spoken word show, Rallying Cry. She has facilitated workshops for Spread the Word, Central St Martins, and Total Insight Theatre.
Published: 14 November 2023