class="post-17566 post type-post status-publish format-standard hentry category-news category-news-2 tag-diversity tag-goldsmiths tag-literature tag-publishers tag-publishing tag-research"Spread the Word are partners in a new diversity in publishing research project with Goldsmiths, University of London and The Bookseller
In 2015, Spread the Word published the research paper 'Writing the Future'. Dr Anamik Saha, (Goldsmiths, University of London), said the report "had a tremendous impact upon the industry in drawing attention to the way that racial and ethnic minorities are marginalised in publishing." In response, many publishers have taken a number of important steps in making the industry more inclusive, particularly in relation to issues of access and recruitment.  
However, an important part of the report that received less attention is how writers of colour feel steered into reproducing racial and ethnic stereotypes.  
In an important new research project, Rethinking Diversity in Publishing, funded by the Arts and Humanities Research Council and in partnership with Spread the Word and The Bookseller, Dr Saha will investigate this issue further to help publishers work more effectively with writers of colour.  
Spread the Word, along with Goldsmiths, University of London and The Bookseller will be producing a report of the findings and recommendations which will be disseminated across the publishing sector. Spread the Word director Ruth Harrison says:  "'Rethinking 'Diversity' in Publishing', the first academic research project of its kind in the UK, builds on our 2015 "Writing the Future" report and provides a timely and unique opportunity for the industry to assess what is working as well as gain an invaluable insight into how processes are impacting on writers of colour." 
Shifting the debate on diversity beyond the issue of the composition of the workforce, Dr Saha is looking to identify those crucial moments in the publishing process where writers of colour may be adversely affected. The research, starting in May 2019, will have great value to publishers in helping them produce more diverse stories and reach wider audiences. The project will culminate with an industry report to summarise the research findings scheduled for spring 2020, followed by insight seminars, academic outputs including journal articles and industry workshops.    
Want to get involved or find out more?  
Come along to an introductory conversation at The London Book Fair on Wednesday 13 March 2019 11.30 – 12.00 at the Fireside Theatre, where Dr Saha will be in conversation with the Editor of the Bookseller, Philip Jones.  
If you are a publisher, agent or bookseller and would like to find out how you could be involved in the research, please contact Dr Anamik Saha a.saha@gold.ac.uk 
class="post-17517 post type-post status-publish format-standard has-post-thumbnail hentry category-london-short-story-prize category-news tag-event tag-london-short-story-prize tag-london-short-story-prize-anthology"London Short Story Prize 2018 Anthology Launch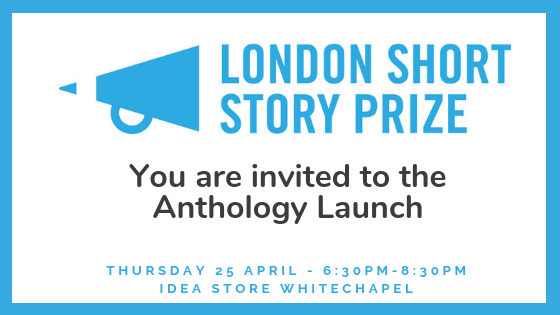 We are delighted to be celebrating the launch of the London Short Story Prize 2018 Anthology with readings from ten of the best stories, including the winning story, 'the year of peace' by Guy Ware. The standard of entries was incredible, and we are looking forward to sharing some of the writing at this event. After the readings and awards there will be a chance to network over drinks and nibbles.
It takes place on Thursday 25 April at Idea Store, Whitechapel. Doors open at 6pm and the event starts at 6:30pm. The event will be BSL-interpreted and is wheelchair-friendly.
You can book your free ticket here. If you have any questions or queries, get in touch. We look forward to seeing you there!
class="post-17378 post type-post status-publish format-standard has-post-thumbnail hentry category-interview category-network-knowledge tag-clare-fisher tag-comma-press tag-competition tag-guy-gunaratne tag-guy-ware tag-interview tag-london-short-story-prize tag-novels-salt tag-sarah-such tag-stories tag-winner tag-writing tag-year-of-peace"Guy Ware in conversation with Francesca Baker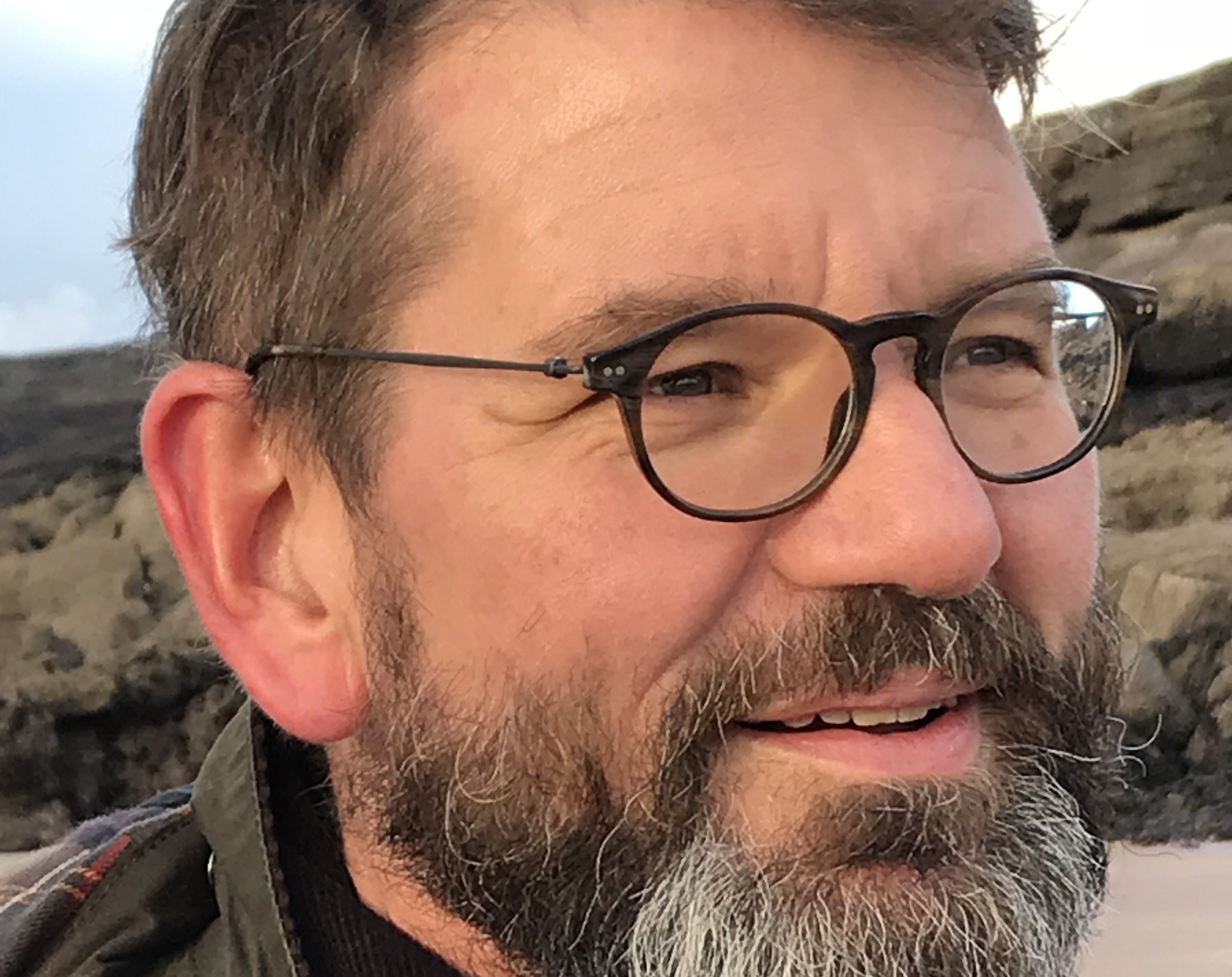 Launched in 2013, the London Short Story Prize seeks to discover, publish and profile the best stories and writers coming out of the capital. In 2018, Guy Ware was announced as the winner with 'year of peace.' Francesca Baker met up with him to find out more… 
TRANSCRIPT
Francesca Baker: I'm here with Guy Ware. His short story, 'the year of peace', was the winner of the 2018 London Short Story Prize. It's about a man and a woman who meet in London four or five times each year and their relationship evolves as they remember an historic coup in her father's country.
The judges, Sarah Such, Clare Fisher, and Guy Gunaratne, unanimously voted the story. The competition received over 500 entries, so that's pretty impressive.
Guy Ware: Thank you.
Francesca Baker: Can you tell us a bit about yourself and how you became a writer?
 Guy Ware: Right, back to the start. One of those things I wanted to do when I was young and then forgot about for decades. Then about 15 years ago, the itch returned. I started scribbling stuff and going nowhere. It coincided with having children, actually. They were young, and I started writing again.
I did an evening course, a couple of evening classes, creative writing classes, at Goldsmiths, and that got me into short story writing, which I hadn't really been thinking about before. Took off from there.
Francesca Baker: You've written two novels, haven't you? Fat of Fed Beasts and Reconciliation.
Guy Ware: Published two, written three.
Francesca Baker: And you've got a short story collection as well. What's the difference between writing a novel and a short story?
Guy Ware: Apart from the time? What I like to do in short stories quite often, with a lot of my stories, is they have a couple of fundamental things driving them, being held in balance and tension. You never quite know which way it's going to fall.
One of my earliest successful short stories was about a man who claimed to be living in witness protection. He turns up at his wife's house and he claims he's seen somebody killed by the police and he's being protected from a potential court case. You never quite know whether this is true or whether he's making this up, and the extent to which his wife plays along with this and why.
That's a really quite difficult, delicate balancing act, and you can only keep that going for so long before it collapses and you have to have one or the other and the possibilities have to collapse, you have to have the result. But you couldn't do that for 250, 300 pages.
Quite often I find that's the difference. There's a germ of an idea or two interacting, and there's a time limit on how long that can live.
Francesca Baker: 'The year of peace' is pretty unconventional, isn't it, in style? It runs for nearly 2,000 words and doesn't have a full stop.
Guy Ware: No.
Francesca Baker: It makes it almost dreamlike. It's lovely. But why did you decide to play with the punctuation that way? Was it a gamble to challenge the norm?
Guy Ware: Yeah, it was. It's not that I write all my stories that way, by any means. They wouldn't all work … because that's the way it came. The protagonist, the man who's written the book is very unsure of himself, very uncertain.
It's not a first person narrative, it's a third person, but it's very much his perspective most of the time. He's very uncertain about what is happening and how to react. He's perhaps overly sensitive about the way he reacts to the woman in the story. It just worked as a way of underlining that uncertainty and putting the reader in the same place as to what's going on here.
Francesca Baker: The style is really echoing the story and the plot and what's going on. Are there any particular writers or writing that influences you?
Guy Ware: Oh, they come and go. There are stories of books – my books, anyway; I kind of built one of the biggest books, I think – and there are writers who I find have a very strong influence and I have to not read them too close to when I'm trying to certainly do first drafts.
And they can be very, very different. There was a period I read a lot of David Foster Wallace, who I know goes in and out of esteem, but I really enjoyed it. He's got a very distinctive, very strong prose style. I would find myself slipping into this kind of almost pastiche.
And then the opposite extreme. P. G. Wodehouse, who I read for utter delight when the world is too much, and again, you can very easily find yourself wholly inappropriately writing as if you're in the Drones Club.
But I think on that story, it's clearly – yes, it was a bit of a gamble in style for me. It was unconventional, but it's in a tradition of the Modernists from Joyce onwards. I'm a big fan of Beckett. I read a lot of Beckett recently about the time I was doing that. I guess another one you have to be careful with.
There were people around at the time – Will Self, Eimear McBride, Midge Bubany – writing in that kind of style, "let's play around with punctuation and stream of consciousness and the layout of the page" and all that kind of stuff. I just thought it would be worth a go.
Francesca Baker: Give it a go, always. What's winning the London Short Story Prize done for you? What's been good about it?
Guy Ware: It came at a really good time for me, actually. I'm struggling in the middle of another novel. I'm at the kind of "is this going anywhere?" It was a real boost. It was a real "oh yeah."
I – like most writers, I'm sure, writers of short stories anyway – I have entered lots and lots of competitions. Some of them I've been shortlisted in and whatever, but I'd never won one before.
Francesca Baker: Yay!
Guy Ware: Hurray! You get quite used to seeing the response emails. "Oh yeah, it's another rejection." I almost didn't read this one, to be honest, when I saw it. I was just coming out of the office, and I was like, yeah, it'll be another "well done but you didn't quite make it" kind of email. And it wasn't, which is great.
Yeah, a real confidence boost. An opportunity to show off a bit, which is nice, and we all need it from time to time. Tell my critics at work it's time they started reading my books and that kind of thing. Yeah, so it did encourage me. Hopefully we can bang on about it a bit for a little while yet.
Francesca Baker: What's next for you? More short stories, another novel?
Guy Ware: As I said, at the moment I'm in the middle of struggling with novel number four. Number three is done and dusted and is with the publishers, and out in the summer.
What I've tended to do since I've started writing novels is take a break between drafts. That's when I start to write stories again. Or sometimes a story will pop into my head. But usually with limited time, I try to focus on my novel draft, and I'll take breaks from it when I need to get some distance.
So I guess the plan is the current one, current draft, month or two, and then I'll stop and write a story.
Francesca Baker: Brilliant. If people want to find out more about you, you're online?
Guy Ware: I'm on Twitter, @guyware. My publishers are Salt. The short stories are published by Comma. Do go and look at them, and you'll find me there.
Francesca Baker: Yay! Brilliant. Thank you so much.
Guy Ware: Thank you.
class="post-17358 post type-post status-publish format-standard has-post-thumbnail hentry category-network-knowledge category-think tag-character tag-cultural-appropriation tag-culture tag-diversity tag-fiction tag-maria-thomas tag-personal-experience tag-stereotypes tag-stories tag-workshop tag-writing"Maria Thomas on writing curiously…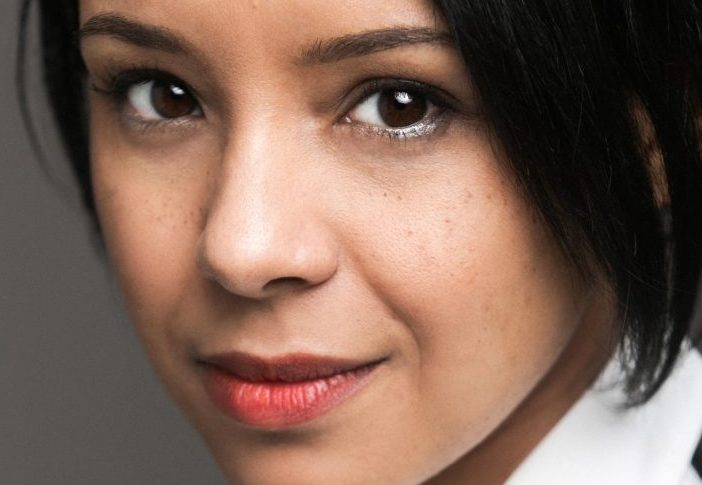 Writers are often told to 'write what you know', but how much of this is actually true? As part of our Spring 2019 season, Maria Thomas will be running a creative writing workshop for writers on creating fiction beyond personal experience…
'Creative writing is like being given a blank cheque and an open-ended plane ticket. When this is the case, why limit yourself to your own back garden when there's a whole world out there (and waiting inside your head) to explore? You may find your true interest as a writer lies in subjects closer to home, but without giving yourself licence to travel, how can you be sure of this? Taking the risk to write what you don't know can also make you a stronger writer of familiar subjects and settings too; it's fun and it might just offer new and exciting perspectives.
It's not easy to write what you don't know. First you have to give yourself permission to explore freely, to generate those rough first drafts, and to admit that you're writing from a place of deep uncertainty. Some writers find those things a real challenge.
Cultural appropriation is also an important issue that deserves consideration. You can avoid it in your writing by reading widely, doing appropriate research, and by making sure your plots are unique and your characters are well-rounded. Listen to constructive feedback from a wide range of readers and pay attention to the conversations that affect your work.
Most importantly, avoid stereotype at all costs (unless you intend to satirise it), because stereotype makes characters and plots interchangeable and thus dispensable. And, if you can dispense with something in a story, then you are suggesting it holds no value.
Always think: what am I trying to say with this story? Are my characters flat or tokenistic? Is my world-building stale? How might a person from this background/culture/ethnicity/community react if they read my interpretation? Just asking yourself the tough questions and thinking about the answers can help you navigate the pitfalls of writing what you don't know.
The world needs diverse stories because it is diverse. It needs more writers from all kinds of backgrounds to push the boundaries of their own creativity, and to encourage readers to do the same. If we engage respectfully with what we don't know in our writing we can move beyond mere representation to a place where fiction can inspire genuine connection. That sounds like a worthy endeavour to me.'
You can sign up to attend Maria's workshop here and members of the London Writers Network get discounted rates.
class="post-17211 post type-post status-publish format-standard has-post-thumbnail hentry category-creative-writing category-network-knowledge"Voice Notes from London:
A Collaborative Poem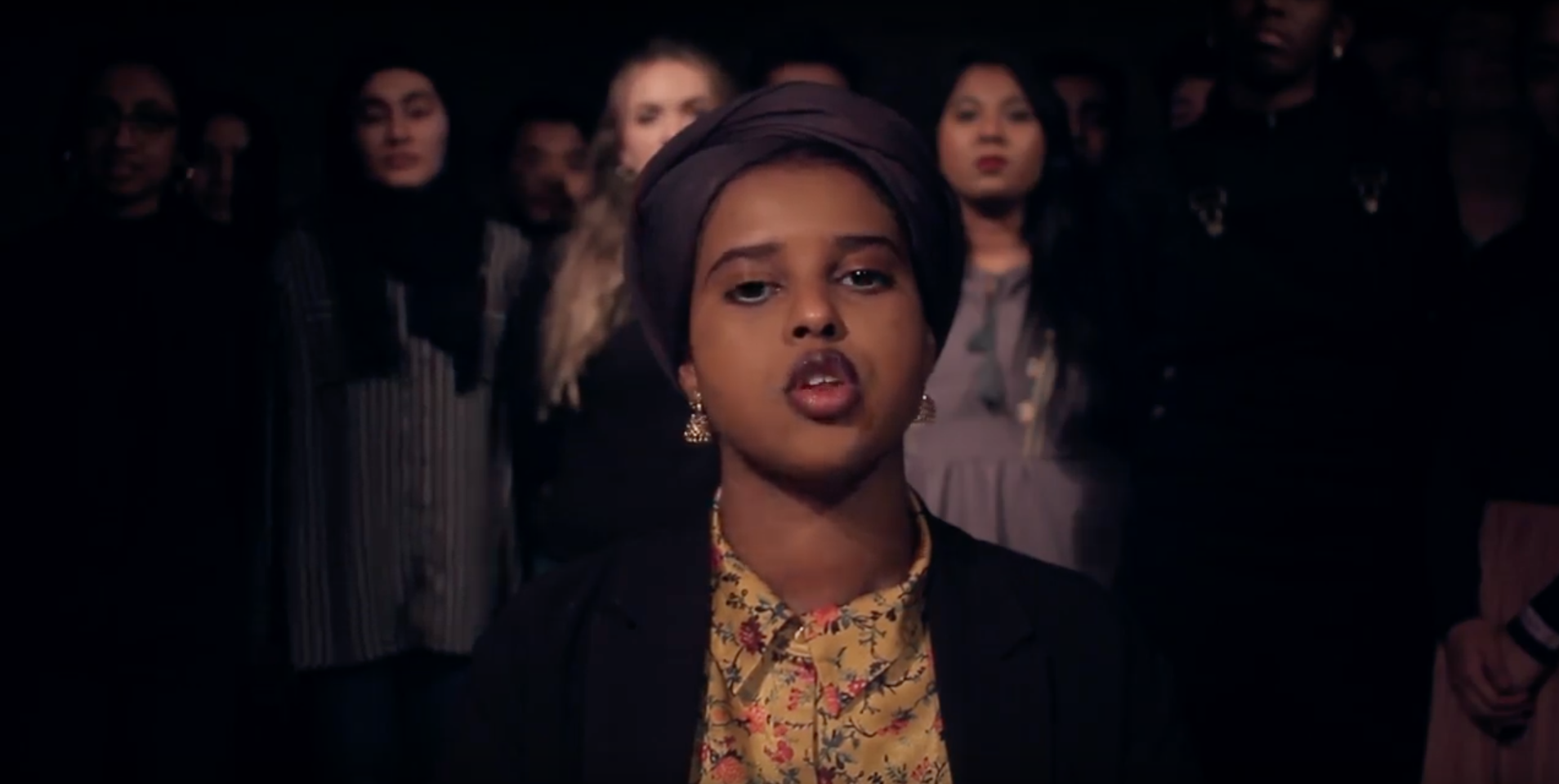 On 8 December a group of young poets from across London took part in a workshop at the Roundhouse led by Young People's Laureate for London, Momtaza Mehri, with poets Abondance Matanda and Oakley Flanagan.
They reflected on what was important to them about London, and worked together to create a poem for London.
The result is 'Voice Notes from London' a collaborative poem capturing what London means to the young people who live and work there.
We are grateful to The Roundhouse for hosting the Poetry Lab and to the talented poets who composed and performed 'Voice Notes from London': Aizaz, Aman, Bella, Bien, Elliot, Fatima, George, Jessica, Jinhao, Katie, Katie, Kit, Michael, Oliver, Orin, Shija and Tasnima.
Join the conversation on social media #LaureateforLondon 
class="post-17201 post type-post status-publish format-standard has-post-thumbnail hentry category-blogs category-network-knowledge tag-claire-mcgowan tag-crime-fiction tag-workshops"Top five crime novels
Claire McGowan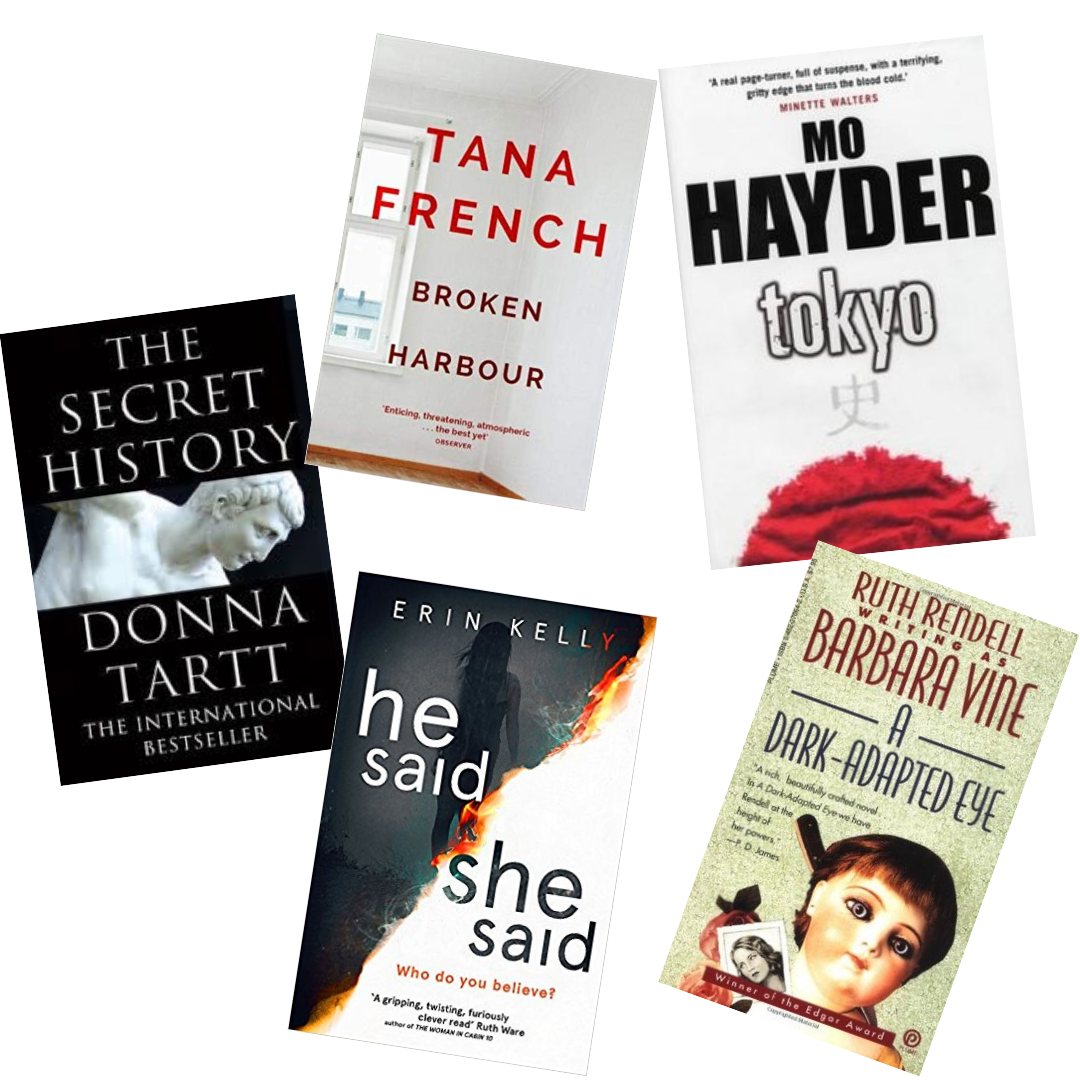 Crime author Claire McGowan is running an intensive crime fiction weekend course with us this spring, for anyone looking to break into the crime fiction market. To get you in the mood, here she tells us her top five crime novels.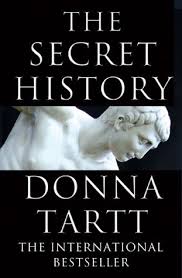 The Secret History, by Donna Tartt
I must have read this ten times at least. A group of students, drunk on Greek mythology and the lure of the ancient world, do something terrible. The narrator is drawn into their glamorous world and risks losing himself. There's no better depiction of a group of people slowly falling apart under pressure, and it contains the most brilliant scene where the guilty parties attend their victim's funeral. The prose is also gorgeous, full of sentences you want to read aloud to yourself over and over. It's a campus novel, a crime novel, and a literary novel all in one.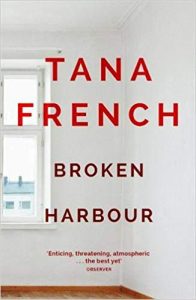 Broken Harbour, by Tana French
One of the best crime novels I've ever read. I'm in awe of how she writes the same scenes we've seen hundreds of times– autopsy, interview, crime scene – but makes them utterly fresh and visceral. The voice of the investigating detective is compelling and the plot twisty and dark as the bottom of the sea. It's also a brilliant dissection of the effects of the recession on Ireland, something which permeates the literature of the last few years, and the way it destroyed communities, lives, and minds. I love all her books but this is my favourite.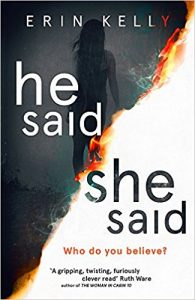 He Said/She Said, by Erin Kelly
You know a crime novel is really good when you've found out what happens at the end, but you still re-read it several times. A breath-taking twist, characters that feel like people you know, a brilliant structure, stunning sentences – this has it all.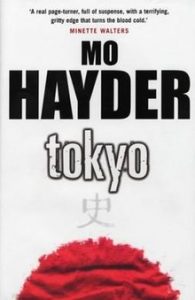 Tokyo, by Mo Hayder
Reading Mo Hayder's books often feels like a brutal ordeal rather than enjoyment, and this dark-as-pitch tale is no exception – it's an absolutely gut-wrenching read, full of suspense and pain, with the tiniest glimmer of hope at the end.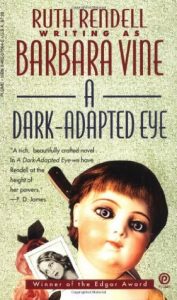 A Dark-Adapted Eye, by Barbara Vine
This manages to pull off the trick of not telling you exactly what happens (because the only people who know are dead) but still feels totally satisfying. It's so beautifully written, plausible, and compelling, and has one of the best opening lines you'll ever read.