class="post-19583 post type-post status-publish format-standard has-post-thumbnail hentry category-interview category-network-knowledge tag-bookshop tag-independent-books tag-interview tag-royal-court tag-samuel-french tag-theatre"London Bookshops
Samuel French at The Royal Court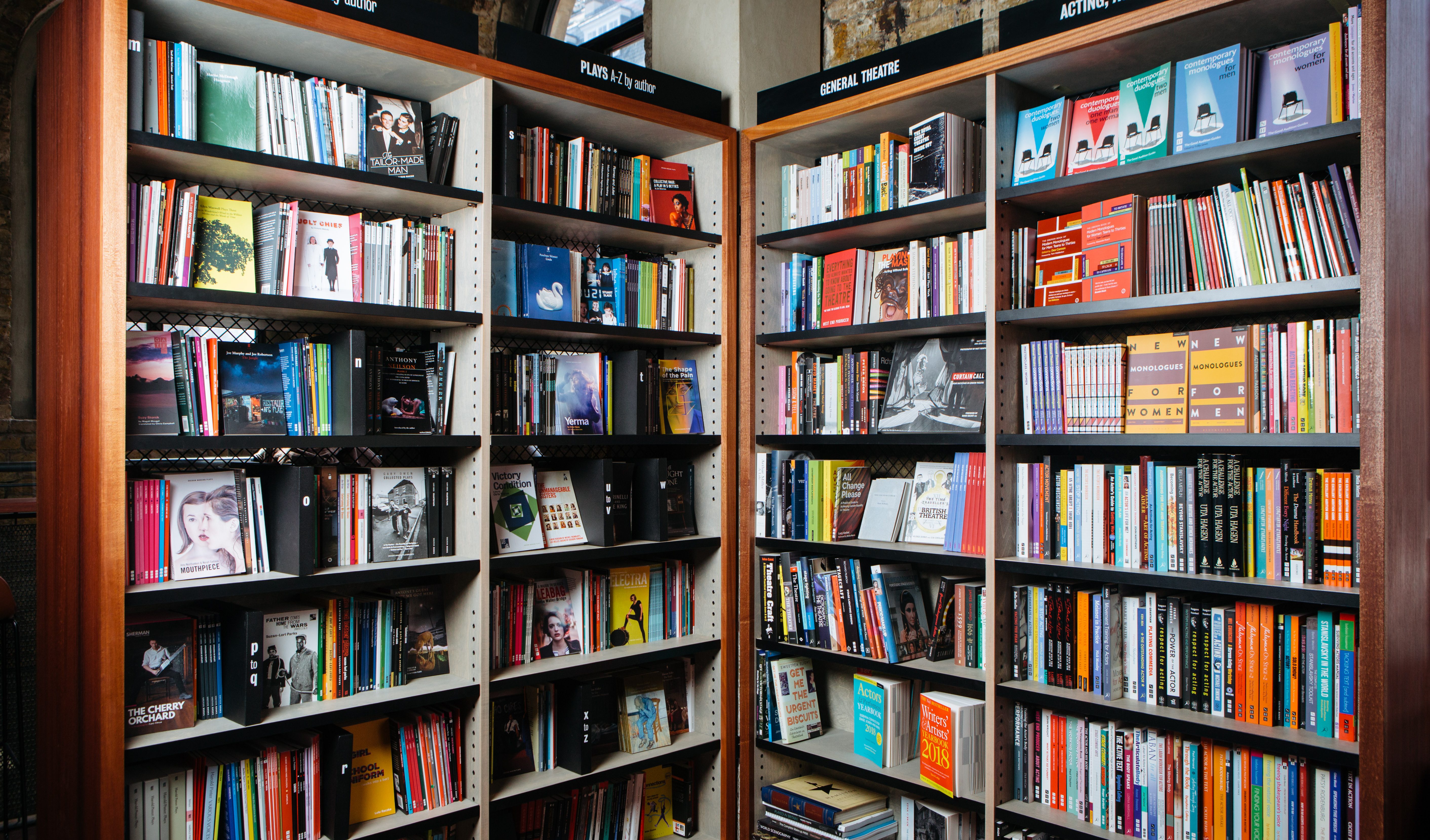 Here's a bookshop feature for all you playwrights out there! This time we venture to Sloane Square to visit The Samuel French Bookshop at the Royal Court Theatre. Samuel French has been serving the theatre community since 1830, as a play publisher, a licensing house and an independent bookseller. With thousands of titles in their catalogue, including many of the greatest plays in the English language, this shop is a must-visit for those with a keen interest in theatre, plays and performance. Spread the Word's Aliya Gulamani spoke to Simon and Cathy at Samuel French to find out more…
Aliya: Hello both, thanks for chatting with me today. The Samuel French bookshop is definitely one of a kind – and one of the few theatre bookshops in London. What do you think has contributed to Samuel French's success over the years?
Simon: In terms of the Samuel French Bookshop specifically, our booksellers are genuine enthusiasts and experts on the subject of theatre. Whether you're looking for a play to read or a new audition monologue to learn, our friendly booksellers offer a personalised service based on their wide-ranging knowledge and love of drama.
Aliya: Within your collection, you stock a wide range of play texts, including of course, plays produced at the Royal Court Theatre. In what way has the range of books you've sold changed over the years?
Cathy: Our stock selection aims to reflect the ethos of the Royal Court Theatre, so we concentrate mainly on contemporary drama, plays, and books on writing, directing and acting. We also try to keep in stock as many texts of previous Royal Court plays, where they are still in print, as we can.
Aliya: There are, thousands and thousands of plays in your archives. Are there any particular favourites that you have, and if so why?
Simon: Githa Sowerby and Cicely Hamilton deserve to be better known. Both were brilliant female writers, ahead of their time, who were writing meaningful plays with challenging roles to perform.
One of the biggest draws of the Samuel French Bookshop is how affordable everything is – many scripts for current productions start at just £4 and for past productions, £5. On top of this, students receive a 10% discount. Can you tell me a bit more about this incentive and the impact it has had?
Simon: The theatre does not produce programmes, so instead we sell the text of the play as a programme at a fraction of the retail price. We try to keep the price of both current and previous programme play texts as low as possible, with the aim of inspiring future theatre-goers and makers.
Cathy: The Bookshop, both in its current home at the Royal Court and in its previous location on Fitzroy Street, has long been a place where students can read, browse our bookshelves, and ask for advice on plays to perform. A student discount can help to make scripts that bit more accessible – and we also run regular offers for students on drama books and scripts for their courses too.
Aliya: You must get some very starry visitors attending the bookstore – are there any particular memorable visits that stand out?
Cathy: We love meeting the many playwrights who visit the theatre building; meeting a writer whose show is playing on the Royal Court stage is always a joy. Similarly, we enjoy chatting with those actors who are performing in Royal Court shows, as well as the creative teams helping to put them on stage.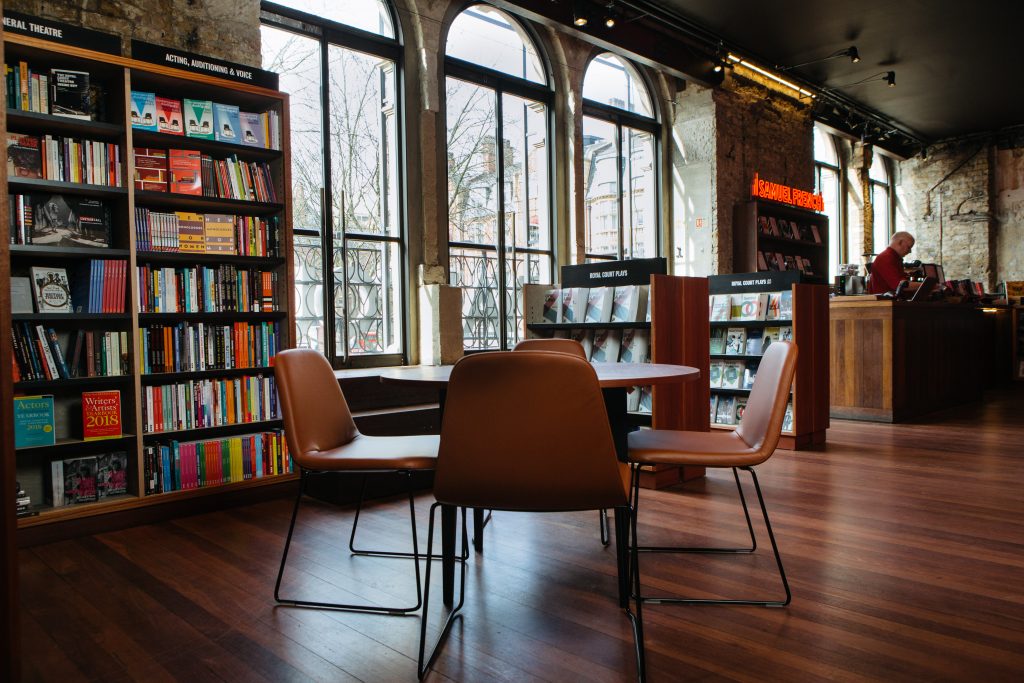 Aliya: I can see that you've ran a brilliant range of events at the Bookshop – are there any coming up that we should pop into our diaries?
Simon: That's right, we've hosted several free Q&A events with playwrights as well as book signing events, and we've also offered some special late-night shopping events too. We're in the middle of planning future events at this very moment, so to make sure you're among the first to hear about future Bookshop events and offers, sign up to our mailing list.
Cathy: Coming up is a Q&A with Jasmine Lee-Jones, writer of seven methods of killing kylie jenner, at 6.15pm on Thursday 25 July. The event is free and there's no need to book – so anyone who is interested in playwriting and performance is very welcome to attend.
Aliya: As someone who loves the theatre, I feel that it's becoming increasingly diverse and inclusive. It also seems more experimental than before in the way it plays with genre, form and performance. And yet, there is something timeless about going to the theatre too. Would you agree with this? 
Cathy: Sitting in an auditorium with hundreds of strangers, all experiencing the same event at the same time in the same space, creates a special sense of community and offers a unique experience – and this sense of shared storytelling is far from new, even if the form and messaging of a particular show is ground-breaking or new in your experience of it. Live performance is hugely special, and we're proud to support it.
Aliya: And finally, can you tell us an interesting feature or lesser-known fact about the shop?
Simon: On certain performance nights, for example if there's a show running in the Jerwood Theatre Downstairs, we'll close our main Bookshop at 5.30pm, and then at 6pm will open a smaller Bookstall in the downstairs Bar & Kitchen. So you can enjoy a drink while you decide what to buy!
Learn more about the Samuel French Bookshop at the Royal Court Theatre.
Photography credits: Helen Murray
Published 11 July
class="post-19245 post type-post status-publish format-standard has-post-thumbnail hentry category-interview category-network-knowledge"My writing journey so far by Elliot Sweeney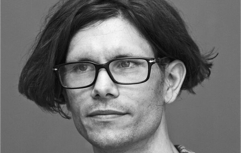 Elliot Sweeney has been a committed writer for many years, locating his work within the crime genre. He has had short stories published in anthologies and magazines, and makes time to write every day, be it early mornings or late at night. Manuscript assessments from The Literary Consultancy's Free Reads scheme and Bookouture have enabled Elliot to confidently develop his debut novel 'Tracks'  – a hardboiled thriller about grief, redemption, and how time can't heal all wounds. Spread the Word's Aliya Gulamani spoke to him to find out more…
Aliya: Hi Elliot, thanks so much for chatting with us. Can you start us off by telling us a bit about yourself and your writing journey please?
Elliot: Sure – I'm a thirty-nine year-old Londoner. I started writing young – fantasy stuff mainly – and through my teens and twenties I was more interested in music, lyrics and poems. Come my late-twenties, after a period of illness, I rediscovered prose, and began writing daily.
I began with flash-fiction and very short stories, and then broadened out. I still like to write shorts – 5-10 thousand words is a length that suits me, a great platform for trying out characters and ideas without the investment of time and labour that is a novel.
I started a novel-length piece a few years ago, but it wasn't well planned, and looking back, I can see it was without genre and became more of an experimental journey, to see if I could produce a large piece of work, and to thaw out some of my personal issues.
I like short, sharp, punchy prose, and admire those writers who use words sparingly. I'm putting the finishing touches to a 74k crime novel called 'Tracks' which I hope imitates this style.
Aliya: You've received feedback from both the Free Reads scheme and Bookouture on your novel-in-progress. What value have you personally found in getting professional feedback and how useful were both schemes in supporting your creative work?
Elliot: Where do I start? For me, there comes a point where I need an objective viewpoint – I'm not in a financial position to be able to afford critiques via conventional channels, and therefore found the availability of the Free Reads and Bookouture schemes to be invaluable.
The Free Read came in the early stages of writing 'Tracks', and the reviewer, Claire McGowan, gave really helpful pointers about dialogue and pace; the Bookouture critique arrived earlier this year after several redrafts and helped me lift the project even further. I now hope to submit to agents this summer.
Aliya: You also won the HW Fisher Scholarship for your novel-in-progress, which enabled you to have a fully-funded place on a Curtis Brown 3-month writing course – congrats! Can you tell us a bit about that and on the value of schemes for low-income writers?
Elliot: Without doubt, I wouldn't have received this without that first Free Reads critique – the advice given to me helped turn my fledgling draft into a presentable manuscript which Curtis Brown showed interest in. I'm so grateful for this help – I feel like each part of my writing journey have helped refine my writing voice and position myself within a genre.
Aliya: Your novel sounds really interesting, what stage are you at now with it and how do you make time to write?
Elliot: I'm re-drafting – again! My plan is to orate the whole book aloud, record it, and listen back, as if it were an audiobook, in order to absorb the way it sounds – a technique I learnt through Curtis Brown. I think 'Tracks' is almost as polished as it can be; even if this novel remains unpublished, I've learnt so much from its writing it. I've drafted something brand new for the London Writers Awards, a contemporary noir novel whose idea came to me in a dream, and which I'm so excited to write.
I tend to get up really early and write before work (I'm a psychiatric nurse). I have a little boy, and a full-on life, so find an hour in the morning is the best time to work. I write every day, either editing, creating, researching. It's tough, and sometimes feels quite lonely and indulgent, but I'm committed to it.
Aliya: I understand that your core interest is in the crime genre, are there any particular writers or books that have inspired you and why?
Elliot: I work in mental health and this vocation has been a big influence in my plotting and themes.
I'm a huge fan of post-war writers from the last century – Raymond Chandler, Dashiel Hammett, Patricia Highsmith to name a few. I also really like the more recent wave of UK hardboiled authors – Ken Bruen, Adrian McKintey, plus the likes of Val McDermid and Susie Steiner.
In terms of style – my big influences are Ernest Hemingway, Charles Bukowski, Raymond Carver – bare, bold prose that gets under the skin. I also enjoy existential writers like Haruki Murakami and Paul Auster whose work sometimes seems genreless.
Aliya: What tips would you share with writers out there, who have a great idea / are sitting on a manuscript / are keen to get their story published?
Elliot: For any budding writers out there, especially those like me who are not from a literary background and have limited means, I'd wholeheartedly recommend applying for a free read critique. The team at Spread the Word are so invested in helping writers with their craft, and there's such a wealth of expertise they can help you access. For me, it's been transformative, helping me lift my work to the next level, boosting my confidence, reassuring me I'm on the right path, and opening doors I'd not thought reachable.
Also – write. Don't think too much about it, just get the words onto the page, and commit to finishing the thing.
Once you've got a body of text, you can then worry about how to make it decent – but if you've only got an idea, then you'll never know how good it could be. I don't believe in waiting for a moment of inspiration to arrive – for me, writing is very much about perseverance and endurance – putting in the hours and graft – and being willing to make sacrifices along the way.
Published 4 July 2019
class="post-19703 post type-post status-publish format-standard has-post-thumbnail hentry category-network-knowledge category-tips"Spread the Word at Breakthrough Festival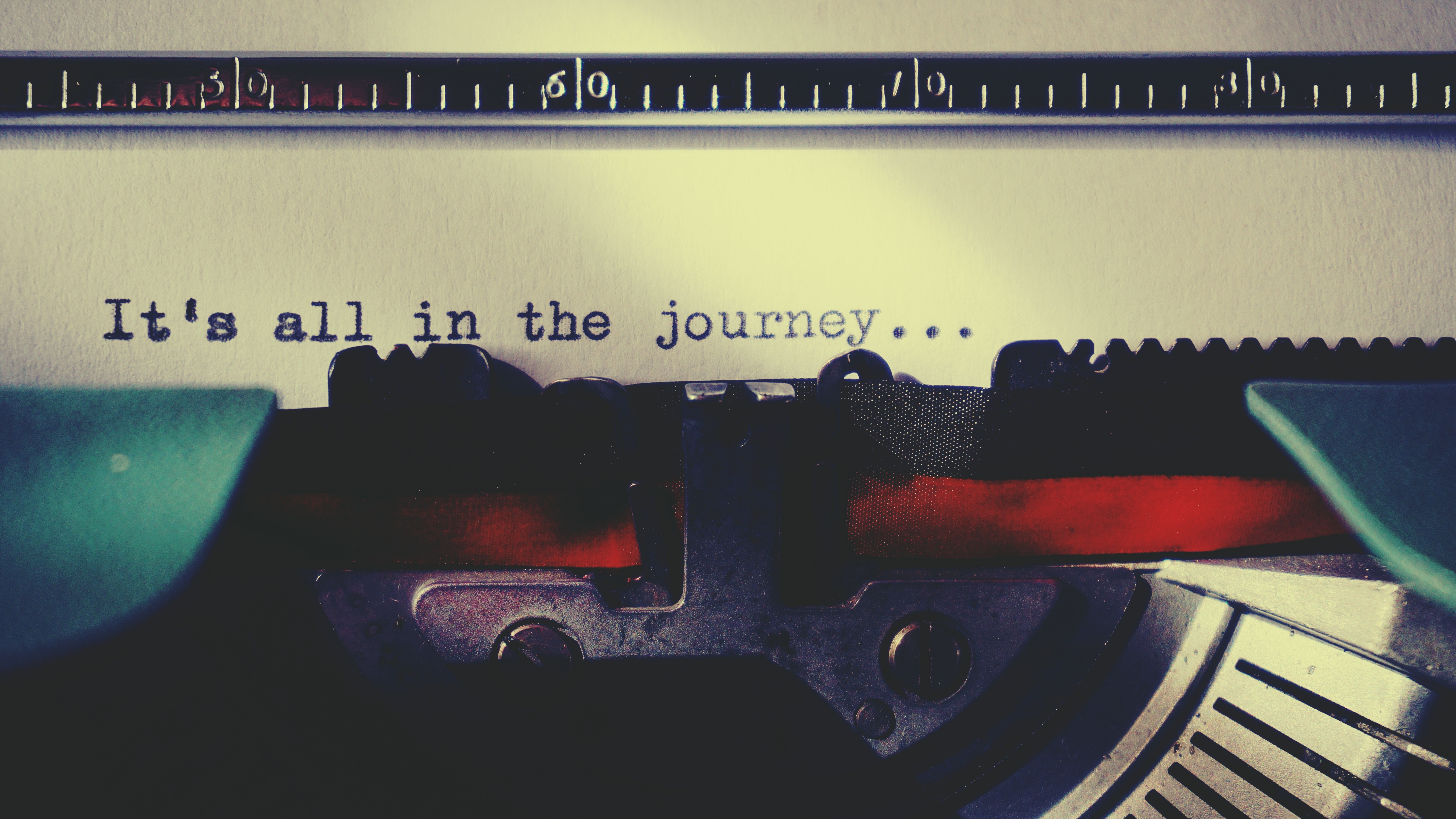 On the hottest day of the year in June in London, Spread the Word hosted a session called 'Taking Your Writing Forward' at Kerry Hudson's Breakthrough Festival, where our writer development manager Eva Lewin was in conversation with two of our London Writers Awards writers, Tice Cin and Riley Rockford, about writer development opportunities. We created a document for the writers in attendance which contains links to different free and low cost development opportunities for writers and we thought we'd share the opportunity here. It's by no means comprehensive, but we hope it might be helpful to you.
Breakthrough Festival doc for writers (A PDF doc)
Published 3 July 2019
class="post-19600 post type-post status-publish format-standard has-post-thumbnail hentry category-interview category-network-knowledge tag-books tag-brixton tag-diversity tag-inclusivity tag-independent-bookshop tag-london"London Bookshops
Round Table Books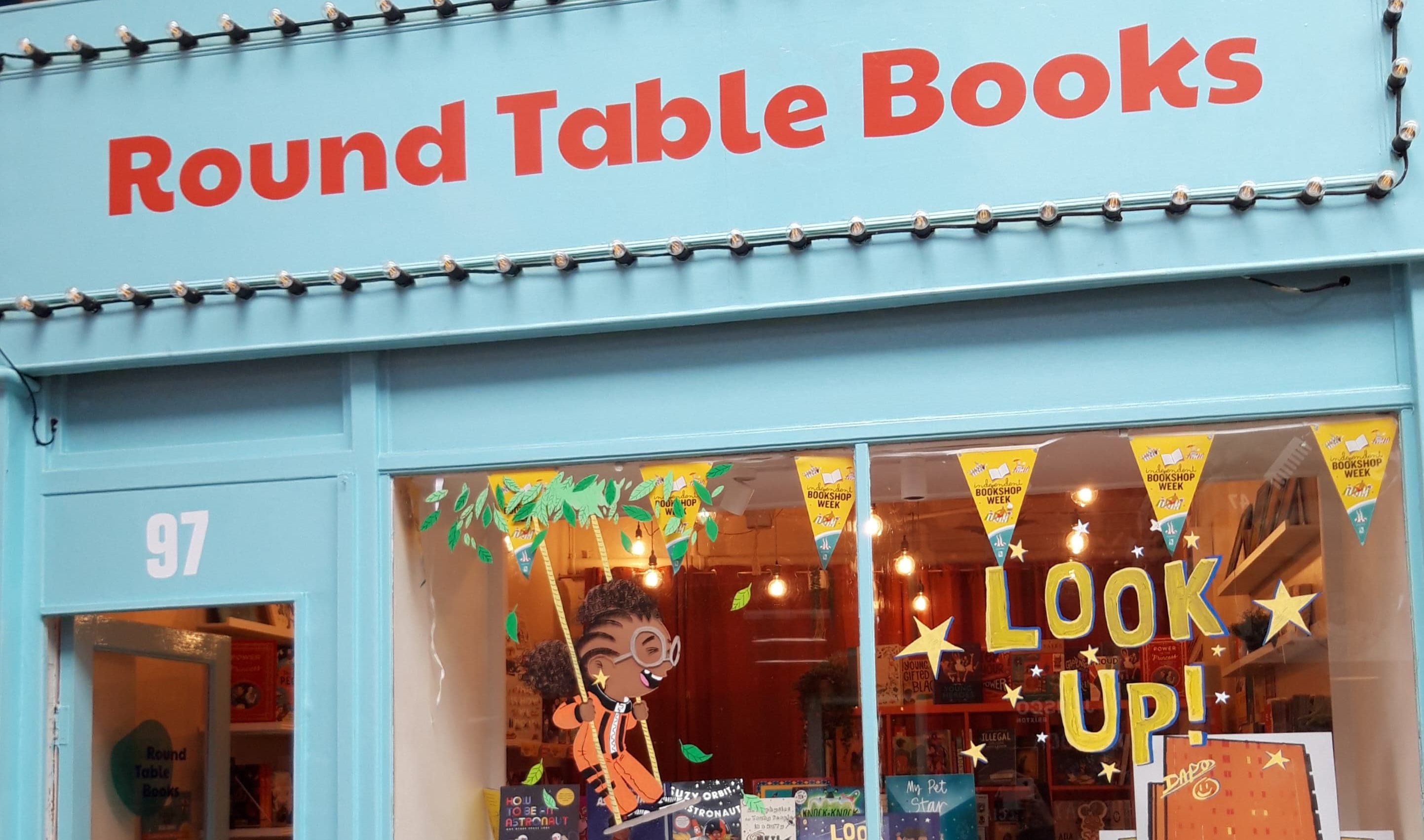 Round Table Books is the hottest bookshop in town and its journey makes for fascinating reading. Last year, the Centre for Literacy in Primary Education released a report that found that only one percent of the more than 9,000 books published in the UK in 2017 had a central BAME character. In response to this,  publishers Aimée Felone and David Stevens set up a pop-up bookshop stocking only inclusive titles in October 2018. The response to this was phenomenal, leading to a crowdfunding campaign #ReadTheOnePercent, to finance a permanent store. Lo and behold, Round Table Books opened its doors in May 2019.

Spread the Word's Aliya Gulamani spoke to their lead bookseller, Khadija Osman to find out more.
Aliya: Hello Khadija, thanks so much for chatting with us. I remember coming to visit the pop-up shop, and the brilliant reaction it got from the community. It must be a thrill that it's now a permanent residence in Brixton?
Khadija: No one is more excited to have this place standing in the middle of Brixton than the Round Table team right now. Although other Brixtonites do work hard to try to top us. We often get people opening conversations with congratulations and telling us they're proud of us. It's a lovely way to be greeted.
Aliya: I love the name of the bookshop – how did it come about and what does it personally signify for you?
Khadija: I love the name too. In short it comes from Arthurian legend, King Arthur requested a Round Table so that no man could sit at it's head and everyone in the kingdom of Camelot could be represented equally at it. The shop's mission is to help represent everyone equally in books so really it's just a perfect fit!
Aliya: You're the lead bookseller in the shop and you work with Layla – how do you both share the responsibility of running the bookshop?
Khadija: Layla and I work hard on lots of different things, from choosing stock to advertising book clubs and one-off events, taking turns on different responsibilities. She's in two days less than I am in the week but has cracking ideas and an eye for photo composition that I'm not afraid to say I'm a little jealous of. And when she's working the till for me, I finally find the time to answer all of my one thousand and one emails so she's really just indispensable.
Aliya: As well as doing this, you also manage the bookshop's social media account (if you're not following them, check them out @BooksRound), what other day-to-day responsibilities do you do?
Khadija: Even with the online Twitter and Instagram accounts we also have to do a lot more on the ground social advertising; connecting with schools, flyering and meeting people directly. Any small businessman will tell you their job is Marketer first. Then Retailer, Event Planner, MC and all around lovable schmoozer.
Aliya: I recently went to the bookshop to buy books for my youngest brothers and I was astounded by the brilliant collection of books. I came away with two great copies, both of which had a BAME character on the front cover. What have been the most interesting reactions that you've witnessed?
Khadija: It's lovely to hear any positive reactions to our shelves because I have to put so much work into them. People are right to have complained in the past there is a shortage of accessible diverse literature but there are an amazing number of gems out there, both relatively new and in some more classic capacities.
But my favourite memory is probably still of a young boy who sullenly told me he didn't like books while his bibliophile family fluttered around him about the shop, they were picking everything up. They just couldn't get enough of the store but he was sure that there was nothing that would interest him. It was when his older sister told me "Raza is always like this in bookshops" that I remembered the book I had just fallen in love with. When I was able to tell him that a boy in one of our books – the cool older cousin in the book no less – was also called Raza that he lit up. He couldn't wait to get his hands on it and stayed reading it the whole time his family shopped and when they left it was with that in their bag as well.
Seeing your name in a book is a powerful thing, we're all a little wonderstruck by it but some names are a little rarer to find than others. I was very proud to make his day.
Aliya: Currently, what are your bestsellers and why do you think these particular books are so popular?
Khadija: One of our bestsellers is Planet Omar. I think a Muslim main character for a book with that young an audience is something amazing to have and people coming in recognise that. In an age of heavier Islamaphobia and a lot of fear in the air, it's beautiful to get a happy young boy who just loves his family on the pages of a book.
Aliya: Can you give us a little preview into what may be coming up for Round Table Books over the next few months?
Khadija: Over the next few months, we'll be using our HarperCollins Literacy Project Grant from the Indie Thinking initiative to do some literacy promoting events in the area that we're very excited about. As well as that we'll be beginning a Parents and Carers book club in which we review children's books and hopefully get a better idea of what everyone is desperately wanting on their children's shelves.
Aliya: And finally, can you tell us an interesting feature or lesser-known fact about the shop?
Khadija: I would hope that everyone knew at this point but as well as Round Table Books being a bookshop all about representing the underrepresented, the back of the shop houses the office of Knights Of . They are a publishing house that focus on diversifying the book world from the inside out and making sure their team are as broad and inclusive as the books on our shelves. If you come down, make sure to say hi to us both!
Published 3 July
class="post-19646 post type-post status-publish format-standard has-post-thumbnail hentry category-interview category-network-knowledge"Interview with Young People's Laureate
for London Theresa Lola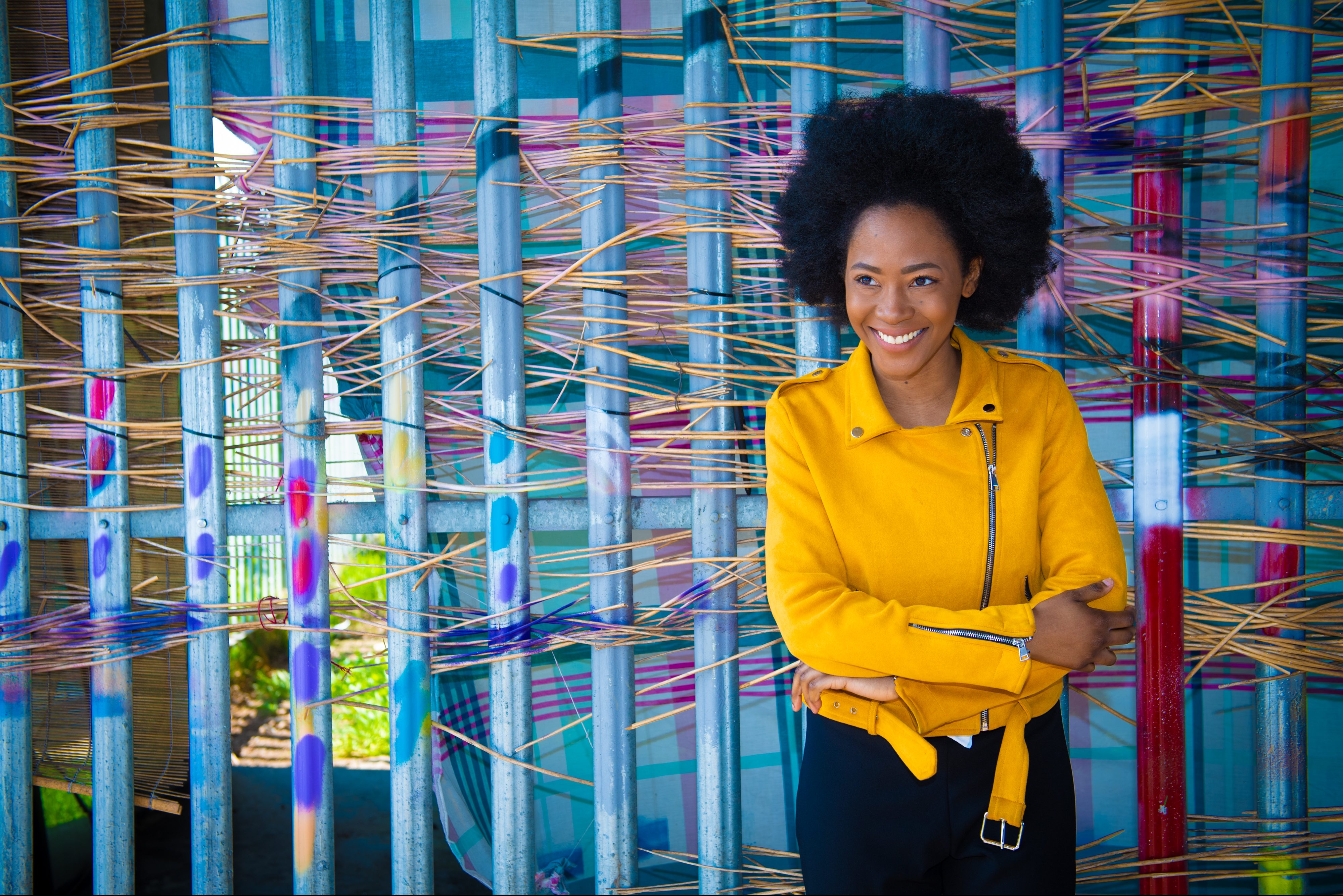 Theresa Lola is Spread the Word's Young People's Laureate for London. Spread the Word's Laura Kenwright interviewed Theresa about what she would like to achieve in her tenure as Laureate, what poets she's enjoying reading / seeing right now, what she loves about London,  her journey into poetry that started as a young teenager and much more…
Laura: How did you discover poetry, and what was the driver to make you pursue it for a career?
Theresa: I discovered poetry when I was 13 after attending a poetry festival as part of an English department school trip. I didn't consider it as a career until a friend entered me for an open mic night at Battersea Arts Centre in 2014. It was surreal to have people from the audience voice out their connection with the experiences in the poem. I was in awe of the idea of a poem transporting people to a memory or a future, to share something new about what they already knew. I realised then I could contribute to this world of poetry, or at least try to.
Laura: How does it feel to be Young People's Laureate for London and what do you hope to achieve in your year?
Theresa: I hope to empower and connect with as many young people in London as possible on physical and digital platforms to encourage them to explore the power of poetry in expressing their imagination, documenting their stories and the pressing stories in London. I also hope to help other young people interested in poetry and trying to access and carve their way through the poetry field in London. In the 2 months since my tenure began I have met many wonderful young people, some I have formed a bond with and have undoubtably promising careers ahead. I've run 3 free poetry workshops for young people. One for BBC London themed on Mental Health and creativity, the second for Poetry School was an introduction to poetry for new and curious writers, and the third was for Spread the Word alongside the youth laureates of Chicago, and that workshop was exploring the relationship between poetry and activism. I hope to leave something lasting that young people can point to guide and inspire them, something that exists beyond my tenure.
Laura: Your collection, In Search of Equilibrium, was published by Nine Arches Press earlier in 2019. Can you tell us a little about what putting together your collection and getting it published was like?
Theresa: The writing of the collection was emotionally challenging as the poems touch on sensitive topics about death, faith, family and mental health. After handing in the collection manuscript I felt proud to have articulated those experiences, a weight off my shoulder. After submitting to Nine Arches Press, I got an email from Jane Commane, the editor, and she was interested in publishing it. The editing of the collection was done over a year, the process of feedback and editing of my poems was one of the most transforming things for my craft as a poet and perhaps as a person.
Laura: What are your top tips for people just starting out in poetry?
Theresa: Commune with other poets, attend events, it is essential for your growth as a poet and it's also an invaluable networking space. Try not to write for the sake of 'hot topics' or for constant pleasing or applause of the audience, it's easy to lose your own voice in that. Attend workshops, or other alternative ways to grow in your craft, it could be a poetry programme or one off growth spaces, make sure you are taking in as you are giving out.
Laura: Who are your favourite poets?
Theresa: The list can go on and on, as it differs for different times. There are many young poets whose work I am currently revelling in, I'll list some;
Rakaya Fetuga, winner of the 2018 Roundhouse poetry slam, she just had her poetry play Unbraided as part of the Roundhouse Last Word Festival.
Ella Frears, a poet and visual artist, she is currently a project on the motorway service stations between Cornwall and London, the project is produced by Tom MacAndrew, who is also project manager for Spread The Word.
Caleb Femi, the former Young People's Laureate for London released SLOG, the poetry visual and audio experience.
Kareem Parkins-Brown, a brilliant performer and winner of the 2019 Roundhouse Poetry Slam, I love his careful balance with humour to touch on important issues.
And Belinda Zhawi, her pamphlet 'small inheritances' is a sure recommendation, it explores her experiences between different places and traditions, London being one of them.
Laura: Would you say poetry is currently thriving?
Theresa: I do believe poetry is currently thriving, yes there are still barriers that need to be pulled down, but I love the work that young poets in London in particular are doing, how unapologetically themselves they are in their work and the new ways they are engaging with their audience.
Laura: What do you love about London?
Theresa: I love how eclectic and electric London is, how there is something for everyone and every interest, people from different walks of life come together to create rich connections and stories. From street parties, Notting Hill Carnival, to Thames Festival and more. I also love that in the darkest times, London comes together to fight against what is wrong and to defend what is right.
Theresa Lola is a British Nigerian poet and facilitator and Young People's Laureate for London 2019. She is an alumni of the Barbican Young Poets programme, and was joint winner of the 2018 Brunel International African Poetry Prize. In April 2018 she was commissioned by the Mayor of London's Office and read a commissioned poem at the unveiling of Millicent Fawcett's statue at Parliament Square. She has facilitated poetry workshops at primary and secondary schools. Her debut poetry collection 'In Search of Equilibrium' (Nine Arches Press, Feb 2019) is described as 'a glorious hymn to being alive and wounded.'
Theresa will be writing regular blogs on the Spread the Word website throughout her tenure as Young People's Laureate for London. 
Photo of Theresa Lola by Hayley Madden for Spread the Word
Published 1 July 2019
class="post-19579 post type-post status-publish format-standard has-post-thumbnail hentry category-archive tag-ace tag-dycp tag-funding tag-london tag-writers"FREE WORKSHOP ON APPLYING FOR DEVELOPING YOUR CREATIVE PRACTICE FUNDING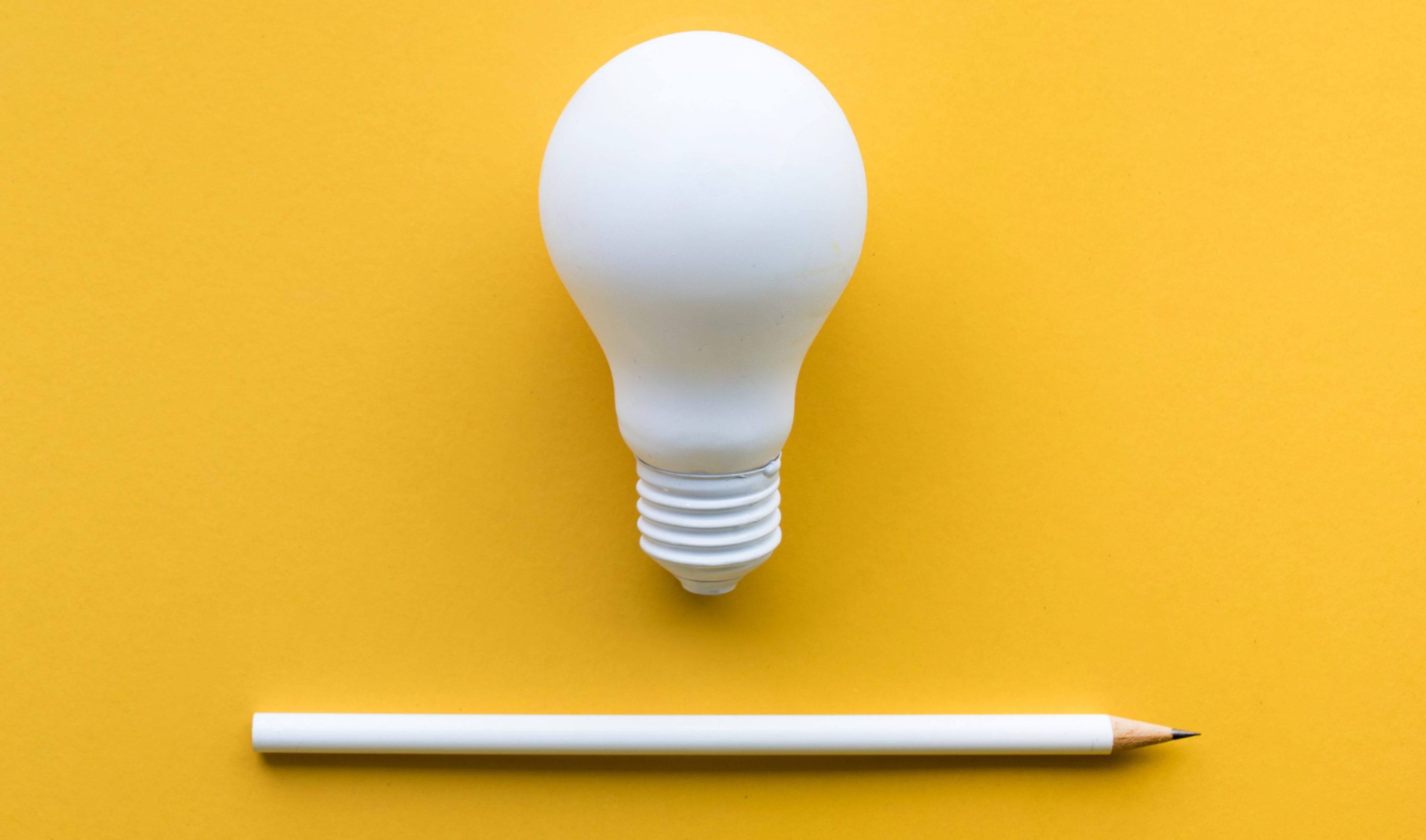 The Arts Council England's 
Developing Your Creative Practice
scheme 
is for
 individual artists to apply for
 lottery
funding
to 
develop a new piece of creative work and a new way of working. You can apply for up to £10,000 towards
 your project which could cover 
mentoring, time to write, research, or professional development costs. 
Whatever it is you want to do
, the project you have in mind must be 
about making a 
step-
change 
in
the kind of work you produce
. 
If you are not familiar with applying for grant funding, filling out an application form can be a daunting and baffling process. Eva Lewin, Spread the Word's Writer Development Manager, will be running a free workshop on Tuesday 9 July (6:30-8:30pm) at Spread the Word's offices for London-based writers. She will talk you through the different questions in the DYCP form to help you think about how you can respond to them.  
Once you have attended the workshop, you can book for a one-to-one with Spread the Word to look at your draft application in more detail.   
For the workshop, you will need:  
A clear idea of what your proposed project is

, what you want to achieve and how you are going to go about it. 

 

A print out of 

ACE guidance 

sheets 

on completing the application form.  See links below

. 

(

Make sure 

you 

bring

 the guidance sheet that lists all the questions 

with

 prompts for answering the questions as well.

)

 

 

Please read through all the ACE guidance beforehand

, so that you are reasonably sure

 that

 what you have in mind is suitable for DYCP funding

. 

(

If what you want to do involves engaging audiences or participants, then you should go

 for a Project Grant instead.

)

 

 
This workshop will:
Give you an insight into the purpose of the fund;
Help you think through your project;
Assess whether this is the right fund to be applying for;
Take you through all stages of the application process;
Look at what will make a strong application;
Provide opportunities to ask questions and to reflect and gain feedback on your own proposal.
Places are limited and offered on a first come, first served basis. Because of the nature of the workshop, we are only able to offer spaces to applicants whose ideas are suitable for this particular funding stream. We anticipate that demand will be high for the workshop so please only book yourself a place if you are committed to attending. This workshop is open to writers of any literary form including playwriting, screenwriting and graphic novels. We regret that it is not open to artists working in other forms or media.
Spaces are now filled for this workshop and we will be running another one in October. We'll post information on how to apply for this nearer the time.
Published 20 June