Taking place across all 33 of London's library services from February to June 2022, City of Stories Home celebrates libraries as the place to make and share stories in our local communities. 
London writers Amer Anwar, Natasha Brown, Jarred McGinnis, Caleb Azumah Nelson, Lizzie Damilola Blackburn, Ruth Goldsmith, Iqbal Hussain and S. Niroshini have written stories on the theme of home to inspire Londoners to get creative and write their own story.  
 ALL HER TOMORROWS by Iqbal Hussain 
"Be brave, my girl," says Ammi, stroking my hair. "You will be home before many summers have passed." 
We both know this is a lie. He has mentioned several times how dear the flights are.  
"Think of the life you will have there. You will live like a maharani." 
Another lie.  
++ 
As the aeroplane lifts off, I am convinced it will fall apart. I clutch His arm and feel Him tense.  
He leans back and closes His eyes. His pale skin, straight nose and pomegranate-red lips remind me of another. Despite everything, I find myself smiling. Except this man could be his father. I remove my hand from His arm. 
I spend the rest of the flight with my own eyes shut, picturing the mountains, fields and rivers I am leaving further and further behind.  
++ 
"Let me do the talking," He says in his formal Urdu as we walk to the counter.  
The English man asks me something. I shield my face with my dupatta.  
"She eighteen," He answers on my behalf. "She no speak English."  
The man inspects my passport, comparing the picture to what he sees before him. Once more, he asks me something. 
Once more, I am denied my voice: "She my wife. She living England now."  
The man calls someone else over. I put my head down, but they indicate that I show my face. I lower my dupatta and my eyes. How will I explain to Ammi if they send me back?  
Finally, they stamp the page. A nod and a wave and my kismet is sealed.  
++ 
"Welcome to your new home."  
He sweeps His arms before the red house as though it were a mansion. It squats in a long row of similar houses. There are no mountains or trees; no sunshine, just a sky the colour of cobwebs. As my teeth chatter, I pull my sparkly cardigan tighter. He gifted it to me under Ammi's approving gaze. How can something so beautiful be so inadequate?  
Inside, it is dark. He flicks a switch – the bare bulb buzzes into life like an angry makki. Instead of the whoosh-whoosh-whoosh of the ceiling fan, there are just the muted cries of children playing outside. I shiver again. He will want a family, but I do not know how. Ammi did not tell me. 
I barely take in the furniture of my new life: a settee propped up on books; a mirror festooned with peacock feathers; two mismatched chairs around a Taj Mahal dining table. He proudly shows off a gold tiger on the mantelpiece.  
It is not enough. My heart pounds in my ears and I stifle the sobs that threaten to erupt.  
"Forgive me." He drapes His coat over my shoulders. This time it is my turn to flinch. 
My steps falter. He reaches out, but I am elsewhere: adrift in a coracle on the ocean, bobbing and spinning, turning and lurching. A giant wave surges towards me.  
Breathe.  
Breathe.  
Breathe. 
I will not go under.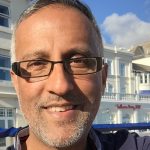 About Iqbal Hussain 
Iqbal's short story "The Boy with the Green Eyes" was published in the Leicester Writes Short Story anthology in September 2021. He is one of fifteen emerging writers to feature in the Mainstream anthology by Inkandescent, published July 2021. His short story "A Home from Home" won Gold prize in the Creative Future Writers' Awards 2019. He is a recipient of the inaugural London Writers' Awards 2018 and was shortlisted for the Penguin Random House WriteNow scheme 2017. Iqbal's first novel, Northern Boy, is currently out on submission 
Get involved with City of Stories Home 
Read all the short stories and get top tips on writing a short story at: www.spreadtheword.org.uk/cityofstorieshome 
Sign up for a free online creative writing workshop at: www.spreadtheword.org.uk/city-of-stories-home-workshops  
Enter your story to the competition with the opportunity to be published in the City of Stories Home Anthology, be part of masterclasses and read your story at a celebration event at your local library: www.spreadtheword.org.uk/city-of-stories-home-competition  
City of Stories Home is run by London Libraries in partnership with Spread the Word and is supported by Arts Council England and Cockayne Grants for the Arts. 
Published 12 January 2022
---
---