Spread the Word is accepting submissions for a limited number of written feedback reports from Jordan Lees at The Blair Partnership. 
Jordan Lees from The Blair Partnership is offering to provide written feedback on up to 6-8 submissions from writers from under-represented backgrounds based in London, UK.
Jordan joined The Blair Partnership in 2016 and became an associate agent in 2020. For this opportunity, he is looking for submissions that fit along the commercial-literary spectrum – what matters most is a strong voice and controlled storytelling. An original premise or an old story told from a new perspective always excites him. He's also interested in anything a little unusual or offbeat, whether that's a speculative crime novel, anything drawing on folklore or books with a dark or gothic feel.
We define writers from backgrounds under-represented in publishing as those who:
Have a low household income

Are working class

Have experienced a lack of academic and/or vocational training opportunities – i.e. have not been able to study/train to their full potential due to low income, ill health, being a carer etc.

Are or have been a carer

Have experienced homelessness

Are a single parent

Have a disability

Are from a BAME background

Are a member of the LGBTQ+ community
How to apply
Please note this opportunity is only open to un-agented writers based in London, UK. Apply via Submittable. Only one entry per applicant will be accepted. If you have previously been given feedback in a callout this year, then you are not eligible to enter this time. Submissions must be fiction writing.
The link to apply is here: https://spreadtheword.submittable.com/submit
What we will need from you
A sample of your fiction writing; from 3,000 to 5,000 words from the beginning of your book

A synopsis of the book (no more than 1 side of A4)

A covering letter that includes: What stage you are at with your book i.e.: have you just started/nearly finished/completed? How you meet the criteria for this opportunity. A summary of your writing endeavours to date (e.g. Have you taken part in writing development opportunities? Have you mainly been writing on your own at home?)
Jordan will be giving feedback on the documents that you submit.
Timeline
The deadline for submissions is 11.59pm on Sunday 31 May 2020. Applicants will know the outcome of their submission by the end of June, and successful applicants will receive their feedback by the end of July. If you have any queries about your application or this opportunity, please get in touch with [email protected].
About the Agent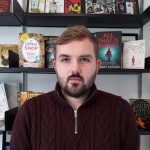 Jordan Lees represents crime/thrillers of all stripes (whether commercial or literary) and detective fiction, dystopian/speculative fiction, literary fiction, true crime and smart non-fiction.He is particularly drawn to writing with a real sense of atmosphere and has a soft spot for anything dark and strange. Some of his favourite writers are Patricia Highsmith, John Fowles, Cormac McCarthy and Gillian Flynn. Some recent books he has enjoyed are:
The Hunting Party by Lucy Foley
Lanny by Max Porter
Lullaby by Leïla Slimani
His Bloody Project by Graeme Macrae Burnet
Snap by Belinda Bauer
Published 1 May 2020
---
---