As London's writer development organisation, Spread the Word celebrates and champions diversity in writing and writers throughout the year. We are celebrating Black History Month 2019 with a special campaign, created in partnership with Round Table Books.
Every day throughout October we'll celebrate Black writers of children's and YA books using the hashtag #celebratingblackwriters on our social media networks and featuring their books in the Library below. The list has been curated by Khadija Osman at Round Table Books, which specialises in selling inclusive children's books.
Black History Month was first celebrated in the UK in 1987, and was organised by Akyaaba Addai-Sebo. Every October, Black History Month profiles Great British Black achievers. This annual event seeks to inspire, educate, inform, champion and share stories about the history, achievements and contributions of Black people in the UK. You can find out more about Black History Month here: https://www.blackhistorymonth.org.uk/
We'd love for you to share your inspirations – tell us who your favourite Black writers are using #celebratingblackwriters on social media.
We are hugely thankful to Khadija and the team at Round Table Books for their brilliant list, advice and inspiration.
The Library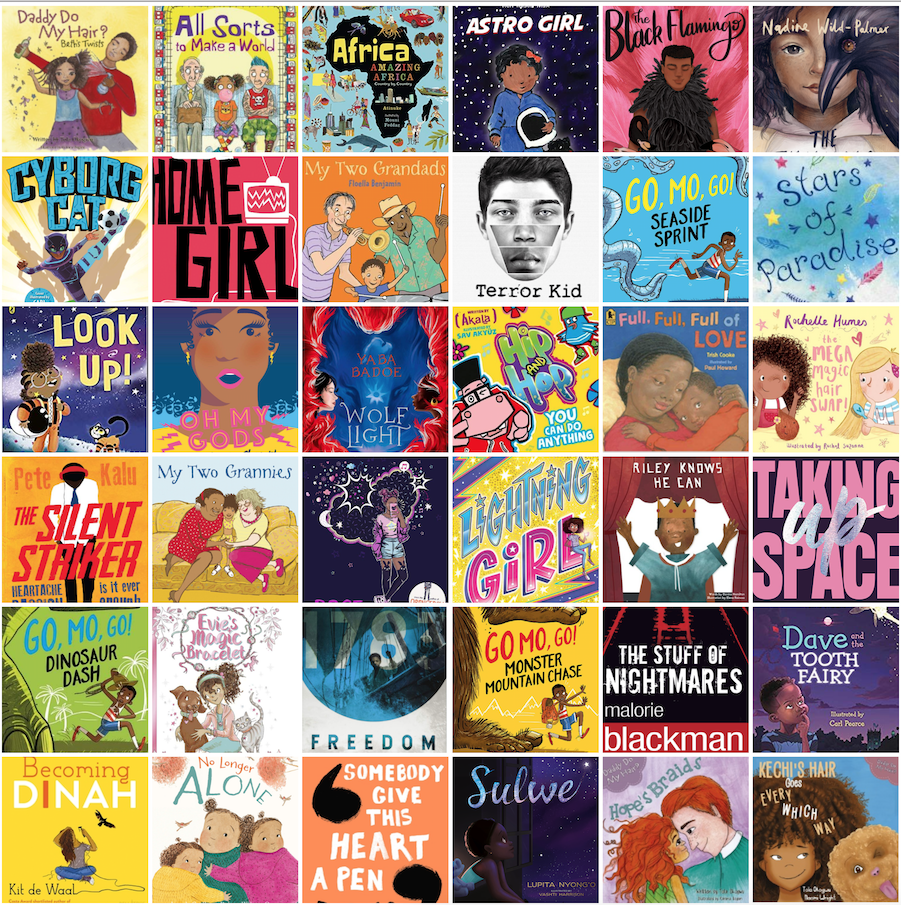 Picture Books
Sulwe – Lupita N'yongo
Africa Amazing Africa! – Atinuke
No Longer Alone – Joseph Coehlo
Astro Girl – Ken Wilson-Max
You Can Do Anything – Akala
Dave and the Tooth Fairy – Verna Wilkins
My Two Grannies/Grandads – Floella Benjamin
Daddy Do My Hair – Tola Okogwu
Full, Full, Full of Love – Trish Cooke
Mega Magic Hair Swap – Rochelle Humes
7 – 9
Cyborg Cat – Ade Adepitan
All Sorts to Make a World – John Agard
Lightning Girl – Alesha Dixon
Evie's Magic Bracelet –  Jessica Ennis-Hill
Go Mo Go! – Mo Farah
Stars of Paradise – Maya Obozua

10+
Silent Striker – Pete Kalu
Tunnels Below – Nadine Wild-Palmer
Oh My Gods! – Alexandra Sheppard
Wolf Light – Yaba Badoe
Freedom – Catherine Johnson
Teen
Somebody give this Heart a Pen – Sophia Thakur
Taking Up Space – Chelsea Kwayke and Ore Ognbiyi
Becoming Dinah – Kit De Waal
The Black Flamingo – Dean Atta
Home Girl – Alex Wheatle
Terror Kid – Benjamin Zephaniah
Rose Interrupted – Patrice Lawrence
The Stuff of Nightmares – Malorie Blackman
Want more? Check out these links:
Round Table Books
https://bookclub.booksmadebetter.com/roundtable/
Knights Of
http://knightsof.media
The Black Feminist Bookshop
https://www.instagram.com/blackfeministbookshop/
New Beacon Books
https://www.newbeaconbooks.com/
Black History Month 2019 Guide
https://www.blackhistorymonth.org.uk/listings/region/greater-london/
Black Cultural Archives
https://blackculturalarchives.org/
Africa Writes
http://africawrites.org
Black Girl Book Club
http://blackgirlbookclub.co/
Block Book UK
https://twitter.com/blockbooksuk
Published 1 October 2019
---
---