Taking place across all 33 of London's library services from February to June 2022, City of Stories Home celebrates libraries as the place to make and share stories in our local communities. 
London writers Amer Anwar, Natasha Brown, Jarred McGinnis, Caleb Azumah Nelson, Lizzie Damilola Blackburn, Ruth Goldsmith, Iqbal Hussain and S. Niroshini have written stories on the theme of home to inspire Londoners to get creative and write their own story.   
Closeness by Caleb Azumah Nelson 
All of us at the party are already nostalgic for yesterday, so it's grime cuts that Adeline spins from the decks. 21 Seconds, I Spy,Too Many Man. Pow begins to play, a kick drum starting off, sudden and sure. A thick bassline follows, getting to the heart of things. Eerie chords ring round the garden. Before the intro is done, Raymond magics himself next to me, calling for the song to start again. There's isn't time for what I want to say to him before the song starts fresh, the intro bare and empty of words, leaving space for us. The floor clears, bare and empty of bodies, a circle forming around us, something possessing Raymond and I as we push the edges further towards the confines of the garden. Look, I'm trying to tell you what it means to be in the eye of a moshpit: a small, beautiful world in the midst of chaos, free, amongst, flailing limbs and half-shouted lyrics. Soon, after the fifth or sixth reload, we begin to tire. Soon, we're disappearing into the night, four abreast down Walworth Road, in search of food. Soon, it's Bagel King, the only place we know that's open forever. Soon, it's Raymond with an arm around my shoulder, mouth to my ear, saying, you good, yeah, and I nod into the space he makes. Soon, it's an arm wrapping around my body from behind, and I know it's Del. We've known each other so long she knows the way light holds my neck, she knows my rhythm, even when I'm still. Soon, it's acapellas and phone speakers, and since the one thing which might solve most our problems is dancing, an easy two step on the pavement.  
Soon, too soon, it's time to split. Those who are together disappear into the night, pulling even closer. Those single long for the knock of knees on a journey home, the brush of skin on the doorstep, the invitation inside a free yard. We're young and often struggle to express just what it is we need, but I know we all value closeness.  
That's what I'm thinking as Del and I take the night bus back towards Peckham – Raymond has magicked himself elsewhere, into the night, so it's just me and her. Her cheek resting on my shoulder for the short journey. Off the bus, arm in arm, down her road, a soft light on her doorstep, like a beacon. It's just us. It's the quietest it has been all evening. I gaze at her. Thrust my hands into my pockets, breaking the gaze with a glance at the ground, before stealing another look at her. She smiles at my shyness, and I smile back. It's here, when I'm with her, I know that a community can be two people, occupying a space where we don't have to explain. Where we can feel beautiful. Where we might feel free.  
Del's lips make a brief home on my cheek, and we pull each other close. We give no goodbyes – we know death in its multitudes, and goodbye sounds like an end – instead, after our embrace, the soft pounding of fists accompanied by, in a bit, which is less a goodbye, more a promise to stay alive. 
 About Caleb Azumah Nelson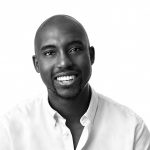 Caleb Azumah Nelson is a twenty-seven-year-old British-Ghanaian writer and photographer living in South East London. His photography has been shortlisted for the Palm Photo Prize and won the People's Choice Prize. His short story, PRAY, was shortlisted for the BBC National Short Story Award 2020. His debut novel, OPEN WATER, won the Costa First Novel Award, was shortlisted for Waterstones Book of the Year, and longlisted for the Desmond Elliott Prize and the Gordon Burn Prize. His second novel, SMALL WORLDS, will be published in May 2023.  
Twitter: @calebanelson  
Get involved with City of Stories Home 
Read all the short stories and get top tips on writing a short story at: www.spreadtheword.org.uk/cityofstorieshome 
Sign up for a free online creative writing workshop at: www.spreadtheword.org.uk/city-of-stories-home-workshops  
Enter your story to the competition with the opportunity to be published in the City of Stories Home Anthology, be part of masterclasses and read your story at a celebration event at your local library: www.spreadtheword.org.uk/city-of-stories-home-competition  
City of Stories Home is run by London Libraries in partnership with Spread the Word and is supported by Arts Council England and Cockayne Grants for the Arts. 
Published 12 January 2022
---
---