Do you avoid writing about sex and love? Or just want to do it better?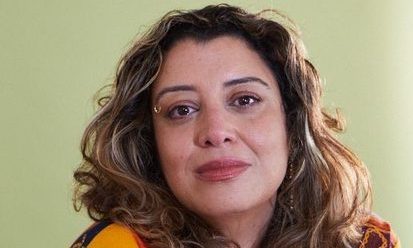 Erotic writing has a bad reputation. People get embarrassed. The so-called 'learned' underestimate the skill it takes to do it well. Others equate erotica with pornography, and in so doing, dismiss it all. But novelist/short story writer Leone Ross believes that when a writer neglects the erotic they miss a special kind of intellectual and emotional challenge, and that accessing all your senses is not only a gift to the writer but a necessary part of a life well lived.  
What will you do on the masterclass?
Using examples of good sex writing, mini-lectures and sensory prompts for writing, Ross will guide you through a class designed to access your senses, help you take the craft of love scenes seriously…and to write sex gloriously. 
What can participants expect?
We'll explore scene construction – orientation, conflict and endings – and the particular ways that romantic feelings and sexual behaviours affect the building of tension in a scene. You'll be encouraged to consider those feelings that might compromise your ability to write about love and sex in a direct and detailed way. We'll definitely consider how best to clear away cliches: the bane of romance literature. We'll consider work by Ian McEwan, Toni Morrison, Stephen King and Haleh Agar.  
Language will be adult and describe explicit sexual themes.  
Students will be asked to read two stories provided in advance: Drag by Leone Ross and Sitting Between by Haleh Agar.  
Who is the opportunity for?
Writers at all levels who want to craft better love and sex scenes. As this masterclass includes adult themes it is for writers aged 18 and above.   
What do you need to take part?
You will need a device with a webcam and microphone and the Zoom app installed. Please visit https://zoom.us/ to download it. We will also email you instructions to get you started. During the session you will also need a notepad and pen.
Bursaries
We have 5 free bursary places available to writers who are: 
Carers; 

Single parents; 

Care leavers; 

Experience of being homeless; 

Ex-offenders; 

Unemployed;  

On a low income either on benefits or a minimum wage zero hours contract.
If you would like to apply for a bursary place, please email [email protected] and mention which category you belong to and why you would like to take part in the workshop/course. The deadline for applying is 4 January. We will aim to notify bursary applicants at least two weeks before the workshop or course is due to take place. Please note you can only apply for a bursary place for one workshop or course.  
Discounted rates
London Writers Network members receive a 10% discount on Spread the Word's paid programme of activities, and access to two free specially programmed London Writers Network events a year. You can find out more about the London Writers Network scheme here. If you are a London Writers Network member please login to receive your discount.
To see if you are eligible for a concessionary rate, please take a look at our concessions policy.
If you'd like to read our terms and conditions before booking, you can do so here or you can view them at the bottom of every page of our website.
About Leone
Leone Ross
---
See More
Leone Ross is a novelist, short story writer, editor and academic. She was born in England and grew up in Jamaica. Her first novel, All The Blood Is Red was long-listed for the Orange Prize, her second novel, Orange Laughter was chosen as a BBC Radio 4's Women's Hour Watershed Fiction favourite. In 2015, Leone was one of three judges for the Manchester Prize for Fiction, in 2017 for London Short Story Prize and in 2018 for the VS Pritchett Memorial Prize. Of Come Let Us Sing Anyway, her first short story collection, the Guardian noted her 'searing empathy' and described the work as 'mesmerising, shocking, unforgettable...' and the Times Literary Supplement called her 'a breathtakingly good writer of short stories...she is a pointilliste, a master of detail…' Ross's next novel, This One Sky Day is out in April 2021 with Faber & Faber.