A reflective writing workshop for small groups of women exploring themes related to the menopause. The focus is on conversation, contemplation and (re)considering menopause from a creative standpoint.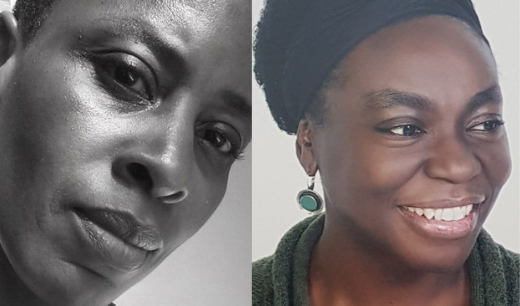 Facilitators Bunmi and Elaine, provide a safe supportive space to explore and share your menopause story through written creative expression – including poetry, fiction, journaling and stream of consciousness. Learn how to use the changes, continuities and turning points in your menopause adventure to give shape and structure to your writing; and (re)discover the themes, landmarks, hurdles and shifts in your personal experience of this dynamic yet mysterious mid-life transition.   
What will you do in the workshop?
Writing prompts, reading extracts and writing exercises will generate vibrant group discussion and new material that you are invited to share on the day, while guided meditations will facilitate reflections on your personal menopause journey and help you identify your writing goals.
Who is the opportunity for?
Aimed at women who are aspiring and/or emerging writers, this workshop particularly celebrates the voices of those identifying as women of colour, working class, LGBTQ+ and/or disabled. Please note that each session will last 50 minutes and include 5 participants plus the facilitators. This is to create a private and focused space to explore the topic. Participants will be contacted to confirm their workshop slot. 
What do you need to take part?
You will need a device with a webcam and microphone and the Zoom app installed. Please visit https://zoom.us/ to download it. We will also email you instructions to get you started. During the session you will also need a notepad and pen.
Pay what you can
As part of our our ongoing commitment to support the writing community, we ask participants to pay what they can to attend the workshop with variables of £10, £5 or FREE ticket options.
About Bunmi and Elaine
Bunmi Ogunsiji
---
See More
A Nigerian-British London-based writer and single mother, BUNMI OGUNSIJI began writing (initially poetry) as a reticent teenager and in her twenties found her way to the stage as a Performance Poet, reciting to audiences across London. In 1999, writing took a back seat to parenting but a passion for learning, cinema and 'story ' led to an MA in Screenwriting at UAL. In 2016 she took a leap of faith and left her job as a Helpline Adviser for the Alzheimer's Society to focus full time on writing. 'Towards a Short Story Collection' – a week long Arvon course, proved to be a significant step change in her creative journey. Her story, 'Blessing' was commended in the 2016 Bath Short Story Award and in 2017 'Things Carried Over' was awarded 3rd prize in the Bristol Short Story Prize. She is currently working on her first collection and a memoir.
Elaine Williams
---
See More
ELAINE WILLIAMS hails from Sheffield, where she spent her late teens writing and performing plays with the Crucible Youth Theatre. She moved to London in the eighties and has lived here ever since. Her long and varied CV includes a proud history of work as a freelance writer for Calabash – a once seminal platform for African, Caribbean and Asian writers. A graduate of the National Film and Television School, Elaine worked as a freelance sound recordist on independent film productions and as a sound designer in the computer games industry. In 2008, she produced the documentary feature 'The Man Who Was Bojangles' for BBC Radio 4. Elaine is an English teacher and tutor and works in special needs education. She began writing Dad, Black Women and Girls Talk About their Fathers in 2009, after gaining a place on the MA in Narrative Non-Fiction at City University. In 2016, Dad was shortlisted by Penguin Random House WriteNow mentoring programme. Her short story 'Night' is published in the Common People anthology (Unbound, May 2019), edited by Kit de Waal.