Every first Wednesday of the month, from 9-11pm, the Twitter-sphere lights up with the #LossLit hashtag. Micro-poems and micro-fictions exploring different experiences of loss – from the humorous to the more profound – are shared amongst a Twitter writeclub. #LossLit is the brainchild of Kit Caless and Aki Schilz, launched in 2014 and since then it has accumulated thousands of tweets from across the world, revitalising what we mean by "loss".
Spread the Word's Aliya Gulamani spoke to Aki Schilz and Kit Caless to find out more…
Aliya Gulamani: I suppose the first question I have is – why 'loss'? Granted, the alliteration in the hashtag is catchy, but of all the emotions out there, why did you select this particular one?
Aki Schilz: I'd been thinking about drivers in literature when Kit and I were talking about this initially in 2014 – the big themes and topics around which we cluster 'important' titles. I'd been reading the Anti Canon he'd set up at Influx Press, where he is the co-publisher, which looks to celebrate titles not recognised in traditional canons of literature, and each was important for its contribution to X, Y, or Z. And I thought, I wonder if there's a canon for literature driven by loss… Isn't it, after all, at the heart of so much we read? I tried to see if there was a book list for books that deal with themes of loss but could only find reading lists for coping with bereavement. Incredibly helpful, of course, but they didn't express the plurality of loss which drives love stories, and can be about death, of course, but can also be about memory, landscape, politics, sport, ageing…
Kit Caless: Loss is inevitable in anyone's life. As soon as you gain something you will eventually lose it. Apart from a tubby belly, perhaps. But understanding how you feel if you have lost something, someone or some part of you is a difficult process. I think it is intimidating to write openly and genuinely about loss, as it is often very hard to articulate for fear of sliding into cliché, mawkishness or self-indulgence. Certainly, my own writing is fearful of honesty and sentimentality – I have to combat the urge to deprecate everything I write with unfettered emotion. The LossLit writing sessions on Twitter are a great way to test ideas or fragments out in a supportive and comfortable environment. I can be cheesy and get away with it. I can default to cynical and hard but then see someone else's courageous, beautiful honesty on the hashtag and it helps me leap over my emotional barriers. I have always felt that writing was there to help you explore things you may not quite be able to articulate to yourself – loss, and all the moons that orbit it, is one of those things.
Aliya: The internet, at times, becomes a very difficult space to inhabit. You often hear of people taking online hiatuses and constantly fighting against Twitter trolls. And yet, #LossLit seems to be counteracting that in how it brings people together?
Aki: Social media is just one part of the digital experience, and it's become so integrated in our lives in such a short space of time that I suspect we're still grappling with the longer term implications, as we simply don't know yet what it might mean for how we think of ourselves, our interactions with each other and the wider world, our sense of wellness once the self is fractured into avatars, etc. (sometimes I wonder if there's a bit of a Humpty Dumpy effect going on – that for many of us, especially the younger generation, the pervasiveness of digital technologies means we are embedded and then split and stretched across different versions of ourselves on each new platform, and putting those back together into something cohesive is becoming harder and harder). Still, I do think it also brings with it a wealth of opportunity for connectedness. I'm not sure I see #LossLit as counteracting (Kit might have a different response, of course!), certainly it wasn't set up with this in mind and I'm hesitant to make that into a statement – it might, of course, do this incidentally. For me it feels like a way to use the immediacy of tweeting, and the fast-paced scroll of the Twitter feed, combined with the sense of community that a simple hashtag can create (just clicking into it will show you who else is out there sharing their writing, and their experiences – you aren't alone, or tweeting into a void, and we encourage people to interact, like, RT etc.) to provide a safe space and an open brief for people to be creative. By dint of all tweeting to the same theme, the writeclub brings people together to consider the topic from all angles, and just that two-hour period of activity can be incredibly nourishing. We've also heard from a lot of people who tell us they don't tweet themselves, but they do log in to read along, which is interesting.
Kit: I disagree with Aki somewhat. I think #LossLit does counteract some of the atomising qualities of social media. I feel that social media is a reflection of the society in which you live, rather than something in and of its own rules. In Britain (and other nations like USA, Australia etc.) we have been living through the effects of free market capitalism / neoliberal social and economic policy. We are more lonely, atomised, fearful and self-interested than we have been in generations, perhaps ever. Our sense of community has been strategically decimated by the influence of consumerism and individualism. This plays out over social media through trolling and hyper-self aggrandisement, aggressive needs to be correct, the desperation to have an immediate opinion on everything, and the desire to be unique. Our society rewards individualism but not individuality. [AS: Yes, this is all absolutely true!] Since social media reflects our society, so shall it reward these things too. It's probably too far fetched to say a small project like #LossLit has any effect, but I see it as a community project. It is connecting across digital lines and pulling people together from all different walks of life, giving them a shelter under which they can connect with each other and find commonalities which are richly rewarding and, as Aki says, nourishing. #LossLit is open to all, so long as there is an understanding that it is a sensitive space, and people are exploring things they might not do in front of strangers in real life. When you have an open, inclusive community, good things will come about.
Aliya: It's been over three years since #LossLit was launched so this is a bit of a difficult question for you both as I'm sure you've seen so many, but are there any particularly memorable pieces and if so, what is it about them that have made them stand out?
Aki: I'm not sure I could answer that in terms of individual tweets, and I also wonder if 'pieces' is a little grand – perhaps the fact I can't recall on demand individual tweets but I can remember particular months that were astonishingly productive or synchronous (just after the election, for instance, and last month in September for reasons that remain mysterious to me) speaks to how powerful it is as a collective endeavour, rather than the showcasing necessarily of individual voices – though of course some are startling, and strike through to something true, and these are gems. Still, we RT everything from the @LossLit account, and that's important to us. No one really showboats, it's impossible with a trending tag for one voice to monopolise the writeclub, and by and large people stick to the guidelines we issue each month which ask contributors to tweet creatively, to tweet original work, i.e. not to link to other things – the whole point is to really be in the moment. When it works best for me is when it's clear that everyone is reading tweets on the hashtag, responding to the ideas, and a beautiful synchronicity starts to happen. Kit and I were particularly moved by tweets from a lovely contributor who said that following a mental health trauma, LossLit felt 'like gaining something' – like a way back in. That was humbling. In terms of the magazine which we host online, some personal favourites include 'Migrant and Vagrants' by Amy Liptrot, 'The Valley of the Infinite' by Rishi Dastidar, 'Yazidi Figs' by Natalia Spencer, 'A Box of Opal Fish' by Sarah Wallis, and 'Clinica Xalapa/Visiting Hours' by Alan Chazaro.
Kit: Aki's right, the great thing about #LossLit being as popular as it is, is that no one voice dominates the writing sessions. As it trends regularly each month, new voices discover the hashtag and join in, so it's always fresh. Also, it's really interesting when there's a sense that one session has tapped into some collective feeling or psyche – like when birds dip and dive in unison, sometimes the hashtag can be electrifying and feels like it has a driving force of its own pushing the #LossLit writers in the same directions as each other. I remember one particular session after the Brexit result that was pulsating, and September 2017, as Aki mentioned. The most memorable #LossLit tweet for me was from Faber's Ian Ellard: https://twitter.com/IanKEllard/status/535189374926082049
From our longer form stuff in the magazine my favourite is Linda Mannheim's 'Butterfly McQueen On Broadway'.
Aki: Oh, we should also mention that our brilliant Associate Editor Jonny Keyworth compiles some of the writeclub 'highlights' in Storify each month, which you can browse here.
Aliya: So many contributors have taken part in #LossLit – Salena Godden, Toby Litt, Inua Ellams, Chimene Suleyman amongst them. Are there any writers that you would love to hear from?
Aki: Good question! In the early days the @LossLit account was followed by Jenny Diski – I would so have loved to see her tweet her own #LossLit. In the same vein, wouldn't it be fantastic to see tweets from some of the great thinkers? Judith Butler, Rebecca Solnit, Joan Didion?… Steven Pinker might have something interesting to say about language, Robert Macfarlane about landscape. We have had the pleasure of tweets from Salena, Inua, and Chimene, and Vera Chok, but I'd love to see all of the The Good Immigrant crew having a go. And in fact as many voices from as many places as possible. I'm less concerned with celebrity involvement (though we did in fact have Bianca Jagger join in once). Whilst we do get political tweets (I wonder what the party leaders might contribute to #LossLit?…), thankfully it hasn't thus far felt like a hermetically sealed project that only accommodates this or that slant – and that would in any case be mitigated by the fact that we also get tweets about sport, about ageing, about death, about geography, about climate, about memory, about love…
Kit: One and only one person: ZZ Packer
Aliya: Tell me a bit more about the projects that have come about as a result of #LossLit's popularity?
Kit: Other than the long form magazine over at losslit.com, there is a Spanish language version of #LossLit, #LitPerdida which @Elhombredetweed started after about a year of #LossLit. It's amazing to have LossLit in a different language. Sometimes, as English speakers in an Anglophone country it is easy to forget there is a whole series of other worlds on the Internet in other languages. #LitPerdida is a wonderful example of that.
Aliya: This is all very exciting. Though, I have to ask that despite #LossLit being a digital literature project, could a #LossLit book be on the cards (indie publishers – you heard it here first!)?

Aki: Well, we have a magazine for longform pieces which can be found at losslit.com, where all other developments and evolutions of the LossLit project will be posted. We actually heard from someone in publishing who floated the idea of a LossLit book, but I wonder if it would lose something along the way if the text was written on spec, rather than in the moment. Some of the most glorious things happen during the Twitter writeclub and they depend on the spontaneity and community spirit. To pluck some out might work – a showreel of highlights would be nice to capture, but I'm not sure how that would work in terms of multiple authorship copyright, permissions etc… For now it's not looking like a book is on the cards for the Twitter project (that could of course change), but if something else evolves out of it that we could usefully make into a book, we'd be very much up for it!
Aliya: And finally Aki and Kit, tell us in 140 characters or less…! why writers out there should get involved in #LossLit?
Aki: I'm going to leave this to the brilliant Hayley Webster, who articulated it better than I can: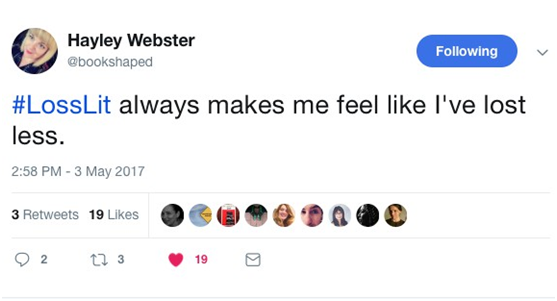 Kit: What else you gonna do on a Wednesday night now Arsenal are no longer in the Champions League?
Published 20 October 2017
---
---