Spread the Word's Laura Kenwright interviews debut novelist Rani Selvarajah about her debut novel Savage Beasts, a propulsive retelling inspired by the Greek myth of Medea. An earlier version of Savage Beasts was selected for a Spread the Word feedback opportunity with publishers One More Chapter. In this interview, Rani shares her thoughts on how she was inspired to reimagine the story of Medea for today, her journey to publication, and her top tips for writers.
Laura: Tell us about Savage Beasts and how you were inspired to write it.
Rani: Savage Beasts is a retelling of the Greek myth of Medea, set in the 18th century during rise of the East India Company. So, it's Medea's story but reimagined in a different time and place to explore colonisation and injustices experienced by foreign, othered woman.
I first studied Medea at school and was totally captivated by her story and the strength of her character. For me, one of the main reasons I was captivated by her is the fact that her story is not just that of any woman fighting against patriarchal forces, it's that her particular situation and the treatment of her by characters is absolutely the result of her specific position as a foreign woman. Furthermore, I think this aspect can get de-emphasised in how Medea is thought of in society, with her being reduced to just a woman scorned who's mad about her husband leaving her for someone else, when the story felt so much bigger and complex to me.
To me, a Medea retelling therefore offered the opportunity to examine the intersecting inequalities that foreign, minoritised women experience. Furthermore, I thought about Medea as a foreign woman from whom so much is taken, and Jason, a brash adventurer seeking gold to improve his standing back home. I saw a bigger story about colonisation and injustice that could be told. That became a story I wanted to tell.
Laura: Tell us about your writing journey and what lead you to this place – publishing your debut novel with One More Chapter?
Rani: Having written and edited the book I came across a competition through Spread the Word to receive feedback from a professional editor at One More Chapter. This felt like too good an opportunity to pass up so I submitted my first three chapters and synopsis. To my great surprise I was selected for feedback! I met with Jennie Rothwell from One More Chapter who was so encouraging and incredibly enthusiastic about my writing and the story I wanted to tell.
At the same time as submitting to competitions (including the Mo Siewcharran Prize for which I was longlisted) I was querying agents and found myself in the incredibly fortunate position to have three offers of representation. I chose Liv Maidment from the Madeleine Milburn Literary Agency because straightaway I believed she understood what I was trying to do with Savage Beasts, felt like I could trust her judgement and knew I would have the wider support of her agency behind me as well. We went through a couple rounds of edits before going on submission and I ended up signing a two-book deal with One More Chapter! To my great delight, Jennie's enthusiasm for the book hadn't dimmed in the intervening months since that Spread the Word competition and we've worked together with her as my editor ever since.
Laura: Has your experience working in feminist policy and research influenced your writing?

Rani: Although the idea for Savage Beasts had been in my mind for several years, I finally wrote it in 2020, while working for an organisation campaigning for migrant women who have experienced domestic abuse to have access to the same level of protection and support in the UK. Migrant women with No Recourse to Public Funds (NRPF) are prevented from accessing welfare benefits, leaving them at risk of destitution if leaving an abusive partner. The ability to report abuse to the police without fear of detention or deportation is also unavailable to migrant women. As a result of working on these issues in my 'day job', the vulnerable position that the state's harmful policies and rhetoric puts migrant women in was therefore very much top of mind when I was writing this story.
Laura: What are the books you return to for inspiration?
Rani: It's not often I re-read books these days as my TBR pile is too big and ever-growing to allow for it. Writers whose works were a great source of inspiration for Savage Beasts, however, include Madeline Miller, Kamila Shamsie, Jean Rhys, Sara Collins and Euripides.
Laura: Where would you like your writing journey to take you next?
Rani: I'm currently working on my second book which also takes a mythical female figure and reimagines their story in a different historical context so that's my next priority. Beyond that, I hope I can continue to use timeless myths to explore intersectional questions about the experiences of marginalised people in a fresh and accessible way.
Laura: Do you have any words of advice or tips for aspiring writers?
Rani: Write as often as you can. Even if it's terrible – especially then, in fact. I spent years just writing little fragments here and there, waiting for 'inspiration' to strike, or stopping because I was convinced I wasn't good enough. Yet it was only through writing every day that I got to know my characters and the world they inhabited on an intimate level so that I could finish the story I set out to write. Along the way I became a better writer and learned how to write a novel.
Once you have written something you're proud of, having revised and edited it to the point you don't know how else to make it better, consider submitting it to competitions. Competitions are a great opportunity to get noticed and stand out when you're querying to agents if you get longlisted. They can also offer a great opportunity to get feedback from industry experts, refine your work and/or pitch, and make connections that could prove useful later. Without Spread the Word's opportunity to gain feedback from One More Chapter, I wouldn't have met my future editor at such a crucial stage which ended up paying off later!
Rani Selvarajah studied Classics at the University of Cambridge and has a MSc degree from SOAS University of London. She works in feminist policy and research, having worked in the non-profit sector for over a decade. Her debut novel, Savage Beasts, is a retelling of the Greek myth of Medea, set in the 18th century during the rise of the East India Company. Rani is from north-west London and lives with her partner in Berlin.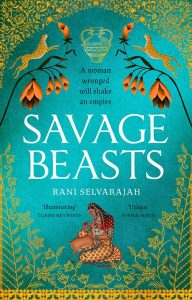 Savage Beasts is published by One More Chapter on 25 May 2023. You can buy a copy on Spread the Word's bookshop.org store, with 10% profits going towards Spread the Word: uk.bookshop.org/a/7008/9780008556280
Published 26 May 2023
---
---