We're kickstarting our London's Bookshops feature this year with a visit to Muswell Hill in North London. The Children's Bookshop is an independent family-owned children's bookshop which first opened in 1974. Stocking both fiction and non-fiction, this shop has a broad and exciting range of literature for children of all ages. Spread the Word's Aliya Gulamani spoke to Sanchita Basu De Sarkar to find out more…
Aliya Gulamani: Hi Sanchita! To start us off, can you tell us a bit about you and what you do at the bookshop?
Sanchita Basu De Sarkar: I'm still doing my first job! I started as a bookseller at the Children's Bookshop when I finished uni, and I fell in love with it so much that a few years ago I wound up buying it.
My typical week involves a variety of things – advising customers, reading stories to children, meeting publishers to look at their forthcoming publications, handling school orders, coordinating events, taking authors out for school visits — and invariably unpacking books (so many books!).
I have a brilliant and creative and talented team who help me with all this and more. This is invaluable and gives me a few spare moments to catch up on my reading – I'm currently judging for the Branford Boase prize, so I'm making my way through a superb longlist.
Aliya: The book is centred exclusively on children's literature, and has been described as 'packed floor to ceiling with books for all ages' in Time Out. What are pros and cons of stocking a specific genre of books?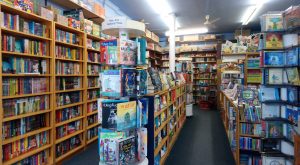 Sanchita: We can have upwards of 10,000 books in stock, and the joy of being a specialist bookshop is that we've carefully selected and read each one. People keep coming back to us because not only do we easily have the biggest range of children's books, but we also have incredibly passionate staff who have an encyclopaedic knowledge of our bookshelves. We've pooled that knowledge between us over the years – there are people who come in fondly remembering buying books from us for their children, and now buying for their grandchildren.
And we're not alone – children's bookshops are springing up all over the country, and the fact that they're flourishing means people are responding in kind. We play an active part in the community – with both public libraries and school libraries suffering from cuts, children's bookshops can really help develop and nurture a reading culture.
Aliya: Having been around for over 40 years, how do you think the climate of children's publishing has changed in this time?
Sanchita: I couldn't answer to 40 years ago – for that I look to my more experienced colleagues! But my general sense is the breadth and volume of publishing has grown so much. There is such choice these days that it can be almost overwhelming – if you look for a topic on the internet, the chances are you'll wind up with a list of 100 books, with no way of discerning between mainstream publishers, newer imprints, or self-published.
It's also fascinating to think that the YA genre barely existed 40 years ago – that at some point after 11 year olds read the Swiss Family Robinson, the 12 year olds would move onto Hardy and Dickens. YA is a wonderful safety net where no topic is off limits, but the parameters which are set – hope, change, growth –make for a very precious thing for our adolescent readers.
Aliya: Looking specifically at diversity, we've been championing Knights Of's mission to launch inclusive pop-up bookshops in the UK and Ireland in response to the 2017 CLPE report that only 1% of UK's children's books featured a BAME protagonist. What are your thoughts on this?
Sanchita: The CLPE report was brilliant in that it put numbers to a truth widely known in the bookselling and publishing community. I wrote a response for the Guardian, where I talked about my personal journey as a British Asian navigating the whiteness of the UK children's market – the fact that only 0.5% of the books published featured an Asian character was particularly galling.
We've been doing a lot of work with Booksellers Association about helping bookshops be as inclusive as possible. This can be in a variety of different ways – window displays, newsletter or monthly picks, the authors and books we choose to highlight and promote and take out for events. Is there diversity in staff? Do we feed back to publishers about covers, or lists? As booksellers, how are we helping celebrate the books with BAME protagonists that are published?
It's on my mind because it's a personal issue, but there is also a hunger from our customers. We're in the borough of Haringey, which is incredibly mixed – people want to see this in their books. We've developed reading lists that have prominent characters of colour, and we supply these books to schools. We promote the publishers and authors who share these values. And as long as we don't let the conversation die, I'm confident things will get better. I'm also looking forward to several publications this year – keep your eyes peeled in April for The Tunnels Below by Nadine Wild Palmer, and Planet Omar by Zanib Mian.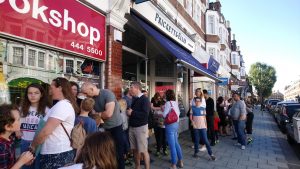 Aliya: One of the most exciting things about the Children's Bookshop is its regular author events – what were the highlights of 2018's events and looking to the year ahead, what have you got planned?
Sanchita: We're getting all ready for World Book Day – we've got a packed week with lots of authors in schools, and then we're very excited to have Laura Ellen Anderson celebrating her new Amelia Fang in the bookshop on Saturday 9 March.
Aliya: You also do a lot of work with local schools I believe, can you tell me a bit about this?
Sanchita: We're lucky in that Muswell Hill has a lot of schools, and we work with them but also schools much further afield – even schools abroad! This can be in a variety of ways, from restocking their libraries, to finding books they can study alongside their topics, to categorising books through reading levels, to coordinating author events. Sometimes we'll let the teachers in after closing time – they can browse to their heart's content, and enjoy a cup of tea while they're at it.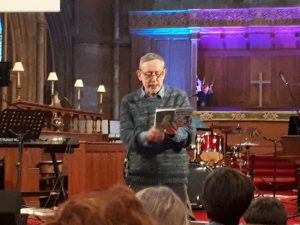 Aliya: I also saw the Muswell Hill children's festival – that looks exciting! What did it involve and how did it go?
Sanchita: It was great fun! I've always wanted to put together a community event on a larger scale, and we were lucky to have some brilliant authors taking part. We held it in the local historic church of St James, and children were in and out the whole day. It was a lot of work, but has definitely whetted my appetite to do it again!
Aliya: That sounds tremendous – I hope there are plans in the works to run it again this year. To finish us off Sanchita, can you tell us an interesting or lesser-known fact about the bookshop?
Sanchita: Clocking in at 45 years, we're the longest running children's bookshop in the UK!
Published 5 May 2019
---
---