This Is Our Place is a Spread the Word and London Wildlife Trust collaboration. The project offered 8 free nature writing workshops led by our Writers-in-Residence Anita Sethi, Elspeth Wilson, Jackee Holder, Laura Barker and LiLi K. Bright. As part of the project, a competition was opened to aspiring London nature writers from backgrounds underrepresented in literature who attended one of the project's inspiring nature writing workshops.
This Is Our Place, the anthology, celebrates a multitude of nature writing voices, reimagines how we live in London and reflects on our individual and collective relationship to nature and place. It features poetry, fiction and non-fiction nature writing.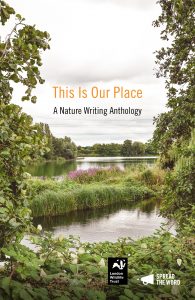 You can download and read the anthology here.
The anthology features special commissions by our writers-in-residence:
Anita Sethi, Elspeth Wilson, Jackee Holder, Laura Barker and LiLi K. Bright
and introduces exciting new voices into nature writing:
Pia Dawson, Emily Gaywood-James, Cristina Reynoso, Kia Watt, Becky Bone, Dionne Williams, Rosaleen Lynch, Steph Morris, Anita Goveas, Caroline Gardiner, Linda Tieu, Elizabeth Uter, Ella King, Hannah Marshall, 森子 (sumchi), Bethan James, Daniel Grimston, Duranka Perera, Mandi Maripise, Pippa Wildwood, Dhruti Shah, Jess Glaisher, Arden Fitzroy, Martin Milton, Qudsia Mirza, Gurnam Bubber, Shannon Howard, Miriam Nicholson-Butcher, Christina Mary Ann Gestra, Mo, Farhana Khalique, Jaya Gajparia, Wenzday Jones, Poonam Madar, Aparna Sivasankar, Martha Aroha.
The anthology is edited by Bobby Nayyar, Spread the Word Programme Manager.
#ThisIsOurPlace
Published 24 November 2021
---
---