'Writing Happiness' is a creative writing workshop course exploring writing happiness for D/deaf, disabled and/or neurodivergent writers, including those with long term mental health problems and chronic illnesses.
The workshops will be facilitated by Rachel Lewis and Elspeth Wilson, two experienced writers and facilitators with lived experience of disability and chronic illness, alongside guest facilitators Jamie Hale and Christy Ku. Spread the Word is supporting the project.
Why writing happiness?
As disabled creatives ourselves, we (Elspeth and Rachel) recognise that writers from underrepresented backgrounds are often expected and encouraged to write from their experiences of trauma, illness or hurt. Whilst we absolutely support writers writing about any and all topics, this workshop series creates a dedicated space for D/deaf, disabled and neurodivergent writers to explore taking inspiration from joy, tranquillity and happiness in all its forms. We also recognise 'happiness' is not always straightforward and there will be space to explore its nuance and complexity in the workshop series.
This course will provide you with new tools and techniques to develop your writing practice and a supportive writing community. The course will culminate in a paid performance opportunity and publication in a digital anthology.
Who is this course for?
This course is for anyone who identifies as D/deaf, disabled and/or neurodivergent, and is interested in developing their writing. We are open to writers working in any and all forms, including but not limited to poetry, fiction, narrative nonfiction and script-writing. All workshops in the series will be designed to support your practice regardless of the genre(s) you work in.
Applications are particularly encouraged from writers who are also queer, trans, non-binary, on a low income, Black, a person of colour and/or from any other group that considers themselves underrepresented in writing and the literary world.
There are 12 spaces available for participants on the course. Applicants will be selected based on applications submitted to the workshop facilitators (see below for how to do this).
Participants must be based in the UK and aged over 18. There is no upper age limit to take part.
No prior experience is necessary. We are looking for a wide range of writers with different levels of experience – please do consider applying whether or not you have ever done a writing course before!
The details
The workshops are free and will be held online on Zoom. Applications close on: Thursday 30th September at 5pm. All applicants will find out whether they have a place on the workshop series by Sunday 10th October.
The dates of the workshops are:
6.30pm – 8.30pm, Monday 1st November

6.30pm – 8:30pm, Monday 8th November

6.30pm – 8:30pm, Monday 15th November

6.30pm – 8:30pm, Monday 22nd November

6.30pm – 8:30pm, Monday 29th November
There will also be a showcase event at 6.30pm on Monday December 6th which will be open to friends, family and the public to attend.
We are looking for participants who can commit to being free at these times across the five weeks (but we understand that disabilities and health fluctuate and things may change).
If selected, you will be paid £75 for your performance at the public showcase event and for your contribution towards an online anthology (if performing live at an online event isn't accessible for you, or you would prefer to be anonymous, this will be accommodated and you will still get paid).  All participants will also have the opportunity to receive individual feedback on a piece of writing from the tutors as part of the course.
Accessibility
We are committed to creating the most accessible space that we can. All workshops will be BSL interpreted and auto-captioned. There will be a break in every workshop and during the showcase. Any reading materials will be sent out in advance and also read aloud during the workshops. We will gather feedback as we go to ensure we make the workshops as accessible as possible for all participants.
How to apply

We welcome applications in a variety of formats.
Follow this link to apply via Google Docs: https://docs.google.com/forms/d/e/1FAIpQLSf1d_OHjShPMMcN3yTVIStVtX1yUbXj-ypd6PdTe5kJ_zGLhA/viewform?usp=sf_link
2. If you would prefer to apply by completing an application form using Microsoft Word, or via an audio / video file, please answer all the questions in our Word application form here: www.spreadtheword.org.uk/wp-content/uploads/2021/08/Writing-Happiness-Application-Form-Word-1-2.docx via typing and saving your answers into this document, or recording an audio or video file responding to all the questions, and email it to [email protected] by Thursday 30 September, 5pm.
All applications will be reviewed by Rachel Lewis and Elspeth Wilson. Offers of places on the workshop series will be based on the application form or Word document/video or audio application submitted. We are looking for writers who are committed to developing and improving their writing, are interested in exploring writing happiness, and are excited to be part of a supportive peer group of fellow D/deaf, disabled and neurodivergent writers. We are also committed to selecting a diverse group of participants with a range of levels of experience and from different backgrounds.
Your privacy will be protected and any information you give by making this application will remain confidential and not be shared.
Any questions? 
If you have any questions or queries about the project, please email [email protected]
Writing Happiness lead writer-facilitators and guest writer-facilitator bios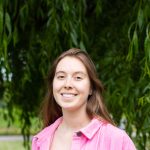 About Elspeth Wilson – Writing Happiness co-lead writer-facilitator
Elspeth Wilson is a writer and poet who is interested in exploring happiness from an underrepresented perspective and the power of writing to support mental health. Elspeth is currently working on her debut novel and also regularly facilitates accessible creative workshops. Her prose has been shortlisted for Canongate's Nan Shepherd prize and Penguin's Write Now Editorial programme and is supported by Creative Scotland. When she isn't writing or reading, she can usually be found near the sea or spending time with her elderly dog.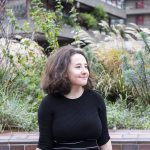 About Rachel Lewis – Writing Happiness co-lead writer-facilitator
Rachel is a poet and workshop facilitator. Her debut poetry pamphlet 'Three Degrees of Separation', which explores finding joy while living with long-term mental illness, won the Wordsmith Prize in 2019. Rachel is an alumna of the Apples and Snakes Writing Room, the Roundhouse Cross-Arts Collective and the Poet in the City Young Producers' programme. She has run workshops for the Poetry Society, the Writing Society and the Stay at Home Festival, among others, and is currently working on a second pamphlet.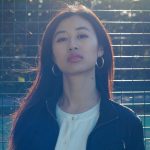 About Christy Ku – Writing Happiness guest writer-facilitator
Christy Ku is a London based poet, performer and workshop facilitator. She is an alumna of the Barbican Young Poets, Making Lemonade, National Youth Theatre and New Earth Academy. She was one of the top 6 finalists for BBC 1Xtra's Words First programme 2019. Christy has worked on various poetry commissions including short poetry films, spoken word tracks and theatre shows with organisations such as the BBC, Apples & Snakes and the Barbican. She has been published in numerous anthologies including PanMacmillan, Own It! Publishing, and Magma Poetry. Christy is the founder of BESEA Poets, a platform for British based East and South-East Asian poets. She is also the co-host and editor of the Tea Total podcast.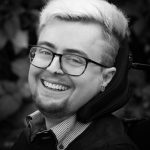 About Jamie Hale – Writing Happiness guest writer-facilitator
Jamie Hale is a multidisciplinary creative whose work narrates the agency and urgency of living as a disabled person in the world, through the intimate connections between body, nature, mortality and universality. Jamie is an award-winning poet, curator and director of CRIPtic – a d/Deaf and disabled theatre development programme and Barbican showcase, and won Evening Standard Director / Theatremaker of the year 2021. Their solo show, NOT DYING, was shortlisted for the Saboteur Awards 2021, and their pamphlet, Shield, was published in Jan 2021. They curated Experimental! a series of workshops for d/Deaf and disabled writers, and have performed and led workshops in venues including the Tate Modern, Barbican Centre, and Southbank Centre. Their work has been published by the Guardian, the Rialto, MAGMA, and more.
This project has been made possible through a generous grant from Arts Council England.
Published 31 August 2021
---
---