class="post-21879 post type-post status-publish format-standard has-post-thumbnail hentry category-blogs category-network-knowledge"Elizabeth Lovatt on her experience as a writer-in-residence at Islington Pride and ruckus!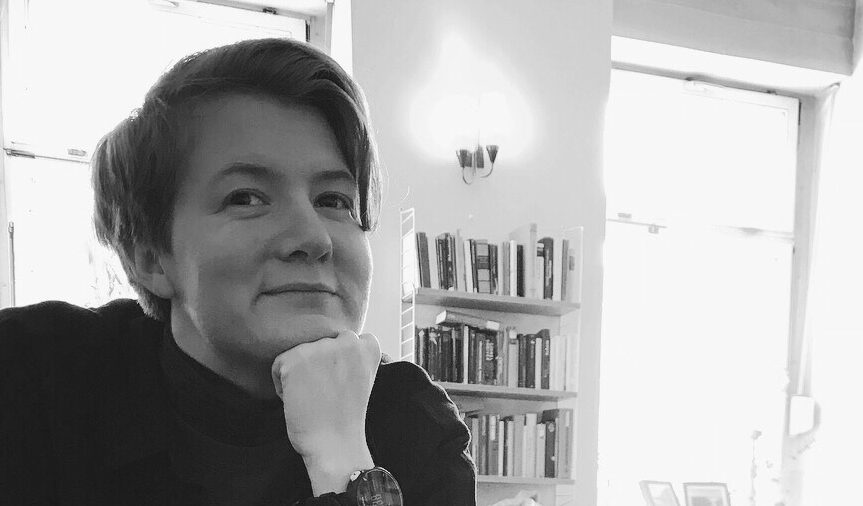 Olumide Popoola's The Future is Back – a creative writing scheme for LGBTQ+ writers launched earlier this year. Twelve writers were selected to be part of the scheme and three writers from last year's cohort (Future in the Making), were appointed paid writers-in-residence positions, mentored by Rachel Maris, Rikki Beadle Blair and Olumide Popoola. One of the writers, Elizabeth Lovatt, has written this brilliant blog about her experience within this role…
"Earlier this year I began a residency at two LGBTQ+ archives, Islington's Pride, based in Islington Local History Centre and ruckus! Black Lesbian Gay Bisexual Transgender Cultural Archive at London Metropolitan Archive. Alongside two other writers, Cecil Fenn and Liv Ouwehand, I would be going into these archives to research their collections and write a piece in response to what I found there. The residency was led by Olumide Popoola as part of her Arts Council England funded The Future Is Back writing scheme for LGBTQ+ writers and in partnership with Spread the Word. It was a process that helped me to understand my small part of being a writer in the world.
ruckus! was founded in 2000 by Ajamu, a fine art and commercial photographer and Topher Campbell, a filmmaker, theatre director and writer. They wanted the archive to celebrate and show works by Black LGBTQ+ artists both local and international and collected over 800 diaries, letters, minutes, flyers, posters, video, sound recordings and other materials.
Islington's Pride is a collection of material concerning the LGBTQ+ heritage of the borough of Islington including papers and documents about) the London Gay Switchboard, the first openly gay MP in the UK and various personal archives from local people. They also hold newspaper clippings and defaced books from Joe Orton and Kenneth Halliwell's infamous "art project" of stealing local library books and returning them with altered images and texts.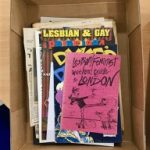 The experience of going into an archive is one of both solitude and solidarity. You are given stacks of cardboard boxes and carefully organised papers to sift through alone in the comfortable silence of a library. Yet at the same time you are reading and experiencing a multiplicity of voices and glimpses of a person's life. Both these archives hold personal papers and public records; anything from diary entries to meeting minutes, to recordings of spoken word nights, to old copies of Diva and Spare Rib magazine and even homemade badges and photo albums. Holding each one, seeing them, hearing them, is a puzzle piece of a collected whole.
I thought a lot about community when going through the archive; what the individual can achieve and how community is made from the ground up. Often a few individuals making something because they see that if they do not their voices will be left unaccounted and disapparate. Like Ajamu and Campbell, creating their archive of black voices and artists, knowing that if they didn't it would be lost. Or like the founders of the Lesbian Line, who knew they needed a space for women to be able to talk to one another. In the newsletters of Central Station I found so many social and support groups such as, Star Trek groups, Gay Bridge Club, Stonewall FC and Rainbow Support for grieving partners.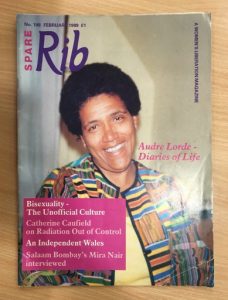 I also found things in the archive that were challenging and upsetting; homophobia, transphobia, racism and sexism all exist within these archives. Both from newspaper articles and government letters but also from within the queer community: women left out of male-dominated spaces, people of colour and trans women excluded from groups or their concern dismissed over the need for "solidarity". The piece I wrote is about struggling with finding these difficult realities within the archive but of the need for a conversation about them, even if that conversation is awkward and will not always have the outcome we would hope.
I believe that any writing, any record, will always be a kind of failure in that it can never fully capture what you are trying to express and in writing it down you are fixing something unfixable, staking your authority over time and description in a way that is always subjective and limited. That does not mean it should not be attempted. It helps too that writing is, or should be, a community endeavour. This is something a scheme like the Future is Back understands and organisations like Spread the Word help facilitate. In writing this piece I had the support of both our mentor of the group, Olumide Popoola and feedback from my peers on the residency, as well as the other LGBTQ+ writers that the Future is Back had brought together. Nothing is ever written in isolation. The very act of writing is a form of communication that only comes into being when read by others. An imperfect conversation between writer and reader. This is what it felt like going into the archives. For while an archive cannot capture every truth and will always omit other voices, it teaches us that it is vital that we try. For in that imperfect dialogue and record is where we all live.
I would like to thank Olumide Popoola, Alex and Marlin from Islington's Pride, Richard from London Metropolitan Archive and Aliya and everyone at Spread the Word for their support with this project."
You can read our pieces, 'Thank You For Calling the Lesbian Line', 'The Nobody There' and 'Pillar of Salt' online at thefutureisqueer.net/
Images of archives held in the Islington's Pride collection
Published 11 December 2019
class="post-21860 post type-post status-publish format-standard has-post-thumbnail hentry category-news"Spread the Word Christmas break 2019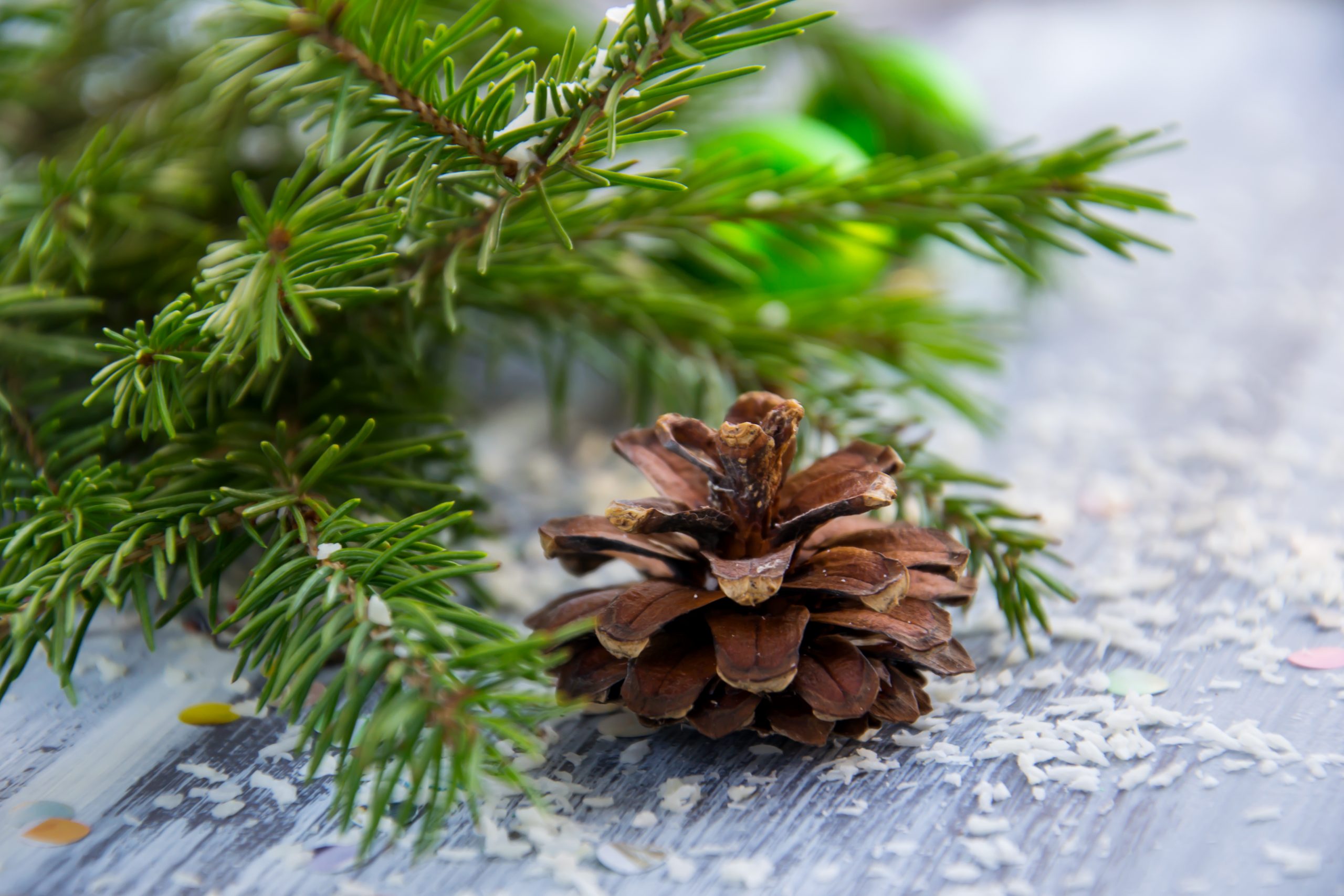 The Spread the Word team will be taking a well-earned rest over the Christmas break.
Our last day in the office will be Friday 20 December and we'll be back properly on Monday 6 January 2020.
We won't be responding to emails or phone calls in that break so please do plan your communications with us around those dates. Also, our Room 9 will not be available for use on Thursday 26 December or Thursday 2 January.
Room 9 will be available for writers to drop-in on Thursday 19 December, and will be available again on Thursday 9 January 2020.
class="post-21784 post type-post status-publish format-standard has-post-thumbnail hentry category-interview category-network-knowledge"Interview with Judith Wilson
Winner of the London Short Story Prize 2019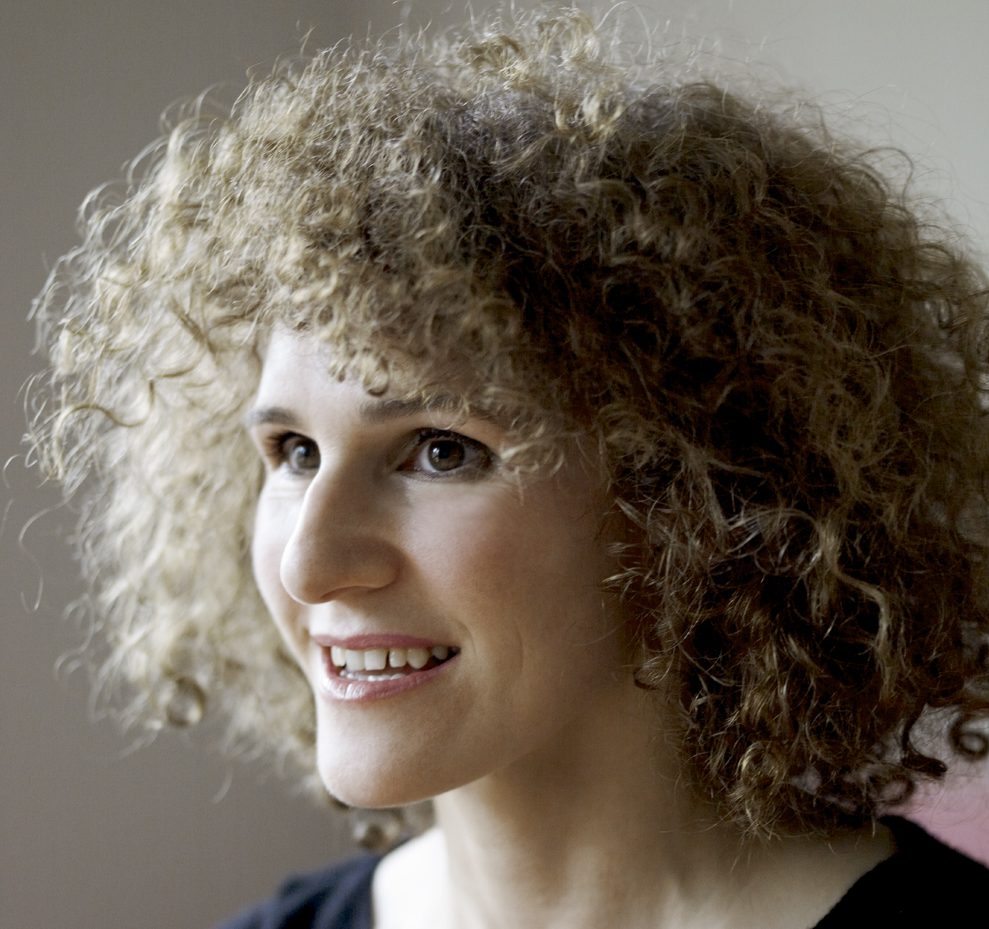 Judith Wilson is the winner of this year's London Short Story Prize 2019 for her brilliant short story 'Jacking Sea Fruits in the Dark'. From 574 entries, our judging panel: writers Eley Williams and Rowan Hisayo Buchanan, and agent Charlotte Seymour, chose Judith's story as the winning entry. 
Eley Williams said that: "The story chosen as winner by the judges is a formidable study in control: of voice, atmosphere and tension. With sprightly and spirited sophisticated prose, the winning piece is a taut and compelling story that lingers long in the mind."
Charlotte Seymour said that: "Jacking Sea Fruits in the Dark stood out for so many reasons: the most intriguing title; sparkling, poetic lines juxtaposed with the more colloquial; a glimpse into a troubled life; and a teasingly ambiguous ending which we each read slightly differently. This was an intriguing, unsettling and also funny story, carried above all by the voice of its narrator – loner, voyeur, collector, trickster, and what else, we're never quite sure… "
Rowan Hisayo Buchanan said that: "Jacking Sea Fruits in the Dark was chosen as our winner. The words of this story were carefully chosen, spare, with the occasional sparkler lunations or winkle tucked in. It is a language that felt appropriate for beach-combing. And the lonely, ominous atmosphere the story created struck us all."
Spread the Word's Aliya Gulamani caught up with Judith to congratulate her and ask a few questions…
Aliya: How do you feel being selected as the winner for this year's London Short Story Prize?
Judith: I am completely shocked and also utterly thrilled! It's a huge honour to be selected.
Aliya: Can you tell us a bit more about your short story 'Jacking Sea Fruits in the Dark' and its inspiration?
Judith: The story is set on a beach in Cornwall.  I've walked on it several times; during a visit last year, I felt a tremor beneath my foot. I subsequently discovered there had been an earthquake in Wales at exactly that moment and its shockwaves reached the South West. This is the inspiration behind the story's first line. The beach is two miles long, treacherous and lonely, with riptides. I wanted to explore how an individual, forced onto the fringes of society, might be drawn to wild expanses of coast, how they might engage with the solitude of a beach. The stranger narrator in 'Jacking Sea Fruits in the Dark' was the result. When I'm writing short stories, I like to start with a snatched moment from real life – or a memory – and weave it into fiction.
Aliya: Tell me a bit more about your writing; why do you write and what are you currently working on?
Judith: Writing is a compulsion; I would be bereft without access to a paper and pen. I've written a diary since I was ten, still do. I came to fiction comparatively late; my career has been in non-fiction journalism and writing. Once I'd started writing fiction a few years ago, I couldn't stop!  I've just completed the MA Creative Writing at Royal Holloway, University of London, and that shared experience working with other writers has been enormously helpful. I am currently completing the historical novel that I began on the MA, which has been inspired, in part, by my great-grandmother.
Aliya: Who are your writing inspirations? 
Judith: I read eclectically. Some of my favourite contemporary novelists are Colm Toibin, Sebastian Barry and Sally Rooney; but I also love Rosamond Lehmann and Daphne du Maurier. I've recently discovered the genius of the novelist Shirley Hazzard.
Aliya: And finally, what top tips would you share with budding short story writers out there?
Judith: I find writing short stories is a brilliant vehicle for experimenting with a new voice, or a fresh style. Write, edit, write, edit.  Once I've written a short story draft, I cut and edit rigorously. I put the work away, then I read and edit again. And it's vital to enter competitions! These offer such a good discipline, because most require a set word count, a deadline, and the necessity to polish your work.
---
The London Short Story Prize anthology will feature Judith's winning short story as well as the entire longlist, and will be launched in April 2020. Watch this space for updates…
Published 3 December 2019
class="post-21813 post type-post status-publish format-standard has-post-thumbnail hentry category-news"London Short Story Prize 2019 Results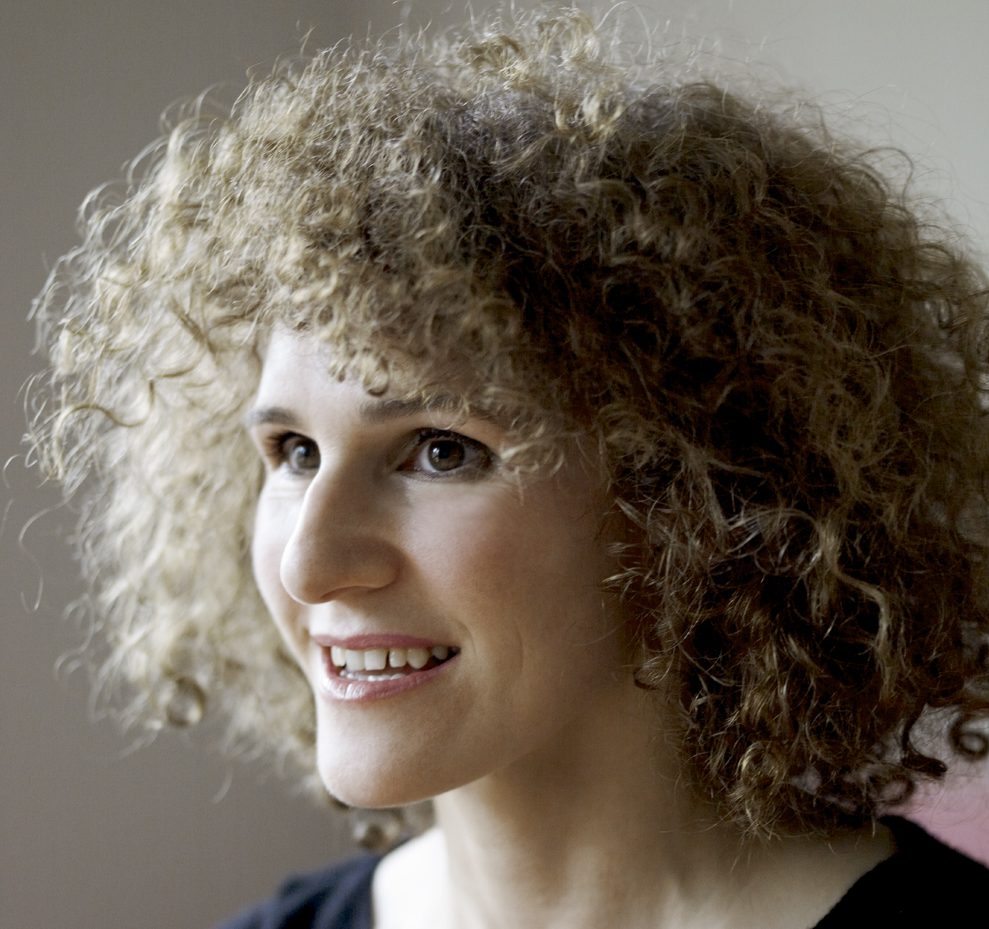 And the results are in! Spread the Word is delighted to announce that the winner of the 2019 London Short Story Prize is Judith Wilson for 'Jacking Sea Fruits in the Dark'. Highly commended were 'Circus' by Isha Karki and 'flesh-meet' by Caroline Rae. 
This year we received an incredible 574 entries into the competition – our highest ever number. The judges, writers Eley Williams and Rowan Hisayo Buchanan, and agent Charlotte Seymour, chose the winner from a high quality selection of stories set across the globe, playing with form, and introducing us to whole new worlds.
Eley Williams said: "All the listed authors prove that the short story can be dynamic, forensic, encompassing—a pleasure to read this array, and every writer should be proud of the worlds they created."
Charlotte Seymour said: "It was fascinating to see twelve writers exploring what the short story can do in such a variety of ways. There was darkness in all of them, and humour in many; some were inventive in their language whilst others concealed a twist beneath a more familiar-seeming surface. There were clear resonances between many of the stories, as they delved into (mostly) contemporary life and issues such as race, class, love and sex, violence, loneliness, and mental health, whether in London, on the British coast or the forests of Borneo; and yet, the multiplicity of voices and styles made for a rich reading experience and some difficult choices when it came to selecting a winner and shortlist."
Rowan Hisayo Buchanan said: "I wasn't sure what to expect when we received the longlist. It was a pleasure to discover such a variety of themes, subjects, and styles. There was invented language, a snake-girl, a copy of heavily annotated Dickens and pornography. Judging stories is famously hard, there is so much to look for: character, plot, playfulness, ambition, a sense of completeness. I am quite sure each judge would have listed their favourites in a slightly different order. But we also found ourselves delighting in many of the same things. And so we were able without the drawing of swords to choose a winner."
The winner of this year's prize Judith Wilson said that: "I am completely shocked and also utterly thrilled! It's a huge honour to be selected." You can read more in our exclusive interview with Judith here: https://www.spreadtheword.org.uk/interview-with-judith-wilson-winner-of-the-london-short-story-prize-2019/
The winner receives £1000 and the two highly commended writers each receive £250. All the writers longlisted will see their stories published in the London Short Story Prize Anthology 2019, produced by Kingston University Press and launched in April 2020.
The full list is as follows:
Winner
Jacking Sea Fruits in the Dark – Judith Wilson
Highly Commended
Circus – Isha Karki
flesh-meet – Caroline Rae
Shortlist
The Sum of Things – CG Menon
This Shaping – Laurane Marchive
Wardrobes – Jay Barnett
Longlist
Dark Rain Falling – Deirdre Shanahan
Good Girl – Jessie Williams
Love Ocean – Hana Riaz
Keeping His Eye In – Joseph Regan
I Precede Myself – Gary Budden
Home – S. Bhattacharya-Woodward
Congratulations writers and many thanks to everyone who entered, our brilliant judging panel and the readers for this year's Prize.
Published 3 December 2019
class="post-21804 post type-post status-publish format-standard has-post-thumbnail hentry category-blogs category-network-knowledge"Young People's Laureate for London Theresa Lola November Blog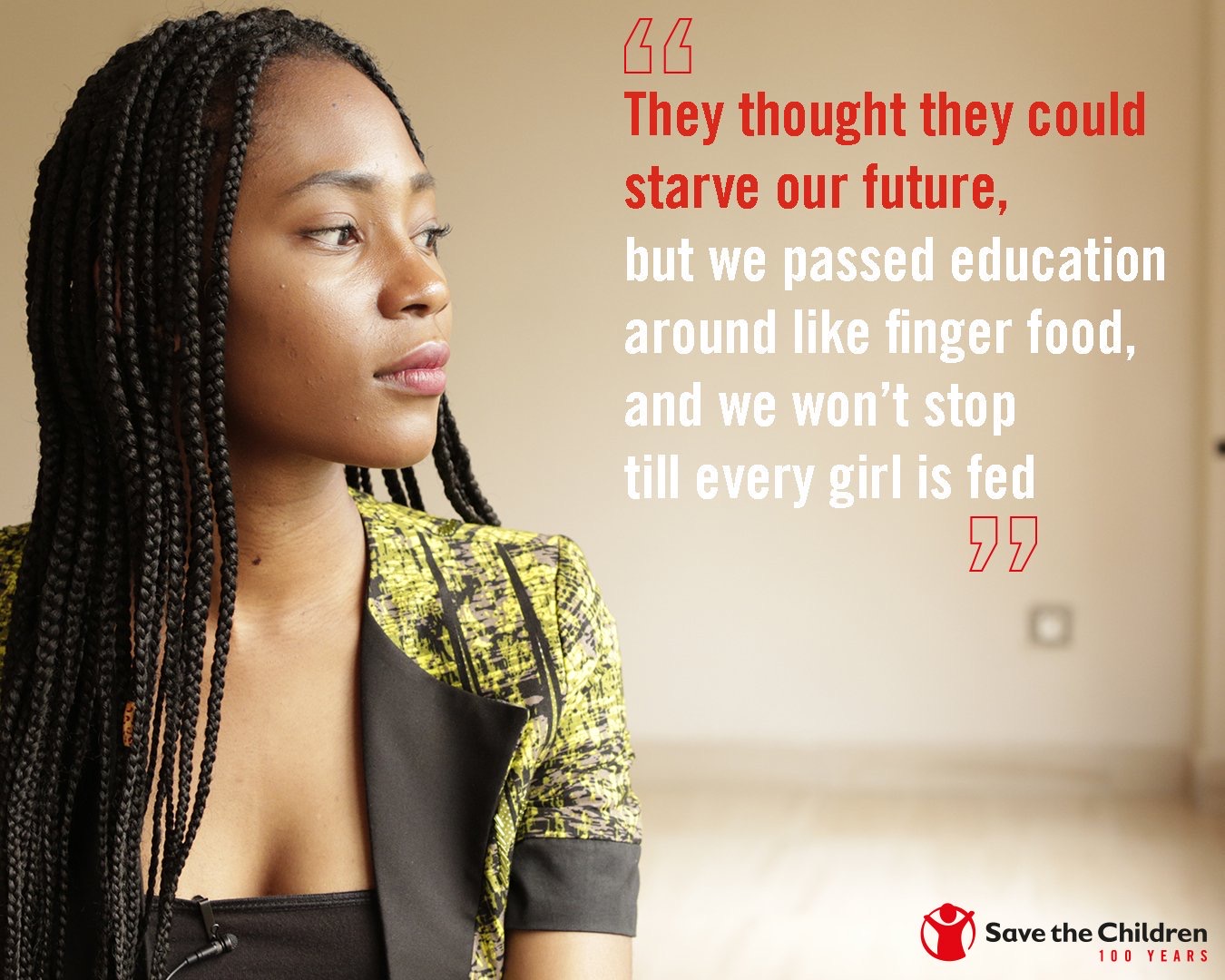 Theresa Lola is Spread the Word's Young People's Laureate for London, working to engage young people in poetry throughout the capital. In her latest blog, she updates us with news about her residencies and shares her thoughts on what poets and books she's currently loving. 
My first two residencies, at Free Word Centre and St Paul's Cathedral, have come to an end, and I am delighted that they were nourishing not only for me but for the young people that participated.
The residency at the Free Word centre ended with an event on 18 November 'With Love (and Rage), Generation Rent', an evening of poetry and sound recordings accompanied with Illustration by Olivia Twist, on the future of private renting, social housing and our perspective as young people. Other poets who read were Seraphima Kennedy and Amaal Said, joined by two young poets who participated in the poetry workshop I facilitated prior to the event, Gabriel Akamo, and Mayura. In the workshop we discussed in greater detail the case studies by Shelter on private renting and social housing and read and wrote poems on the themes. Sections of our conversations were the sound recordings played at the event.
The St Paul's Cathedral residency focused on the theme of 'hope'. Through a series of poetry workshops and a tour of the cathedral we discussed ways the cathedral represents hope. Each school had a different focus, with Archbishop Tenison we focused on 'Hope of Equality'; looking at monuments at the cathedral of people who have fought for or become a symbol of equality, and West London Free School explored 'Hope of Heaven on Earth', looking at the heavenly architecture of the cathedral and the memorable services of comfort that make it a place of refuge. The residency ended with an event on November 26 at the cathedral where the students from both schools cane together to read their poems.
A book I have been digging into in my free time and would recommend is Fiona Benson's striking poetry collection Vertigo & Ghost. The first part of the collection uses Greek Mythology to interrogate sexual violence against women. Hearing Fiona Benson read at the 2019 Forward Poetry Prize ceremony in October was even more thought provoking, and she went on to win the Best Collection prize. Stand-out readers at the award ceremony were Ilya Kaminsky (The Deaf Republic), Raymond Antrobus (The Perseverance), and Liz Berry (The Republic of Motherhood).
Another stellar event I attended was also hosted at the Southbank Centre, the anticipated launch of the anthology Un Nuevo Sol, the first major anthology of British Latinx writers in the UK. Nathalie Teitler is responsible for bringing the Latinx writers together to elevate their unique voices. The anthology is co-edited by Nii Ayikwei Parkes and published by Flipped Eye. Included in the anthology are Leo Boix, Juana Adcock, Maia Elsner and more.
The Young People's Laureate for London role also involves international engagement. Meeting new people around the world through poetry has been wonderful and insightful. In November I attended the Singapore Writers Festival and read alongside Danez Smith, David Wong and Jacob Sam-La Rose. In August I travelled to Abuja, Nigeria with Save The Children to run workshops for young women exploring conflict, gender inequality and poverty. The project was released on International Day of the Girl on 11th October 2019.
Only one month to go to the end of the year and I am looking forward to what December brings, and perhaps more excitingly, Christmas. In 2020 I am looking forward to working with Wellcome Collection and Bethlem Museum of the Mind, exploring their exhibitions and creating work with young people in response. Happy holidays!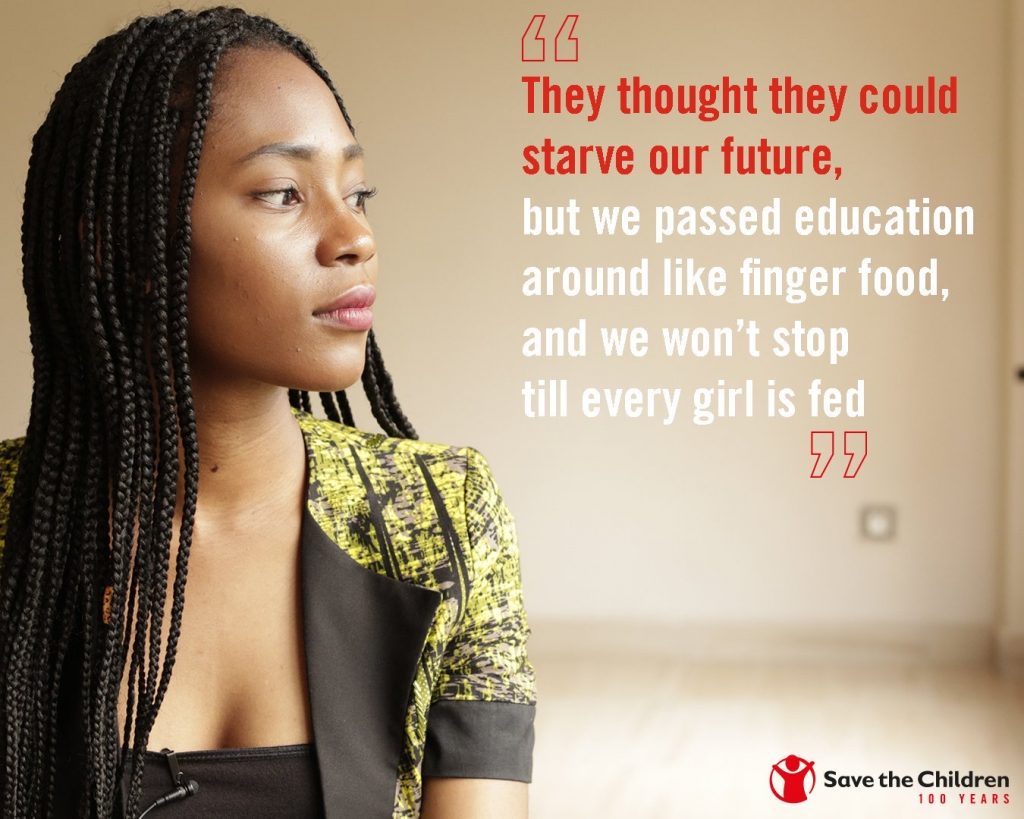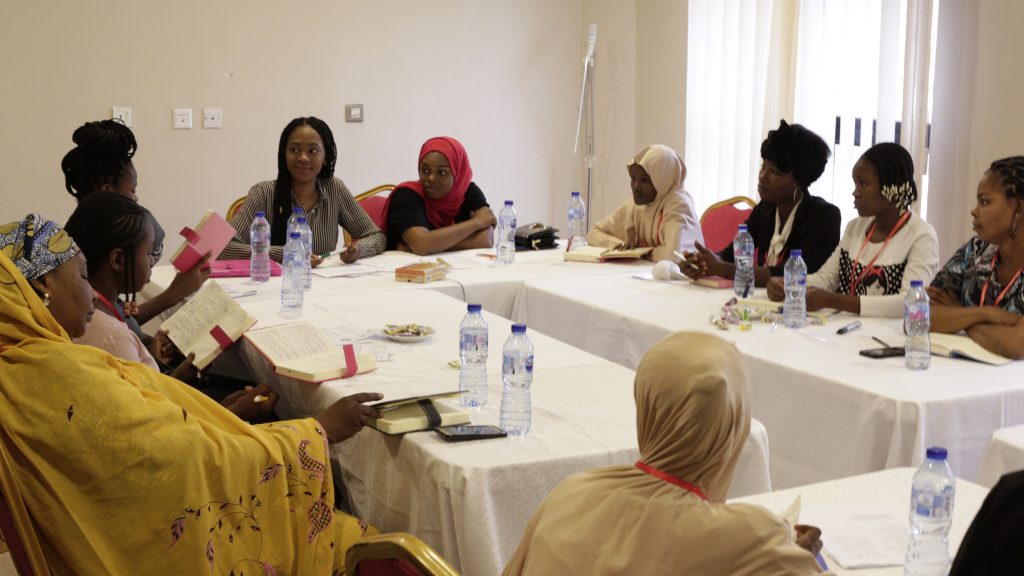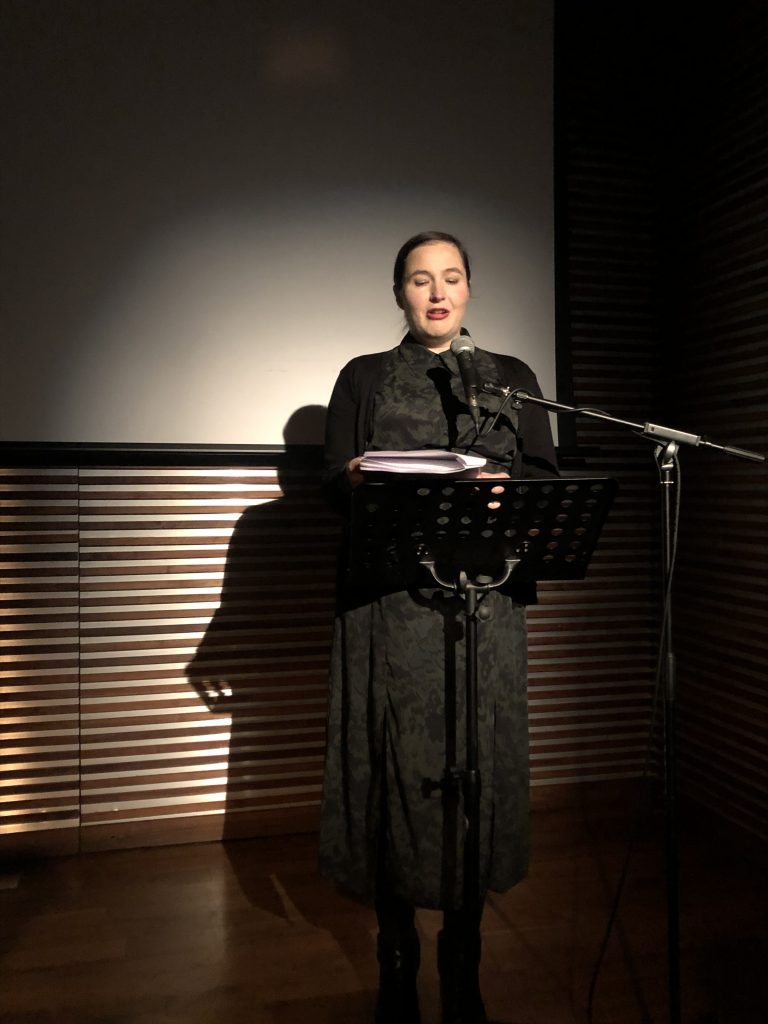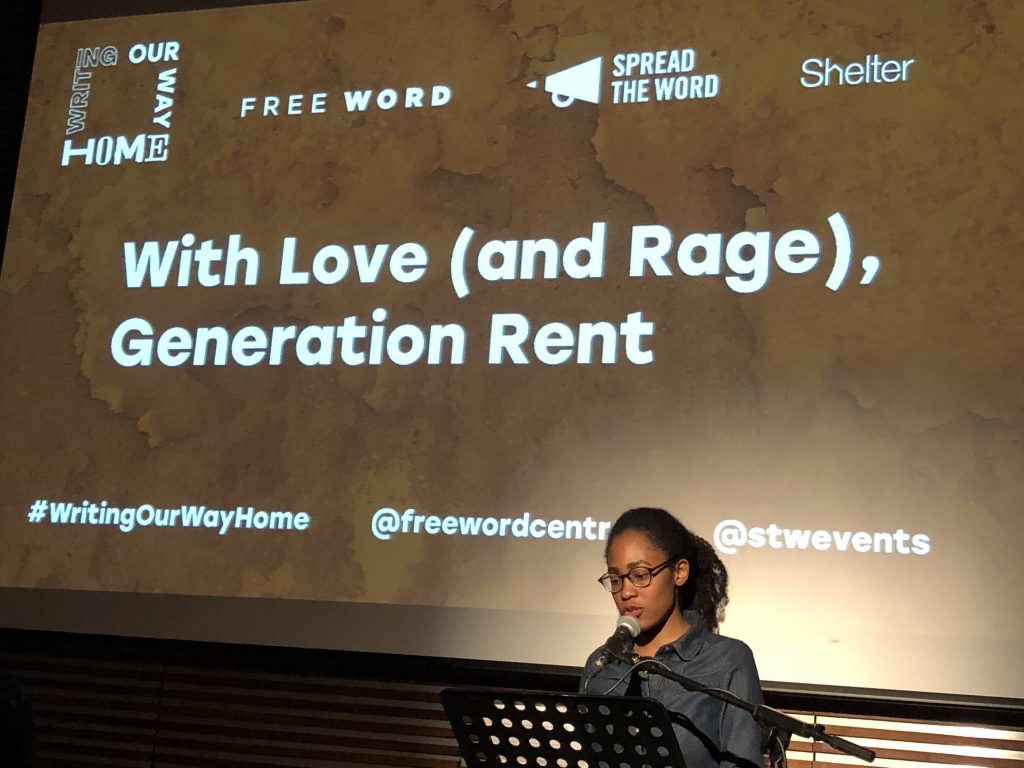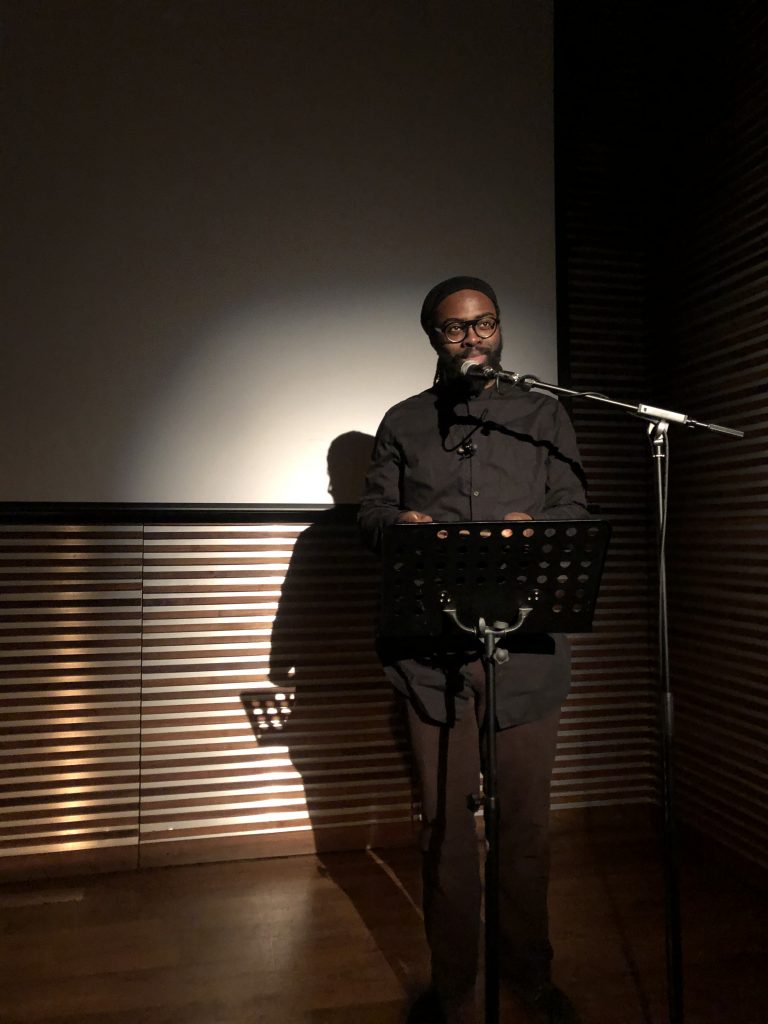 ---
Theresa Lola is on Twitter and Instagram @theresa_lola and her debut collection, In Search of Equilibrium, is published by Nine Arches Press. 
class="post-21591 post type-post status-publish format-standard has-post-thumbnail hentry category-opportunities"Free workshop on applying for Arts Council England's Developing Your Creative Practice fund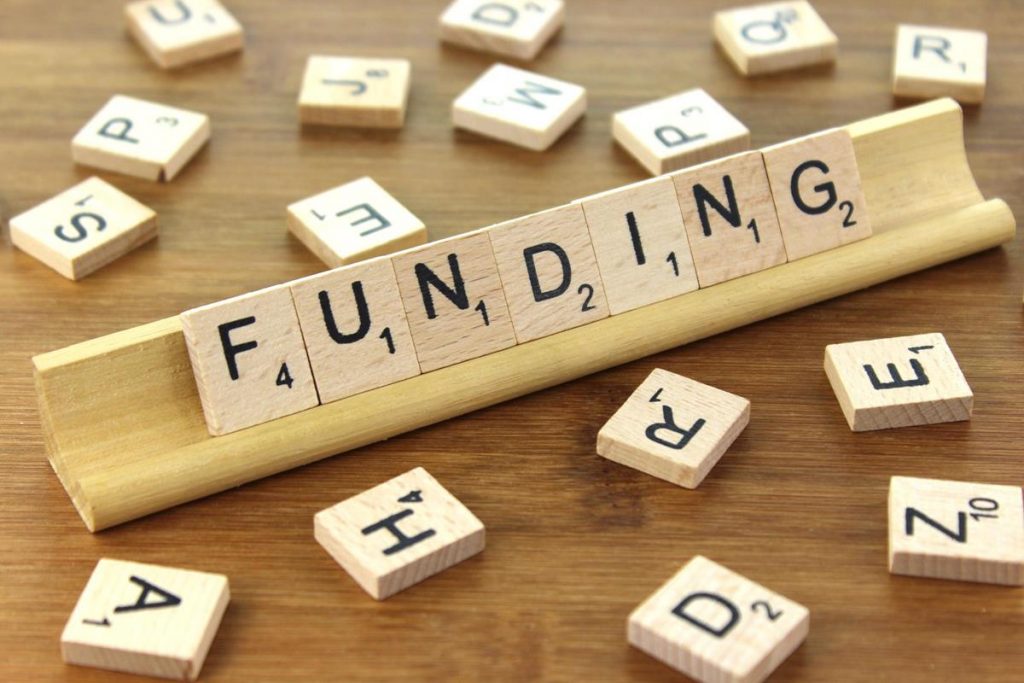 If you are not familiar with applying for grant funding, filling out an application form can be a daunting and baffling process. Ruth Harrison and Eva Lewin from Spread the Word will be running a free workshop for London based writers on Tuesday 7 January 2020  at Spread the Word's offices in Deptford to support writers to create an application for Arts Council England's Developing Your Creative Practice (DYCP) fund. They'll talk you through the different questions in the DYCP form to help you think about how you can respond to them.  
Arts Council England's DYCP fund is for individual artists to apply for lottery funding to develop a new piece of creative work and a new way of working.   You can apply for up to £10,000 towards for activities and support such as e.g., mentoring, time to write, research, or professional development costs.  Whatever it is you want to do, the project you have in mind must be about making a step-change in the kind of work you produce and involve you writing in a different literary form from your previous work. If you are an individual writer  or representative of a writing / literary group looking for support in developing an Arts Council England Projects Grant instead, please check out our development workshop offer here: www.spreadtheword.org.uk/free-workshop-on-applying-for-arts-council-englands-national-lottery-project-grants-funding/
Once you have attended the workshop you can send your draft application to Spread the Word for feedback in more detail.   
Is this workshop right for you? 
This workshop is designed to support people who:
Are writers of literary forms including playwriting and graphic novels with a track record as a writer already – eg being published or produced by a small independent publish or producer or mainstream publisher / producer) published in magazines, shortlisted for writing competitions or working professionally on the poetry circuit; 

Have a clear idea of what your proposed project is, what you want to achieve and how you are going to go about it;  

Be able to show how your project involves you working in a different literary form from your previous work; 

Have read through all the ACE guidance before you apply to take part in the workshop, so that you are reasonably sure that what you have in mind is suitable for DYCP funding. (If what you want to do involves engaging audiences or participants, then you should go for a Project Grant instead.) 
We strongly recommend you look at the successful applicant case studies on ACE's website, including this one: https://www.artscouncil.org.uk/case-studies/developing-your-creative-practice-desiree-reynolds 
This workshop will: 
Give you an insight into the purpose of the fund; 

Help you think through your project; 

Take you through all stages of the application process; 

Look at what will make a strong application; 

Provide opportunities for you ask questions about your own proposal.
Places are limited. Because of the nature of the workshop we are only able to offer spaces to applicants whose ideas are suitable for this particular funding stream.  
We anticipate that demand will be high for this workshop so please only book yourself a place if you are committed to attending.  The workshop is open to writers of literary forms including playwriting and graphic novels.  It is not open to artists working in other media including documentary film making. 
The workshop is FREE but places are limited.
To express your interest in attending this workshop, please email hello@spreadtheword.org.uk with a brief paragraph on your project idea and saying how it is different from your previous work; include details of your track record or attach your writer's CV. Please put DYCP Workshop in the email subject line. Closing date for workshop expressions of interest is Monday 16 December 12 noon. We'll contact you after this deadline, before Christmas to let you know whether we can offer you a place.
Workshop details
Date: Tuesday 7 January 2020 
Time: 6.30-8.30pm 
Cost: FREE 
Location:  Spread the Word, The Albany, Douglas Way, Deptford, SE8 4AG.  
Please contact us to discuss your access requirements you may have at hello@spreadtheword.org.uk 

About the workshop leaders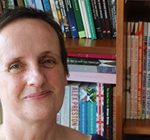 Ruth Harrison joined Spread the Word as Director in 2015. Her working life has been in the field of the arts and particularly in literature. She has been Director of Apples and Snakes, a literature development officer and programme manager at The Reading Agency. She is passionate about not only widening people's engagement with writers and writing but also in developing writing talent. Widening participation and engagement alongside developing and building awareness of new voices has been core to her work.
Ruth has previously been a trustee of Little Green Pig – a charity working to inspire children and young people to get creative with writing, sits on the steering committee for The Literary Platform's Jerwood Fiction Uncovered Prize and is part of the team developing EmpathyLab – a start-up using words and stories to build young people's empathy skills.
At Spread the Word, Ruth is responsible for leading the company artistically and strategically and working with our highly skilled and dedicated team to make a difference to and for writers and their audiences in London.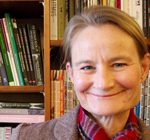 Eva Lewin is Writer Development Manager at Spread the Word where she leads on the one-to-one support for writers, through feedback surgeries and professional development coaching. Eva commissioned the Writing the Future research (published in 2015) into Black and Asian writers and publishers in the UK marketplace. She continues to work on the strategy to take forward the diversity agenda, including Spread the Word's consultancy on WriteNow with Penguin Random House.
Her twenty years' experience in the literature sector includes curating creative writing programmes, co-directing the Hackney literature festival, running writers' residencies and a shop-floor library at Ford's car factory in Dagenham. Eva is an RD1st accredited coach (ILM Level 7 equivalent).
Published 18 November 2019