Laura Kenwright quizzes author, Justin David on his writing process and his role as publisher at Inkandescent. His new book, Kissing the Lizard, is out now.
Tell us about Kissing the Lizard and how you came to write it.
I think the territory of fiction that I have inhabited up to now has been what we've come to understand as autofiction. Most of what I write about has some seed in it from a real moment or a real person that has had some significant or formative influence over me. That could be the time when I was very little and my auntie left me outside the newspaper shop and thinking she had abandoned me forever, I screamed until someone came to find me, or that time I was bullied at school, or the time my mother found out I was gay from a letter I'd written to a friend in America which got 'returned to sender' only for my mother to open it and read chapter and verse of my sex life.
We're all constantly telling stories to ourselves and to other people. Get those moments down as quickly as possible and with as much real detail as you can muster and it's documentary. Put some time between yourself and the event and you're dealing with romance or nostalgia. Look at those moments again with a degree of paranoia and you have a yourself a horror story. Embellish the truth and you're into the realms of mythology. That's what I do. I'm a mythologist.
In the case of this book the seed was what was supposed to be a fun holiday—an adventure in the States. My first long-haul flight. I was in my early twenties and I'd travelled all the way to the sagebrush desert outside Taos, New Mexico to spend time with someone I thought to be a friend. However, in fact he turned out to be someone I didn't really know, couldn't trust and who didn't have my best interests in mind. Instead of it being fun, I was lonely, vulnerable and isolated. I turned up the colour on all that and there you have it—an intense psychological desert-gothic.
2. Tell us about your writing journey.
If we're talking 'journeys', this one has not been without a few perils and pitfalls. There have been times when I ran out of money, ran out of fuel, ran off the rails… My response is different depending on where and how I am at the time. I mentioned autofiction; I used to think my writing was about exploring, portraying or excavating some sort of truth. However, memoir can be as much about telling the truth as it is about telling lies. Sometimes, I've written characters, based on real people, the way I'd prefer them to be. Or, written events the way I think they could have turned out with the variables tweaked. I suppose my writing journey has, up until now, been very much about finding out who I am and how I fit into the world; I suppose having grown up in a world in which I didn't see myself or stories like my own in literature, my passion has been to do that as authentically as possible. The events which I don't understand are the ones that fascinate me and which I keep returning to.
When I was a child I enjoyed writing stories. I loved doing it at school and I would make books out of note paper at home. Writing and publishing was obviously in me from a very early age.  But it was when I met Philip Ridley in 1996 that I really began to take writing seriously. I interviewed him at the National Film Theatre (what is now the BFI Southbank) as part of the research for my university dissertation. Later we became friends and during a short time as his assistant I learned his methods of rewriting and editing. After that, I gradually became part of a community of writers and eventually decided to study creative writing at Goldsmiths.
3. What are your top three writing tips?
Show up for work and get the work done. Few writers have the privilege of uninterrupted writing time, a room of one's own, an ergonomic chair and a scented candle. I tap notes into my phone on the bus. I write on scraps of paper in the doctor's waiting room. I write where I can and when I can. I can't afford to wait for the perfect writing moment. Life is busy.

Kill your inner critic. First drafts are always like vomit. Get the ideas down on the page and then rewrite, edit, craft and make it good enough. If it's 'good enough' then you've left yourself somewhere to go.

Keep your ego out of it. If you're consumed with worry about what your audience will think of your work then the writing won't be authentic. You must care about your audience but don't obsess about them. Be bold, dive deep and offer something of you that they perhaps weren't expecting.
4. Who are your writing inspirations?
This is almost an impossible question to answer. There are so many and it depends on what I'm thinking about and what I'm working on. In 1996, because I was a student of film, they were Jane Campion, Philip Ridley, Peter Greenaway and David Lynch. When I was writing Kissing the Lizard, I would almost have certainly have told you JT Leroy, Chuck Palahniuk, Carson McCullers, Annie Proulx, Poppy Z Brite—all American, all outsiders, mostly transgressive. Two years ago, they were Kit de Waal, who taught me how to structure my work, Elif Shafak who brings magic to her writing and Garth Greenwell who can write a beautiful sentence. One came only aim for this greatness. Right now, I'm all about filmic visionary Lucile Hadžihalilović, Patrick White and Neil Bartlett. Having recently published Neil's mosaic novel, ADDRESS BOOK, I've not only had the privilege of his influence as a writer—such control over voice, such immersive narration—but I have also been nourished by him as a wise queer elder. Neil seems to have the right thing to say at any given time. Only the other day, I sent him a text to let him know that I'd had Covid and had been holed up in my flat since my birthday. I haven't been able to concentrate on writing or anything else. Two minutes later he called me. He said, "Gurrrrl, I've been right in the middle of shooting Shakespeare and I'm just walking back to the flat but I took one look at that text and I thought 'That's a distress flare if ever I saw one. I'd better give her a quick call'" and then he issued me with some advice in the way that only Neil can and suddenly everything in the world was momentarily right again.
5. How does your role as a publisher influence your role as a writer, and vice versa?
I feel a great responsibility as a publisher, boldly to go where mainstream publishing is too fearful to tread. Nathan and I have spent a lot of time and a great deal of effort building a platform to champion brave and imaginative writing from underrepresented authors. We're just at the beginning of that journey. There is no getting away from that fact that we've published a number of white men, ourselves included. Though with our short story collection, MAINSTREAM: An Anthology of Stories from the Edges, we were able to support writers who identify as LGBTQ+, black and brown writers, and writers who are working class or financially disadvantaged. Our future publishing decisions will be curated carefully to ensure a balance of books.
The problem with a mainstream publishing ethos that produces so many books—a seemingly endless library of homogeneity—is that readers no longer discover anything new. Consumers enter bookshops looking for the next version of what they think is their thing. It's all very safe and cosy. Mainstream publishing is totally market driven and has become purely about sales and very little else. Frankly, to me this feels like having to choose what to eat from one of those huge diner menus offering a proliferation of burgers, sauces and fries. This only results in consumer fatigue. Publishing no longer feels the same duty of care towards society. At Inkandescent, we want things to be different. Out of necessity (there are only two of us) we publish less. There isn't a huge menu. We publish just two or three books we love every year—and how will you know if you love it until you've tried it? Similarly, as writers we guard against those market forces. It would be easy to slip into the trap of producing something we believe will be popular. We must be bold, dive deep and offer something that we love, something not all of our readers may be expecting and which, I am sure, some will love.
JUSTIN DAVID is a child of Wolverhampton who has lived and worked in East London for most of his adult life. He graduated from the MA Creative and Life Writing at Goldsmiths, University of London and is a founder member of Leather Lane Writers. His writing has appeared in many print and online anthologies and his debut novella, The Pharmacist, was published by Salt as part of their Modern Dreams series. It was described in the Times Literary Supplement as 'the perfect introduction to a singular voice in gay literature.' Kissing the Lizard is a prequel to The Pharmacist.
He is also a well-known photographer. His images of artists, writers, performers and musicians have appeared on the pages of newspapers and magazines including: The Times, The Guardian, Attitude, Beige, Classical Music Magazine, Gay Times, Out There, Pink Paper, QX and Time Out.
Justin is one half of Inkandescent with Nathan Evans. Their first offering, Threads, featuring Nathan's poetry and Justin's photography, was long-listed for the Polari First Book Prize. It was supported using public funding by Arts Council England. In 2021, amidst the Covid-19 pandemic, they published their first collection, MAINSTREAM: An Anthology of Stories from the Edges, championing underrepresented voices.
Justin's new book, Kissing the Lizard, is published by www.inkandescent.co.uk, out now.  You can watch the trailer here.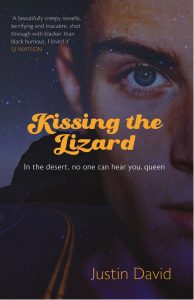 ---
---