Santanu Bhattacharya is the winner of Spread the Word's national writing competition, the Life Writing Prize 2021, for The Nicer One. Now in its fifth year, the Life Writing Prize, run in association with Goldsmiths Writers' Centre, was established to find and develop the best new life writing from new and emerging writers. Santanu wins £1,500, a writing mentor, an Arvon creative writing course, and membership to the Royal Society of Literature. 
The Nicer One explores a chance encounter with a childhood classmate that sets off a series of difficult memories, and a carefully-constructed yet fragile life begins to unravel. 
The judges were writers Damian Barr and Frances Wilson, and Catherine Cho, an author and literary agent. They made their selection from a longlist of twelve, announced in April. 
Catherine Cho comments: "The Nicer One is a powerful, gut-punch of a piece that reads like a taut thriller. It is evocative, atmospheric, and incredibly moving in its depiction of schoolboy cruelty. I felt moved and haunted by the piece and the steadiness of its voice, it's one that will stay with me for a long time."
 Frances Wilson comments: "This is a beautifully paced story about the afterlives of stories; it is also a tale of manhood, doubleness and not fitting in."
Damian Barr comments: "This has all the polish of a novel and all the punch of a memoir. We see the trauma and how this leads to normalization of abuse which leaves us winded."
Santanu Bhattacharya grew up in India. In 2021, he won a London Writers Award and was selected for the Tin House Writers' Workshop in Portland, USA. His non-fiction essays have appeared in The Oxford Student, Feminism in India, and the book Revealing Indian Philanthropy. Santanu has degrees in public policy from Oxford University and in engineering from National University of Singapore. After having lived in eight cities across three countries, Santanu now lives in north London.   
He comments: "I'm so delighted to have won this Prize. It means a lot to be recognised at this early stage of my writing career. The Life Writing Prize is a platform like no other, and celebrates the kind of stories we need more people to tell. Writing this piece was both a haunting and healing experience, and has helped me explore a certain vulnerability that I didn't know I could write about."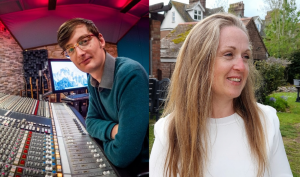 Two writers were highly commended for the Prize; Carla Jenkins' Carving was written in part to capture memories of her father, and is both an exploration of the father-daughter bond, and the fragility of remembrance. Matt Taylor's Tromode House recounts the chain of events that led him and his brother being taken into care. As part of their Prize, they will each work with a writing mentor and receive £500.  
Carla Jenkins said: "I'm delighted to have been highly commended for the Life Writing Prize. I've read the previous anthologies and been in awe at the high quality of the writing, so to be included this year is an absolute honour. Life Writing can mean delving into memories and places which can be raw, dark and difficult. You make yourself vulnerable – but it's a great creative outlet and helps you make sense of the world. This Prize has made me recognise that I've got a few good stories up my sleeve and inspired me to carry on with Life Writing. I can't wait to meet my mentor. Enormous thanks to the team and judges at Spread the Word."
Matt Taylor said: "Stories from people like me are rare, and so I genuinely didn't believe that anyone would find my story interesting, let alone worthy of a prize. To say being highly commended is a massive confidence boost is an understatement. Speaking about growing up in care is the last great taboo in our society, but the only way we can change the perception is by talking about it.  And I'm so thrilled that Spread the Word are doing their bit to change that. It really does feel good to be part of one of their creative projects."
The three writers to be shortlisted are: Lois Warner for White Lines, SJ Lyon for People That Might Be Us and Sara Doctors for Grief Bacon. 
Ruth Harrison, Director of Spread the Word said: "Now in its fifth year, the Life Writing Prize continues to find talented writers from across the UK and the stories they want to tell and we are thrilled to announce this year's winner and highly commended writers. The Life Writing Prize is unique in terms of its accessibility and reach across the UK and also the development support it gives to writers to move their writing careers forward. We are seeing the impact of the Prize, as its writers are now being published and changing the type of life writing that is being read."
Mentors for Santanu, Carla and Matt are the writers Max Porter, Winnie M Li, and Katy Massey.  
The Life Writing Prize, which is free to enter, is funded by Joanna Munro.  
Life Writing Prize 2021  Anthology 
A special anthology featuring the 12 longlisted writers and their work is published by Spread the Word online and available to download in PDF format. The anthology features Santanu Bhattacharya, Carla Jenkins,  Matt Taylor, Sara Doctors, SJ Lyon, Lois Warner, Nic Wilson, Laura McDonagh, Penny Kiley, Imogen Phillips, Susan Daniels and Pete Williams. 
Celebrating five years of the Life Writing Prize
To celebrate five years of the Life Writing Prize Spread the Word has published an online pamphlet featuring articles and new pieces of life writing from former judges and winners including: Blake Morrison, Catherine Cho, Joanna Brown, Charlotte Derrick, Lorelei Goulding, Jon Paul Roberts, Kerri ní Dochartaigh, Claire Lynch and Xanthi Barker. There is also a further reading list of books and resources for aspiring life writers to read.
Published 9 June 2021
---
---