Spread the Word will be accepting submissions from writers under-represented in publishing for short feedback sessions from the editorial team at One More Chapter – a division of HarperCollins Publishers from 1 – 31 March 2021. 
Bethan Morgan from One More Chapter's editorial team is offering to provide feedback by phone or video call on up to 30 submissions from writers from under-represented backgrounds based in the UK.  
One More Chapter currently has a strong interest in emotional women's fiction, book club fiction, crime, thrillers, YA/ fantasy crossover, historical fiction and contemporary romance. The publisher is keen to find a wide range of new voices across all commercial fiction genres, including saga and fantasy. Right now, they are particularly looking for diverse voices, police procedural series, feel-good escapism and WWII historicals. You can learn more about them on their website. They are not looking for middle grade children's fiction, narrative non-fiction or poetry.
We define writers from backgrounds under-represented in publishing as those who identify with one of the following:    
Are from a lower socio-economic background as defined by the Civil Service Diversity and Inclusion guidance  

Have experienced a lack of academic and/or vocational training opportunities – i.e. have not been able to study/train to their full potential due to low income, ill health, being a carer etc.  

Are or have been a carer  

Have experienced homelessness  

Are a single parent  

Have a disability  

Are a writer of colour 

Are a member of the LGBTQIA+ community  
How to apply    
Please note this opportunity is only open to un-agented writers based in the UK who are yet to publish a full length novel. Apply via Submittable. Only one entry per applicant will be accepted. Please read the terms and conditions before entering. Terms and conditions can be found here: www.spreadtheword.org.uk/wp-content/uploads/2021/02/110221-OMC-and-STW-Terms-and-Conditions-2021.pdf
Submissions will open at midday on Monday 1st March. The link to apply is here: spreadtheword.submittable.com/submit 
What you need to submit: 
A synopsis (300 words maximum) Not sure how to write a synopsis? Take a look at Spread the Word's guide by Aliya Gulamani here: www.spreadtheword.org.uk/a-pocket-guide-to-writing-a-synopsis/

The first 10,000 words of your novel OR A 10,000 word extract from your novel 

Optional: a completed draft of your novel (this will be reviewed if you are offered a feedback slot, but you may not receive feedback on the whole manuscript) 

A covering letter that includes: A little information about yourself and your motivations for your novel, how you meet the criteria for this opportunity and a summary of your writing endeavours to date (e.g. Have you taken part in writing development opportunities? Have you mainly been writing on your own at home?) 
If you are a disabled writer, there is the option to submit visual or audio submissions. Please get in touch [email protected] if you need any support with this. 
Bethan Morgan will be giving feedback to the successful writers on the documents submitted.
Timeline  
Submissions will open at midday on Monday 1 March 2021. The deadline for submissions is 5pm on Wednesday 31 March 2021.  Applicants will know the outcome of their submission by Friday 30 April 2021, and successful applicants will receive their feedback by the end of May 2021. If you have any queries about your application or this opportunity, please get in touch by email hello@spreadtheword.org.uk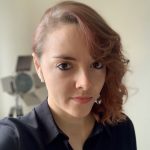 Bethan Morgan is One More Chapter's Assistant Editor, acquiring and editing mainly crime, thriller, historical, and YA fantasy fiction. Born in Glasgow and now based in London, she has previously worked as a Business Analyst at Accenture, a Bookseller at Waterstones Piccadilly, and an editor at the independent publisher Canelo. She is particularly passionate about digital innovation and finding new and diverse voices across geographical and genre boundaries to craft into global bestsellers. 
---
---