Meet local writers Laura Barker and Carinya Sharples and share your stories about food.
No need to book - just drop in to this free event!
BSL Interpreted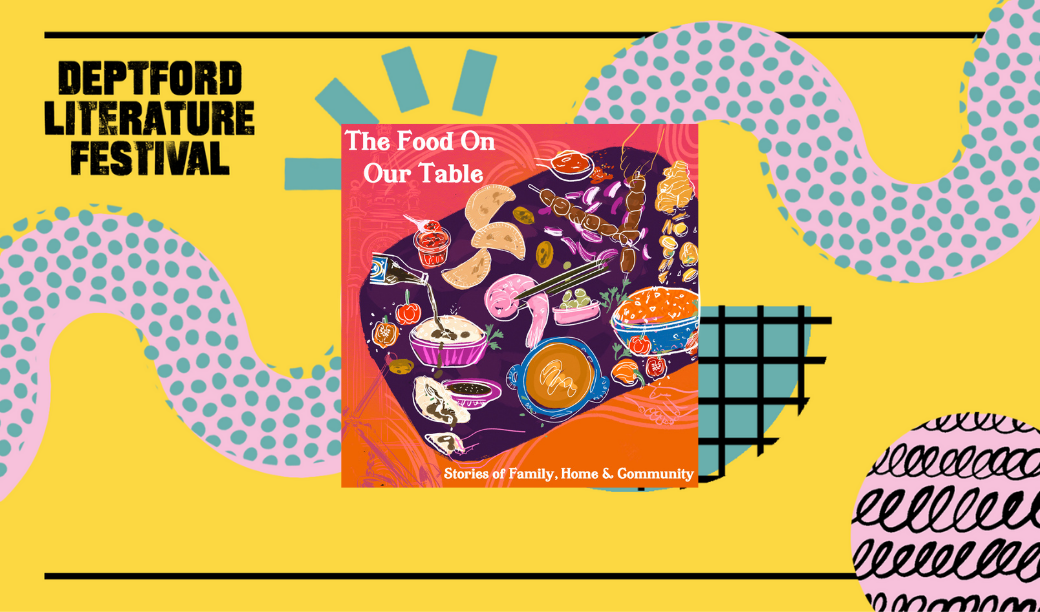 'The Food On Our Table: Stories of Home, Family and Community' is a Lewisham Borough of Culture funded project capturing stories from Lewisham residents about what, where, when, why and how we eat.
For many people, food is an entry point into learning about and connecting to other cultures. It is also at the heart of every home: a way of celebrating, coming together and remembering. But it can also be a source of worry when we do not have enough. You're invited to take a seat – and share in the feast.
Local writer Laura Barker will be taking up temporary residency in The Greenhouse in Deptford to meet staff and customers of this popular local café and produce a creative piece based on the experience. As well as chatting to Laura, and Project Lead Carinya Sharples, you can also pick up a writing prompt postcard to get your creative juices flowing!
The Food On Our Table project is produced by Lewisham writer Carinya Sharples in partnership with Spread the Word and is funded by Lewisham Borough of Culture.
No need to book – just drop in and turn up!
Access Notice 
–  There is a steep ramp to get to the door so wheelchair users potentially might need some assistance. Staff are happy to help.
–  BSL Interpretation available
Deptford Literature Festival COVID-19 Protocols
Please take a look at the Festival's current COVID-19 Protocols: www.spreadtheword.org.uk/deptford-literature-festival-covid-19-protocols/
Deptford Literature Festival takes place on Saturday 19 March 2022 and celebrates the diversity and creativity of Deptford and Lewisham through words, stories and performance. It is run as a collaboration between producer Tom MacAndrew and Spread the Word.You can find out more about Deptford Literature Festival at: www.spreadtheword.org.uk/deptford-literature-festival
About The Food On Our Table team
Laura Barker
writer and facilitator
---
See More
Laura Barker is a writer, artist, and facilitator, and she runs a queer black writing group in London, UK. Her work has appeared in The Guardian, Apparition Lit, midnight & indigo, The Other Stories, Planet Scumm, and Middleground, and she was a lead writer for Spread The Word's This Is Our Place project. Her YA novel Picnics was shortlisted for the Faber Andlyn BAME (FAB) Prize. Her favourite crisps are Ready Salted. Follow her at @LauraHannahBar.
Carinya Sharples
Project lead and writer / facilitator
---
See More
Carinya Sharples is a freelance writer, teacher, journalist and editor, situated somewhere between the UK and Guyana. She recently graduated from a Masters in Creative Writing and Education at Goldsmiths, University of London.
She is currently working as a workshop facilitator with We Speak and Refugee Youth's Amazing People of the World project.
Her creative writing has been published in The London Reader, Commonwealth Writers' ADDA Stories and was shortlisted for the Flipside Festival's 2017 Green Alphabet Writing Prize and Rebel Women Lit's Caribbean Readers' Award (Non Fiction – Individual Pieces) 2020.
As a journalist, she has produced articles, radio packages and online content for many different platforms, including BBC World Service, Mongabay, Gal-Dem, Private Eye, The Guardian, and The Pavement. I have also also taught communications at the University of Guyana as a part-time lecturer, and been part of Peabody and BAFTA Award winning teams.
---
Greenhouse Café
Greenhouse Café, 481 New Cross Rd, London SE14 6TA
---