A practical workshop designed to help you use touch, smell, sound, taste or sight to inspire and improve your sentences.
BSL interpreted.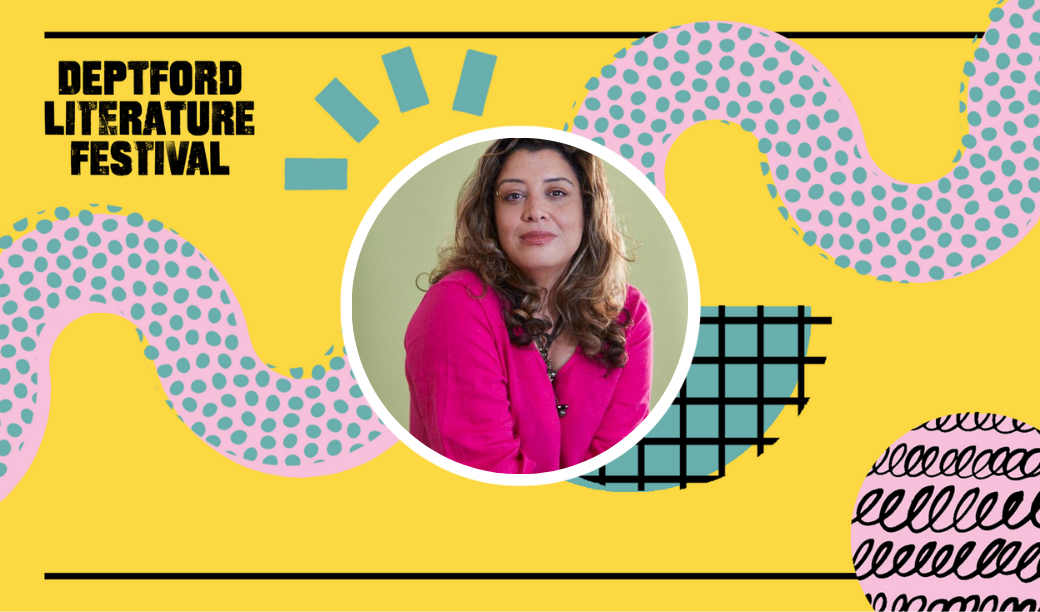 This event is sold out. If you would like to be added to the waiting list, please email [email protected] with your name, email address and phone number, and call the email 'Leone Ross workshop request'. We'll be in touch if a space arises.
Are you the kind of reader or writer who admires detail on the page? Are you inspired by descriptive prose, original ideas and evocative specificity?
Perhaps you'd really like to write using your senses – smell, sound, touch, taste, sight – but you're not sure how to begin. Or maybe you've been trying to imbue your work with colourful energy for a while, but you're not sure how to assess your efforts!
This three hour workshop will provide practical ways to concentrate, capture detail and edit the sentences inspired from that mindful process.
We will consider not only our favourite senses, but those we pay attention to less frequently; the construction of the 'sensory sentence'; the use of figurative language and juxtaposition; and how to use attention and specificity to avoid cliches.
We will examine the work of some of the best sensory writers, including Toni Morrison, Annie Proulx and Shivanee Ramlochan.
The workshop is suitable for all adults, working in prose or poetry; while best for those who have already begun to write, it will be helpful for all writers at beginner or intermediary levels.
We will spend part of the session outside, with a choice of several nearby sites/spaces in Deptford, with safe options for varied physical abilities.
Access Notice
–  This event is BSL interpreted.
–  Deptford Lounge has accessible toilets, and Changing Place facilities (http://deptfordlounge.org.uk/access) If you require additional access in order to attend the Festival, for example larger print handouts at workshops, or a Scribe, or anything else you may need to ensure you can take part, please get in touch: [email protected] 
– The event will include short breaks.
Deptford Literature Festival COVID-19 Protocols
The facilitator for this workshop is immunocompromised, so we continue to ask that attendees wear masks unless exempt, and we encourage people to take a lateral flow test the morning of the Festival so we're doing all we can to make this event run safely.
Please take a look at the Festival's current COVID-19 Protocols: www.spreadtheword.org.uk/deptford-literature-festival-covid-19-protocols/
Free bursary places 
If you are a Lewisham resident and are unable to afford the price of this ticket, we have a number of free bursary places available by application by Monday 14 February, 9am. You can find out more and apply here: www.spreadtheword.org.uk/deptford-literature-festival-free-bursary-places-for-lewisham-residents/
Deptford Literature Festival is funded by Arts Council England and is run as a collaboration between producer Tom MacAndrew and Spread the Word.
You can find out more about Deptford Literature Festival at: www.spreadtheword.org.uk/deptford-literature-festival
About Leone Ross
Leone Ross
---
See More
Leone Ross is a writer, editor and academic. She was born in England and grew up in Jamaica. Her first novel, All The Blood Is Red, was longlisted for the Orange Prize and her second novel, Orange Laughter, was named by Wasafiri magazine as one of the most influential British novels of the last 25 years. Ross's first short story collection, Come Let Us Sing Anyway (Peepal Tree), was shortlisted for the V.S.Pritchett Prize, the Jhalak Prize and the Edge Hill Prize 2018. She is a Senior Fellow of the UK Higher Education Academy.
Her third novel This One Sky Day is published by Faber in the UK and FSG in the US. It was shortlisted for the Goldsmiths Prize 2021.
---
Location
Deptford Lounge Room 2
9 Giffin Street
London
SE8 4RJ
---