Explore nature writing in the city with Anita Sethi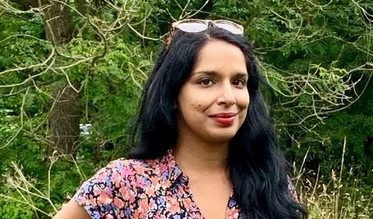 In this welcoming writing workshop, you'll explore nature writing, your own unique perspective of the natural world around you and your place in it.
This workshop is part of This Is Our Place – a nature writing workshop for London in partnership with London Wildlife Trust. 
What will you do in the workshop?
We'll have some discussions, some reading and lots of writing in the special location of London Wildlife Trust's Woodberry Wetlands.
What can you expect?
This is a welcoming, kind space wherever you're at with your writing; if you are just starting or if you've been writing for a while. You can expect to come away with some new pieces of writing and new ideas you may want to take further and enter into the This Is Our Place writing competition.
Who is this opportunity for?
This workshop is for Londoners from backgrounds underrepresented in publishing, including but not limited to:
– Disabled,
– LGBTQIA+,
– Working class,
– Writers of colour (Black, Asian, Arab, Mixed-Raced and Non-white Latinx). 

Londoners from underrepresented backgrounds in publishing who attend any of the This Is Our Place workshops in person or online can enter the This Is Our Place competition.
Important information  
This workshop is free to you, and we ask that as far as possible by booking a place you commit to attending.  Places are limited, and you can only book a place at one This Is Our Place in-person workshop. You are welcome to attend as many of the This Is Our Place online workshops as you would like (subject to availability).
The workshops will adhere to COVID-19 guidelines and good practice including social distancing, mask wearing if inside (and outdoors if you would prefer), and regular hand sanitisation. 
If the weather is good, the workshop will be held outside. If the weather isn't good, the workshop will be run inside.
Please bring:
water / snacks,
writing materials – whether that's pen & paper, a laptop, a phone… whatever you like to use to write,
hand sanitiser,
and a mask.
Access Notice 
If you require BSL interpretation to take part, please email us at [email protected] and we will try to secure BSL interpretation for you. Spread the Word will cover this cost.

This workshop is relaxed; you are welcome to take breaks at any point.

You can find the access information about Woodberry Wetlands here.

If you have additional access needs, please contact us and we will support you to participate.
About Anita Sethi
Anita Sethi
This Is Our Place writer-in-residence
---
See More
Anita Sethi was born in Manchester, UK. Her new book, I Belong Here: a Journey Along the Backbone of Britain is the first in her nature writing trilogy, published by Bloomsbury. I Belong Here has been described as "a thing of beauty" by the Sunday Times, "a memoir of rare power" by the Guardian, and as 'a magnificent and redemptive achievement' by The Bookseller. Her writing has also appeared in anthologies including Common People, The Wild Isles and Women on Nature. She has written for the Guardian, Observer, i, Sunday Times, Telegraph, Vogue, BBC Wildlife and appeared on various BBC radio programmes. Her career highlights include going birdwatching with Margaret Atwood in the UK's oldest nature reserve. Twitter: @anitasethi @ibelong_here
---
Woodberry Wetlands
Woodberry Wetlands side entrance, Bethune Road, London N16 5HQ
---