Taking place across all 33 of London's library services from February to June 2022, City of Stories Home celebrates libraries as the place to make and share stories in our local communities. 
London writers Amer Anwar, Natasha Brown, Jarred McGinnis, Caleb Azumah Nelson, Lizzie Damilola Blackburn, Ruth Goldsmith, Iqbal Hussain and S. Niroshini have written stories on the theme of home to inspire Londoners to get creative and write their own story.   
[       ] by Ruth Goldsmith 
The crack and split and greed and tear and waste and want of war eats them out of house and [      ].  
War has come to their front door, an angry man, a shouting screaming cursing man, a hungry man they can't ignore. War makes himself at [      ].  
The house is no longer a [     ] but a carcass, no longer where the heart is. They pick up their skin and bones alone and start the slow march down the longest road they've ever known. The slowest way round is the shortest way [      ] – but it's nameless now they are [    ]less. 
Crossing land is hard. Then they reach the sea.  
To stand on the beach in the dark, to trust a promise of safe passage, to hear the water suck and beckon, is to sit atop the crest of a wave between faith and madness.  
But what choice do they have? There's no place like [      ], not any more. 
So they redefine what a [       ] is. Seven months in, the tent on a hillside in the mud and the crowd and the cold and the noise and the thirst and the stink is a [      ] of sorts, a place they call [      ] at least, a broken kind of [      ] where warmth is a metaphor and people are the bricks and mortar.  
They stand twice more on beaches in the dark, hearing water suck and beckon, hope in pixels on a tiny screen, until they reach the country where a man's [      ] is his castle. They all look like castles from the outside, too.  
They try to live a life. They try to build a [      ]. 
But here, they learn that some words say and sound the same but the meanings we give them are different. Some words we read in quiet and tidy [       ] in our green and pleasant land, over breakfast, a head shake, pass the jam.  
STEALING [        ] AND JOBS 
Some words we scroll through on phones that never run out of charge, distracting ourselves on the bus, a flick, the story's gone.  
CHARITY BEGINS AT [        ]
Standing by those same words on the news rack, in the shop, they wonder what they did that was so wrong.  
GO BACK
                   GO BACK 
                                    GO BACK 
       GO BACK 
One day, the letter comes to say this place is not their [     ]. Removal vans will come, it says, for them, not for their things.  
The toddler plays with her building bricks on the floor, as they turn the words over, the words that turn their world over. This is the only [     ] she's ever known in the only country she's ever seen. How can she be returned somewhere she's never been?  
When the vans arrive on the street outside, they spill [     ] Office branded men. And once again, to their front door comes a man, an angry man they can't ignore, a man who won't tell a house from a [     ].  
Instead he says: open up. 
We're coming in. 
It's the law.   
There's no place like [       ]
Not any more.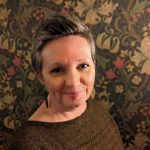 About Ruth Goldsmith 
Born to a librarian and a museum curator, stories were always going to be important to Ruth. In 2019, she received a London Writers Award for Literary Fiction with Spread the Word to develop her novel. Her short fiction has popped up in various places – as a lead on Visual Verse, in the first City of Stories collection and most recently placed first in the streetcake magazine Experimental Writing Prize 2021. As a commissioned writer on the Science Museum's #ScienceFictions project, she's having fun mixing history, science, art and words, with an anthology forthcoming in 2022. Ruth's a card-carrying member of Waltham Forest Library Service. 
Twitter: @ru_goldsmith 
Get involved with City of Stories Home 
Read all the short stories and get top tips on writing a short story at: www.spreadtheword.org.uk/cityofstorieshome 
Sign up for a free online creative writing workshop at: www.spreadtheword.org.uk/city-of-stories-home-workshops  
Enter your story to the competition with the opportunity to be published in the City of Stories Home Anthology, be part of masterclasses and read your story at a celebration event at your local library: www.spreadtheword.org.uk/city-of-stories-home-competition   
City of Stories Home is run by London Libraries in partnership with Spread the Word and is supported by Arts Council England and Cockayne Grants for the Arts. 
Published 12 January 2022
---
---