In this interview, Aliya Gulamani of Unbound explores the launch of Unbound Firsts – a new imprint for debut writers of colour, accepting submissions until 30 November 2021.
Can you tell us about Unbound Firsts and how it came to be?
The Rethinking Diversity in Publishing report released in 2020 highlighted that the publishing industry needs to do better to address structural and racial inequalities both within the industry itself and in terms of the books being published.
Moreover, the report made it crystal clear that the onus is on gatekeepers. At Unbound we conducted an internal audit and found that despite our best intentions, we've published too few books from writers of colour. Further research into crowdfunding in general highlighted that people of colour experience racial bias in comparison to white entrepreneurs across various platforms, so we decided to create a specific opportunity for people of colour: Unbound Firsts will publish two books by debut writers every year.
What's unique about how Unbound and Unbound Firsts works with its authors?
Unbound is a crowdfunding publisher – we launch prospective books and if they get enough pledges, we publish them. Our crowdfunding approach means that writers and readers connect with each other early on in the process, creating a special relationship where both writer and reader are a part of the book's journey.
With Unbound Firsts, we want to take that a step further by creating an imprint that people can support. At its core, we want to say: here is an initiative that you can be a part of that will offer new opportunities to writers of colour. And not only writers, but readers too. Chimene Suleyman – who is part of our Unbound Firsts Advisory Board –  made a vital point that not enough publishers care about or produce books for readers of colour too, and that definitely needs addressing. We're aiming for this imprint to offer opportunities to both readers and writers worldwide.
Do you have any encouraging words for writers who are considering applying?
I fully appreciate that submitting your manuscript can be very daunting and that rejection can be disheartening, but if you're a debut writer of colour that believes in your manuscript, please send it to us. A lot of the time, writers worry about how perfect their manuscript must be – but that's what our editors are for! As part of this opportunity, we'll work with you to turn your manuscript into a finished book.
After the first round of submissions, we'll create a shortlist of six writers. After the second round, two writers will be selected for publication and the other four will receive an in-depth manuscript feedback report, plus an invite to our publishing insights workshop, where we'll offer key advice on how they can navigate the industry. They'll also have a 1-2-1 session with one of our editors on what they can do next to get their book published. With this imprint, we're aiming to offer six writers of colour the knowledge and access they need to get their books out there on bookshelves.
Do writers need an agent to submit?
No, not at all. Unbound Firsts is open to both agented and un-agented writers. This opportunity is for debut writers of colour and is open worldwide.
What sort of writing can writers submit?
We're looking for fiction (including short story collections) or non-fiction manuscripts. In terms of context, theme and content – we're completely wide open. I'd personally love to read a range of stories that reflect the range of experiences that people have – so please send us your stories. You can read the full terms and conditions of the imprint here – and can always get in touch with us if you have any questions: http://help.unbound.com/en/articles/5562863-unbound-firsts-t-cs
What is your vision for Unbound Firsts?
I'm struck by something that I believe Sunny Singh once said about the Jhalak Prize – that she hopes one day we won't need it – because the industry will have evolved to be truly inclusive that there won't be a need to create separate initiatives for writers of colour. But the harsh reality is that we're not there yet. Not even close. So, what I want Unbound Firsts to do is to bring us closer to that goal; where the books we publish really do represent the diversity of the world we live in.
But…until that happens, I want Unbound Firsts to produce brilliant fiction from talented writers for readers everywhere. I want the writers who are selected for this opportunity to feel that there is a place for them in the industry and that people care about the stories that they want to write. And just to drive the point forward, these don't need to be stories *about* being a writer of colour, these just need to be excellent stories. Which is the whole reason why I went into this industry in the first place – to read excellent stories and share them with people.
How can people support Unbound Firsts if they're interested in supporting the imprint?
We've set up three pledge levels at which people can support the imprint: as a digital subscriber, as a print subscriber or as a patron. Each level offers its own benefits – but at whichever level you decide to support the imprint, your name will be permanently inscribed in the back of the book as a supporter, and you'll receive both of our Unbound Firsts books. And psst – bookshops, we've created a Bookshop Patron level, where you can subscribe to the imprint and see the name of your bookshop printed in a special list at the front of the book!
---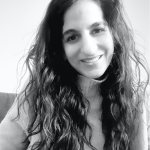 Aliya Gulamani is a Junior Commissioning Editor at Unbound and Editorial Lead for Unbound Firsts – a new imprint for debut writers of colour. She is also a reader for The Literary Consultancy and Spread the Word's literary prizes. Unbound Firsts is accepting manuscripts until 30 November from writers of colour who are previously unpublished who have a completed manuscript.
---
---