Here's a bookshop feature for all you playwrights out there! This time we venture to Sloane Square to visit The Samuel French Bookshop at the Royal Court Theatre. Samuel French has been serving the theatre community since 1830, as a play publisher, a licensing house and an independent bookseller. With thousands of titles in their catalogue, including many of the greatest plays in the English language, this shop is a must-visit for those with a keen interest in theatre, plays and performance. Spread the Word's Aliya Gulamani spoke to Simon Ellison and Cathy Thomas at Samuel French to find out more…
Aliya: Hello both, thanks for chatting with me today. The Samuel French bookshop is definitely one of a kind – and one of the few theatre bookshops in London. What do you think has contributed to Samuel French's success over the years?
Simon Ellison: In terms of the Samuel French Bookshop specifically, our booksellers are genuine enthusiasts and experts on the subject of theatre. Whether you're looking for a play to read or a new audition monologue to learn, our friendly booksellers offer a personalised service based on their wide-ranging knowledge and love of drama.
Aliya: Within your collection, you stock a wide range of play texts, including of course, plays produced at the Royal Court Theatre. In what way has the range of books you've sold changed over the years?
Cathy Thomas: Our stock selection aims to reflect the ethos of the Royal Court Theatre, so we concentrate mainly on contemporary drama, plays, and books on writing, directing and acting. We also try to keep in stock as many texts of previous Royal Court plays, where they are still in print, as we can.
Aliya: There are, thousands and thousands of plays in your archives. Are there any particular favourites that you have, and if so why?
Simon: Githa Sowerby and Cicely Hamilton deserve to be better known. Both were brilliant female writers, ahead of their time, who were writing meaningful plays with challenging roles to perform.
One of the biggest draws of the Samuel French Bookshop is how affordable everything is – many scripts for current productions start at just £4 and for past productions, £5. On top of this, students receive a 10% discount. Can you tell me a bit more about this incentive and the impact it has had?
Simon: The theatre does not produce programmes, so instead we sell the text of the play as a programme at a fraction of the retail price. We try to keep the price of both current and previous programme play texts as low as possible, with the aim of inspiring future theatre-goers and makers.
Cathy: The Bookshop, both in its current home at the Royal Court and in its previous location on Fitzroy Street, has long been a place where students can read, browse our bookshelves, and ask for advice on plays to perform. A student discount can help to make scripts that bit more accessible – and we also run regular offers for students on drama books and scripts for their courses too.
Aliya: You must get some very starry visitors attending the bookstore – are there any particular memorable visits that stand out?
Cathy: We love meeting the many playwrights who visit the theatre building; meeting a writer whose show is playing on the Royal Court stage is always a joy. Similarly, we enjoy chatting with those actors who are performing in Royal Court shows, as well as the creative teams helping to put them on stage.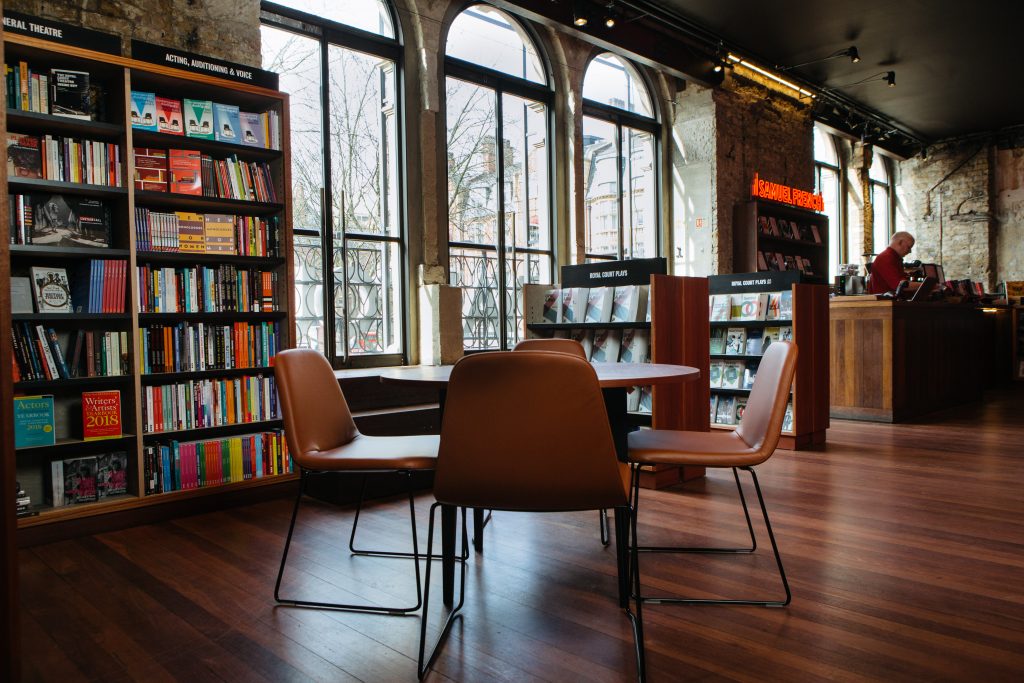 Aliya: I can see that you've ran a brilliant range of events at the Bookshop – are there any coming up that we should pop into our diaries?
Simon: That's right, we've hosted several free Q&A events with playwrights as well as book signing events, and we've also offered some special late-night shopping events too. We're in the middle of planning future events at this very moment, so to make sure you're among the first to hear about future Bookshop events and offers, sign up to our mailing list.
Cathy: Coming up is a Q&A with Jasmine Lee-Jones, writer of seven methods of killing kylie jenner, at 6.15pm on Thursday 25 July. The event is free and there's no need to book – so anyone who is interested in playwriting and performance is very welcome to attend.
Aliya: As someone who loves the theatre, I feel that it's becoming increasingly diverse and inclusive. It also seems more experimental than before in the way it plays with genre, form and performance. And yet, there is something timeless about going to the theatre too. Would you agree with this? 
Cathy: Sitting in an auditorium with hundreds of strangers, all experiencing the same event at the same time in the same space, creates a special sense of community and offers a unique experience – and this sense of shared storytelling is far from new, even if the form and messaging of a particular show is ground-breaking or new in your experience of it. Live performance is hugely special, and we're proud to support it.
Aliya: And finally, can you tell us an interesting feature or lesser-known fact about the shop?
Simon: On certain performance nights, for example if there's a show running in the Jerwood Theatre Downstairs, we'll close our main Bookshop at 5.30pm, and then at 6pm will open a smaller Bookstall in the downstairs Bar & Kitchen. So you can enjoy a drink while you decide what to buy!
Photography credits: Helen Murray
Published 11 July
---
---