West End Lane Books is a family-owned business in West Hampstead selling books since 1994. As well as stocking a brilliant range of books, West End Lane Books runs regular author events, has its own scented candle (yes, you read that correctly), writes a regular blog on all things book-related and has recently announced that the bookshop can be booked for hen parties and baby showers. And – their Twitter account is brilliant. We are – of course – delightfully intrigued. Spread the Word's Aliya Gulamani spoke to Danny Van Emden to find out more…
Aliya Gulamani: Hello Danny. Thanks so much for your time today. So – to start us off, can you tell me a bit about the origins of the bookshop and how it all began, please?
Danny Van Emden: Hi! The shop was set up 25 years ago by the Fergiani family, who had previously run bookshops in Libya and across north Africa. The Fergianis, a family of true bibliophiles, left Libya when Colonel Gadaffi, not known for his love of books and readers, came to power in the 1960s. They set up West End Lane Books in 1994 and its sister shop, Queens Park Books several years later. The original founder and head of the family Samir died several years ago but the business is now owned by his son Ghassan, who also runs Darf Publishing in the same building as West End Lane Books and which specialises in fiction in translation.
Aliya: Wow – fast forward to modern day, and the bookshop is doing brilliantly. This year you celebrated 25 years in business. Has it been a bit of a battle to thrive as an independent bookshop in the current climate?
Danny: We are very, very lucky to live in a neighbourhood where people really value the high street and want to support it. That said, whereas 10 years ago, the bookshop simply sold books, these days we run a vigorous programme of author and community events in and out of the shop and are constantly on the lookout for ways to add value to our customers' experience with us. Social media has been a key part of how we've broadened our reach, as has partnering many local schools, cultural centres, publishers, and so on. It is truly a 24/7 business!
Aliya: What is your particular role in the bookshop and what are your particular highlights?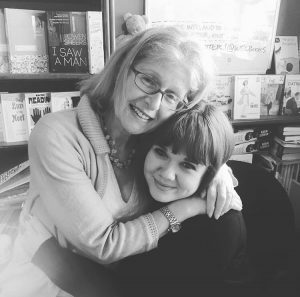 Danny: My role in the bookshop is deputy manager/children's buyer/events/PR and marketing, which leaves my partner in crime, our lovely manager Kim Morris, free to focus on the throughput of stock in our shop/managing the rest of our fab team.
The highlight of my time here has been introducing local school kids to authors, welcoming some beyond fabulous authors to our shop and also the development of our Twitter feed which has really spread the personality of our shop way beyond our postcode and allows us to reach customers and authors direct.
Aliya: You look as if you've had a brilliant series of events so far in 2019 – including "locked in" parties! How do you come up with ideas for events and what have you got coming up next?
Danny: Kim and I spend as much of our day as possible brainstorming ideas. I am always on the lookout for great author talks and launches in the shop and other members of the crew also chip in ideas, for instance our youngest staff member, Heidi, came up with the idea and now orchestrates our Bookshop Quiz Nights. We run these a few times a year and have a Hallowe'en Special coming up. As with the Lock-Ins, it's a great excuse to share some social time with our customers.
Aliya: We're pretty intrigued by your recently launched hen party and baby shower events – which you announced in August 2019. Have you had much interest?
Danny: Loads!
Aliya: And of course, as everyone loves the smell of books – we need to know all about the bookshop candle. Tell me more on how this started and what the candle is actually made of please?
Danny: The Bookshop Magic candles came about because Kim met a local apothecary who was producing gorgeous candles using all natural products and oils; she felt it was a great fit for our shop and we began to stock them. I asked if she could make a bespoke candle just for us, she agreed and Kim and I chose the scent which is a heavenly blend of rose, jasmine, ylang ylang and camomile…you should try it!
Aliya: West End Lane Books has a great reputation for their interactions with customers in the shop and online – we love your Twitter feed – which details the mundane, ordinary and astonishing encounters. What have been your most memorable this year?
Danny: Oh gosh…now you're asking. Our most popular tweets tend to be about children and the adorable filter-free way in which they talk to us…that and the bonkers requests which genuinely take place in our shop every day. Honestly, it is a very rare day that Kim and I don't cry with laughter at some point.
Aliya: And finally, can you share an interesting feature or lesser known fact about the shop please?
Danny: OK…one day when we were unpacking boxes of books from Thames & Hudson, I remarked to Kim that Thames and Hudson would be great names for a pair of goldfish… within 5 mins I had posted a "Major Sponsorship Opportunity" tweet  offering publishers naming rights if they bought us some goldfish and a tank. Within 10 mins the lovely people at Canongate got in touch, so we now have two darling Bookshop Goldfish: Canongate and Faber.
They are our pride and joy and we love them to bits. Plus, they are extremely popular with customers of all ages. We threw a party on their first birthday; they will be two on 5 Dec if you want to send cards!
Published 7 October 2019
---
---