Happy National Storytelling Week writers! For our third feature celebrating independent bookshops in London, we've travelled north of the river to the Big Green Bookshop in Wood Green. This shop was set up by Tim West and Simon Key in 2008 after launching a campaign to set up a new bookshop in the area. Over the years, as well as the joyful business of selling books, the Big Green Bookshop has organised local walks, stand-up comedy, live music, songs for toddlers as well as author visits, book signings. More recently they hit the headlines with their proposal to set up an alliance of independent bookshops.
Spread the Word's Aliya Gulamani spoke to Simon to find out more…
Aliya Gulamani: Let's start with the name of the bookshop – how did you come up with the 'Big Green Bookshop?'
Simon Key: Well, when we decided to open a bookshop, we thought it'd be good to let as many people know as possible, so we contacted all the local schools and told them that a new bookshop was going to open in Wood Green and that we wanted them to come up with a name. We got over 360 different suggestions. The we invited a reporter from the local newspaper to help us decide. After a long and heated debate in the local pub, we finally decided on The Big Green Bookshop. Here's a link to our blogpost describing the judging process.
I still like it.
Aliya: Your bookshop has so much to offer to its customers with such a wide range of events running throughout the year. What have been your favourites so far and what would you love to host in the near future?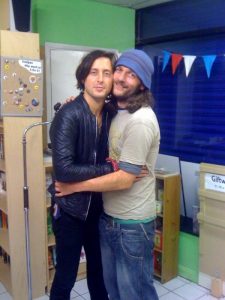 Simon: We try to offer the area stuff that perhaps wouldn't happen if we weren't here, so yes, we have managed to pull off some rather spectacular events.
I think the banquet we held to celebrate the publication of Hilary Mantel's "Bring Up The Bodies" was one of the more memorable ones. It was also pretty special to have Caitlin Moran at the shop. Our comedy nights are always brilliant and we've been very lucky to have some amazing comedians perform here. Shappi Khorsandi has been a couple of times and absolutely brought the house down.
However, personally, the most memorable night I can remember was the live performance by Carl Barat from The Libertines.
I'd loved the band from the moment I first heard them and it was probably the most surreal experience to see Carl in my shop, performing some of their songs. I'll never forget it.
Aliya: You do a lot of engagement with local schools, where did this interest come from and can you tell me a little bit more detail about what it is that you do?
Getting (and keeping) kids reading is so important, and with the schools having their budgets cut and their targets made more and more inflexible, not to mention library closures, anything we can do to nurture a love of reading at a young age, we will do.
We contacted and visited all the schools in the area (about 70 at the time) when we first opened and asked them what they wanted from a local bookshop. Since those early meetings we've developed close relationships with many of these schools and regularly work with them to promote the love of reading. One of our proudest achievements has been to facilitate the introduction of over a dozen Patrons of Reading in local schools. These patrons, who are mainly authors, have got to know the kids at the schools and work tirelessly to show how magical books can be.
Simon: Last year, the Big Green Bookshop made the papers – an opportunist thief stole £600 from behind the counter. However, an online campaign saw that amount and more donated to the bookshop – that must have been incredible to witness?
Wow. Yes, that was pretty special. It was a horrible feeling having had the money stolen, and it would have made life very difficult that month. But Sam Jordison, a friend of the shop and a Guardian journalist started this crowdfunder to help get the money back for us. It took off rather spectacularly and at the end of it Sam was able to give us over £5,500!
The most touching thing was all the messages of support from people all over the world, who just wanted to help us out. I cried a lot that month!
Aliya: Speaking of online campaigns – the Big Green Bookshop twitter account is absolutely hilarious! How important is it as a bookshop to engage with the online community and why are you so frequently on trains?!
Simon: Yeah, I love social media and Twitter specifically. It allows us to get stuff out there to a much wider audience. We're very lucky that, because of this, we now have customers all over the world, who seem to like our Twitter feed and consider us their "local" bookshop. We take orders on Twitter and this has been a real boost to our revenue.
It's also great to be able to advertise our events there, as it reaches so many people.
I don't talk about the bookshop all the time (actually, I rarely talk about the bookshop on Twitter!), but just tweet what I like. I think people can see through corporate social media accounts and hopefully they can see the human side of the bookshop when I tweet.
Also, I have never been ON a train.
I am always IN a train. I live a few miles away from the shop now, so have to do a 20 minute commute to get to the shop. That's why you will often find me in a train.
Aliya: In fact, your own tweets led to you getting a parenting book deal, congratulations! Can you tell me a bit more about this?
Simon: That was amazing!
I started doing these tweets each evening about trying to get my kids to sleep (and failing miserably). People seemed to like them and one morning I got a message from the publisher Head Of Zeus, saying they thought these tweets would make a great gift book. So I had a meeting and sure enough, they weren't joking! I was very lucky that I was able to join forces with the amazing illustrator Moose Allain, who brought these tweets to life. The book was published in November. It's called "We're Asleep Dad". You should buy a copy.
Aliya: Aside from its brilliant collection of books, can you tell us an interesting feature or lesser-known fact about the shop?
Simon: We've said it before, but this year it's really going to happen. Look out for the Big Green Bookshop Youtube Channel. COMING SOON!
Published 29 January 2018
---
---