As part of Spread the Word's mission to celebrate London's literary talent, we've launched a new feature showcasing some of the capital's best bookshops. We kick off with Gay's The Word, who gave us so many fantastic recommendations for our online #LGBTHeroes feature, created to celebrate LGBT History Month in February 2017.
Located in Bloomsbury, Gay's The Word was founded on 17 January 1979 by members of Gay Icebreakers, who were inspired by the growth of lesbian and gay bookstores in the USA. Since then it has accumulated a treasure trove of LGBT+ literature from across the world.
More than just a bookshop, Gay's The Word has been used as a safe space for members of the LGBT+ community, in which they can meet, share ideas, hold meetings and widely publicise LGBT+ events happening across the country. The 2014 film Pride, directed by Matthew Warchus, specifically highlighted how the shop served as a meeting place for Lesbian and Gays Support the Miners in London in the 1980s.
Read on to find out what happened when Spread the Word's Aliya Gulamani spoke to Uli Lennart…
Aliya Gulamani: To date, Gay's The Word is the only specifically lesbian and gay bookshop in the UK – how does this make you feel?
Uli Lennart: Well, there have been a number of LGBT+ bookshops in the UK over the years such as 'West and Wilde' in Edinburgh, 'Out' in Brighton and the much missed 'Silver Moon' women's bookshop in London. Gay's the Word was the first and today is the last standing lesbian and gay book specialist. So while we are very proud of the shop and how brilliant it is that we are still going – and going very strong at the moment – I suppose it makes us feel sad that there aren't others sibling bookshops in the UK. We'd much rather there were a slew of other physical queer bookshops out there. There has been a real rash of closures across the world in recent years, particularly in America. Manhattan, Washington, the Castro; they've all seen their independent LGBT+ bookshops close down. There are various reasons for these closures, but economic gentrification – i.e. unrealistically inflating rents – is a major issue. And Amazon of course; they have had a big impact on independent book retailers. There is a widespread shrinkage and dilution of the LGBT+ scene generally across the world. We are losing some iconic and vital spaces. It sucks but if people don't use spaces they disappear, and sometimes even if they do mercenary developers get their hands on them anyway.
Aliya: Tell us a bit more about how the shop is managed on a day-to-day basis and what your role is? 
Uli: I'm the assistant manager. I've been here for 12 years. I run the bookshop with my colleague Jim MacSweeney, who has been at Gay's the Word for 27-ish years. I tend to run around a lot going from one task to another: serving and talking to customers, then doing some social media, then unpacking books and merchandising, then changing a window, then getting a carry-case of books together to go and run a bookstall at the British Library. I describe the task of tending a bookshop, of maintaining the flow of stock, as like an endless and really big game of Tetris, but with books. And then if I'm pretty much on top of work stuff I might event get a bit of time to just sit at the sales desk and read for a bit. I review books for a few magazines so I've always got a book I should have finished yesterday.
One area I tend to oversee is our book events. We have a really full, interesting diary of events throughout the year, although we quieten things down over the summer and winter. I love events, that communion between writers and readers, and how different they all are depending on the book topic and readers. Running events is sort of like piloting a homosexual Tardis, you could end up anywhere – 70s New York, Georgian London, a queer inter-species romance in the distant future – anywhere. Recent events this year's have included: Fighting Proud: The Story of Gay Men Who Served in WWI & WWII, Bold Strokes Lesbian Fiction Prose Slam: One Night, Five Authors!, Not Guilty – A New Oral History, Trans Like Me with CN Lester, Pride & Joy – A Guide for LGBT Parents, A Queer Little History of Art by Alex Pilcher, Spacegirl Pukes Relaunch Party, Jeffrey Weeks & VG Lee – History Month Event, Queer Domesticities with Matt Cook, and readings from Rosie Wilby, Sylvia Brownrigg, Neil Bartlett, Rosie Garland, Jake Arnott and Tim Murphy.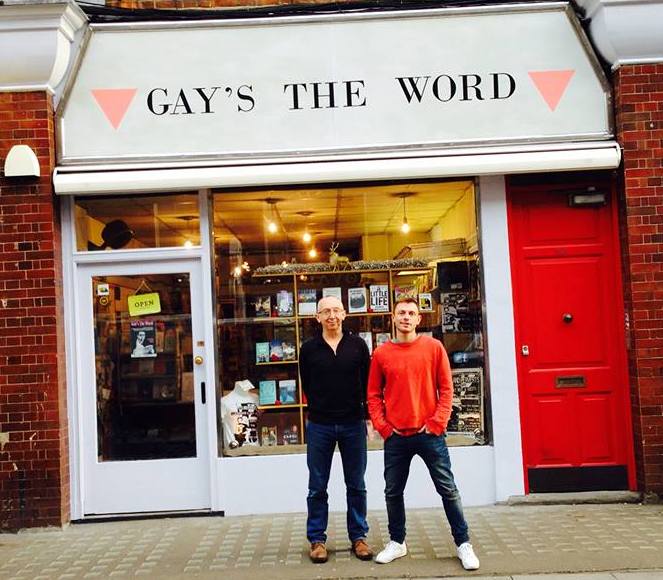 Jim MacSweeney and Uli Lenart outside Gay's The Word located at 66 Marchmont Street in London.
Aliya: Over the years, have you noticed any interesting trends in the publishing industry?
Uli: Jim might be better to ask about this than me because his awareness covers a wider period, but I suppose the rise in range of trans-relevant titles getting published, an increase in LGBT+ YA and pro-diversity kids books. But I guess calling these trends is a bit inaccurate. There are more like developments. Where there used to be more specialist LGBT+ publishing houses, now queer representation in books is more diffused across the major publishing houses.
Oh, and there has been the growth of self-publishing, which in one sense has democratized publishing though it can be tricky to untangle the wheat from the chaff, quality-wise. But it has given people who perhaps a mainstream publisher wouldn't touch the chance to get their work out there and that can occasionally lead to a book deal down the line if the work is strong. We tend to just stock work form established publishing houses as we are a small space and hardly have room for all the books we stock as it is.
Aliya: Looking particularly at LGBT+ voices in literature, do you feel as if there are more places for LGBT+ writers to be platformed and celebrated than before?
Uli: Well yes, of course, if you look back, well not even that long ago, LGBT+ visibility has risen and risen. Spare a thought for those who went before us who had no accessibility to literature to reflect our sensibility and culture back to us. No role models, no help-lines, no representation. Today things are different. However I do wish that whoever the hell it is in publishing houses that are responsible for writing the blurb on the back of books would stop trying to conceal the fact that they have LGBT+ content. There is so often like literally no mention at all of it on the back of books even when it is hugely central to the story. It happens all the time, even with major award-winning novels. After a while it gets a bit annoying.
Aliya: What are your favourite books that have been published in the last year?
Uli: Ministry of Upmost Happiness by Arundhati Roy, Tin Man by Sarah Winman, Insomniac City by Bill Hayes, Christodora by Tim Murphy, Days Without End by Sebastian Barry, Good as You by Paul Flynn, Night Sky with Exit Wounds by Ocean Vuong, House of Names by Colm Toibin. I'm really looking forward to the publication of The Sparsholt Affair by Alan Hollinghurst and Logical Family, the first memoir by gay author and icon Armistead Maupin. Both are out in October. For lesbian fiction fans I'd suggest Pages for You by Sylvia Brownrigg, and her follow up novel Pages for Her. She's a brilliant writer.
Aliya: Quite a few famous faces have visited Gay's The Word over the years – are there any that are especially memorable and why?
Uli: Yeah, we get a lot of well known people coming in and obviously we've had some real legends read here over the years. The poet Allen Ginsberg for one. But I'm not going to dish on who our famous regulars are now because it's a bit cheap to do that and mysteries make life more interesting.
Besides, every queen to saunter into this place is a star.
Aliya: Of course, Gay's The Word is more than a bookstore – it has a very strong sense of community. What's happening at the moment and what should new visitors look out for? 
Uli: The GTW Lesbian Discussion Group meets every Wednesday from 8pm-9pm.The London LGBT Bookgroup meets monthly at Gay's the Word. More details about topics and meeting dates for the monthly Trans support group, TransLondon, can be found on their website – they meet on the third Tuesday of the month from 7.30pm.
Oh, and we're doing signings with Alan Hollinghurst and Armistead Maupin in October – check out our Facebook event page for details.
Aliya: And finally, can you tell us an interesting feature or lesser-known fact about the shop?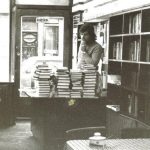 Uli: It was founded by a man called Ernest Hole, which is just genius. Ernest is going strong, living the life in Spain (thanks Ernest for setting up this special place!).
And we have lots and lots of straight customers. We are very diverse, you know!
Instore photo credit: Dom Agius
Published 7 August 2017
---
---