Taking place across all 33 of London's library services from February to June 2022, City of Stories Home celebrates libraries as the place to make and share stories in our local communities. 
London writers Amer Anwar, Natasha Brown, Jarred McGinnis and Caleb Azumah Nelson have created read, think and do top tips to inspire you to write your own short story on the theme of home.  
Top tips on writing a short story by Caleb Azumah Nelson 
READ 
I'm always on the lookout for short stories which render both characters and the worlds they occupy with a depth that goes past sentence level, towards something you might feel. The detail of these of stories create a texture that a reader won't always be able to explain but will be touched by. The Heart of our Our Enemies (Dantiel W. Moniz) and All The People Were Mean and Bad by Lucy Caldwell both do this.  
The Hear of Our Enemies by Dantiel W. Moniz: https://yalereview.org/article/hearts-our-enemies 
All the People Were Mean and Bad by Lucy Caldwell: https://www.theguardian.com/books/2021/oct/19/lucy-caldwell-wins-bbc-national-short-story-award-for-masterful-tale 
THINK 
Know and cement your characters 
Spend time with your characters, understanding what they might do, where they might go. Afford them the possibilities of their reality, and ask what might happen beyond these possibilities. Encourage your characters to roam, put them in situations where they are tested. Place them in the unfamiliar as this is where you find out the most about people. Nudge your characters towards vulnerability as this is where connection – both between characters and with the reader – might be forged. Characters don't necessarily need to be likeable but you do want to be intrigued by them, do want to spend the length of a short story with them.  
Don't feel like you need a beginning, middle, end 
I've often described short stories as 'photographing lightning'. It's difficult to cram a traditional story arc into a short story; instead opt towards conveying a feeling, or specific moment in a character's life. Utilise tone and mood, rhythm, refrain and perspective to capture these moments and expand on them. Short stories are short in length but can be expansive, can render whole worlds.  
Revise! 
Editing is a difficult yet beautiful process. It's tough to let go of words you already committed to the page, but in this rewriting process is where the work can truly emerge. Allow yourself some time and space away from the work, then come back to it fresh. Allow the work to be something you couldn't have imagined when you first set out to write.  
DO 
Writing exercise: afford beauty to the ordinary! Your character (or you) is making a journey they do regularly – a bus, or train, or walking – what do they see? What do they feel?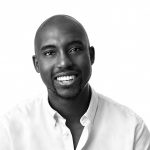 About Caleb Azumah Nelson 
Caleb Azumah Nelson is a twenty-seven-year-old British-Ghanaian writer and photographer living in South East London. His photography has been shortlisted for the Palm Photo Prize and won the People's Choice Prize. His short story, PRAY, was shortlisted for the BBC National Short Story Award 2020. His first novel, OPEN WATER, won the Costa First Novel Award, was shortlisted for Waterstones Book of the Year, and longlisted for the Desmond Elliott Prize and the Gordon Burn Prize. His second novel, SMALL WORLDS, will be published in May 2023.  
Twitter: @calebanelson 
Get involved with City of Stories Home 
Read all the short stories and get top tips on writing a short story at: www.spreadtheword.org.uk/cityofstorieshome 
Sign up for a free online creative writing workshop at: www.spreadtheword.org.uk/city-of-stories-home-workshops  
Enter your story to the competition with the opportunity to be published in the City of Stories Home Anthology, be part of masterclasses and read your story at a celebration event at your local library: www.spreadtheword.org.uk/city-of-stories-home-competition  
City of Stories Home is run by London Libraries in partnership with Spread the Word and is supported by Arts Council England and Cockayne Grants for the Arts. 
Published 12 January 2022
---
---