Taking place across all 33 of London's library services from February to June 2022, City of Stories Home celebrates libraries as the place to make and share stories in our local communities. 
London writers Amer Anwar, Natasha Brown, Jarred McGinnis, Caleb Azumah Nelson, Lizzie Damilola Blackburn, Ruth Goldsmith, Iqbal Hussain and S. Niroshini have written stories on the theme of home to inspire Londoners to get creative and write their own story.  
We Sleep in These Sheets by Jarred McGinnis 
I keep bringing divorces home, dropping them on our bedspread for her to find. 'What's this?' She asks, more curious than disgusted.  
'Remember the lady, the one with the twins.' 
'They have curly hair?' 
'The twins? Yeah. Kind of weird looking. Like aliens.' 
'Cute though.' 
'Yeah, cute. Cute aliens.' 
'Cute aliens,' she agrees. We both stand and look at it. I become embarrassed at my compulsion to bring these inside the house as if I am beckoning misfortune. At the centre of the bed, it barely makes an indentation.  
She asks, 'Do you know what happened?' 
'Twins, right? She was always wore out. Three years, no help, no childcare. I only saw the husband on the weekends.' I reach out and lift it by a shattered wing — I think it's a wing — and bring it to the bathroom. The eye is a white blank and the meat is always darker red than you imagine. It takes a couple good flushes. The wreckage of four lives swirls and spins, an Old Testament angel, then it goes down. There is no trace. Not even a smear to remind me. 
The next day, I do it again. 
'This isn't going to happen to us,' she says. 
'Look at it. They were together since they were twenty, like us. They had a ten-year-old boy together.' 
'I'm going to have to wash the sheets again,' she says. 
I tell her the story, pointing out what I think is a coil of intestine and a shatter of bone. Over the years, they forgot to be a couple. The only thing they did together were things with the kid. They had no shared interests, which at first was bothersome until it wasn't. It eventually didn't matter. They both had busy jobs, but they were at all the recitals together. They were good parents. That felt enough. But it wasn't. Then some woman at his office flirted with him and he flirted back. Actually, I don't know if that is true. His exact words were 'and I started fucking around'. I'm projecting. I'm trying to communicate something to her. I am hoping she will hear.  
'You have to stop doing this.' 
I nod because she is right.  
I lie beside her. I put my hand on her hip. She's reading her book. I kiss her. No response. It's been a long day for both of us. I should probably go to sleep. Instead, I'm crouching in the garden. A handful of grass comes up like a scalp hunter's prize. I scratch at the black wetness and the pulsing red veins of worm. 
I try not to get dirt on my pyjamas, because she will complain, but it is impossible. I reach inside myself, through my navel, hunting for ours. Its eye searches behind a pink, closed lid. Alive but weak, it nudges at the bottom of the hole. I cover it, patting down the soil, afraid of what might grow here.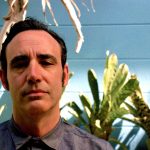 About Jarred McGinnis 
Jarred McGinnis' acclaimed debut novel 'The Coward' was published by Canongate (July 2021). It was chosen for the BBC Radio 2 Book Club and BBC 2's 'Between the Covers' show. In 2021, he was chosen by The Guardian as one of the UK's ten best emerging writers. He is the co-founder of The Special Relationship, which was chosen for the British Council's International Literature Showcase. He was the creative director for 'Moby-Dick Unabridged', a four-day immersive multimedia reading of Herman Melville's 'Moby-Dick' at the Southbank Centre, involving hundreds of participants. He also has a PhD in Artificial Intelligence, but mostly he inspires the able-bodied by using public transport and taking his daughters to the playground. 
Get involved with City of Stories Home 
Read all the short stories and get top tips on writing a short story at: www.spreadtheword.org.uk/cityofstorieshome 
Sign up for a free online creative writing workshop at: www.spreadtheword.org.uk/city-of-stories-home-workshops  
Enter your story to the competition with the opportunity to be published in the City of Stories Home Anthology, be part of masterclasses and read your story at a celebration event at your local library: www.spreadtheword.org.uk/city-of-stories-home-competition  
City of Stories Home is run by London Libraries in partnership with Spread the Word and is supported by Arts Council England and Cockayne Grants for the Arts. 
Published 12 January 2022
---
---