Taking place across all 33 of London's library services from February to June 2022, City of Stories Home celebrates libraries as the place to make and share stories in our local communities. 
London writers Amer Anwar, Natasha Brown, Jarred McGinnis, Caleb Azumah Nelson, Lizzie Damilola Blackburn, Ruth Goldsmith, Iqbal Hussain and S. Niroshini have written stories on the theme of home to inspire Londoners to get creative and write their own story.   
Insta Story by Lizzie Damilola Blackburn 
Phone in hand, she strolls into Boots towards the makeup section, passing identical-looking bright display stands: trays of neon, metallic eyeshadow; round palettes of smeared foundation: ivory, beige, the occasional brown.  
She stops at the stand with the most variation of mocha, scans the line of lipsticks, picks up flamenco and cherry. Hovering her phone over her palm, she takes a photo, uploads it to her Insta Story. The caption: 'Hmm. Which one should I go for?' She goes for the flamenco. 
Next stop, M&S, straight to the wine aisle where she grabs a bottle of Chardonnay. Three U-turns later, she locates the plastic flutes and heads to the self-checkout tills. She scans the items, one after the other, places them on the weighting-scales. She takes out her phone, surreptitiously, takes a photo.  
Someone's getting spoilt today, she types (insert winking face  
emoji). She uploads it to her Insta Story.  
All the way to the car park, her phone buzzes in her pocket. She enters her car, puts it into gear, back to neutral again. She gets out her phone.  
Thirteen reactions, mostly from people who she doesn't know.  
Xina_1990: Enjoy your date! 
She places her phone in the cupholder and drives off.   
The nurse does her duty of leading her to the room; the smell of hot rice pudding which once made her hungry now pushing bile up her throat. She stands by the door for a moment before perching on the chair beside the bed. She wills herself to smile, places a hand over the frail, veiny one. The same hand that clung to her shuddering shoulders when she revealed she was getting a divorce. 
'Happy birthday, Ma.' Her voice cracks.  
Through milky, blood-flecked eyes, her mother stares at her, bewildered. Truthfully, she too, barely recognises her mum, what with her winter white hair and gaunt, hollow cheeks dappled with brown skin tags and liver spots. A young Dorothy Dandridge, she was famous for her dinner parties. Her stiletto heels leaving square grooves on the pale carpet, as she tottered around the table, topping up wine glasses.    
The memory brings a smile to her face. She will celebrate her mother's birthday; the mother she knows.   
'I brought you some of your favourite things,' she says, placing the recently purchased items on the table.  
Her mother blinks, stares.  
She rests her hand over hers again.  
And when her mother's eyelids become too heavy and flutter close, she slithers it away and reaches for the lipstick. As light as a feather duster, she dabs it on her mother's cracked lips, the flamenco, gradually, illuminating her former self.  
Channelling her mother, she pours Chardonnay into a plastic flute. Gingerly, she leans against the headrest as she holds it by the spine. She reaches for her phone, raises it, takes a few snaps.  
She stares at one; tears prick her eyes.  
Blowing out her cheeks, she taps on Instagram, gloop bubbling in her stomach. She closes it.  
Some moments are just meant for you.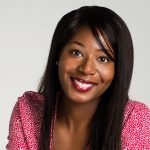 About Lizzie Damilola Blackburn 
Lizzie Damilola Blackburn is a British-Nigerian writer, born in Peckham, who wants to tell the stories that she and her friends have longed for but never seen – romcoms 'where Cinderella is Black and no-one bats an eyelid'. In 2019 she won the Literary Consultancy Pen Factor Writing Competition with the early draft of 'Yinka, Where is your Huzband?', which she had been writing alongside juggling her job at Carers UK. She has been at the receiving end of the question in the title of her novel many times, and now lives with her husband in Milton Keynes. 
www.lizziedamilolablackburn.com  
Get involved with City of Stories Home 
Read all the short stories and get top tips on writing a short story at: www.spreadtheword.org.uk/cityofstorieshome 
Sign up for a free online creative writing workshop at: www.spreadtheword.org.uk/city-of-stories-home-workshops  
Enter your story to the competition with the opportunity to be published in the City of Stories Home Anthology, be part of masterclasses and read your story at a celebration event at your local library: www.spreadtheword.org.uk/city-of-stories-home-competition  
City of Stories Home is run by London Libraries in partnership with Spread the Word and is supported by Arts Council England and Cockayne Grants for the Arts. 
Published 12 January 2022
---
---