Theresa Lola is Spread the Word's Young People's Laureate for London, working to engage young people in poetry throughout the capital. In her latest blog, to mark the start of 2020, she updates us with news about her residency at Wellcome Collection, Inua Ellams' RAP Party, Roger Robinson's 'A Portable Paradise' and Positive News Magazine. 
Happy New Year! January tends to be the month of endless resolutions and re-adjusting. My resolution this year is to celebrate more, nothing is too small, we can be our most fervent encouragers. Over the Christmas period applications opened for Wellcome Collection's RawMinds 2020 Poetry Project, my third residency as part of the laureateship, and first in 2020. The application deadline was on January 13, 2020, and opened to 14-19 year olds. The workshop is scheduled to commence at the start of February, and end at the start of March. Five of the eight workshops will be taking place at Wellcome collection, the other three will happen during two-night writing retreat to the Kent countryside. We will be exploring a range of topics from identity, to home to climate change, wellbeing, some workshops will include visitations from experts. I am eager to meet the budding young poets, and I look forward to updating you all in the next blog post.
Before signing off on emails and all things work, the last poetry event I attended in December was Inua Ellams' Rap Party. Rap Party is a night of poetry and HipHop, ten poets read on the night, including Oshanti Ahmed, Jeremiah Brown, Wayne Holloway-Smith. It also marked my last time as the event co-producer for Rap Party. Working with Inua Ellams was a fulfilling experience I will cherish. The event was at Oval House, marking Oval House's last event in Kennington before their anticipated move to Brixton to a bigger space with more accessibility and opportunities for writers and theatre practitioners.
New year means new books to read, and the poetry collection I am currently reading is 'A Portable Paradise' by Roger Robinson. I have to say I have been blown away, it is deserving of all the praise it has been showered with. Unsurprisingly the collection has been shortlisted for the 2019 T.S.Eliot Prize. The poems reflect on the stories of the missing, the forgotten, and the due to be remembered. The common theme is the search for paradise, and many things are revisited in the process, from Grenfell to Windrush to family.
On the topic of reading, I would like to extend my thanks to Positive News magazine for including me as one of '100 people and organisations bringing hope in 2020', but more importantly recognising the role of poetry in discussing mental health with young people.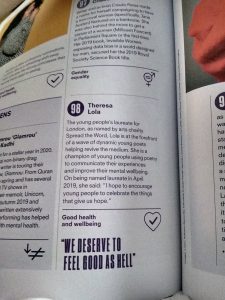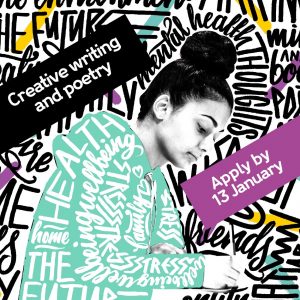 ---
Theresa Lola is a British Nigerian poet and facilitator. She is the 2019/2020 Young People's Laureate for London. She has held residencies at St Paul's Cathedral and Bethlem Musem of the Mind and been commissioned by the Tate. She was the joint winner of the 2018 Brunel International African Poetry Prize and was shortlisted for the 2017 Bridport Poetry Prize. Her debut poetry collection 'In Search of Equilibrium' was released in February 2019 published by Nine Arches Press, and is described as a 'a glorious hymn to being alive and wounded.'
Published 13 January 2020
---
---