Theresa Lola is Spread the Word's Young People's Laureate for London, working to engage young people in poetry throughout the capital. In her latest blog, she updates us on her residencies, collaborating with other poets, what she's reading at the moment and her brand-new campaign, #MyMentalHealthJourney…
September marked six-months in my Young People's Laureate for London role, and I am reminded that time flies but setting goals makes the journey more fruitful. Last month the #MyMentalHealthJourney campaign launched and the response has been encouraging. Spread the Word have uploaded some of the poems online, do have a read and if inspired feel free to share your poems too.
There are two books I have been diving into the past few weeks; 'Let Me Tell You This', the debut collection by Nadine Aisha Jassat and 'small inheritances' by Belinda Zhawi. Nadine Aisha Jassat was recently named as one of 30 inspiring young women under 30 in Scotland. The powerful poetry collection tells a story of racism, gender-based violence and restoration. Though I have read Belinda Zhawi's pamphlet before, I find myself revisiting the brilliant poems which look at a person existing in two places, London being one of them.
During August I spent a few days in Selfridges… for poetry! I was in a pop-up shop set up by Cartier for their limited line Clash de Cartier. Through the Poetry School they booked poets to write personalised haikus on typewriters for their customers. Some of the poets I got to write with were Rachel Long, Keith Jarrett and Spread the Word's Chair of Trustees Rishi Dastidar.
In early September, I attended a Studio Saatchi Late at Saatchi Gallery, a programme created with Centrepoint, UK's leading charity for homeless young people. This exhibition explored the history of rave culture and was created by young people under the guidance of facilitators, including Adam Kammerling. Kammerling also performed on the night; he's an electrifying performer, it was a highlight.
The laureateship includes the opportunity to carry out residencies, two residencies are confirmed, and I am elated. The first residency is at St Paul's Cathedral in late September, I will be working with students from two schools, we will explore what hope means and ways the Cathedral has or could have signified hope for people. The second residency is at the Free Word Centre, a night of poetry and illustration on the 18 of November imagining the future of housing for young people. I will be joined by Amaal Said and Seraphima Kennedy with illustration by Olivia Twist. I end this to note with,  aside from the return of the cold weather, I look forward to what the next six months hold.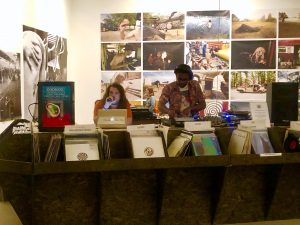 (Top image of Keith Jarrett and Theresa Lola, bottom image of Studio Saatchi Late at Saatchi Gallery with Centrepoint)
---
Theresa Lola is a British Nigerian poet and facilitator. She is the 2019/2020 Young People's Laureate for London. She has held residencies at St Paul's Cathedral and Bethlem Musem of the Mind and been commissioned by the Tate. She was the joint winner of the 2018 Brunel International African Poetry Prize and was shortlisted for the 2017 Bridport Poetry Prize. Her debut poetry collection 'In Search of Equilibrium' was released in February 2019 published by Nine Arches Press, and is described as a 'a glorious hymn to being alive and wounded.'
Published 26 September 2019
---
---