Interested in seeing new and exciting work? Intrigued by the possibilities of live literature? Keen to hear from new LGBTQ+ voices? The Pow! showcase is coming soon…
Earlier this year, Pow! was launched. A new initiative from Nick Field in association with Spread the Word and Wotever World and funded by Arts Council England, Pow! offers London-based LGBTQ+ creatives (aged 18-25) who want to write and perform their own work, the opportunity to develop their practice and explore the possibilities of live literature.
Eight applicants were selected to attend a series of free workshops tailored specifically for young LGBTQ artists, aimed at developing their voice, their work and practice. They had the opportunity to work closely with a number of high-profile creatives amongst them, associate artist Katayoun Jalili, guest artists Hannah Silva and Malik Nashad Sharpe (alias Marikiscrycrycry) and Keith Jarrett.
Alex Marlow, Alex Roberts, Lizzie Masterton, Olivia Klevorn, James Glover, Hannah Greenstreet and Maeve Scullion will be presenting the work they've developed through Pow! to a live audience at the special Bar Wotever event, at the iconic LGBTQ+ performance space, the Royal Vauxhall Tavern on Tuesday 25 September.
Written and devised from the perspectives and experiences of the group, these 10 minute works cover a breadth of fascinating topics. From alternate realities and conspiracy theories to alter egos and negotiations of body politics, this talented group of emerging artists are drawing on a dazzling range of text and performance to explore what it means to be young and LGBTQ in Britain today.
Doors open at 7pm, with the first performance starting at 8pm. Tickets are £5 on the door. We'd love to see you there – come along!
If you work within the creative industry, or work for press and would like more information, please get in touch: [email protected]
About the Artists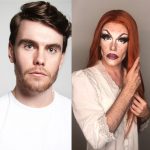 Alex Marlow is a queer actor, writer and performer from Rossendale, East Lancashire. Now London-based, he's recently appeared with the Arcola Queer Collective in The Cluedo Club Killings (Arcola Theatre, Kings Head Theatre). Last year, he performed in Outlaws to In-laws (Kings Head Theatre), a world premiere series of short plays commemorating 50 years since the decriminalisation of homosexuality. He has been performing professionally since graduating in English Literature from Lancaster University in 2014. He recently had his first drag birthday under the name Thea Saurus, which started as a desire to explore a more visually stimulating artistic form – and to let off some steam in a wig. The experiment is still rooted in aesthetic concepts, often inspired by canonical literature, history and pop culture, whilst embodying an absurd comic sensibility and high tragedy.  He wants to create work that is immediate, accessible, and truthful.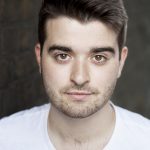 Alex Roberts is an actor, theatre maker and poet from South London. His recent theatre credits include: Safari: North Wall Arts Lab 2018 (Wardrobe Ensemble),Much Ado About Nothing (RSC The Dell), Silent Meat (Pleasance Theatre), Revolt. She Said. Revolt Again (RCSSD), Le Bossu (withWings Theatre).Alex has performed his poetry at VFD, Her Upstairs, The Pleasance and the Arcola amongst others. He is a graduate of the University of Warwick and the Royal Central School of Speech and Drama.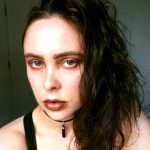 Lizzie Masterton is an artist and performer based in London, working within the realms of ASMR, kink and ritual. Her work explores queer sensuality, ruptured embodiment and the power dynamics of intimacy. She makes performance art that often has a spoken aspect to it, and enjoy interrogating the relationship between voice and power, language and erotics. Ritual and certain traditions of witchcraft are important to her work, particularly the idea of words serving as symbolic conduits for action. Recently in July she gave a performative lecture on ASMR at the live art festival Tempting Failure, which interrogated how ASMR can be used to experience more tender states of being, and how power dynamics between ASMRtists/viewers feed into a gendered and racialised system of affective biocapital labour.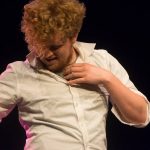 James Glover is 22 years old and has just completed his undergraduate degree in Theatre at the University of Chichester. Currently he performs as the persona James the Showboy and create work about toxic masculinity eithin the queer community and its link to beauty standards. He enjoys using traditions of burlesque, drag and cabaret to create playful, fun, challenging and interesting performances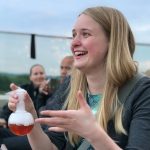 Hannah Greenstreet is a playwright from Ealing. She has developed her writing with Soho Writers' Lab, the North Wall Arts Centre and Menagerie Theatre Company. Her play Canon Warriors, about a lesbian relationship between two feminist puppeteers, was performed at the Edinburgh Fringe and her new, queer adaptation of the fragmentary Greek tragedy Andromeda has had rehearsed readings at Clapham Omnibus's 96 Festival and the North Wall's Alchymy Festival. She is currently studying for a PhD in contemporary feminist theatre.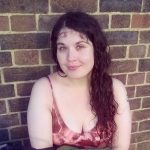 Maeve Scullion is a 25 year old mixed raced lesbian from the ex mining town of Pontypridd in South Wales who now lives in Southeast London. The sitcom writes itself does it not? She has been a member of the Soho Theatre Writers Lab, the Royal Court Theatre introduction to playwriting course, Kid Glove Poetry Collective who were former Roundhouse resident artists and numerous projects at the Roundhouse. She believes art should have a moral, political, social, emotional or spiritual purpose and tries to create work like this, especially work that foregrounds marginalised voices. Her favourite 90s pop group is Destiny's Child. Of course.
Published 5 September 2018
---
---