The Food On Our Table: Stories of Home, Family and Community is a Lewisham 2022 Creative Change Fund project capturing stories from Lewisham residents about what, where, when, why and how we eat.
For many of us, food is an entry point into learning about and connecting to other cultures. It is also at the heart of every home: a way of celebrating, coming together and remembering. But it can also be a source of worry when we do not have enough or anyone to eat with. You're invited to take a seat and a pen – and share in the feast.
The project is produced by Lewisham writer Carinya Sharples in partnership with Spread the Word.
Meet The Food On Our Table Writers-in-Residence
Visit independent cafés and restaurants in Lewisham and meet the writers-in-residence

Throughout January – March, six fantastic Lewisham based writers will be taking up temporary residencies in cafés and restaurants across Lewisham – and producing new creative works based on their experiences. Pop in to chat to the writers, pick up a postcard of writing prompts, or share a photo of your food with the hashtag #TheFoodOnOurTable and a six-word 'story' about your meal.
The writers will be talking to the chefs and staff, chatting with customers, and sampling some of the food as inspiration for writing a poem or other piece of creative writing based on their experience.
Writers-in-residence programme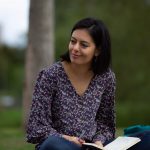 Laila Sumpton at Chicha Lewisham, 22 Loampit Vale, London, SE13 7SW
Friday 28 January, 6-9pm
Type of food: Peruvian
Laila Sumpton is a poet, editor, performer and educator who works with schools, hospitals, museums, galleries and charities on a wide variety of poetry projects. She manages the Arts Council funded initiative Poetry Vs Colonialism – where poets work with museums, academics and schools to explore the British empire and its legacy. Laila is also running 'SHEroes of Lewisham' a poetry, film and photography project and exhibition tour which celebrates the women of Lewisham for the Borough of Culture celebrations. She was recently the Keats House Poet in residence and has co – edited 'Where We Find Ourselves' an anthology from Global Majority writers published by Arachne Press. Laila has been commissioned by Tate Modern, the Tower of London and the Royal Free Hospital amongst others and published in numerous anthologies and magazines including Ambit and Modern Poetry in Translation.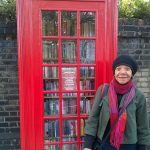 Jody Burton at Junction876, 195 Stanstead Road, London, SE23 1HP.
Saturday 12 February, 5 – 8pm
Type of food: Caribbean
Jody Burton is the author of 'Black London: History, Art and Culture in Over 120 Places', which she co-wrote with Avril Nanton and published in 2021. Jody was brought up in Deptford and has lived her adult life in the Borough of Lewisham. She is a librarian and bibliophile with a background in adult education. She has always had a passion for history and completed her degree in Caribbean Studies in the 1990s. Jody enjoys art, especially drawing, and hosted a Black Arts Group via Meetup for three years.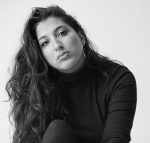 YA Poet (Yasmin Ali) at Vanilla's Café, 157 Brookbank Road, London, SE13 7DA
Saturday 19 February, 9.30am-12.30pm
Type of food: Cafe/Indian street food
Y.A is an International Slam Champion, Performance Poet, Spoken Word Artist and Writer from Lewisham, South East London. Renowned for delivering the kind of poetic lyricism that immediately captivates an audience, Y.A's words transcend beyond expectation deeming her to be one of the most highly sought after spoken word artists on the UK scene. Founder of the Young Wordsmith project, Y.A offers mentoring and spoken word workshops for young people. Y.A has toured internationally in Europe and the US. Proud mental health advocate, youth participation advocate and women's rights activist, Y.A heavily campaigns for an end to gender based violence against women and girls. Y.A has published both articles and poetry  and is currently working on her debut "novel in verse". For more information please feel free to check out the following social media handles: Instagram: @y.a.poet / Twitter: @_y.a.poet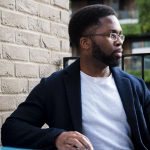 Jacob Sam La Rose at Big Mouth Food Court, 280 Sangley Road, London, SE6 2JT
Friday 25 February, 11.30am-2.30pm
Type of food: Singaporean
Jacob Sam-La Rose is a poet, artistic director, editor and educator, Among other roles and appointments, he's been a poet-in-residence for Raffles Institution (Singapore) and English Heritage, a poetry professor for Guildhall School of Music and Drama, and has delivered commissions for the National Gallery, the BBC, the Arts Council, the London School of Economics, International PEN and Nitro (Black Music Theatre Co-operative). His poetry has been translated into Portuguese, Latvian, French and Dutch, and his collection 'Breaking Silence' is required reading for an A' level syllabus.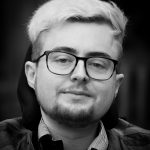 Jamie Hale at park café hönle, Folkstone Gardens, Deptford, London 
Saturday 12 March, 9.30am-12.30pm
Type of food: Pastries, bread, cakes, salads and pasta
Jamie Hale is an award-winning theatre maker, poet, (screen)writer, and founder/Artistic Director at CRIPticArts. Their work focuses on crip-/queer- realities, and the agency and urgency of living as a disabled person. Their first poetry pamphlet, Shield was published in January 2021, and was read by Jack Thorne in the 2021 MacTaggart lecture, describing Jamie as an "extraordinary voice". Their poetry film, NOT DYING, was described as "fantastic" by Hannah Gadsby. In 2021, they were awarded the Jerwood Poetry Fellowship, won Director/Theatre-maker of the Year in the Evening Standard Future Theatre Fund Awards, and were listed in the Disability Power 100 as one of the most influential disabled people in Britain, while directing the sell-out CRIPtic Showcase.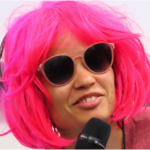 Laura Barker at Greenhouse Deptford, 481 New Cross Road, London, SE14 6TA (event part of Deptford Literature Festival)
Saturday 19 March, 9.30am-12.30pm
Type of food: Salads, sandwiches and sweet treats
Laura Barker is a writer, artist, and facilitator, and she runs a queer black writing group in London, UK. Her work has appeared in The Guardian, Apparition Lit, midnight & indigo, The Other Stories, Planet Scumm, and Middleground, and she was a lead writer for Spread The Word's This Is Our Place project. Her YA novel Picnics was shortlisted for the Faber Andlyn BAME (FAB) Prize. Her favourite crisps are Ready Salted. Follow her at @LauraHannahBar.
Community workshops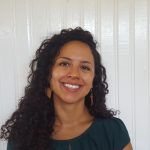 Carinya Sharples will be meeting up with members of community groups in Lewisham, including The Front Room, AFRIL Helping Hands Foodbank, TimeBank Lewisham and Grow Lewisham to share stories of home and food.
Carinya is a Lewisham writer and facilitator. She has led creative-writing workshops for libraries, schools, refugee organisations, and runs a workshop series for mixed-race platform 'Middleground'. In 2020, she co-edited and published the book 'Inspire: Exciting Ways of Teaching Creative Writing'. She has been published by Commonwealth Writers' adda, The London Reader, BBC World Service, Gal-Dem, The Guyana Annual, among others
Take part in The Food On Our Table at home
Living in Lewisham but not able to eat out? Share a photo of your food with the hashtag #TheFoodOnOurTable and a six-word 'story' about your meal.
Submit your writing
If you're creatively inspired by The Food On Our Table by visiting a writer-in-residence, out and about in Lewisham or in your Lewisham home, we'd love to see your writing! Please email [email protected] with the subject 'The Food On Our Table' by Thursday 31 March with up to one page of poetry or prose inspired by The Food On Our Table. Your work may be shared publicly (with your prior consent).
The Food On Our Table is produced by Carinya Sharples, in partnership with Spread the Word. It is funded by Lewisham 2022 Creative Change Fund.
Published 11 February 2022
---
---